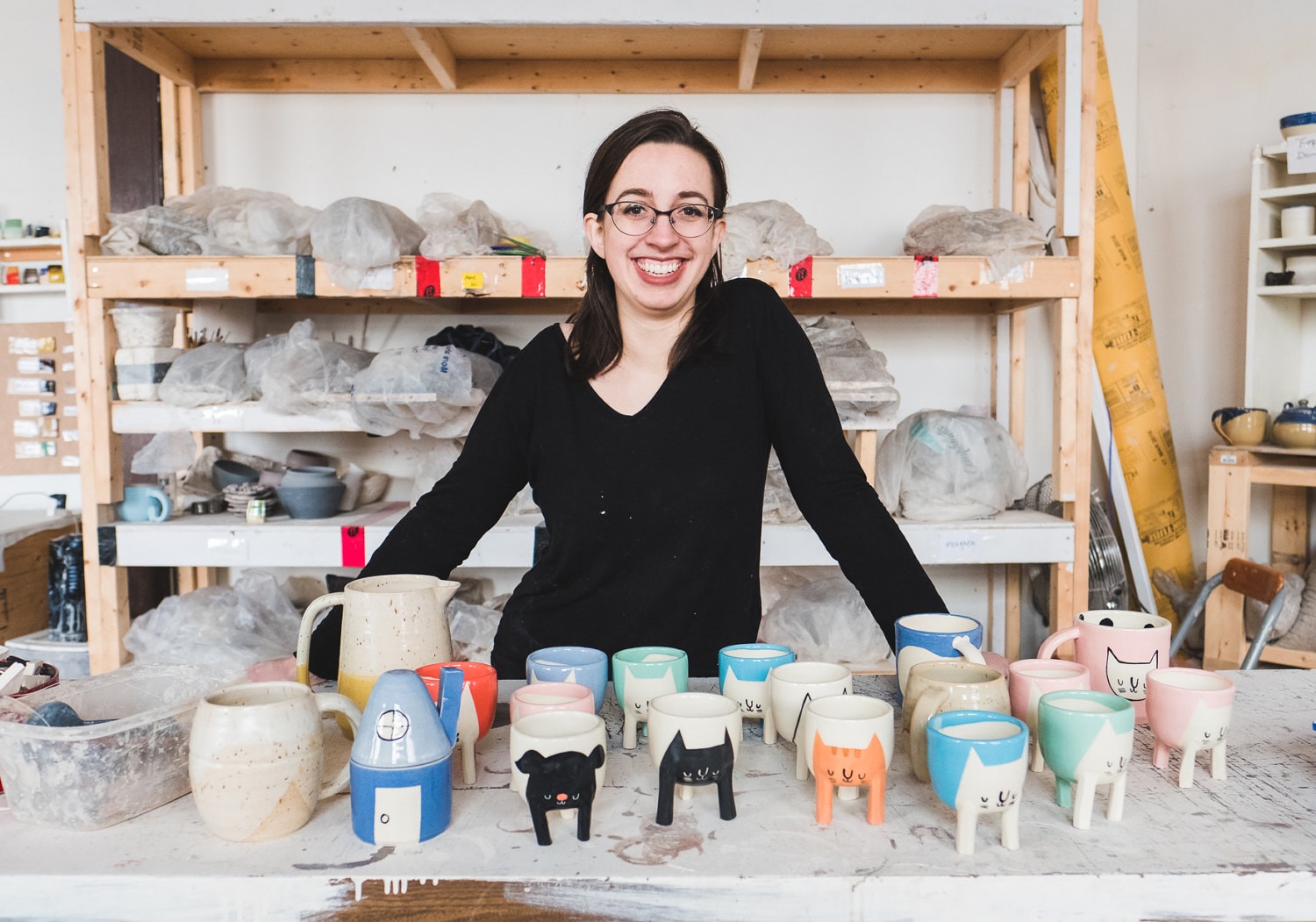 Alicia Zwicewicz brings color and cheer into her customers' homes with her collection of playful, candy-colored ceramics that meld utility with fun. Her Etsy shop Beardbangs, based in Montreal, Canada, is stocked with mugs, sugar bowls, butter dishes, and cat-shaped planters painted with smiling faces. When shoppers react to her handmade products with smiles of their own, Alicia knows she has done her job. "My work is meant to not only be completely useful to daily life," says Alicia, "but also brighten it." She and her husband Josiah Henderson opened the Etsy shop in 2014 as a collaboration, combining her love of pottery with his love of illustration, while Alicia was completing her final year of art school. Today, Alicia runs the business.
After graduating with a fine arts degree with a focus on painting, Alicia found herself at a crossroads. "I didn't know exactly what I wanted to do yet," she says. She gave herself a summer to see how far she could refine her pottery skills, a hobby she'd been working on in her free time. She rented a friend's basement pottery studio on the cheap and spent the summer developing products, while Josiah worked at a day center for the homeless. Inspired by the bold, graphic colors of Scandinavian and retro design, the pieces Alicia developed during this time became the foundation of the Beardbangs collection.
By Beardbangs' one-year anniversary, Alicia was earning a salary-level income from her Etsy shop. She now runs the business with the help of an assistant, while Josiah works on a master's degree in divinity. Last year, Alicia opened a community studio space, where she offers classes and makes her products. With the steady income from more than 1,675 sales and a loyal customer base, Alicia and Josiah have been able to switch roles as providers—a game-changer for the couple. "The business allows me to support myself and my husband now that he's not working," says Alicia. "And it's helped me realize I can be a self-sustaining adult and be an artist at the same time. That's really empowering and encouraging."
Recently, Alicia spoke with Seller Handbook senior editor Julie Schneider to discuss how she has forged a fulfilling career path in her life after art school.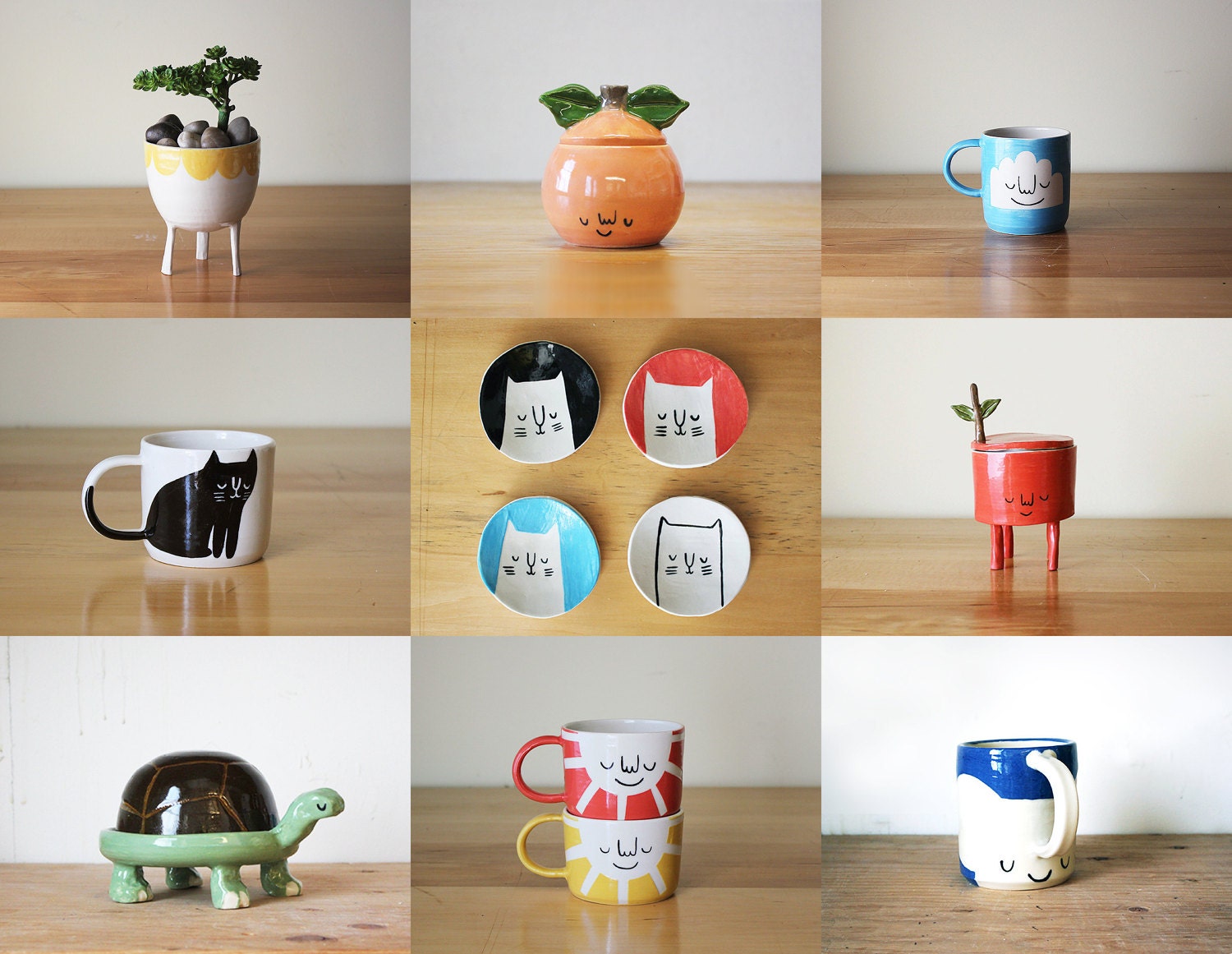 When did you realize you could make a living selling your pottery?
Because I didn't have a huge amount of experience, I wasn't sure if I could actually start a business. When a blogger called The Jealous Curator contacted me to collaborate, I realized that people really liked my work and it could be a legitimate business, and not just a hobby. To see that a well-known blogger liked my work enough to collaborate with me was pretty exciting. It gave me a boost of confidence. She was interested in putting out a new piece for her viewers. That's when I first created the cat planter, according to what she thought her viewers liked.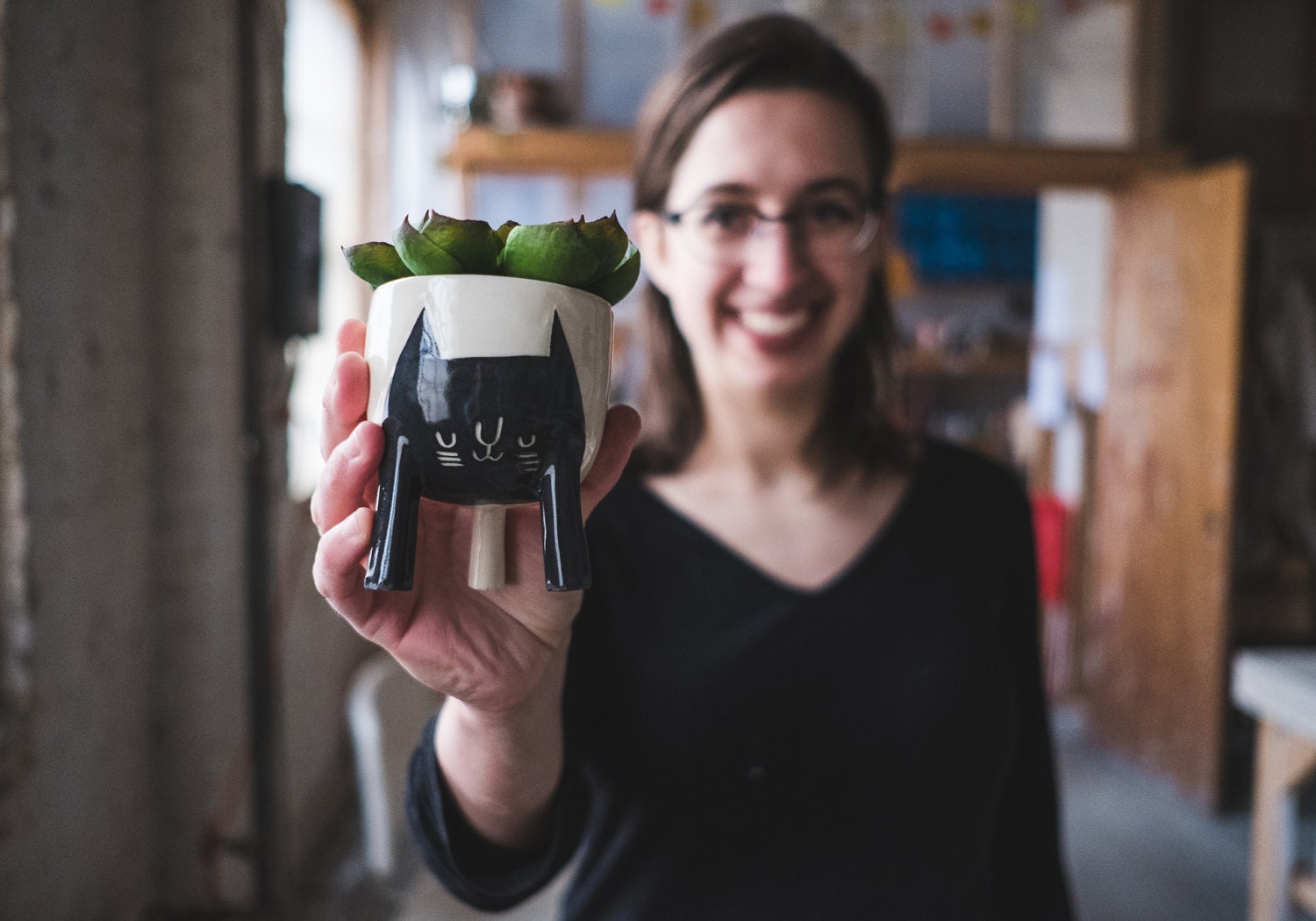 Packaging can be a challenge for breakable products like ceramics. What's your shipping strategy?
Shipping was something that I was failing at when I first started. Orders were breaking on their way to people. Now I have this hardcore packaging system that's pretty much fail-proof. I realized that if I can drop the box on the ground after packaging it and feel confident that the piece inside didn't break, then it's going to ship well. As a test run, I'd drop boxes in my studio because that's pretty much what the post office people do, I think. Then I stopped hearing from people about broken pieces arriving in the mail and instead just got the nice reviews.
I now wrap each piece, especially planters, which are the most vulnerable in shipping, in one to two layers of foam wrap and one to two layers of bubble wrap. I put a layer of packing peanuts on the bottom, sides, and top, so there's at least one to two inches on either side of the object. Usually I use a box that's much bigger than the actual item. Customers really appreciate receiving something that's been wrapped so carefully.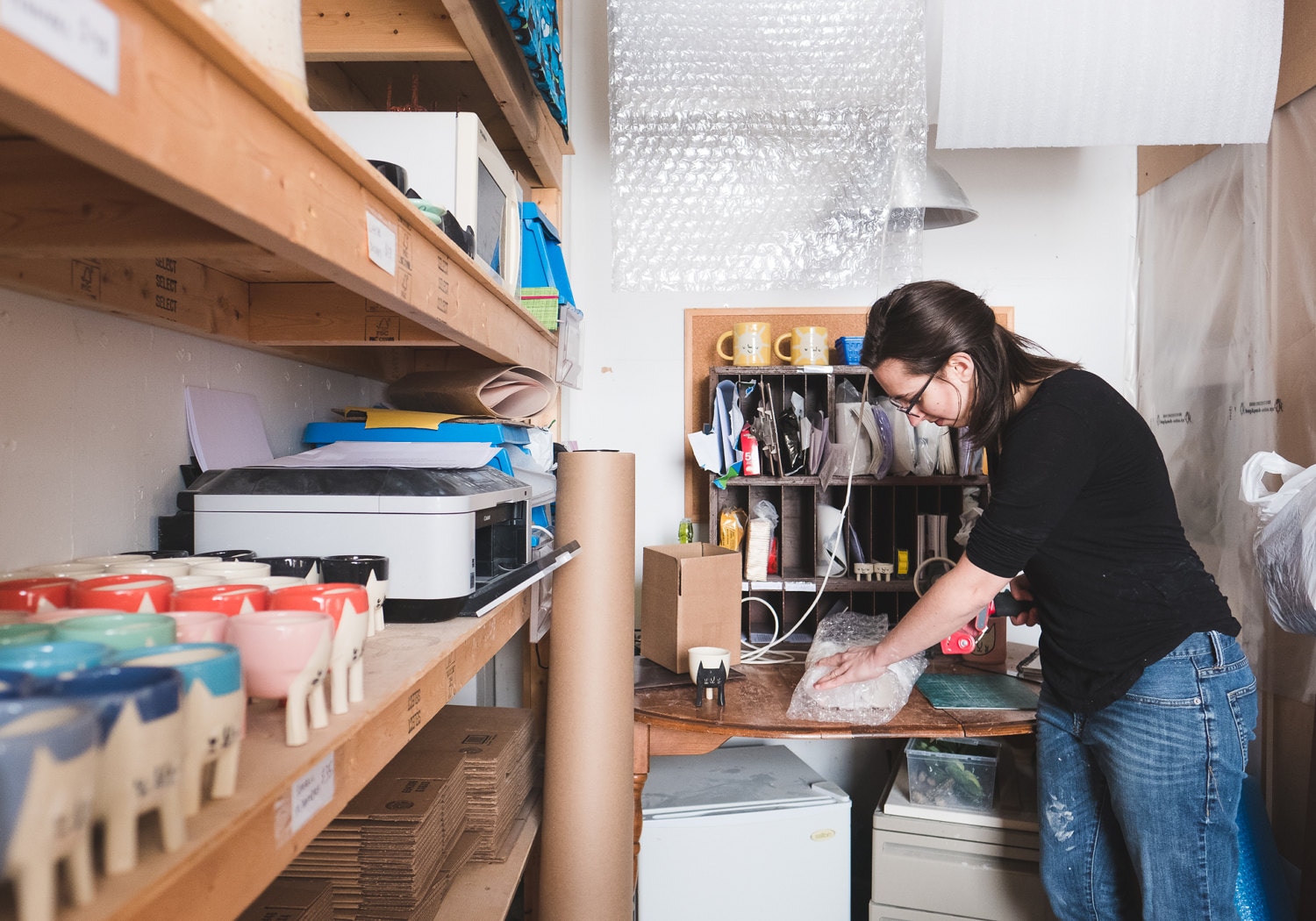 You opened a communal ceramics space called Studio Céramique Sud-Ouest last year. What inspired you to make this decision?
It can get really lonely if you don't have some kind of social outlet. The studio addressed my need for community and being around people more, because I had been working in a basement all alone day after day. My friend, Neisha May, who's also my assistant, and I came up with the concept based on the art hive movement in Montreal. (Art hives are welcoming spaces with a mission to "build communities by making art.") It felt like a really natural fit for us.
Our space works like a gym: people have monthly memberships and they can use the space during classes and open studio hours. We focus on education and equipment sharing. We have six potter's wheels, each loaned by a different person. If you lend your equipment or volunteer your time, you get something in exchange, like a free membership. It's a give-and-take model. We offer regular classes: an introduction to pottery on the wheel and advanced classes. Because I work there every day of the week, I can easily supervise people, help beginners who are struggling still, and be there to take payments when people want to buy clay.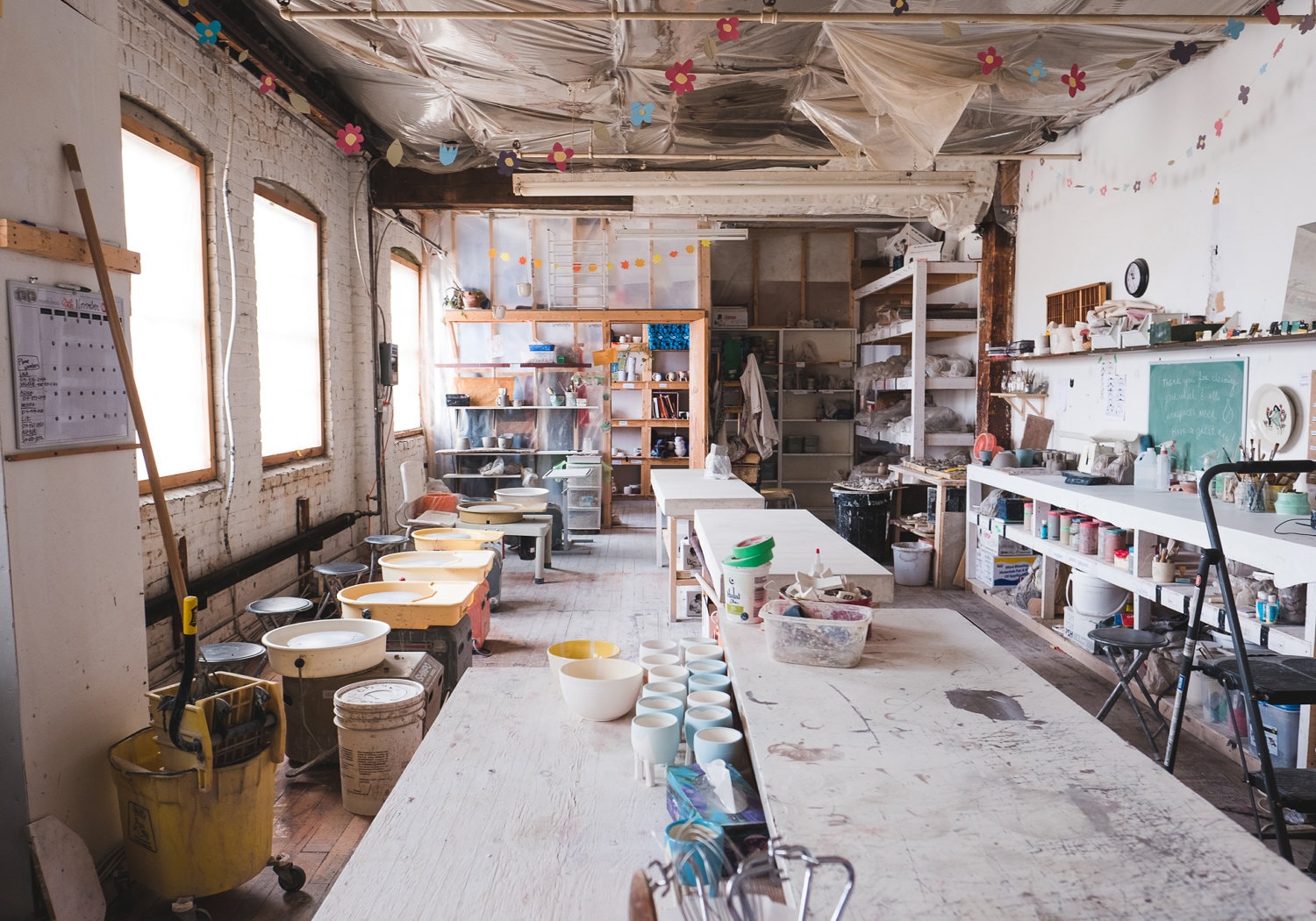 How do you stay creatively engaged while doing repetitive work?
With production pottery you have to accept the fact that you're going to be making the same thing over and over again. It might not always feel like a creative act to be producing a hundred cat planters a week. These days I'm trying to give myself a little bit more space to play and come up with new things so I can stay inspired and creative and excited about ceramics. I try to give myself little outlets to make one new thing a week, be it a drawing or researching ideas or trying styles that are different from the retro, kid-inspired designs of Beardbangs.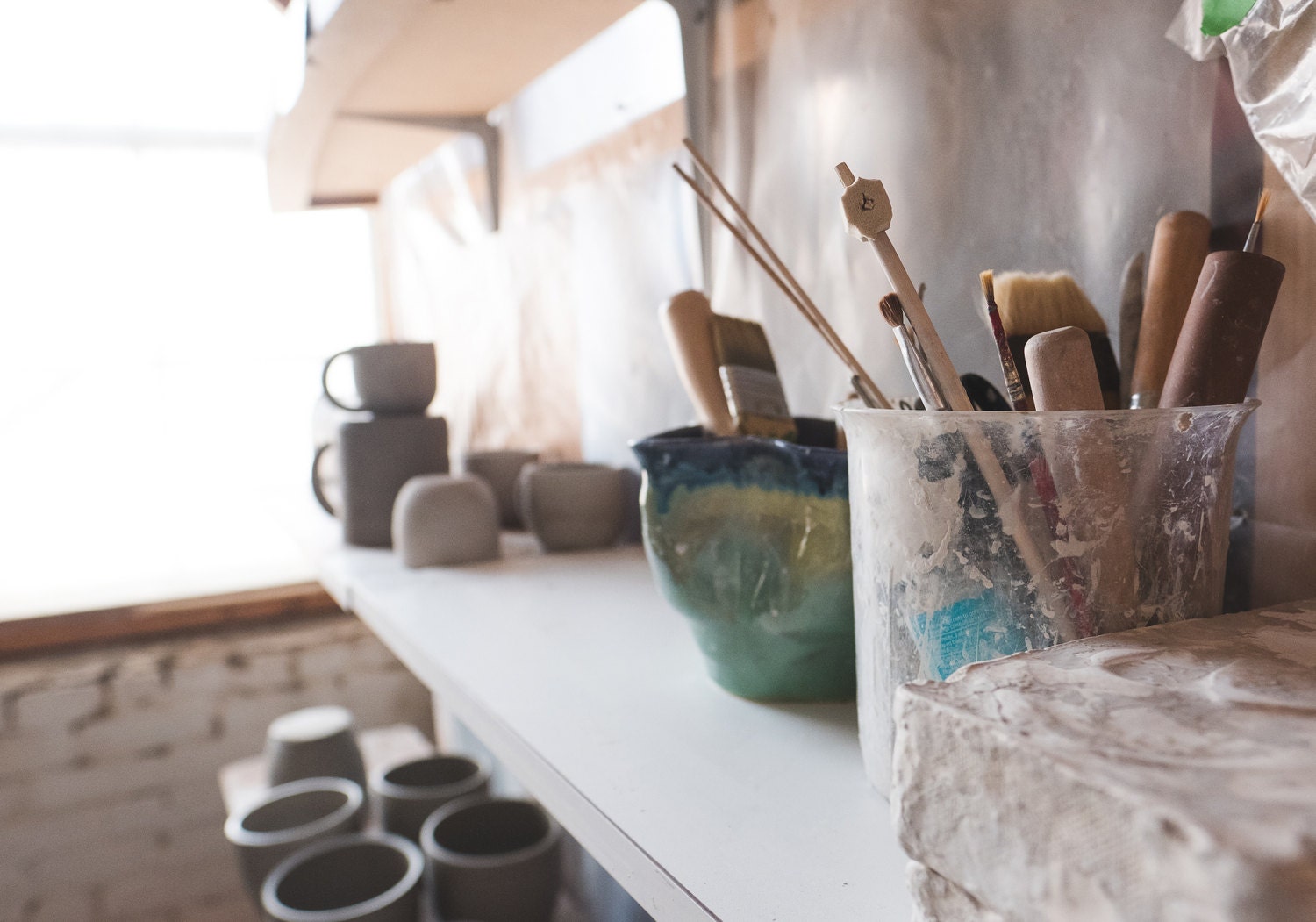 What's your advice for hiring help and delegating work?
My assistant is a friend and also a ceramicist. She started working for me last July. We have a nice business relationship and friendship too. She helps me a few days a week at the studio, unloading the kiln, teaching ceramics classes, and making sure the studio gets mopped every day. She helps make a lot of the planters by throwing the shapes on the wheel and sticking the legs on. I take them from there and do the painting and detail work. I realized that it was much more fruitful to have her become very good at one or two aspects in the process to start out. Starting her off small with one task that she was going to be doing over and over again helped keep the quality the way that I wanted it. I've been having some wrist problems in the last six months or so, so it's been a lifesaver to have her help.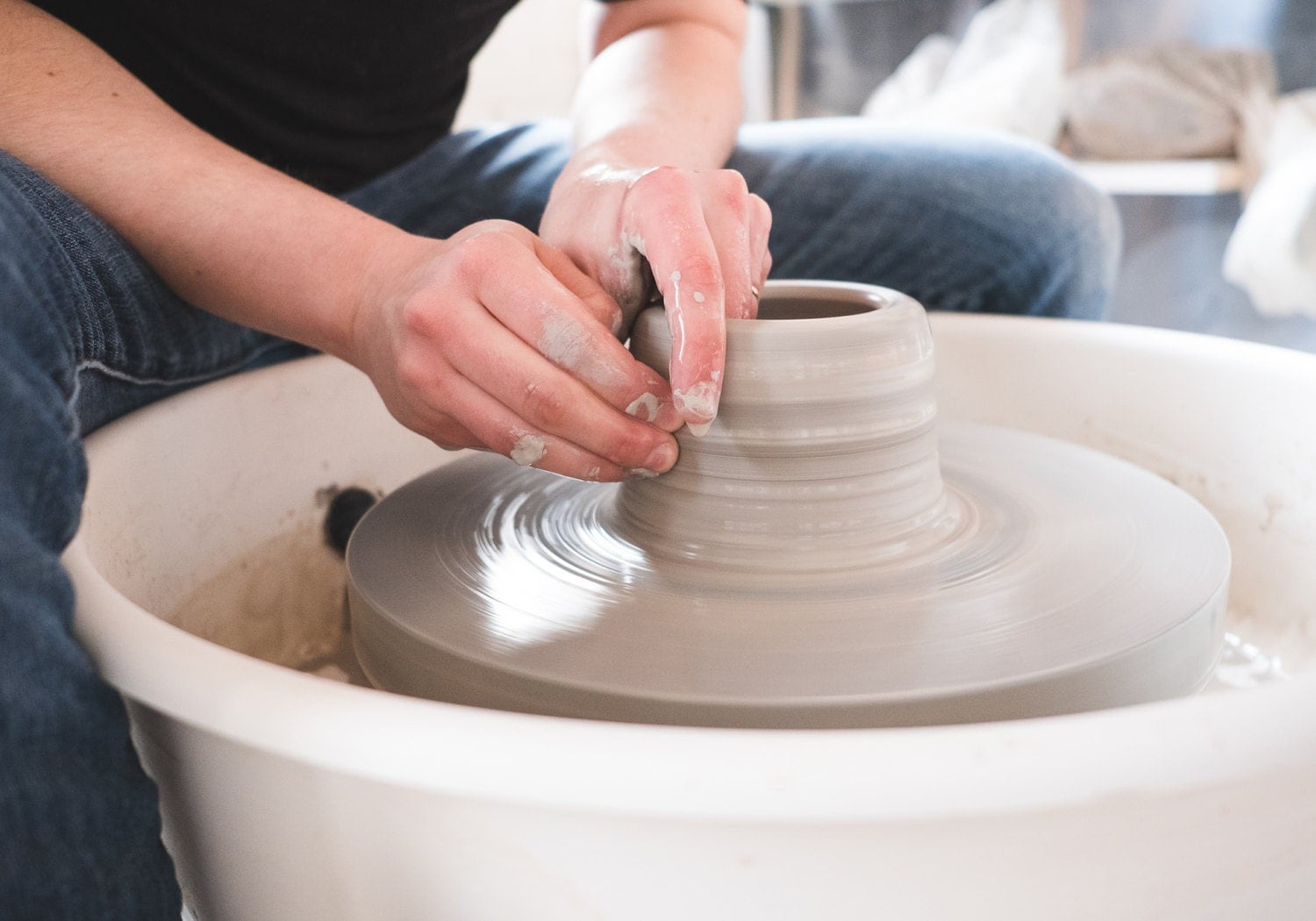 How have you coped with your wrist problems?
I got tendinitis last summer. It started when I had a ton of sales coming in. That was great, but I didn't pace myself very well. I started having pain that I ignored until it got really bad. Since then I've been trying to get rid of it. I go to this special hand therapist and do exercises. I'm learning to recognize when my wrists are getting tired and the pain is starting, and to stop at that point. It's something I've really had to work on in the last six months because I tend to just keep going until I finish. But I finally have learned to spread work over a period of time and take breaks in between.
It's hard to decide what I'm going to use my strength on in a given day. You realize when you have wrist or hand problems how much you use your hands for everything. It's hard for me to just sit there and not do anything with my hands. Even if I'm watching TV, I like to be knitting or sewing. But I just couldn't do that all of the sudden. It certainly made me appreciate what my hands do for me.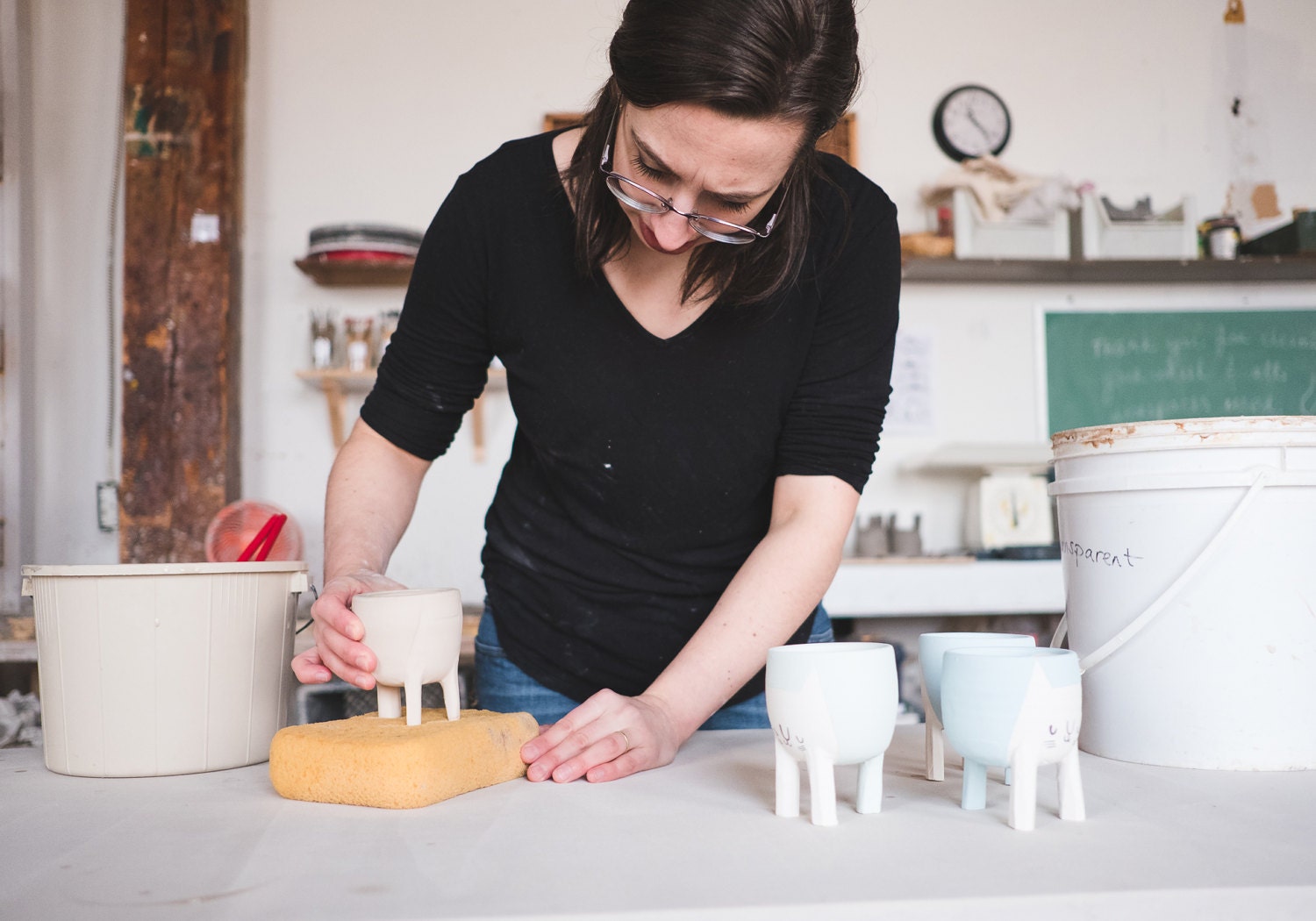 What's your favorite part of running your own business?
I feel in control of my career in a way that I haven't as an employee of someone else. It would be difficult to go back to being an employee at this point. I like being the one making the decisions about everything based on what I value. It's also stressful to be that person, but it's very rewarding when those decisions are successful and fruitful. As a business owner, I have a direct relationship with the person receiving my products. I love that something very tactile can affect another person's life in a positive way.
To see Alicia's current collection of cheery ceramic housewares, check out Beardbangs. To nominate your shop for the Quit Your Day Job series, fill out the Seller Handbook pitch form.
How have you solved a business challenge? Share your story in the comments below.