When Ryan and Lucy Berkley opened Berkley Illustration in 2007, they didn't know that nearly six years later they'd have 37,000 Etsy sales and be hired to make art for clients like Nike and Spoon. But that's exactly what's happened.
The Portland-based husband and wife duo have become well known in the blogosphere and beyond for their vibrant, friendly portraits of animals wearing classic attire, influenced by their love of turn-of-the-century and old western photograph.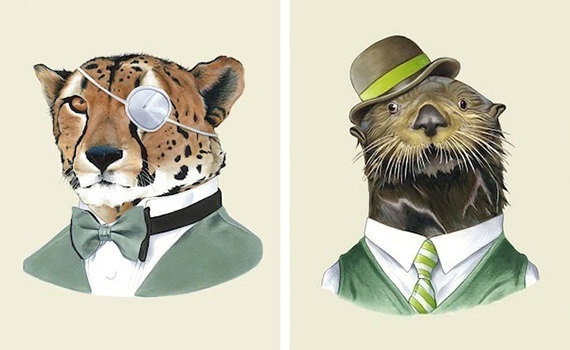 "The drawings started as an aesthetic tribute to those ideas, but they've really evolved into a collection of characters who each tell a story through the drawing and the mini-story that comes along with them," says Lucy, the self-described "creative consultant/writer/business-y person/organizer" of the business.
Here, Ryan and Lucy share their startup to success story and insights about honing the art and craft of running their family business.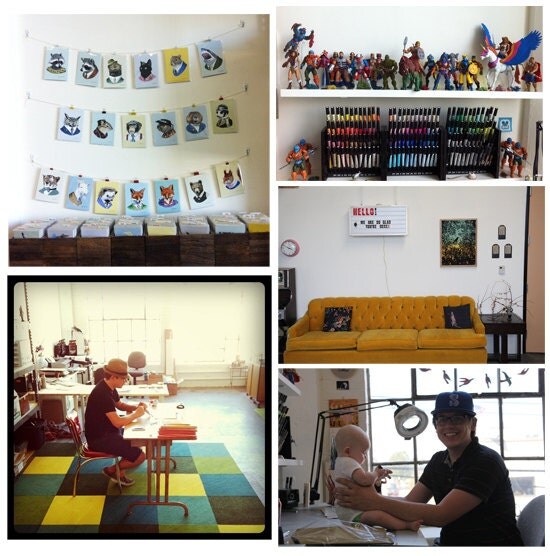 When did you know you'd made it as creative entrepreneurs?
Lucy: I'm still not sure we've made it. We have so many things we want to do that I don't know if I'll ever feel that way. I'm sure Ryan had a "I'm good at what I do" moment with drawing; however ...
Ryan: This doesn't really answer the question, but I laughed to myself one day before the Brooklyn Renegade Craft Fair in 2009 as I walked by two people and overheard a conversation that went "Berkley Illustration? They're Etsy royalty!"
Also, in terms of international appeal, a friend of mine living in Singapore saw someone wearing a knockoff shirt with my lady squirrel on it.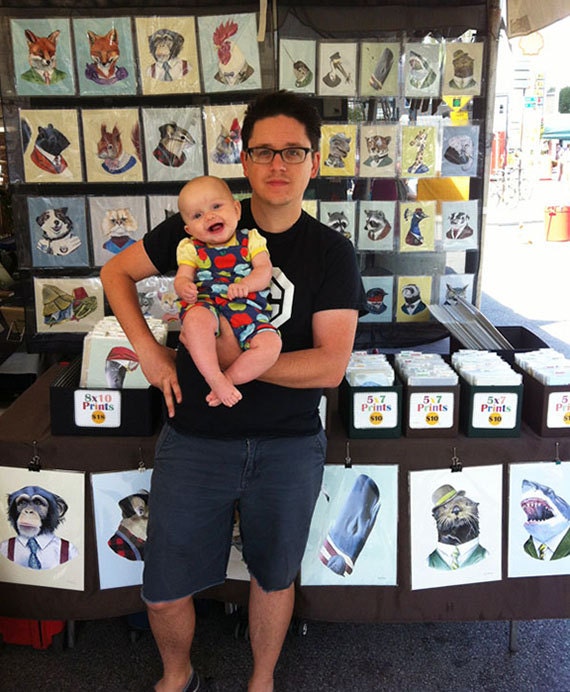 What did you do before Berkley Illustration?
Ryan: I worked in the admission office of a small liberal arts college in Portland for 10 years.
Lucy: I worked at the local historical society, which certainly influenced the costuming of Berkley Illustration. We discovered Etsy through our artistic friend circle and were really supported to get going on selling prints after first selling at Crafty Wonderland in Portland.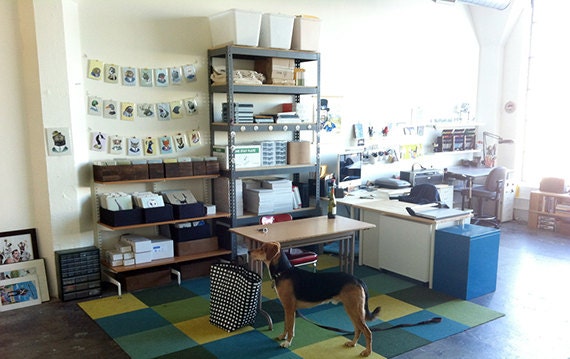 What steps did you take to prepare for transitioning into full-time Etsy selling?
Lucy: I got laid off in 2009, which was a textbook blessing-in-disguise situation. Ryan continued to work his "regular job" for two years as we tried to build up savings and figure out the wily world of health insurance. We were nervous but tried to be as prepared as possible, and Ryan quit his job in spring 2011. We tried to widen the reach of the business with wholesale, gallery shows, and commercial work.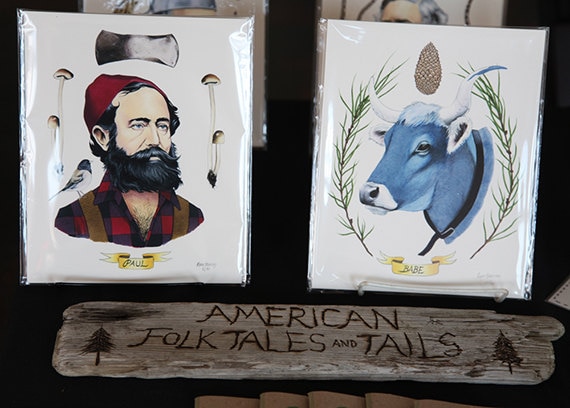 How have you managed to fulfill more than 37,000 orders?
Lucy: Truthfully, sometimes I'm not sure how we've managed to fill them! We've been doing it long enough that we're fairly streamlined with packaging and shipping. We still do everything ourselves, which includes printing, cutting each print, packaging the prints, and shipping orders. For the first time, this holiday season we hired someone to help us with prep work. This was our first holiday season with an infant, so scheduling got even trickier.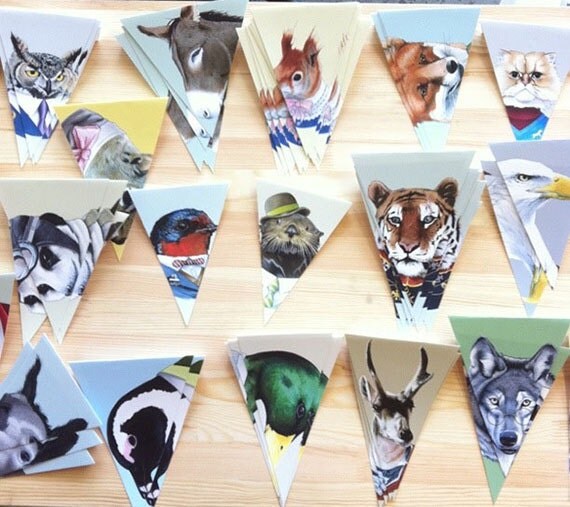 What's the hardest part about running your own business?
Lucy: Separating work from home — especially when you're married to your business partner. It's exciting because you want to talk about the shop and ideas all the time, but it's also exhausting.
It always feels weird to complain about it, because we're so lucky to be able to make a living working for ourselves, but sometimes you have this itty bitty part of your brain that thinks the kind of job where you're done with your day at 5 p.m. sounds refreshing. The flip side is that we're lucky to have many other friends doing the same kind of thing, so we can chat about it over the virtual water cooler.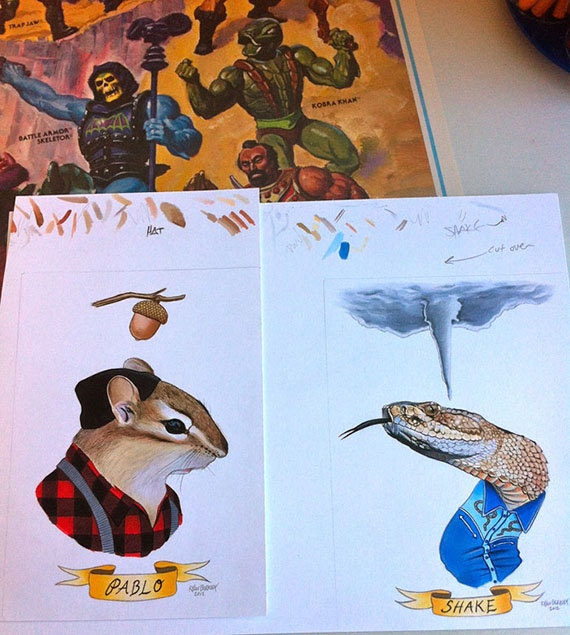 What's it like to work with your spouse?
Lucy: Fun! It's certainly not for every couple, but luckily Ryan and I don't get too sick of each other. It's pretty convenient that we get to travel together without having to get anyone's approval. We're quite a parade going into our studio every day — the two of us, our daughter, and our dog.
What's the most exciting thing that's come of selling your designs on Etsy?
Ryan: Because of Etsy, we've been discovered by an assortment of dream clients. In some cases, these collaborations have driven more business to our Etsy shop and reached customers that may not have been the Etsy type before.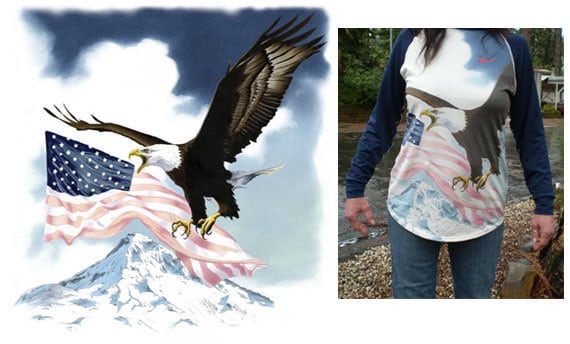 I'm most proud of the opportunity to design one of the looks for the 2010 USA Olympic snowboarding team. I've also done work for Nike, the Audubon Society, The Discovery Channel, Urban Outfitters, and artwork for the bands Visqueen, Okkervil River and Spoon. The Discovery Channel project was monumental for me, because I drew sharks for a marketing campaign. I've been obsessed with sharks since I was six, so there was a great satisfaction is drawing them professionally. We've also partnered with Sublime Stitching for a pattern kit, which was exciting because we've been fans for a long time.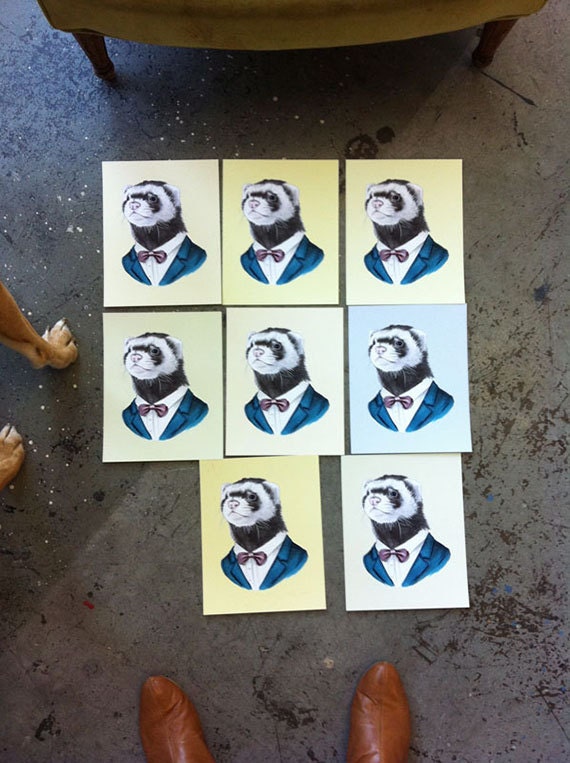 Where does the bulk of your business come from?
Lucy: It's a good mix of word of mouth, blog features, Etsy search happenstance, and repeat customers. We certainly have influxes when we get featured somewhere, but most of the time, it seems to be a balance of things.
Buyers, editors, and art directors are looking to Etsy to find new things, so standing out in the crowd is important. For us, our marketing has really come from keeping our line expanding and new.
How fruitful are craft shows for your business, and do you have a strategy for them?
Lucy: First and foremost, we just really enjoy doing craft shows. They gave us our start and we love the immediate interaction with customers. They help us flesh out what people like to see and we enjoy the community spirit that comes with other sellers and shoppers. We'd like to think that our customers also enjoy meeting the person who they're buying from and that helps us have a friendlier, approachable business.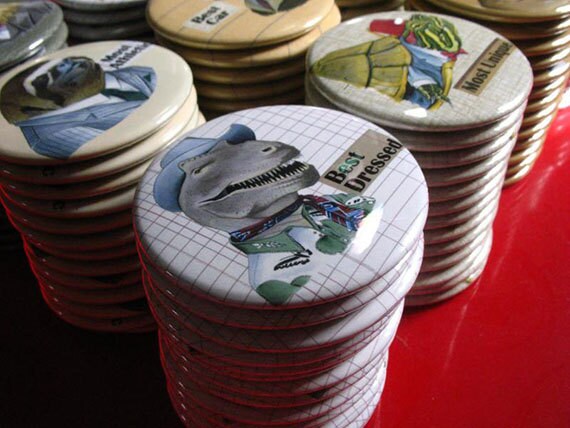 What five business skills do you have down pat?
1. Quality product
In addition to Ryan's illustrative skill, we're very particular that anything coming from our shop is in excellent condition. There have been times when a print has the tiniest flaw, but we'll never let it leave our studio.
2. Attention to detail
Both in Ryan's drawings and in our writing and business, we love the details and making things extra-special. It's why we include a story with each animal print and use photographs with specific purpose and story.
3. Customer service
We strive to address questions and problems as quickly as possible and in as friendly a manner as possible. Sometimes our customers don't realize they're dealing with the actual people making the work and they're surprised when they get a personal response rather than an autobot response.
4. Quick shipping
When I shop online, I love it when my order comes quicker than I expected, so we try to make that happen as much as we can.
5. Adaptability
If something isn't working, we've learned that rather than stress over it, we need to adapt and find a way to make it work. That's true for selling products, managing our time, and how we work with each other.
What's your advice for someone considering a similar path?
Lucy: You have to find your own path. We know it's not the answer everyone wants to hear, but there just isn't an exact formula for success, as much as we wish there was. As we get older and wiser, we realize that across the creative spectrum, people achieve success through talent, persistence, and lots of trial and error. We've made mistakes, but those ultimately guided our future decisions.
While there isn't an exact blueprint, we've certainly noticed a few things that are consistent in successful businesses: Tailor your craft impeccably, know your audience, be original, and be realistic.