Tell us about your previous working situation and how you discovered Etsy.
I actually have a fashion design degree, but always had a passion for greeting cards and all things paper. I worked in the apparel industry in technical design and production for about five years before throwing my hands up and saying, "This isn't working anymore." I began selling on Etsy several years ago, and it became increasingly popular as time went on, so I had zero free time to work and process orders when I came home from my day job. Etsy seemed the perfect place to sell online and it really suited my needs.
What steps did you take to prepare for transitioning into full time Etsy selling?
It was a bit of luck and perhaps fate. My mother sadly passed away last year and I came into some extra money. I held it hostage and decided I had enough to get me through until the holiday season. I believe it was meant to happen this way — it was my extra boost to go ahead and take the plunge. It was a slow transition from grieving into doing something I love, but selling these cards has been my creative outlet ever since. I also had to break the news to my dad that I quit my well-paying, benefits-giving, stable-paycheck job. Luckily, he trusted my decision!
What is your favorite part of the process in card-making?
Concept development, for sure. I have an army of idea-makers around me who are constantly sending me ideas. I love matching up a phrase with an image. Sometimes it works, sometimes it doesn't, but it's a lot of fun trying. It's a little brain teaser. I actually also really like the production process of printing, folding, packaging and stickering items.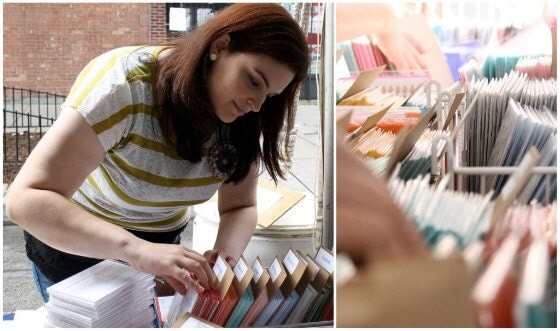 What are your best marketing tips?
I have one rule for marketing, and it's to rarely spend money upfront. This forces you to be very creative about your advertising.
I give away a lot of product for good causes, and I do giveaways on my blog all the time.
Once I quit my day job, I knew I had to really pimp my product. I became much more social and extroverted about my business.
I entered into many craft shows and tried to make my marketing materials as fun as possible. The best "business card" has been a coaster that says "You're just grate" with a cheese grater. It makes people smile, and then they stick around my booth to look more. I love making people smile, so it's very rewarding for me.
Make things fun and interesting. There's enough boring out there!
What's been your most popular item or line to date?
My wedding and baby cards have been very popular. It all began with "Your Baby Is Freaking Cute" — it's what made me launch into clever and funny cards. It remains a bestseller today.
What have you found to be an unsuccessful promotion?
My promotions where I had to spend money upfront (Facebook, online advertising, etc.) have been my biggest mistakes. There's no personal connection. I try to make a personal connection with every customer; they have to know there is a legitimate, honest and friendly face behind the link. Business mistakes I regret? Tons! But you can't really regret them because they probably taught you a lesson. I have invested buckets of money into products that just didn't turn out the way I planned. The flip side to that is to force yourself to use those supplies for trying something else.
What is the biggest challenge you face during your daily schedule?
Trying to incorporate all of the processes that this business includes: design, development, production, order processing, mailing, wholesale promotion, blogging… the list goes on and on. I have to maintain a steady routine and schedule to keep myself sane.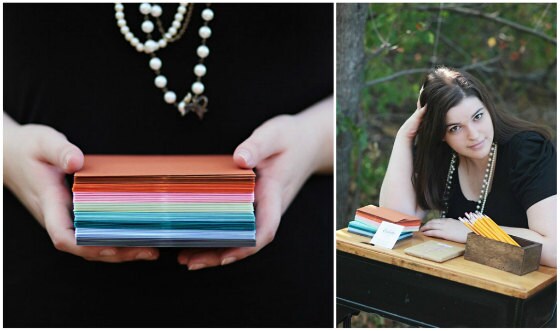 What's the hardest part about running your own business?
There are slow months and you might need to be pretty frugal until a good month comes along. Also, managing all of the expenses and profits can be really daunting. It's also hard to separate yourself from work. I am constantly checking my BlackBerry to see if I have questions from buyers — I love to respond quickly, but sometimes that interferes with my personal life!
What do you enjoy most about not having a day job?
You are your own schedule. That alone is worth so much money. If I am feeling creative, I create. If I am feeling productive, I produce. If I feel like watching old Seinfeld reruns, that's what I do. It's wonderful to always be busy, but to also always be available to do things. I can hit the paper store whenever I want and not hit rush hour traffic, I can enjoy a long lunch with a glass of wine, and I can have hour-long phone calls with my stay-at-home mommy friends in my pajamas.
What is the most exciting thing that has come out of selling your designs through Etsy?
The requests my customers make. Sometimes they are quite odd, hilarious or a fantastic idea for a card. I've had requests for cards to be in the backgrounds of movie sets, cards for celebrity fan mail, and even "fake" calling cards that give zero contact information. Reading messages I get through Etsy is actually my favorite part of the day!
What advice would you give someone considering a similar path?
Be patient. It takes a while and you will make mistakes, but it's worth it in the end if you really have a strong and unique product to sell.
Enlist all of the help you can. Use your resources. If you know a professional photographer well, they'll probably help you at a lower cost. Make a personal connection even with your suppliers and they will reward you.
Be nice and honest whenever possible.
Invest in a good camera — it makes a huge difference. I bought a Canon Rebel on sale on Amazon and it's been my best investment to date. I'm no photographer but it does the work for you if you read the manual!
What goals do you have in store for the future of Colette Paperie?
My goals are to really build up my wholesale business so that I can get my products into the hands of those that haven't discovered me online or through Etsy.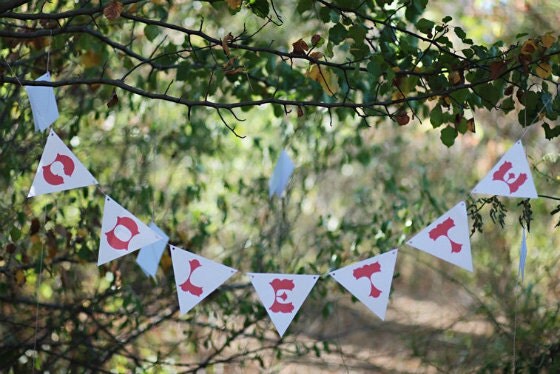 Anything else you would like to share?
My words of wisdom: Stop being afraid and insecure about what you can do. It's never too late to do what you want in life. Be ridiculous, be fun and enjoy it all. Life is too short to be stuck in a cubicle.

Words by Keli Catalano
Colette Paperie is a specialty greeting card company that creates clever & hilarious cards for the uncommon greeting. Enjoy cards you can't find anywhere else. We are located in Minneapolis, Minnesota. All products are 100% handmade using locally bought supplies. We have excellent quality and service. Feel free to contact us with any special items you'd like to create!