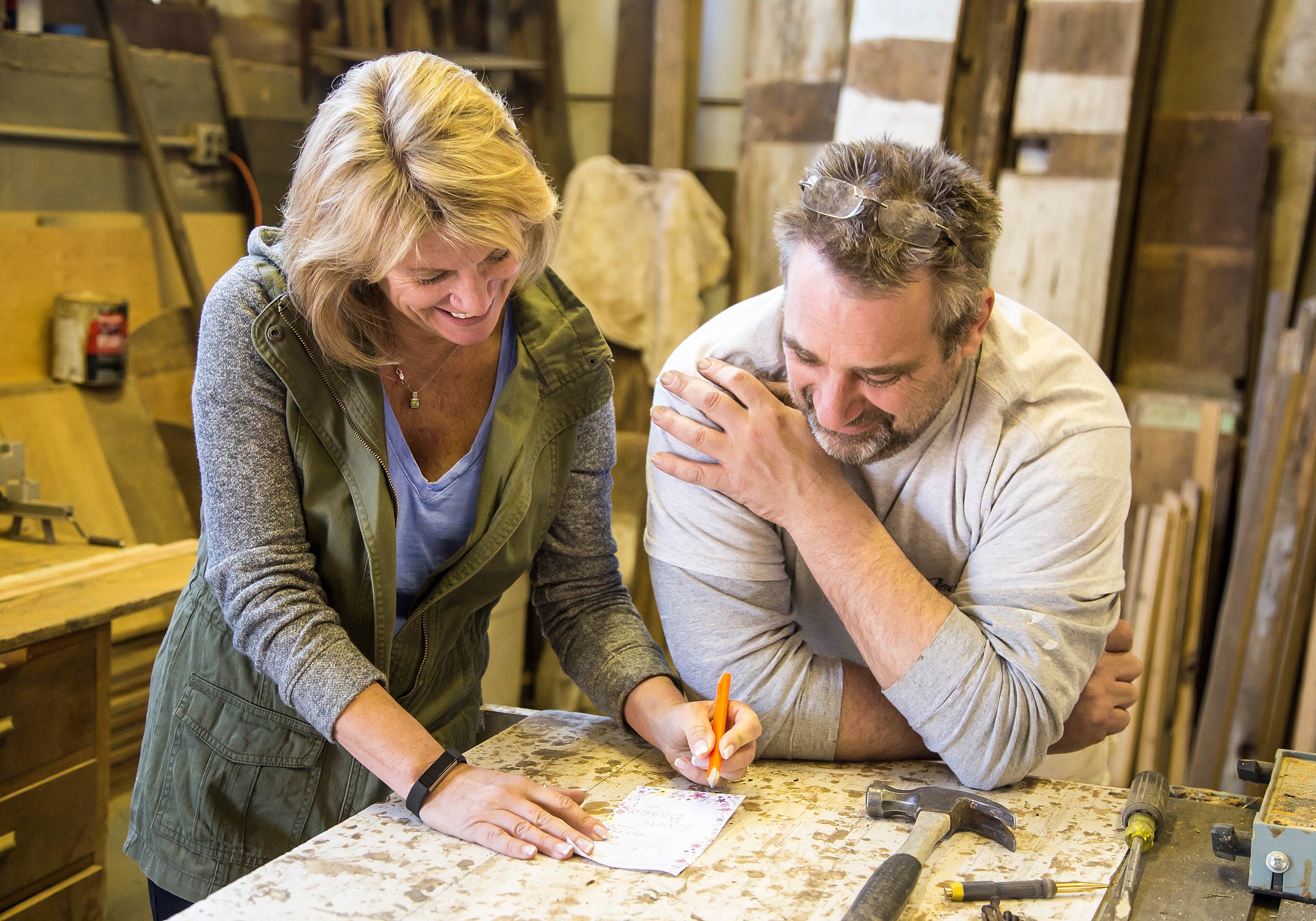 By transforming wood sourced from demolished 19th-century barns into heirloom-quality tables, Audrey Jones has created a new life for these discarded materials — and a third chapter in her career. Audrey, now in her mid-fifties, runs her business Fresh Restorations full-time. She started her working life in advertising and publishing, commuting from the suburbs in New Jersey to New York City for 10 years. When she and her husband started a family — their four children are now grown up — Audrey took a short break before switching to a creative career path. For 20 years, she ran a decorative painting business adorning interiors with stencils, glazes, textural and distressed finishes, and painted murals and ceilings for homeowners and restaurant clients.
Audrey and her husband sold their house in 2012 and moved to Audrey's family's farm in rural New Jersey. "Even though it was only 45 minutes away from the suburbs," Audrey says, "it's a very different vibe, much more into reclaimed and salvaged everything." She embraced this spirit of reuse and opened an Etsy shop that year initially selling mirrors and chalkboards made from salvaged window frames from old houses, found by the side of country roads. But a home improvement project would change the course of the business drastically.
To update the farmhouse, Audrey hired her friend, Mark Martino, a carpenter and home contractor, to build a kitchen island from a repurposed cabinet with a barn wood top. Audrey finished and sanded it, drawing upon her finishing skills. After she shared photos of the completed piece online, a local luncheonette contacted her and ultimately ordered table tops. By 2014, Audrey completely shifted the focus of Fresh Restorations to tables made from reclaimed wood. Mark builds most of the tables and Audrey does the tabletop sanding and finishing. She also manages the daily business needs — running the Etsy shop, handling customer service and arranging freight shipping, with help from her assistant Paula Lucas, who was also her assistant in the decorative painting business.
Sales doubled for Fresh Restorations in 2015 — and in January and February of 2016 sales doubled again. Recently, Audrey spoke to Seller Handbook editor Julie Schneider to discuss how she continues to grow the business and navigate the unique challenges of the reclaimed-wood furniture trade.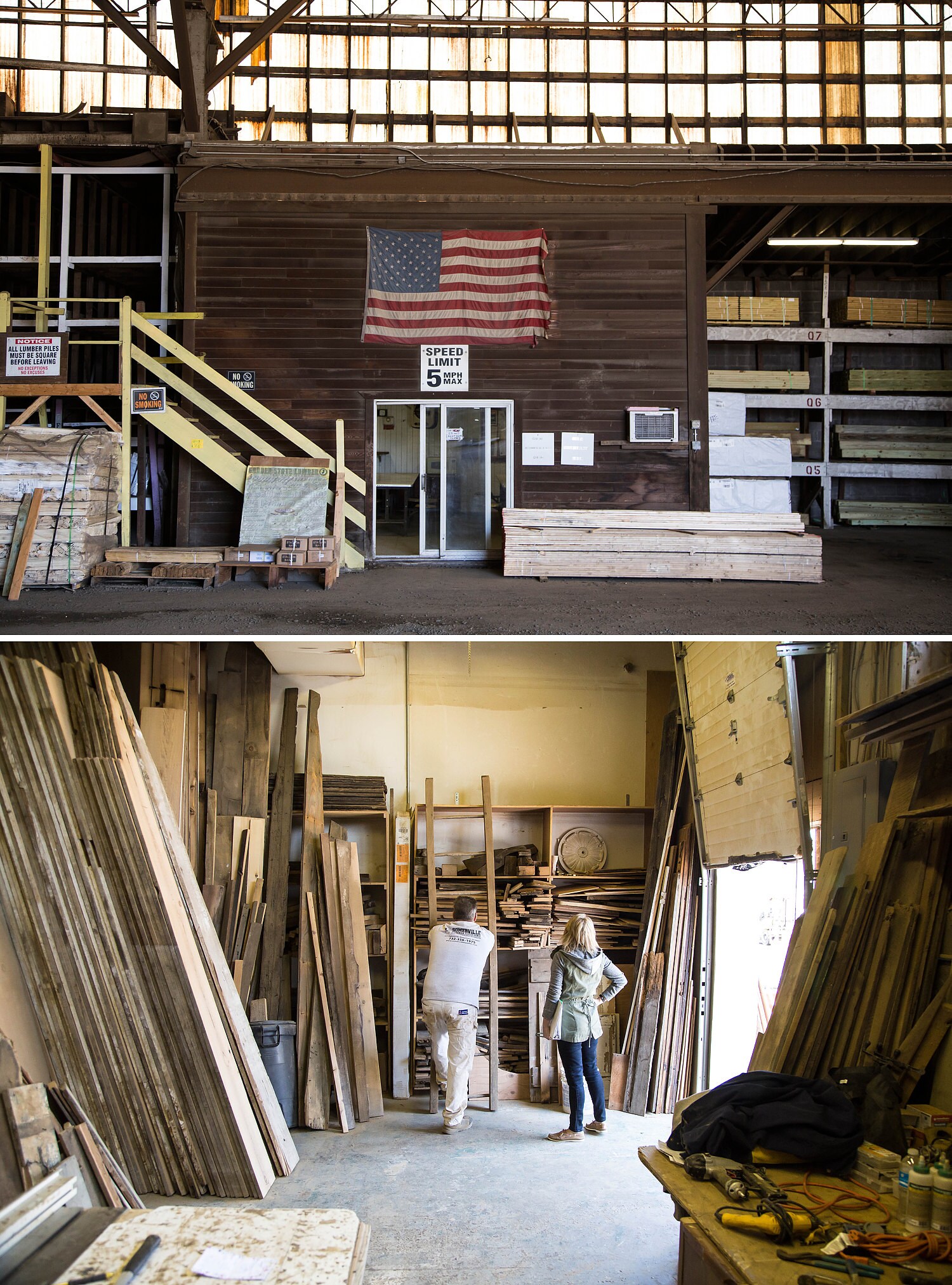 What attracts you to working with discarded materials?
I love giving new life to old things that once filled a basic need. Instead of filling landfills with discarded barn wood, we're turning the material into beautiful valuable functional furniture. The saw marks and hand-forged nails tell a story of the past. Making these tables gives people something to treasure with a piece of the rich American history of farming. My hope is that people will pass down our pieces to the future generation.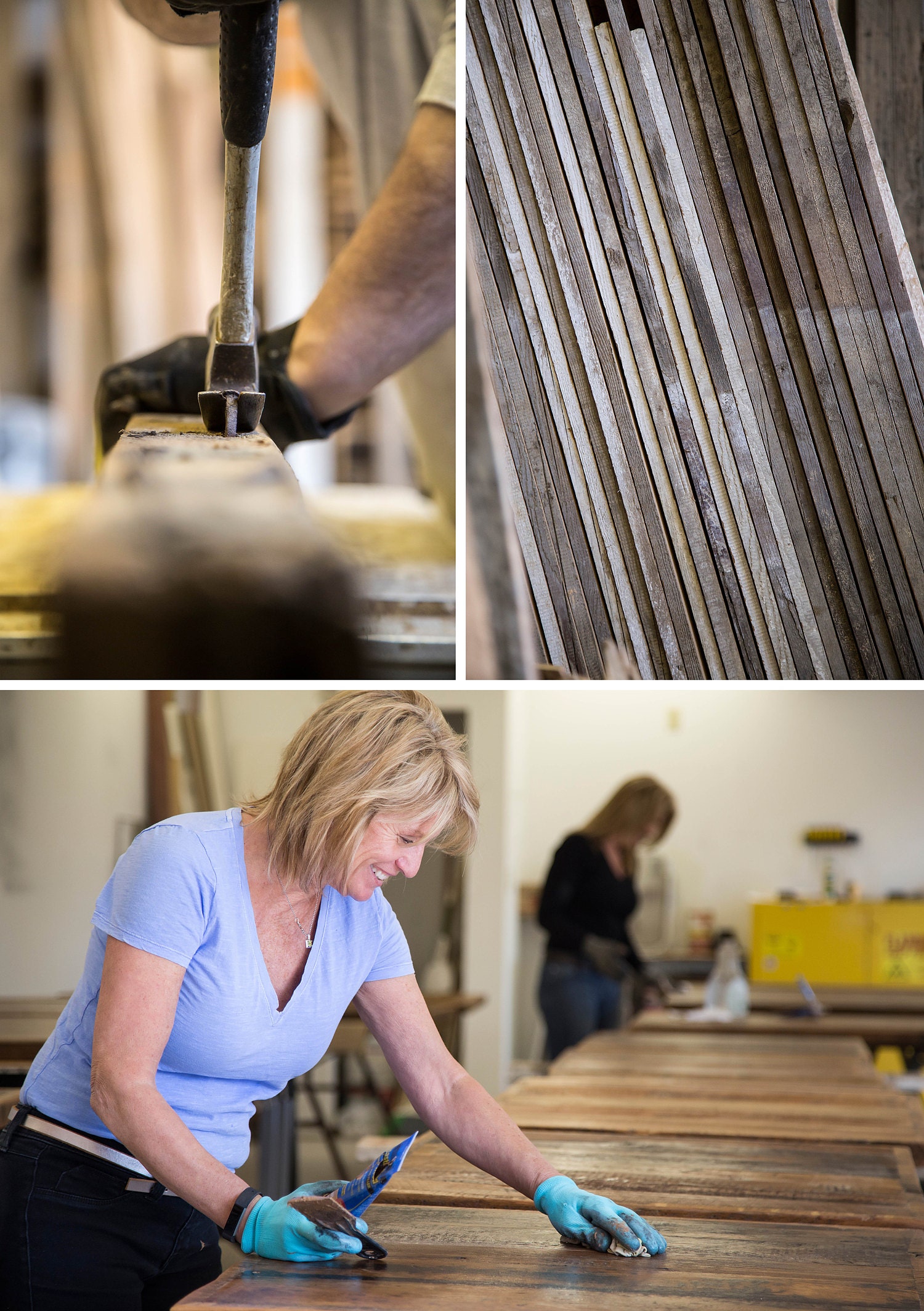 How do you source enough barn wood to make your products?
Believe it or not there are a lot of barns. It took awhile for us to get a consistent source of reclaimed wood. In the very beginning, we'd run out of wood. We couldn't find a source, so we were scrambling. We actually found a guy on Craigslist after about eight months. He finds barns in New Jersey, Pennsylvania and New York state that the landowner needs to have taken down. Once a landowner wants to sell a property, if there's a rundown barn on it, it becomes a negative for the buyer. Our guy calls us when he's hired to take a barn down. I have him take pictures of it and get the backstory from the owner — when it was built, what it was used for — because people want to know the story behind the wood in their tables. Now, he delivers wood to us once every two weeks. When we have an order, I don't have to worry, "Oh my gosh, how am I going to get the wood?"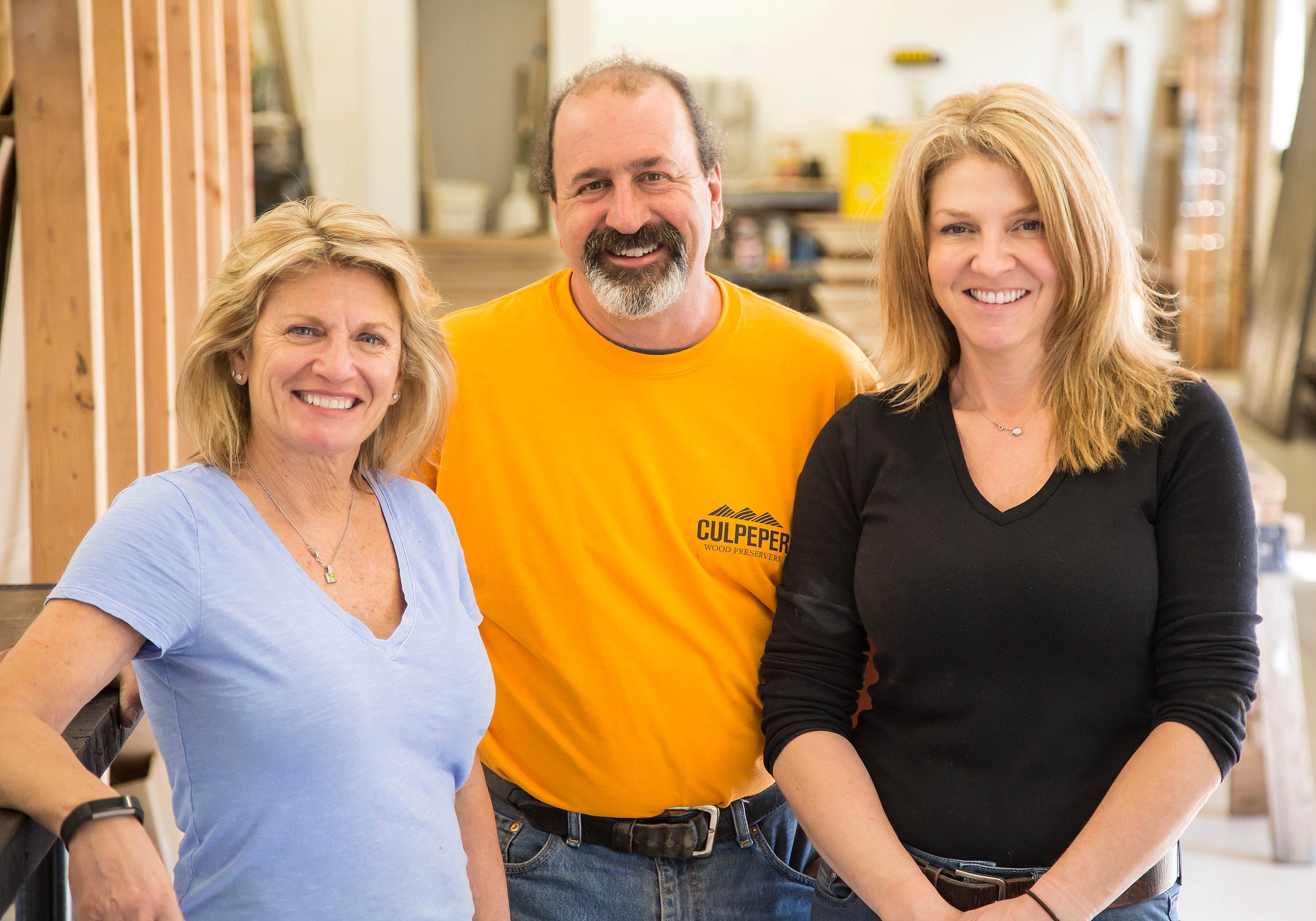 What's your approach to shipping furniture?
I was fortunate to find a shipping company, Old Dominion Freight Line, that was willing to take a risk and give me a significant discount for volume without knowing exactly what I was going to sell every month. The sales rep came and met us, saw our shop and saw that we were hard-working and that chances were we were going to be shipping a lot — and we are. Shipping is still costly, but when you get a discount for volume it helps tremendously. A freight shipper works differently than FedEx or UPS Ground. There are a lot of extra charges that I had to learn about. For example, they charge extra for residential delivery and if they have to use their lift gate. They only do curbside; they don't bring it in the house, and if they do it's extra. There was quite a bit to learn about this, but if you have a big heavy item, it's important to get a good shipper.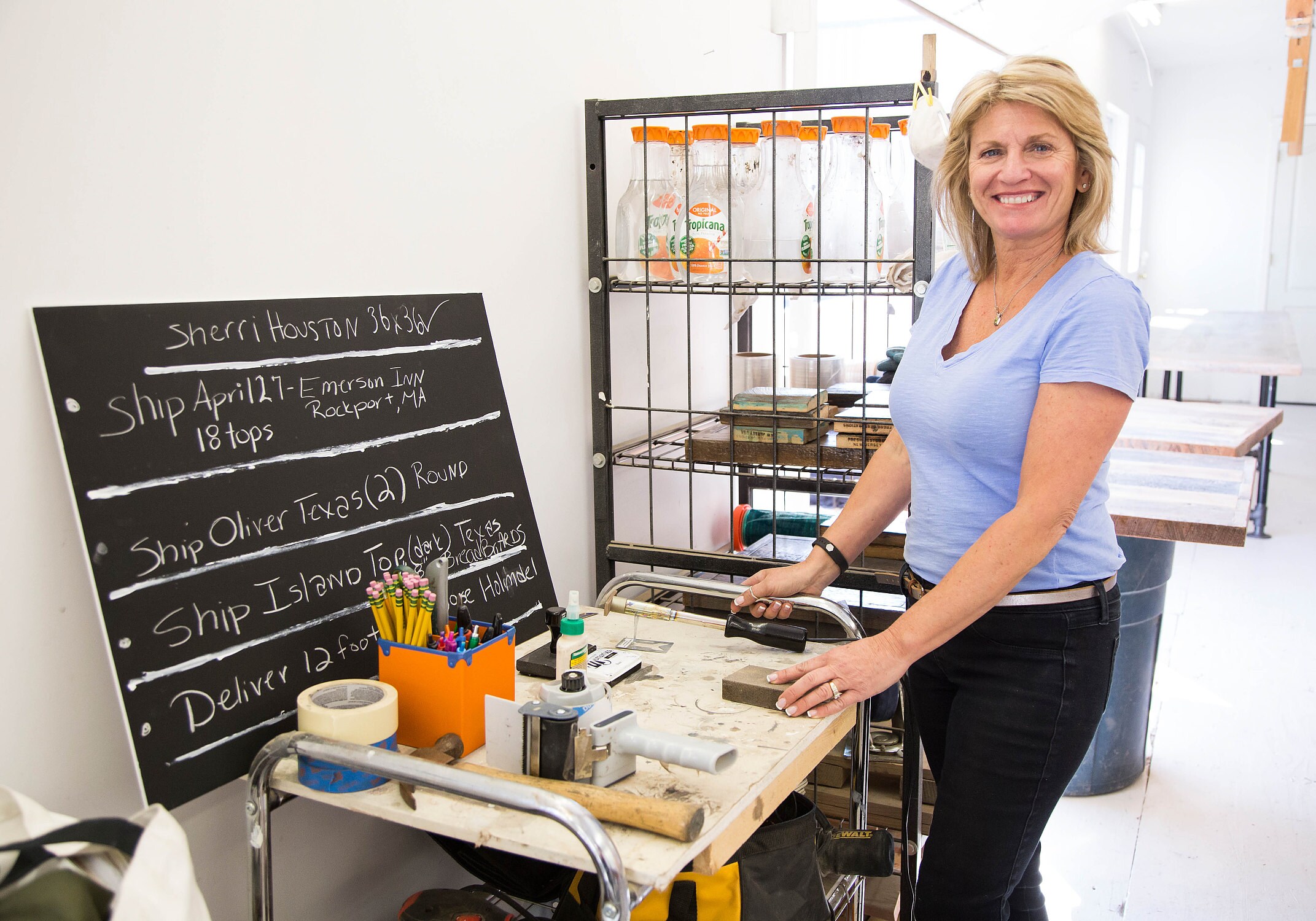 When calculating prices, what do you factor in?
The material costs are calculated per square foot. I figure out what I need to pay for labor. I factor in overhead, the cost of the supplies and Etsy fees. I total that all up and factor in what I need to earn to make it worthwhile. I have to keep my prices at a point where it makes sense to do this business. I have be able to pay my workers and myself and make a profit. I also pay really close attention to how we make the finished product and on-time shipping. Sometimes we ship early, if we can, and people love that. But I can't really do all that and cut the pricing. I think the fact that we get repeat business is a good indicator that we're doing a pretty good job with putting out a good quality product at a good price.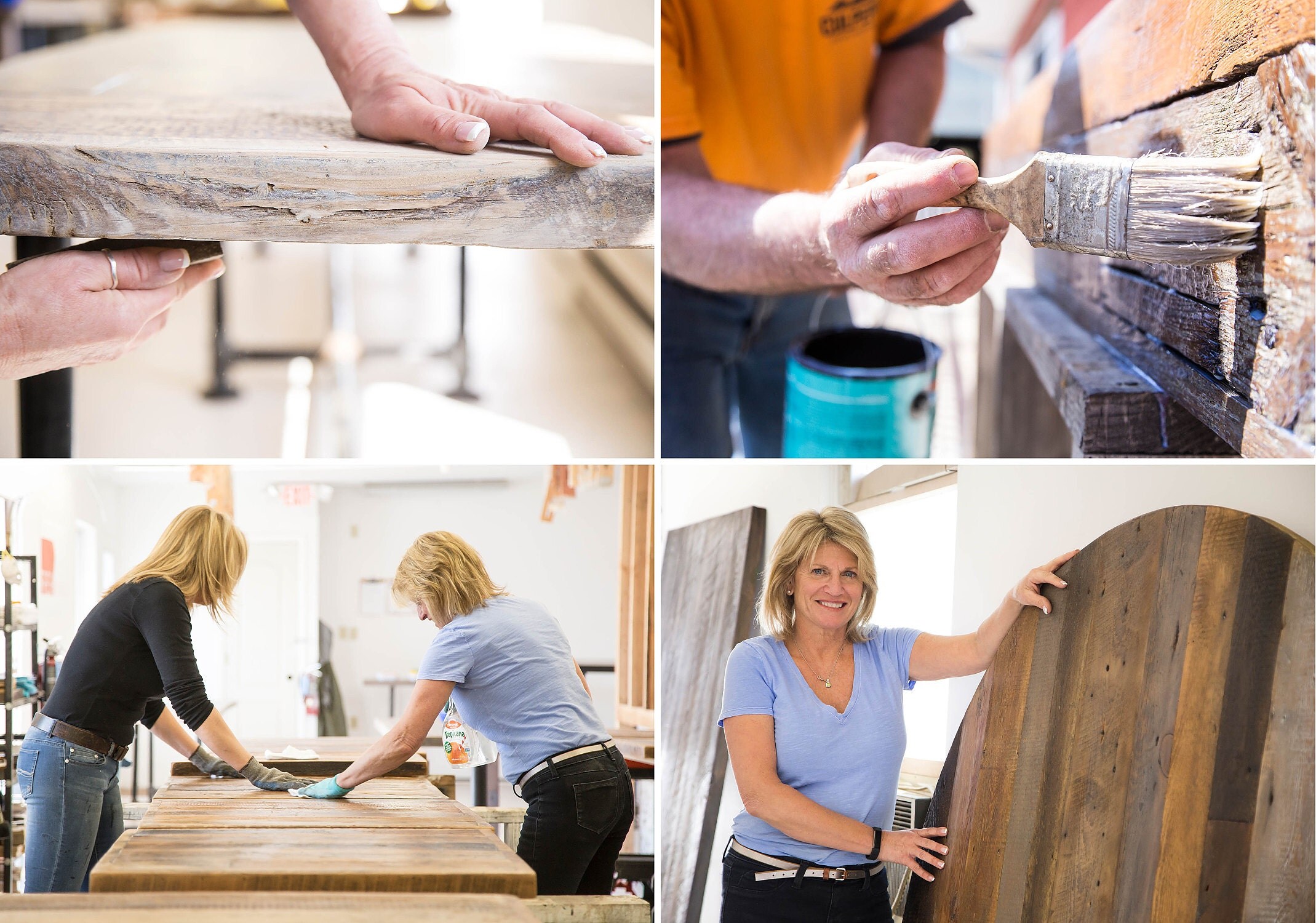 How do you encourage repeat business?
We have some restaurants that expanded and needed more tables. We have homeowners who had a table and then wanted a sliding barn door. We've had offices buy a conference table and want another. I think you also need repeat business to really grow. I rely on outstanding customer service. I mean, I bend over backwards to make sure people are happy. I respond right away and make sure that what we produce and deliver is really above and beyond. I make sure everything is sanded underneath very well so that nobody can get a splinter. You get one bad review online and it can really, really hurt your business. A bad review? That's very hard to undo. The bottom line is I make sure that if there's a problem, I am on top of it. The product and the customer service must be what makes people come back.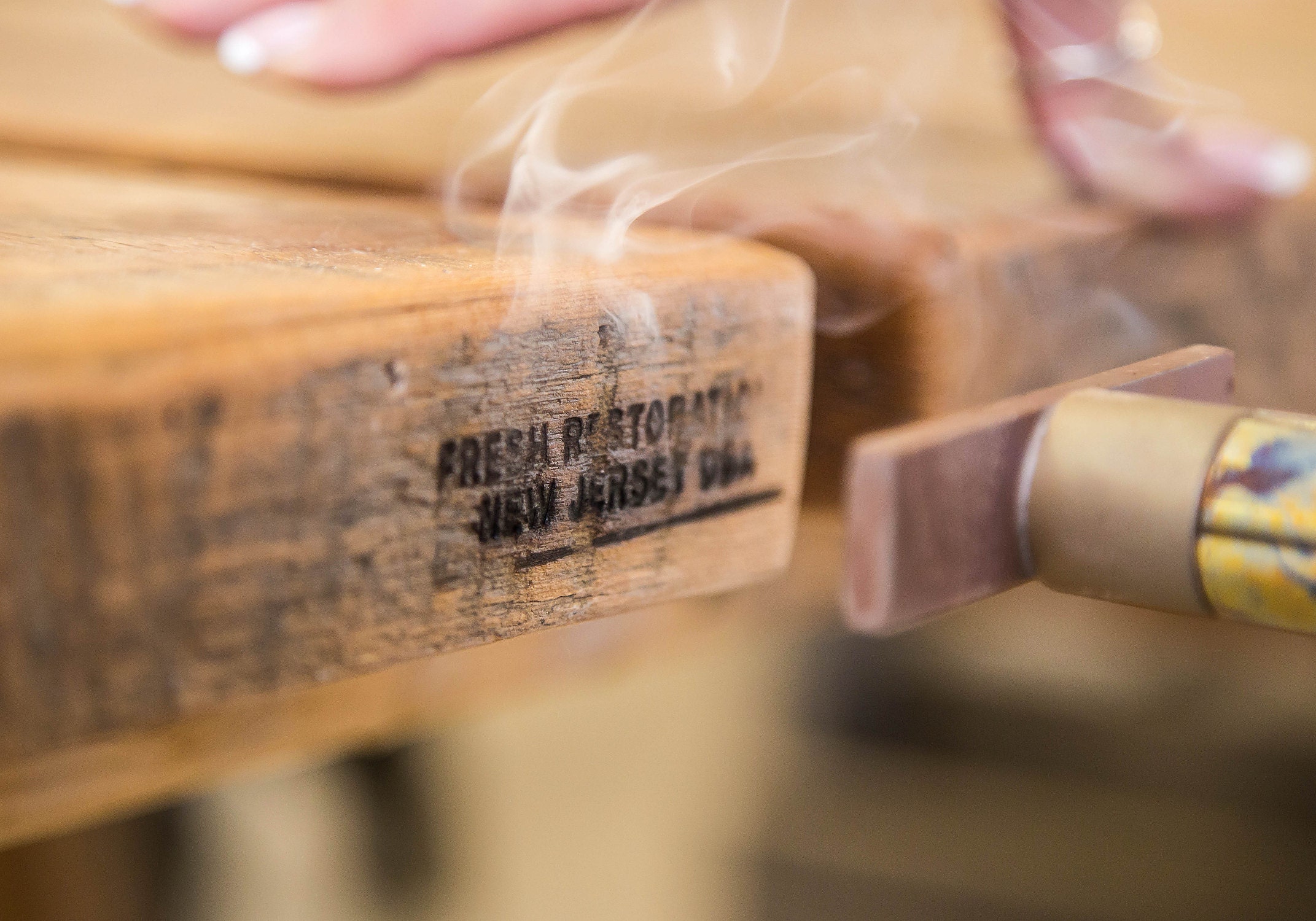 What's your top advice to new Etsy sellers?
You have to put in a lot of time, just like you have to with any job. Sit down in front of the computer and really mess around with your listings, shop, pictures, descriptions and story. All of it. Just keep working at it. You can tell when you get feedback or likes or shares when something is working and when it's not. Also, it's worth its weight in gold to pay somebody for their talents for things you aren't good at. I spent hours and hours playing around with a new logo and didn't come up with anything. I found somebody on Etsy and paid her to do the logo and a Facebook banner and it was well worth it. You have to put a little bit of money out to make it more professional.
I've been at it three years, so it wasn't overnight. I think that's the same really with any kind of business: it takes time till you start making some good money at it, doing well, being successful — whatever being successful means to you.
To see Audrey's latest reclaimed-wood designs, check out her Etsy shop, Fresh Restorations.
What inspired your business? Share your story in the comments below.