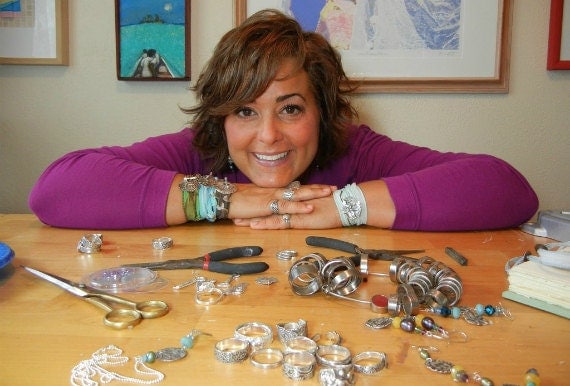 Tell us about your previous working situation and how you discovered Etsy.
I started out with an amazing job as manager of the Shark Lab in the Bahamas. Eventually I left and started helping my father with his firearms and furniture company. My sister, Tricky, had a successful Etsy shop, TrickyKnits, and convinced me that, if she had the time for a shop while raising her 7 children, I surely had it with no kids. Mustering the courage to tell my dad it was time for me to leave the family business after ten years was particularly hard. Little did I know he had seen it coming. It was an instant relief to hear him say, "I've known since you were born you were meant to do something creative."
How did you prepare to transition into full-time Etsy selling?
When I started HappyGoLicky I saved every cent I made for nearly a year so I could invest in the best tools to increase my efficiency and afford to buy supplies in bulk. Working past midnight became a regular occurrence. I also spent time developing my products, researching self-employment, and reading up on what makes a successful Etsy shop.
What is your favorite part of the jewelry making process?
Oxidizing and polishing: they provide depth and detail. I like to roll the finished piece around my fingers; it provides a real sense of accomplishment.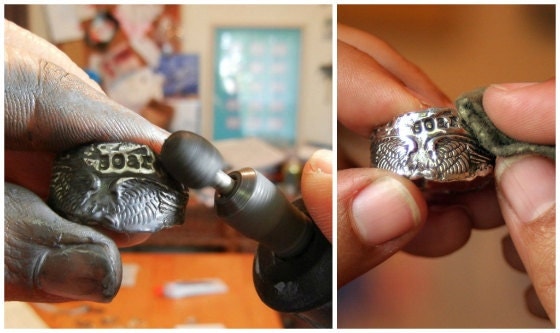 What are your best marketing tips?
Be descriptive about colors in tags. Instead of just 'yellow,' how about honey mustard, lemon drop, or dandelion?
Always have business cards on you. Mine have six pictures of my bestsellers on the back to serve as reminders of my work.
I have run free shipping offers in my listings in exchange for hearing how customers found my jewelry. Learning which methods work helps me hone my marketing efforts.
What's been your most popular item or line to date?
My Gathered Wings Ring has been a hit for me. I think it's because the collage can be symbolic of so many things: angels, fairies, owls, eagles, doves, or any other feathered friend that might bear special significance to someone. Hiding initials in the wings adds a fun surprise, too.
My ocean waves Serenity Ring is also a top seller, but I think my new Serenity Bracelets will beat them both, since these have generally sold out in the first day at craft shows. With the increase in the price of silver, the silk ribbons offer a versatile and economical alternative. Plus the ribbons are interchangeable, so you can wear a different colored ribbon every day of the week to match your outfit or mood.
What have you found to be an unsuccessful promotion?
Blog giveaways have proven to be fruitless for me, as verified by my Google Analytics, which reported very few hits from blogs.
Have you made any business mistakes you regret?
My shop's spelling is something I regret. Capital letters help differentiate, so I wish I had the forethought to call myself HappyGoLicky instead of happygolicky. I've had folks convo and ask me what a "golicky" is.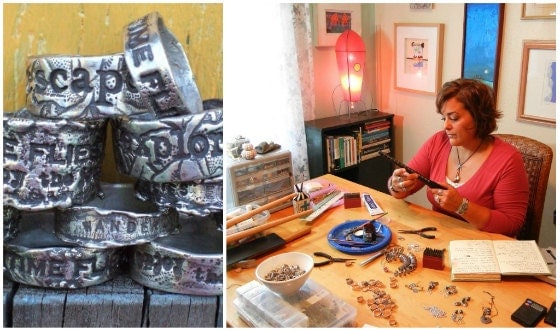 What is the biggest challenge you face during your daily schedule?
Time management is a constant struggle. Having my studio in my home is convenient, and most nights I end up working until the wee hours. The trickiest element is establishing a stopping point. I think about jewelry all day long — my new adjustable ring design, what font to use on a custom piece, how to expand my necklace line — so it's very hard to wind down at night.
What's the hardest part about running your own business?
Adjusting to the concept of "feast or famine" has been daunting since regular paychecks stopped coming in. The responsibility for this business falls solely on my shoulders, and it's always in the back of my mind. Luckily, I have a very supportive boyfriend who reminds me that I maintain the discipline, motivation, and work ethic to keep this business not only going, but growing. In all honesty, I still have a secret fear I will wake up and watch soap operas all day. I haven't, but just knowing I could is scary.
What do you enjoy most about not having a day job?
Now my daydreams are legitimate and my doodles are profitable. (Tell that to my 5th grade teacher who complained of my wandering mind.) That sort of validity is something I value even more than never having to hit my snooze button.
What advice would you give someone considering a similar path?
It takes money to make money, so save all you can before the leap of faith. Having some cash set aside has permitted me to take risks and gain important insight.
Stay focused. Feeling discouraged when sales are slow in the beginning is common. Use the down time to tweak your shop. Strive to take better photographs, write thorough descriptions, and read everything you can about marketing your product.
What goals do you have for the future of your business?
My goal for this year is a 30% increase in sales. I would love the time to commit to wholesale requests which I have been too busy to explore due to my custom orders. Adding craft shows to my schedule is on my list. But above all, I'd love to go to a faraway place — maybe Brazil, Spain or Singapore — and spot a woman wearing one of my designs. That would be bliss.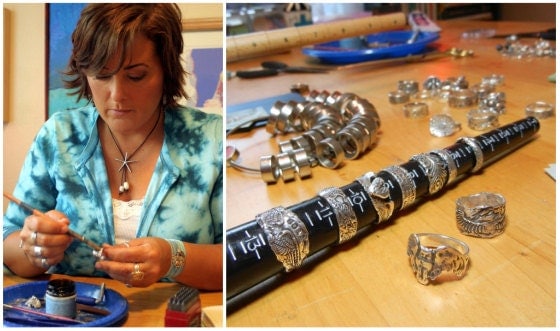 Anything else you would like to share?
I am forever grateful to Etsy and the dedicated staff that has enabled so many artists to live their passion. Thank you! I wish those who are considering going out on their own the best of luck and success. As I tell my friends, if you see a piece of jewelry that you like, scoop it up, because my style is continuously evolving.