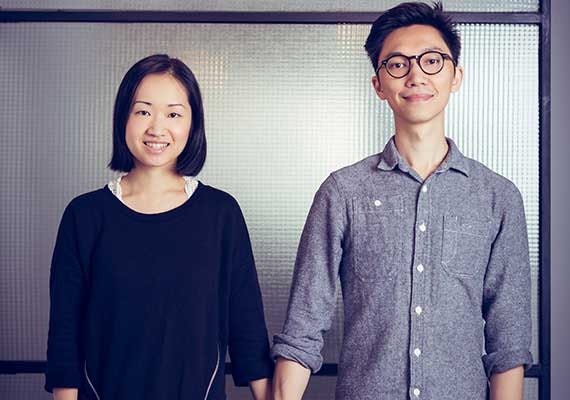 When they couldn't find leather goods that suited their personal styles, Alex Yip and Harmony Chung took matters into their own hands. They bought books and taught themselves how to work with leather, perfecting their skills by making a wallet and handbag for one another and birthday presents for friends. In September 2010, a year after getting married, the couple opened their Etsy shop, HarLex, to sell their leather goods. The luggage tags, clutches, wallets, passport covers and cases for mobile devices are all made-to-order and available with custom color options and personalized text.
The timing couldn't have been better: Much to their surprise, they saw  big demand from shoppers looking for Christmas gifts. Each night, after returning home from full-time jobs, they worked until 3 a.m., sewing, packing orders and answering Convos, before waking up and doing it all again. "I was like a zombie," Harmony says. A few months later, she left her job as a fashion designer to focus on HarLex full-time. When the shop started getting press coverage in far-flung places, like the United States and United Kingdom, the couple took note. "We thought that, if our sales are consistently increasing, there's potential to invest all of our time in this business," Alex recalls. So, in 2012, he quit his marketing day job in order to focus on the business. Today they have made more than 2,200 sales in their Etsy shop.
These days, Alex is in charge of marketing for HarLex and Harmony handles customer service. They collaborate on production and product design. Each day, they do production work in their studio from 11 a.m. to 7 p.m. They also teach about five leather craft workshops in their studio each month. This year, they hired a part-time assistant to help fulfill orders three days a week, which frees Harmony and Alex to design new products and develop their business. In the evening, after their 19-month-old son, Jarvis, is asleep, the couple resumes work at home. Since 90 percent of their customers are based in the US and Europe, they focus on customer service work and social media updates until 2 a.m. or 3 a.m., while it's daytime in those areas.
Harmony and Alex recently spoke to Julie Schneider, writer-editor for Etsy's Seller Handbook blog, about lessons they've learned while building a handmade leather business in Hong Kong, with orders that travel across the world.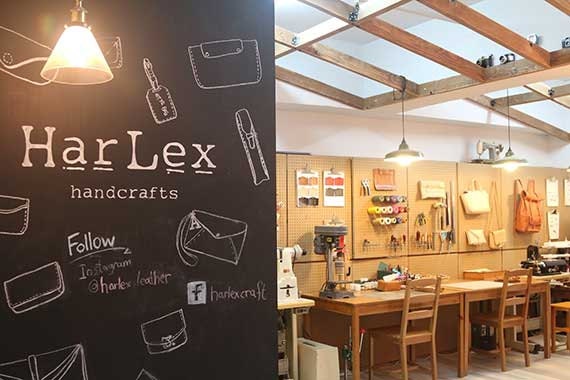 How do you manage to produce so many personalized items?
Harmony: When customers place an order, they select a leather and stitching color and provide the name they'd like us to engrave on the item in the purchase notes. After we produce the item, I hammer the text on the product by hand. Some people will also request a custom order and ask if they can get something slightly different, like an extra pocket. If they have a new idea and provide us with photos or reference, we'll see if it's possible to do. It takes a lot of communication, so we try to reduce the work by describing the process and our needs in product listings and Shop Policies very clearly. That cuts down on the number of Convos we have with customers. Confirming personal details with customers before engraving also helps reduce errors and returns or exchanges.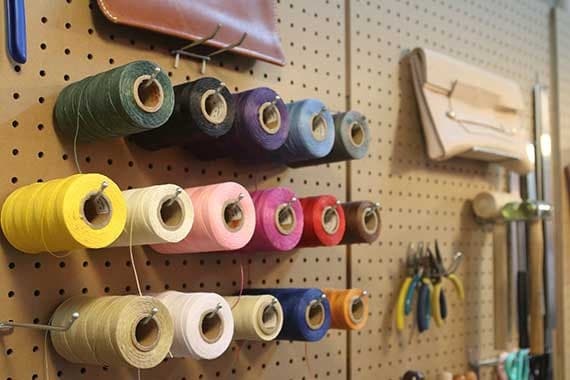 What are the biggest challenges for your business?
Alex: It's a challenge to keep our sales consistent — and to make them increase — because we see seasonal periods on Etsy. It's also a challenge to figure out how to promote the shop and get new and return customers, while at the same developing our business. We've been doing this for four years. More shops are opening on Etsy and there are more competitors and more and more choices for customers.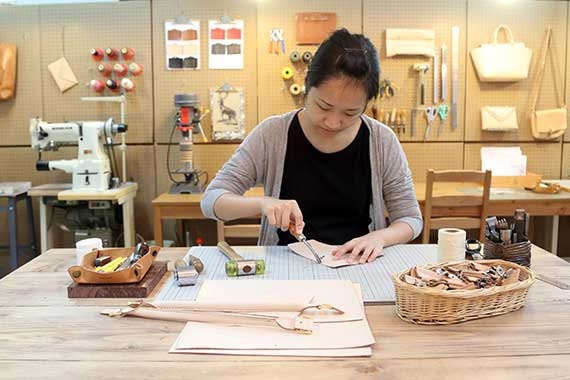 How do you address competition?
Alex: I've seen other brands that will discount, discount, discount to try to get more sales, but in the end, they can't sustain their product image. We research our competitors to understand our position in the marketplace. We try to increase sales not by discounting prices, but by focusing on quality, service and personalization. We're working on expanding our sales channels and our product range and materials. We're also trying to do more online promotion, because we know there are still a lot of potential customers out there.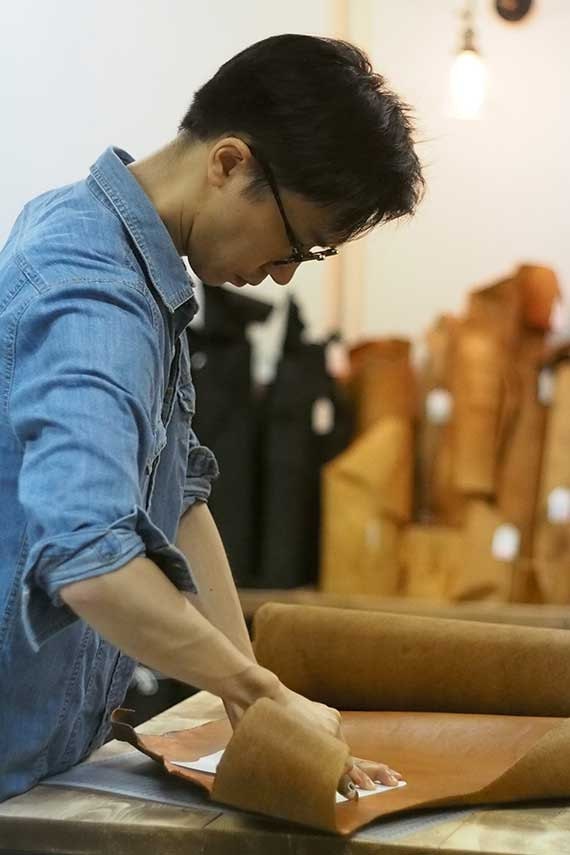 Where are your customers based?
Harmony: About 60 percent of our customers are in the United States and 30 percent are in Europe, especially in Norway, Sweden and other Northern Europe countries. The rest are based locally and in other Asian countries. We also have offline wholesale channels in Hong Kong for some lifestyle and fashion retail shops. We sell a capsule collection in a small corner of a big bookshop in Hong Kong. That's how we have gained some local customers from offline retail — they find us in stores, then search for us on the Internet and find our Etsy shop, which features more of our products.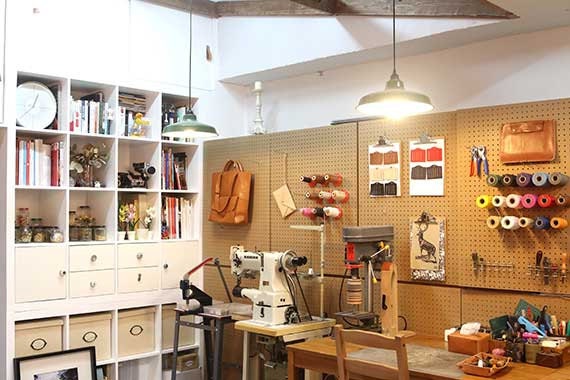 Why did you start holding leather workshops?
Alex: When we moved into a bigger studio space, we decided to offer in-person workshops. Handcraft as a hobby is getting more popular in Hong Kong. Often people don't buy handcrafted stuff here because they can do it themselves.
Harmony: In Hong Kong, it is quite easy to buy materials and tools at a reasonable price. After learning skills from books or classes, they are not really willing to buy handcrafted leather products at our price point. But people are willing to pay for classes, so it's a great way to supplement our sales.
Alex: The workshop also helps us promote our brand locally in Hong Kong. We have beginner workshops to make smaller items, like wallets, and advanced workshops to make handbags and bigger items. Students can also learn whatever they want; if they provide a sketch, then I develop the paper pattern and teach them how to do it. We did a Groupon to promote our workshops and our brand in Hong Kong. From a marketing point of view, it was a success. But the margins were very high, so we didn't earn much.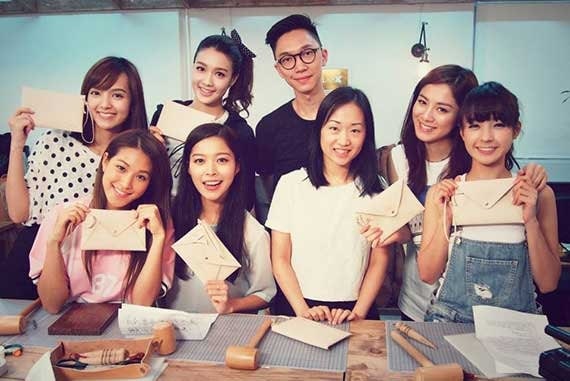 What are your top tips for new sellers?
Harmony: It really takes time and patience to develop your own brand, image and products, and to draw in buyers.
Alex: Take good pictures. The first thing a customer sees is your first picture, so it's really important for that image to represent the style of your products and the lifestyle of your shop. If that photo can tell a shopper everything about your brand, then it's easier to earn the first click. Also, keep in mind that an online business is really about the customer service, so reply to Convos as soon as possible. And don't quit so soon if things are getting tough!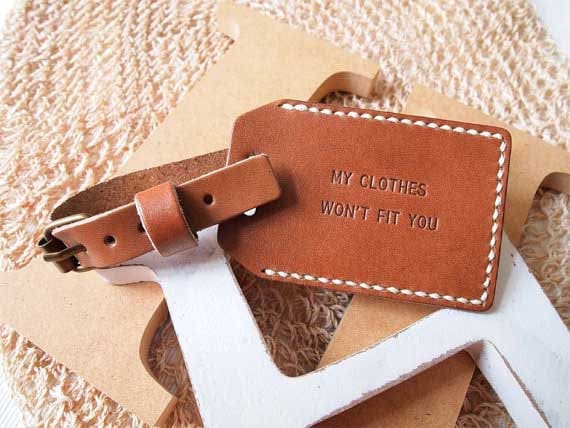 What makes you most proud about your business?
Alex: We are doing what we love every day. We started as a hobby and we have a will to keep improving our skills, because we enjoy designing new products. We have the power to do what we love.
How do you keep your shop fresh? Share your ideas in the comments.