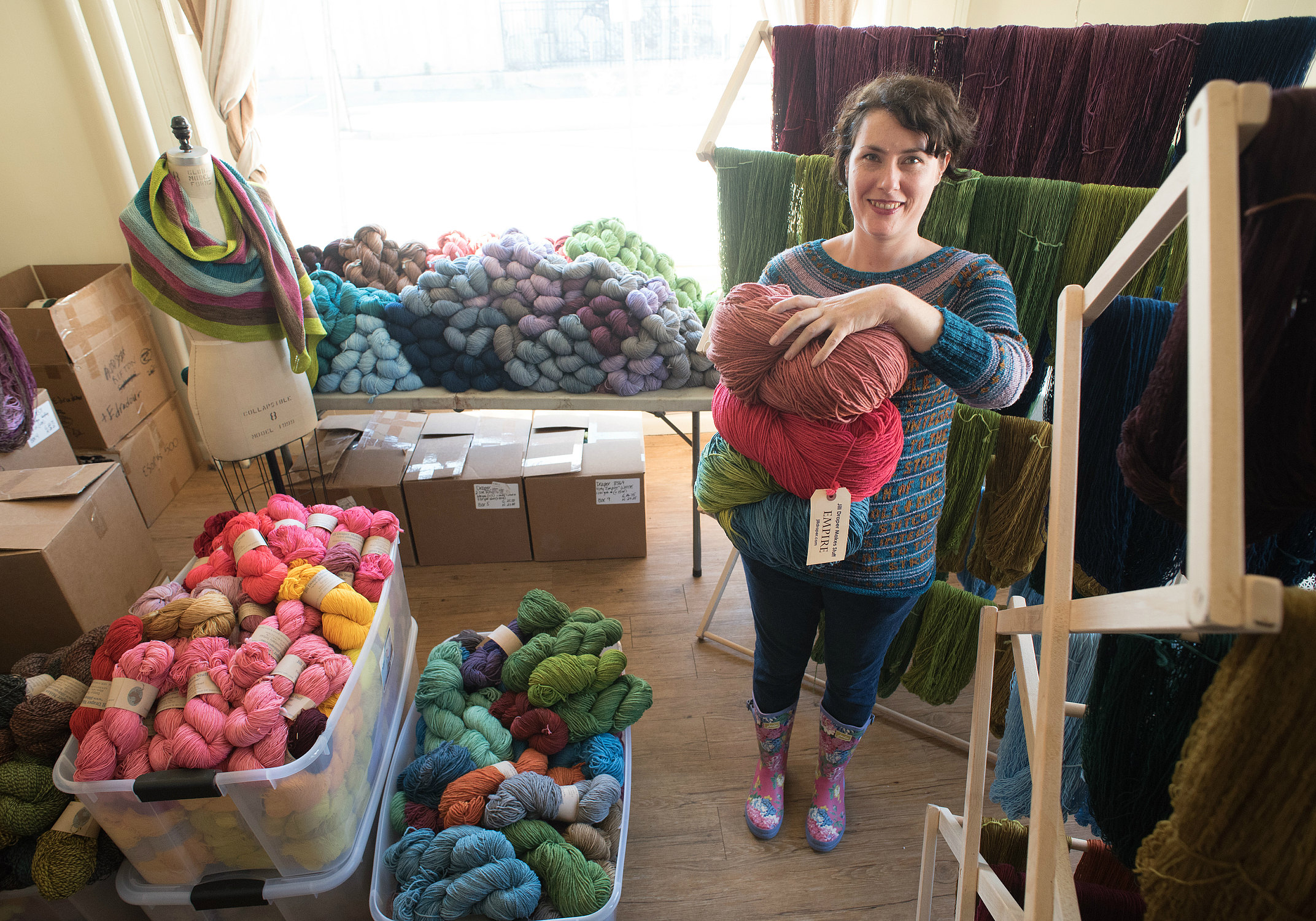 When Jill Draper graduated from New York City's Pratt University, she planned to pursue a career in fashion. But the fashion industry wasn't exactly what she had expected. Jill freelanced and worked at a Broadway costume shop. To make ends meet, she also waited tables and ran bike deliveries at a restaurant. "The reality was sewing a lot of costumes that someone else designed. And I'm sure, after many years of working in a costume shop, you work your way up," Jill says. "But I saw so many years of what felt like factory work in front of me, and I wasn't really sure what I was going to do."
To earn more income, she took a job in a yarn shop, selling retail and designing in-house patterns — and something clicked. "Being around yarn all the time, I realized how much I loved it," Jill says. Jill had grown up knitting and crafting with her mother and grandmother, but she had never considered that making yarn could be a career. "It was combining my love of fashion and textiles with my love of process, because it was taking fashion one step further back," she says. "You're creating the fabric that makes the garment, and that felt really exciting to me again." In 2007, Jill moved upstate to Kingston, New York where the rent was cheaper, and opened her Etsy shop for hand-dyed yarn, Jill Draper Makes Stuff.
It took a year or two for Jill to find her footing on Etsy. In addition to selling handspun and dyed yarn, she made tote bags, appliquéd sweatshirts, and other sewn goods. When she realized her yarn accounted for most of her sales, she narrowed her focus. Sometimes, she looks back at listings from her first months on Etsy to see how far she has come. "Some of the pictures are totally out of focus. I had beautiful wood floor so I was taking pictures on the floor, and now, it would never occur to me to do that," she says. "Honestly, it's like when you look back at middle school pictures of yourself and you're like, 'Oh my gosh, how was I walking the Earth, oblivious in my Hypercolor sweatshirt?'"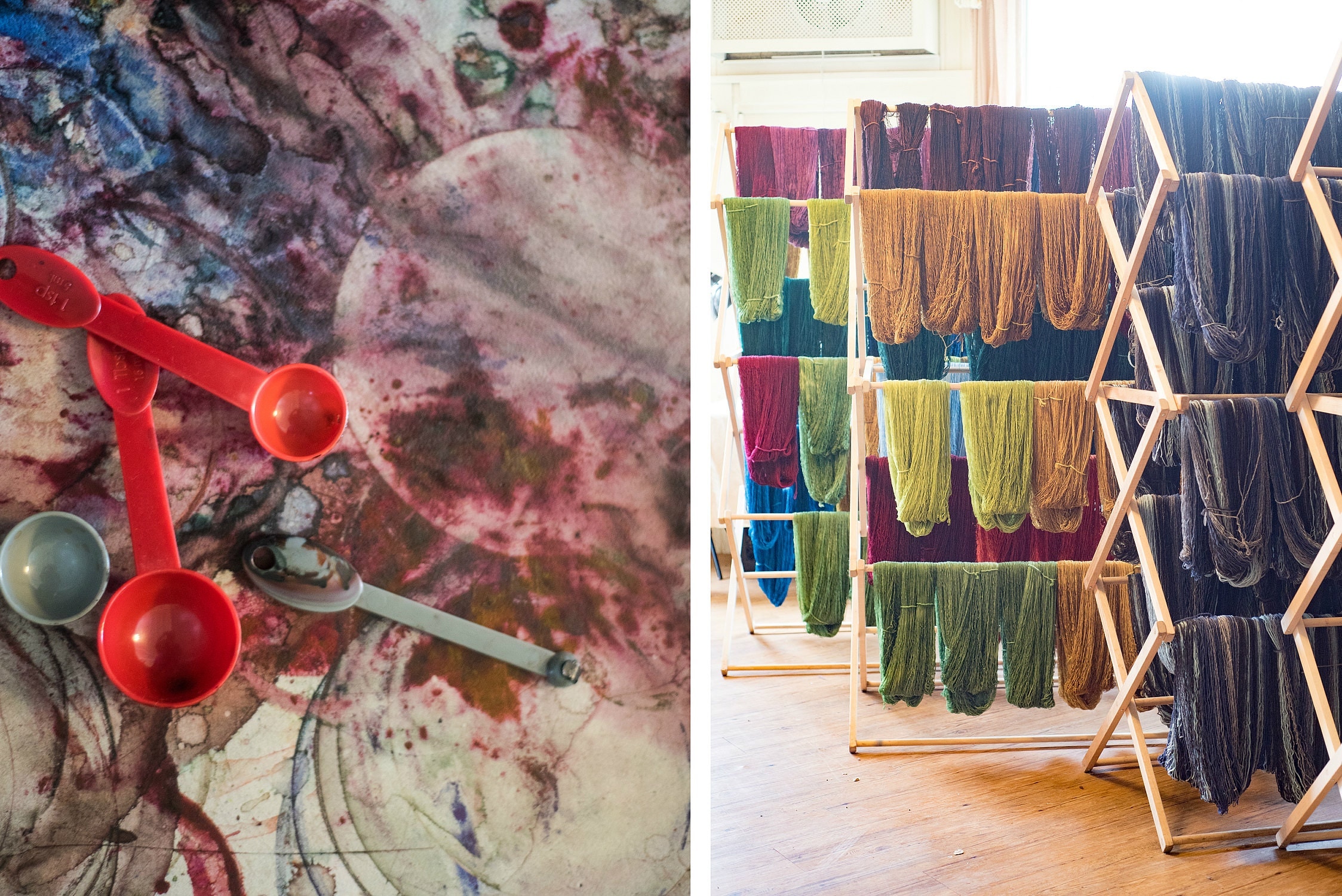 Now, Jill's yarn business is her full-time job. She sources wool from local farms, works with local mills to spin it into yarn, and then hand-dyes the yarn in her studio to make intricately colored and textured designs. With more than 10,000 followers on Instagram Jill has made thousands of sales. Recently, Jill spoke with Mary Kinney, writer for the Seller Handbook, about how she has grown her business.
At what moment did you decide to pursue your business full-time? How did you prepare to take the plunge?
I was doing my Etsy shop, and I was waiting tables and doing product photography for another company. Then slowly, I dropped the product photography, so I could have more time in the studio. Then, I transitioned to just waiting tables on nights and weekends in the summer. In 2010 or 2011, when the fall came around, I was busy enough with my yarn that I had to tell the restaurant I'd only fill in if someone called out sick. It was mostly as a favor to them and not because I needed the work.
It was, honestly, totally, heart-stoppingly scary most of the time. And it's still that way as the business grows. Every spring, as I'm buying wool and ordering yarn, the checks I'm writing to the mills are getting bigger, which is great because it means the business is busier, but it's also totally scary because it's such a long turnaround. In March, when I'm buying wool, I'm like "I hope people still want to knit in September." But it's worked out because after I stopped waiting tables, the business has grown exponentially. I realized the more time I put into this, the better it does.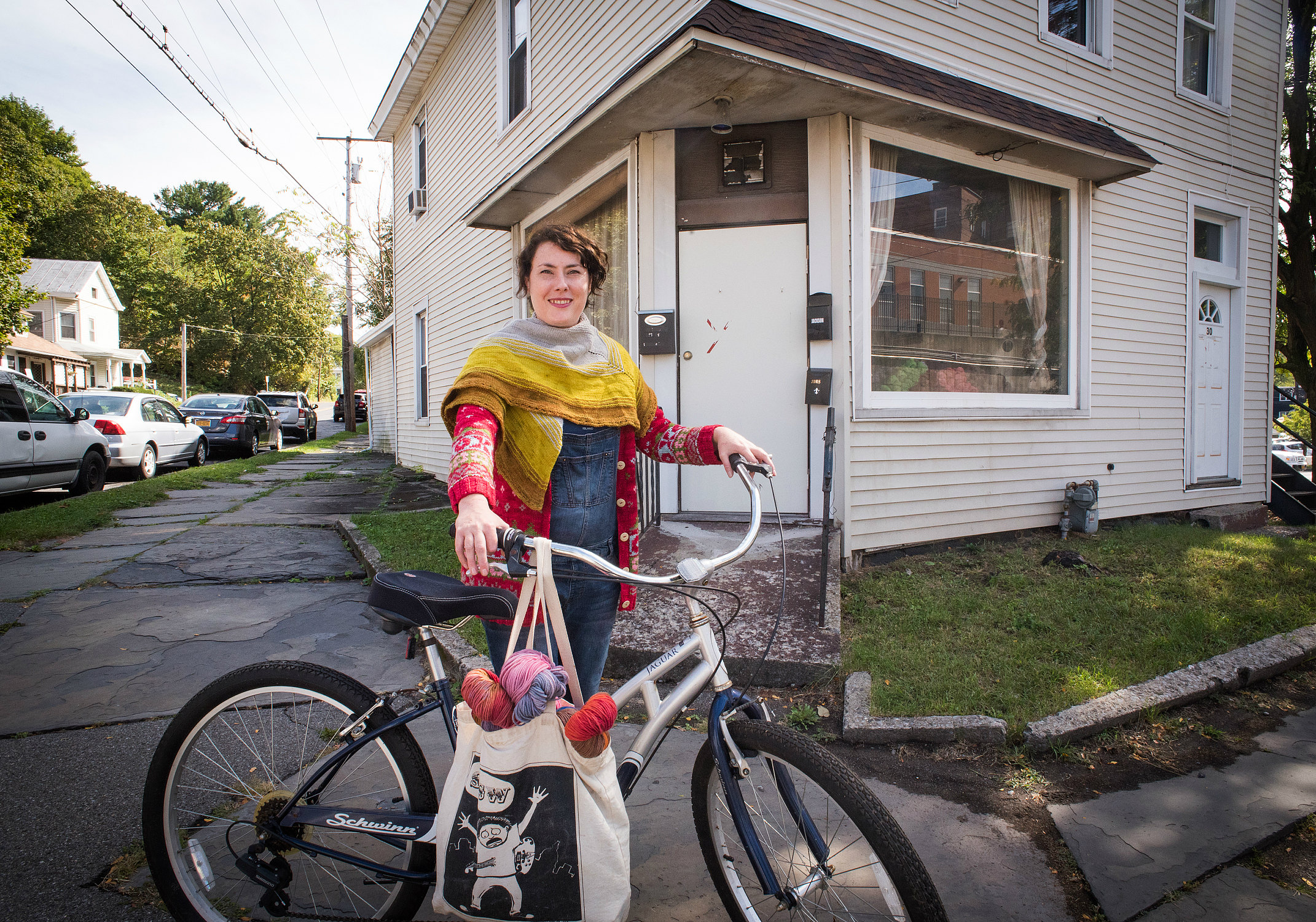 You work with local businesses when creating your yarn. How does that affect your process?
Right now, all of my yarn is domestically sourced, it's all spun in the United States, so basically I work with local farms, and I find a fiber that I like. I'll buy fiber from a few different farms, and they ship it to the mill where they spin it. Green Mountain Spinnery are really great partners for me. It's an employee-owned co-op, so everyone has a say in how things go there.
We make this yarn called Rifton, which is spun to stripe. It's naturally colored wool in shades of brown and gray, and then it's dyed. We developed this way to spin it, so it stripes as it's coming off the machine. I said to David, who runs the production floor, "I have this idea — what do you think about this?" He said, "I have no idea if that's going to work, but we can certainly try it." That process of being able to experiment makes it really fun for me. And it's been really great, because I've learned so much about the machinery just from being able to stand there while it runs.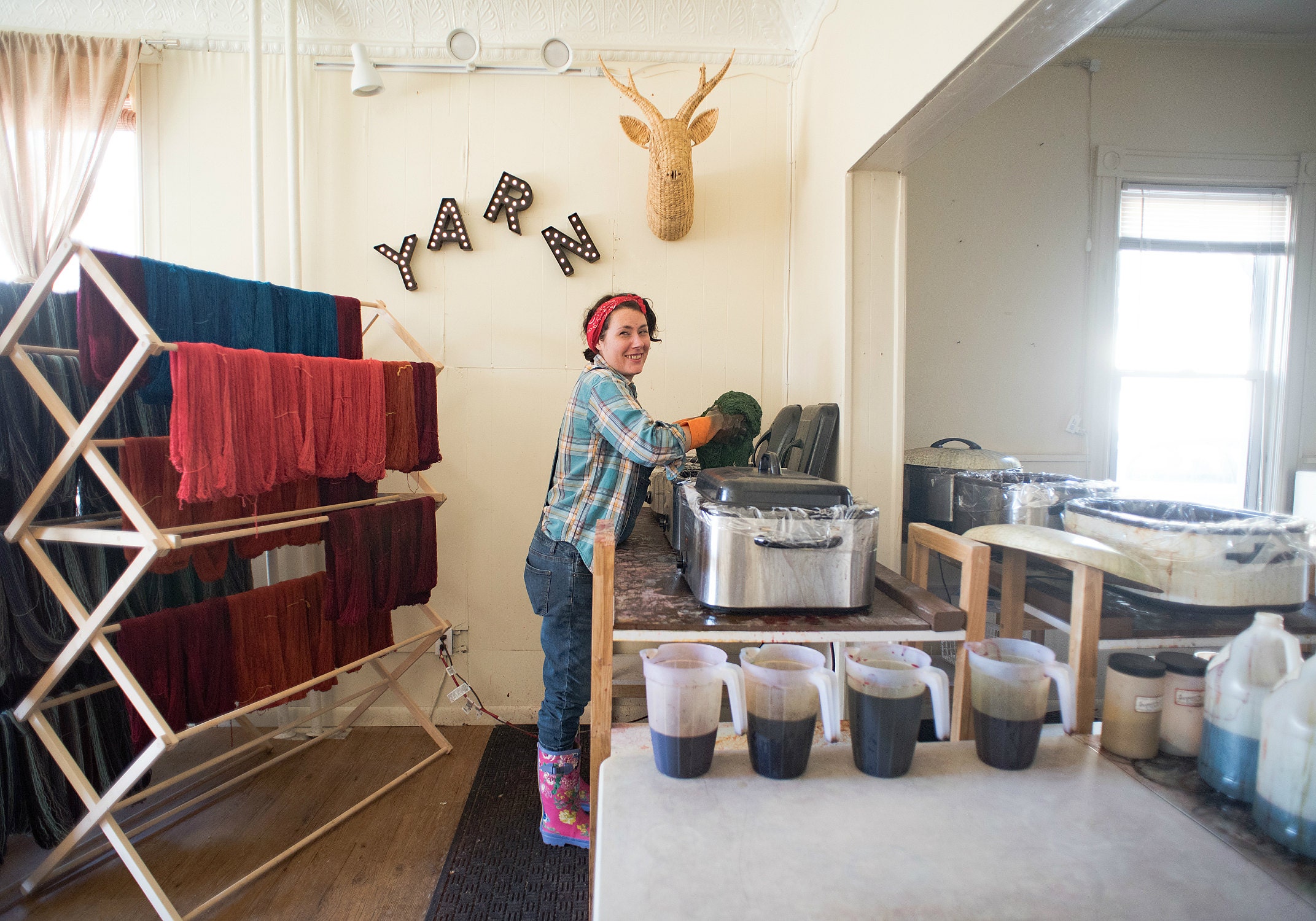 How do you deal with the seasonal changes for your shop?
In the summer, I try to keep banker's hours. I try not to come in before 9, and I try not to leave after 5. In the fall and winter, I wish I could say that I kept regular hours, but there are mornings that I'm here at 6:30 and evenings that I'm here until 8. It's not every day that I spend such long hours, but in the fall and winter, it's definitely way more than a full-time job. I just put my head down and work as hard as I possibly can, because I know it's seasonal. I know that in February or March it will start slowing down.
I don't know if it's living in New York or what, but I like to hustle. I could probably work a little less and be happy, but I've always worked a lot. I like being busy, I like a fast pace and I love the days that I have 30 orders. It sometimes feels overwhelming but I also feel so lucky, like, how can I not work my hardest at this?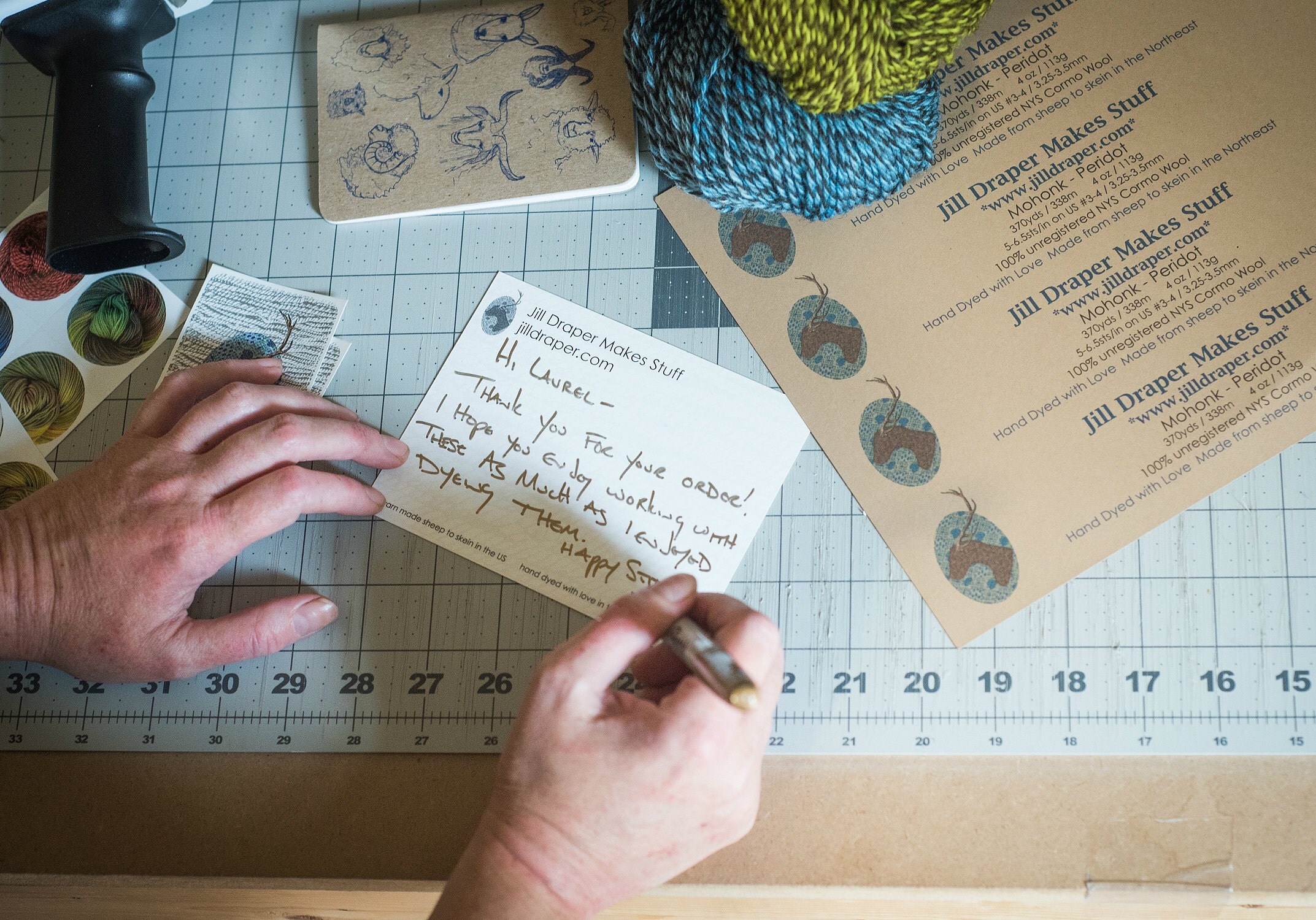 You recently hired an assistant to help with your shop. How did you come to that decision?
In the past, during the fall, I'd take anyone who could come in and pack orders for a little while or have my partner pack orders. I knew by looking at the way my business has grown over the last five years that if my goal was to continue at the same percentage of growth, there was no way to do that with my own two hands. I was really lucky; I was talking to a friend about needing to have a more permanent situation here, and she said, "I have a friend who is looking for a job. She's a knitter, and you'll totally like her." And she was right. I took her on in the spring, basically to give her plenty of time to learn, and now we're totally in the flow.
Do you have any tips for fellow Etsy sellers?
Try to be realistic about your expectations about yourself and about your finances; those are the things that I think don't get said often enough. You need to pay yourself. I have a business bank account, and I have a set salary. It's low, but every single week on Friday, money gets transferred from the business account to my own personal bank account, and that's what I live off of. In that way, it keeps the business finances real and it keeps my own home expenses real. I definitely put the vast majority of the income from the business back into the business, but I live pretty simply. It's enough. And at some point, I'm sure I'll get a raise.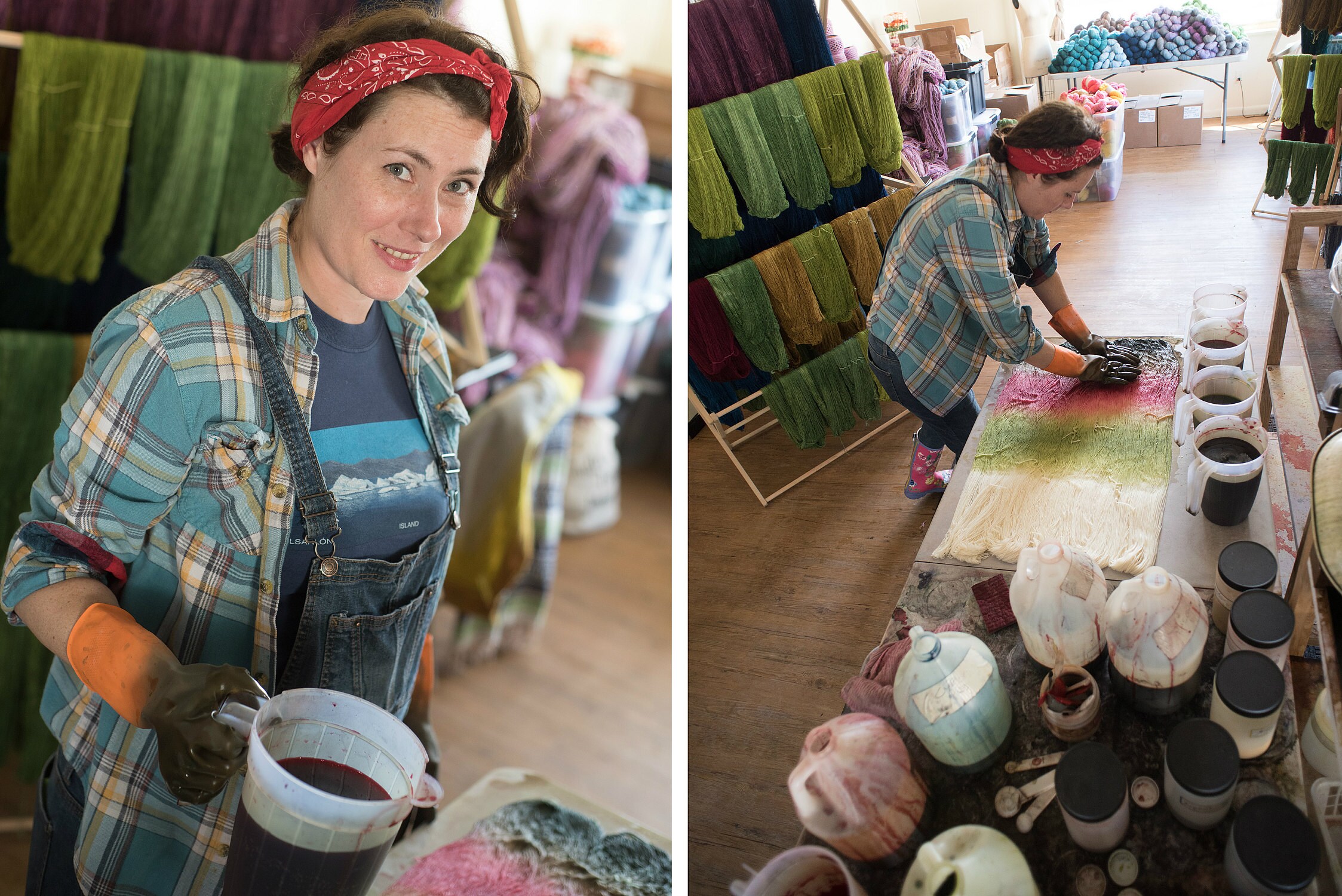 What makes your work unique?
My yarn starts on the farm. I have a hand in creating everything, starting with the fiber. I start designing the yarn by finding the fiber and then bring it to the mills to get spun. I feel like I have a really close relationship with all my products. I really shepherd them through from the beginning.
For instance, I have this yarn Rockwell, with three natural shades of wool. We split the fleeces into dark, medium and light and had them spun as three separate plies and they get plied together. It makes this beautiful marled fabric, and sometimes I sell it natural, and sometimes I dye some of them. Those yarns are so rich and different from anything else. I'm constantly changing my medium because the bases are always changing, and I can have almost anything that I want. It feels really amazing to have an idea for a yarn and be able to make that a reality.
How has your shop evolved over time? Let us know in the comments below.