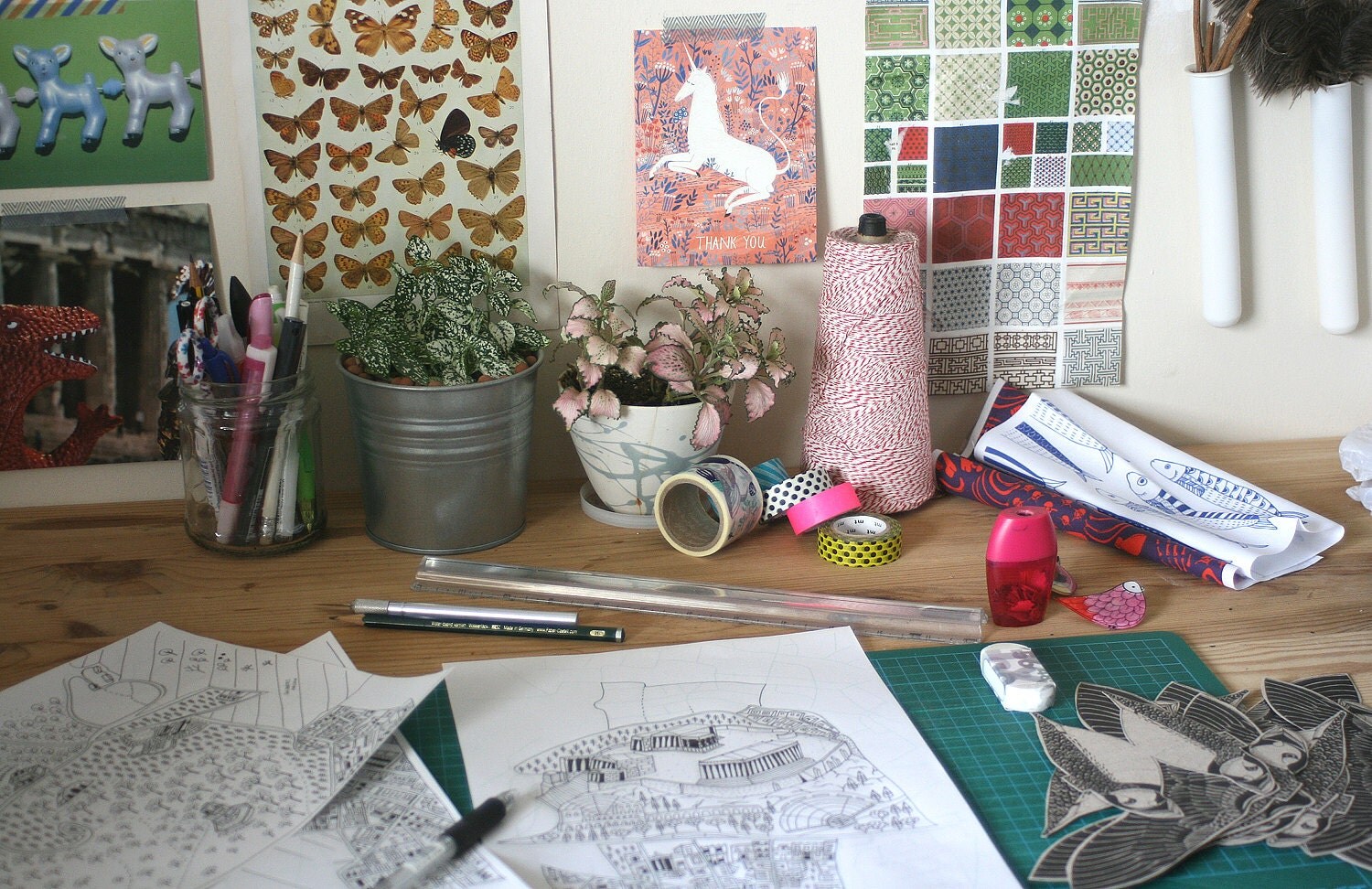 As an Australian artist living in Greece with a Belgian collaborator and a network of friends around the globe, Anna of Lila Ruby King and af jewellery has cultivated a worldly, collaborative approach to her business. Since opening her shop in 2007, Anna has created an ever-evolving range of products with roots in the natural world, including jewelry, illustration, fabric and more.
The same year she set up shop, Anna met Mitsy from ArtMind online through Etsy. When Mitsy proposed the idea of joining forces, the two embarked on their first collaboration, a line of silver jewelery with porcelain components. Their partnership has continued to blossom over the years with additional series including dishware and jewelry, all available in their Etsy shops.
After four years of long-distance collaboration, the two finally met in person in 2011 to vend their wares at the Stiel en Stijl art fair in Leuven, Belgium, as well as spend time in the studio together and share hands-on skills in person.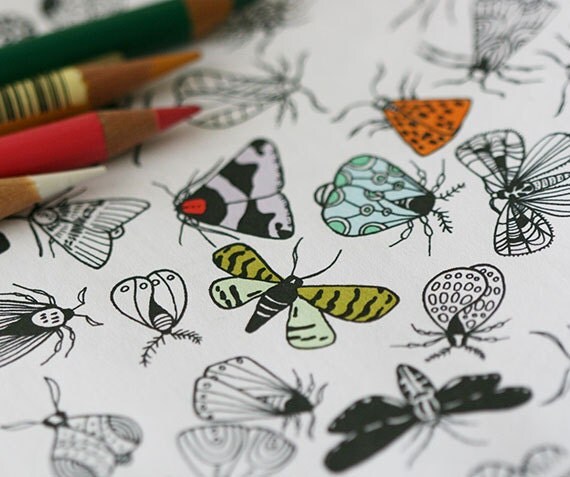 In addition to her work with ArtMind, Anna uses international collaboration to fuel her creative process and add dimension to her shop's offerings. By taking on client work like the washi tape she designed for a Japanese stationery company or wholesale orders from brick and mortar shops around the world, she invites input from people in a range of professions. These fresh perspectives have helped her broaden the scope of her products, try new materials and processes, reach a diverse audience and keep her creative vision fresh and inspired. Her network of peers on Etsy has offered her honest opinions for her business as well. As Anna recommends, "Find someone who will tell you the whole prickly and unfrilly truth. Word to the wise, this will not be your mother."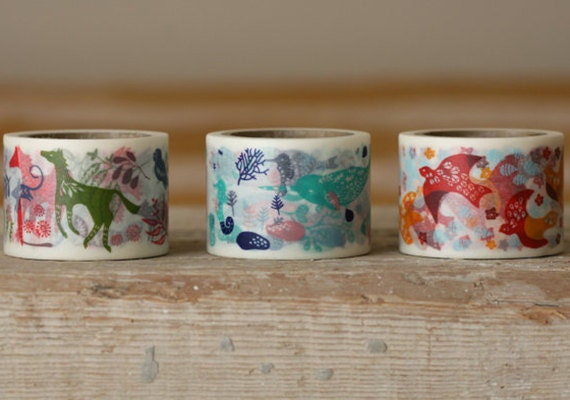 Read on to find out how Anna uses international collaboration as a tool to grow her business in unexpected ways.
What's your creative process for developing a product line with Mitsy?
Mitsy and I had been friends for a while before we started a project together, so when we're planning something new it's all very informal. The early stages of a project are usually stuck in the middle of any old email between "Have you cooked that quinoa recipe yet?" and that hilarious story about what my cat did over the weekend.
While a project develops, we continue to come up with ideas together by emailing back and forth, sketching, sending images, mailing samples and having phone calls. It's always exciting to see what develops when I'm working with someone else with a whole other skill set and viewpoint.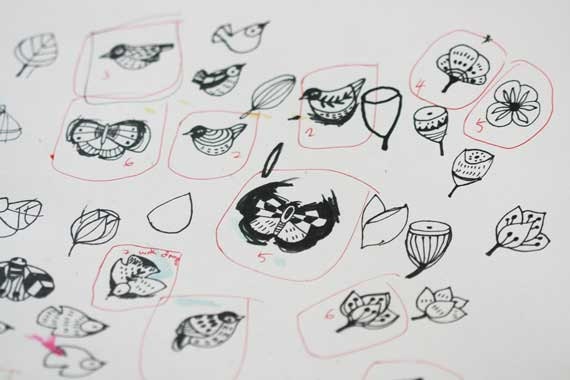 A couple of years after we started our first project, we thought it was time to try something new. Mitsy was very interested in exploring ceramic decals together, so we got to work on a line of accessories. I created all the illustrations in my workshop and turned them into the required digital files. Mitsy communicated with decal producers in Belgium, created the ceramic blanks for the pieces and applied the decals. After firing and sanding, those components would be sent to me and I turned them into finished, wearable pieces.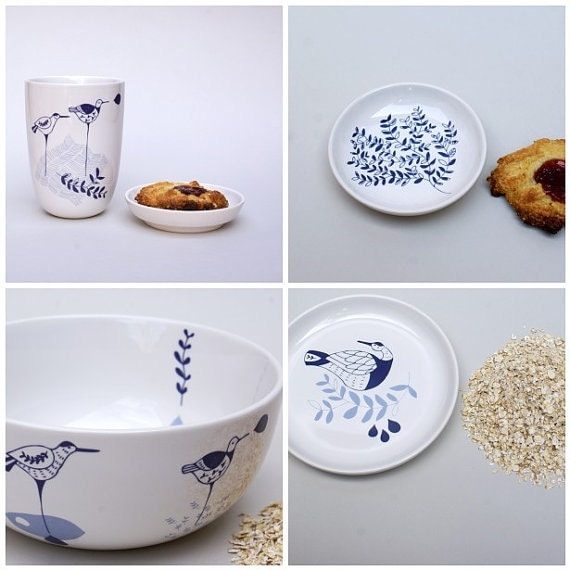 How does the business side of your collaborations work?
One of the first things we work out is how much is the end product going to cost. If the price is going to be too high, then the project is infeasible and not worth continuing. If we're unsure, perhaps we'll start with a small run until we can see how the items perform in our shops.
Mitsy has created a thorough spreadsheet for us. Once we fill in the columns with expenses, times and such, it calculates the price and how much we will each make. For our pricing, we follow a simple formula: cost of materials + time to make the item x hourly rate = price. We agreed upon an hourly rate at the beginning of our working together, but allowed for some flexibility to change this and the end price of the item if either of us felt the end price or share of the profit wasn't quite the right reflection of the work. For the illustration series, my part is limited to the design work, so we worked out a licensing agreement where I make a percentage of the sale price.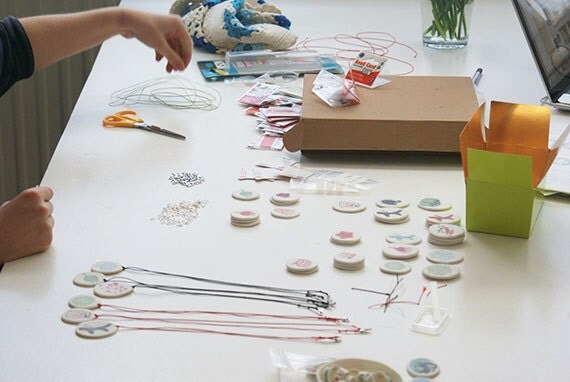 What do you like most about collaborating?
As a freelancer, sometimes I miss having people to chat and share ideas with, so working on these projects with Mitsy is great. I learn more, push myself and find myself more inspired by having adventures outside my ordinary know-how.
I like that my pieces go out into the world and have a life of their own and are interactive; they get worn, filled up with soup, hung off ears, worn out, lost in handbags. Working with Mitsy I explore a more varied product range than I could on my own. Plus, she is one of the most kind, tolerant, patient people I've ever met. Who wouldn't want to work with her?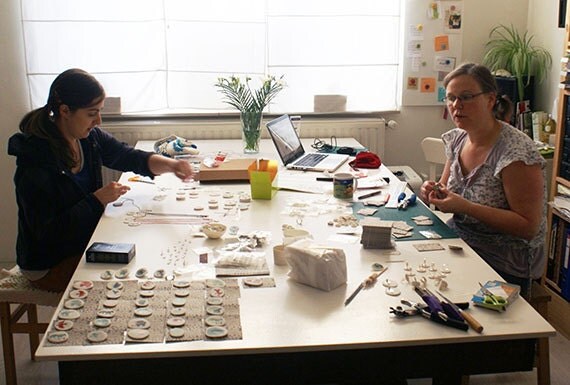 What are your tips for giving a shop international appeal?
When you're a maker of a small niche product, you have to think globally. If you limit yourself to just your city or country, it's going to be hard to be successful.
My top tips for inviting international shoppers are:
List your item measurements in metric and imperial.
List an international shipping price. A note in your policies or the item listing to contact you for an international shipping price is not good enough.
If you aren't open to the world in this way, you are missing out — and more than just financially. One of my favorite things is traveling vicariously with the packages I sell from my shop. I have a network of people all over the world whom I've met through Etsy. They're people I can turn to if I'm in need of tricky advice, want to utilize their skills and start a project together, or feel like sharing a list of things to do around the world when on holiday. Joining an Etsy Team is a great way of finding these people with similar interests within the community.
What is your advice for Etsy sellers just getting started with their shops?
My number one tip is be to be professional. If you aim to eventually do this full time, then you have to treat it with the same professionalism as you would any other day job. This shines through in your customer service, photography and branding. You should never stop trying to do better and learn more!
Have you ever collaborated with another Etsy seller? Share your experience in the comments.