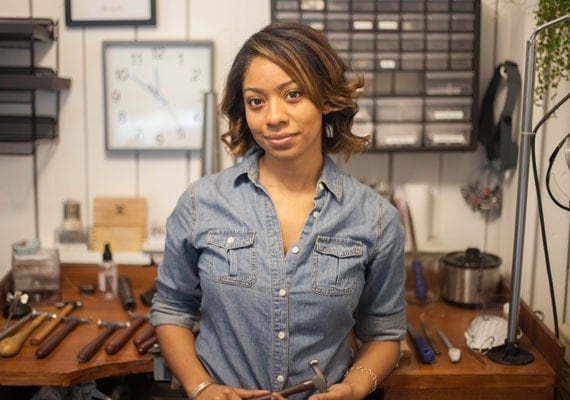 Valerie Nethery's birthday is on Valentine's Day, so it seems fitting that love is at the heart of her Seattle-based business, LilyEmme Jewelry. Valerie's customers consist mostly of brides and grooms seeking the perfect rings to symbolize their commitment. "When people are shopping for weddings," she says, "the ring is something they're going to be looking at forever."
Valerie's collection is composed of elegant, minimal rings, earrings, bracelets and necklaces crafted from gold, silver and gemstones. Driven by a passion for the environment, she uses only recycled metals and conflict-free stones. While earning a degree in environmental science, Valerie took her first metalsmithing class at a local arts center — and got hooked. After graduation, she landed a job as a marine insurance underwriter. She ran her Etsy shop, which she founded in 2009, on the side.
When a customer mentioned using a LilyEmme ring as a wedding ring, Valerie realized the wedding market represented a great untapped opportunity. After perfecting her craft using less-expensive metals, Valerie introduced gold into her shop. This bold step elevated her products, already designed for lifelong wear, to a new level of luxury — and a new price bracket. "The introduction of gold into my shop skyrocketed business," she says. She quit her insurance job last summer and, a few months later, rented the studio where she now works with her chihuahua Omar by her side.
Recently, Valerie spoke with Seller Handbook writer-editor Julie Schneider about finding her way in the jewelry business.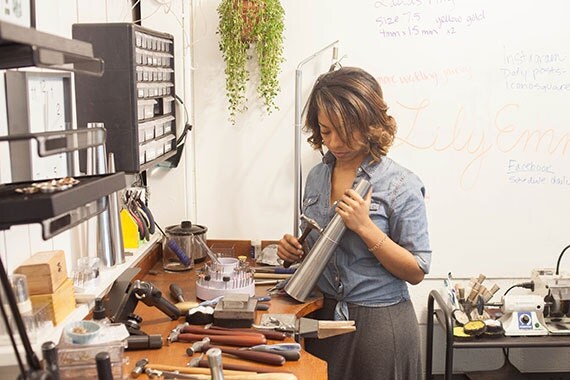 How did you prepare to quit your day job?
I got my ducks in a row. I found a studio space, built up inventory and acquired a safe. I also took out insurance for my studio and possessions; it helps cover fire, theft and flooding. I got on my husband's health insurance plan. I saved enough funds to hold me over through tight times and stocked up quite a bit of raw materials to hold me over through three months of designing. I was able to transition to running my shop full time in the summertime, which is peak wedding season for me. I was getting a lot of wedding sales, so it was a good time for me and I stayed really busy.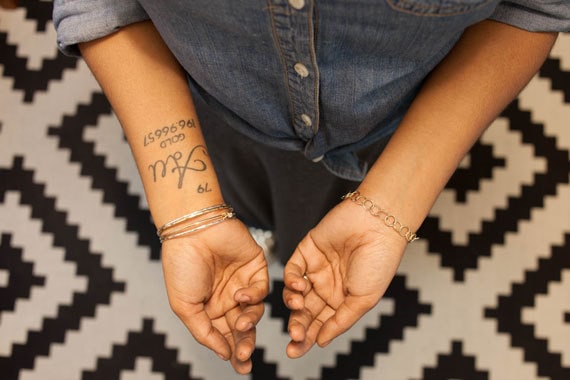 How does your passion for the environment guide your business values?
I want to make sure that my business is environmentally friendly. That aspect of my schooling has definitely transferred over to my jewelry business. Mining for diamonds and gold is terrible for the environment. A lot of people don't know how mining affects the earth and communities with contaminated groundwater, mudslides and other problems.
I buy from suppliers who use only recycled metals. All of the metal I buy has had a former life in electronics, estate jewelry, teeth — all sorts of things! I also only purchase conflict-free diamonds. I work with diamond dealers who are certified by United States Customs in accordance with the Kimberley Process, an international system for certifying conflict-free diamonds. If I can't source a material in an environmentally friendly way, I don't include it in my designs. That's one of the benefits of running my own business.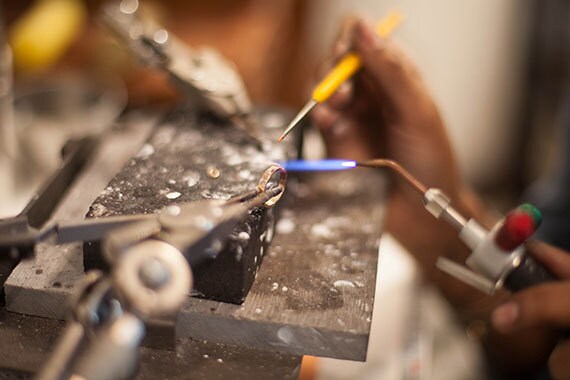 Your product photos are crisp and clear. What's your secret?
Really good lighting is so important, as is having people model your pieces. I use two lamps with diffusers on them to avoid harsh lights and shadows, then place them over a book to create a consistent background. I use a Nikon D7000 camera with a 40 millimeter macro lens. I've tried many, many different approaches to photography, but once I started using this set-up about four years ago, it all clicked. You can use a high-end camera or a low-end camera. It's all about the photographer's eye, the lens and the lighting. If you aren't good with photography, hire someone or get someone to help you. Photography is so important for online shops, because buyers don't get to see your items in person.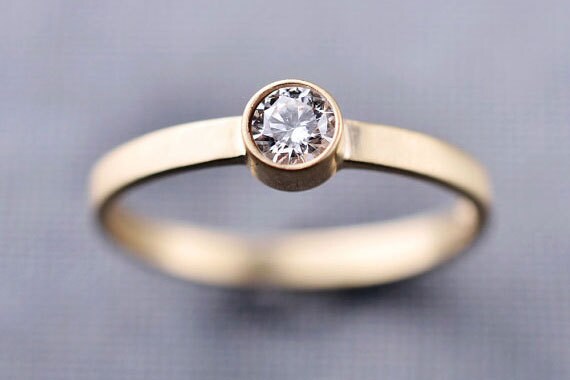 Where do you turn for support?
I've had so much support, especially from my family and friends. My workbench was built from scratch by my talented grandpa's hands two years ago. It's an element of my workspace that I am always physically touching and the most connected to. When he built the workbench for me, I felt I was truly a jeweler. I knew my family believed in me and would support me no matter what. That support gave me incredible momentum. My family tells me how proud they are of me all the time.
I've met jeweler friends through classes. It's tough to find vendors and sources in this industry. Jewelers tend to be a little hush-hush about those things, since it takes a long time to find great suppliers. I have a strong, supportive network of local jeweler friends who help me when I have questions. I've been lucky to have them, because in this industry it isn't easy to go at it by yourself. I'm happy to have people who keep pushing and encouraging me.
What have been some of your biggest challenges?
Keeping up with orders and knowing when to say no. I'm just one person and it's gotten to the point where I can't do everything myself. I was getting requests on December 23, for example, for people to have jewelry by Christmas. I had to say, "I'm really sorry, but I have family I have to spend time with." It's hard to say no, but you still have your own life. As a business owner, it's very easy to get swallowed up and let your work run your life, but you need to take the time to yourself and relax. That's been probably been my second biggest challenge: Taking "me time" and enjoying this ride that I'm on. Right now, I'm in the first stages of hiring an assistant to help.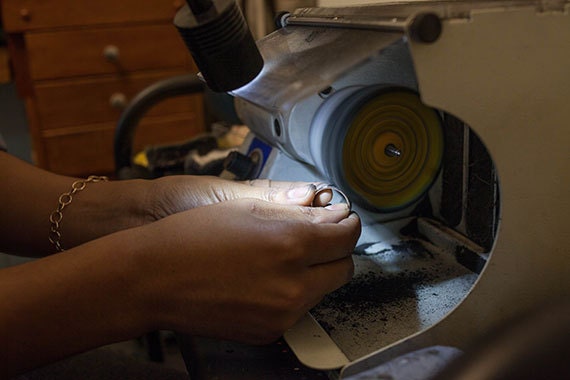 What do you wish you'd known when starting your business?
Build up more inventory sooner. When people visit your shop and you have only a couple of items listed, they're not going to stick around for long. For me, it's been really helpful to list as many items as I can make — I now have over 200 listings — neatly organized within my categories. Besides that, I would tell myself to be braver and make the leap to running my shop full time sooner. I would tell the old me to stop worrying and do this already.
All photographs by Brandon Herrell.
When did you have a business epiphany? Share your story in the comments.