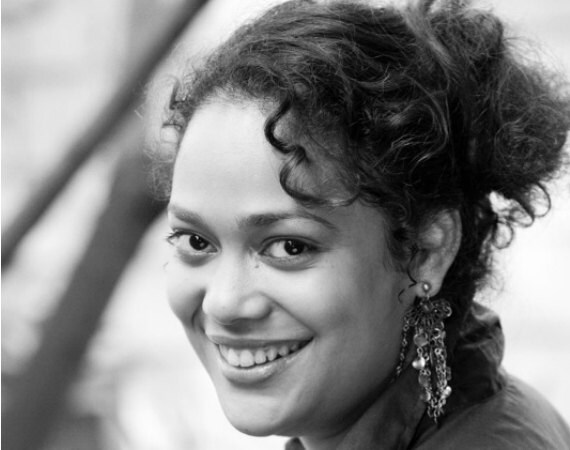 Tell us about your three shops and the ideas behind them.
I was introduced to jewelry making by my father, who is a civil engineer. He started making jewelry twenty years ago when he discovered an abandoned toolbox stocked with beads and pliers at a construction site. My father shipped the jewelry he made to my mother in the Dominican Republic and she in turn sold them at her salon to make some extra money to support the family. A few years later my family reunited in New York and my dad moved on to his career as an engineer. I had a creative mind since I was a young girl, so when I moved to New York, it felt natural for me to pick up my dad's leftover toolbox and learn to make jewelry using the same books with which he taught himself.
I was very much enamored with natural gemstones and precious metals, but I felt that there weren't many options for me to find unique jewelry that would complement my personality. I wanted something that I could wear every day or on a special occasion and not have to worry that I'm going to run into someone wearing the same stuff. So in 2007 my original Etsy shop was born, LoellaMedina, to make one-of-a-kind jewelry for a one-of-a-kind life.
I started to get some interest from brides-to-be looking to wear something unique and beautiful on their special day. Then they wanted pieces for their bridesmaids and were looking to get a deal on gift sets, so I opened LaBodaCollection to give them an easy place to shop and tend to those special needs.
When I go shopping for supplies at wholesale events, I end up falling in love with so many beautiful stones that I go over budget sometimes. I started ForTheLoveOfBeads to help me make some room for newer stones and help other artists find good deals on stones that they'll love to get creative with when they don't have wholesale shows to supply them in their area.
Tell us about your previous working situation and how you discovered Etsy.
After I graduated from college, I planned to go to law school and pursue a career in law, so I decided to spend some time working as a legal assistant to get a better idea of what type of work I might do as a lawyer. Initially, working as a legal assistant was very rewarding in terms of my interactions with clients that needed legal representation, but after two years I realized that I was not passionate about the idea of becoming a lawyer. I felt very down and anxious because I had spent so much time and effort trying to pursue a career in law and it made me miserable inside. Making jewelry was my only solace and eventually my friends and family showed an interest in my work and asked for custom pieces. One of my friends suggested that I look into getting my stuff onto Etsy, as it would be a perfect place for my work. The sales started slowly, but I began gaining customers from all over the world — which really inspired me and pushed me to make selling on Etsy a real part-time business and not just a hobby.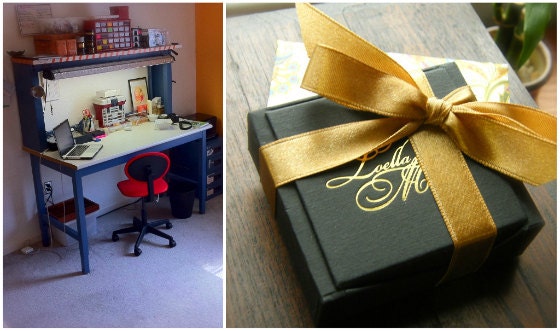 What steps did you take to prepare for transitioning into full time Etsy selling?
In early 2009, my husband and I made a plan to pay off all of our student loans and get married debt free. I knew that having my own business was going to feel like a roller coaster with both good and challenging times. I didn't want the tough times to cause me to worry and second-guess myself about the decision to make my business full time so I decided to use my part-time Etsy shops and my day job to help me pay off my debts and build a big emergency fund. I wanted to have at least 6 months of living expenses saved up before I made my leap because I didn't want to fear not being able to contribute my fair share to the family I was about to start. By the time I quit my job, I didn't owe anyone any money and I had a year's worth of living expenses saved up. I built a nice customer base in the process and could focus on doing what I love and not stress about the cash flow during the challenging times. I've been fortunate enough to not have to touch my savings thus far.
I am very lucky because I have a supportive family and super supportive husband who helps me make business decisions. He helps me sell at craft shows, keeps me sane and believes in my work and creativity. I also come from a family of entrepreneurs, so becoming my own boss never seemed a totally outrageous idea to me.
What is your favorite part of the process in designing jewelry?
My favorite part of the process is working with so many beautiful gems! I also love when I can turn something I imagined into a reality. When the colors and the silhouette of a certain piece come together in harmony, I get a feeling of accomplishment and pride that it is hard to experience with anything else that I do.
What are your best marketing tips?
My best marketing tip is excellent customer service. I believe in word-of-mouth promotion and that customers will continue to come back if they trust you as a seller. This is especially important for an online business. It takes time to gain that trust, but it truly is imperative; as my husband says, "80% of your business comes from 20% of your customers." I try to improve my photos  and descriptions to the best of my abilities. I also add new items every week and I work hard at growing my mailing list at every event I participate in.
What's been your most popular item or line to date?
It is hard to say, as the bulk of my sales comes from my main shop, LoellaMedina, and most of the pieces are one of a kind, but I have a few limited edition pieces and I can say one of my most popular pieces has been the multi-gemstone Galilea Earrings. From my shop LaBodaCollection, my best seller is my dainty gold-filled starfish necklace.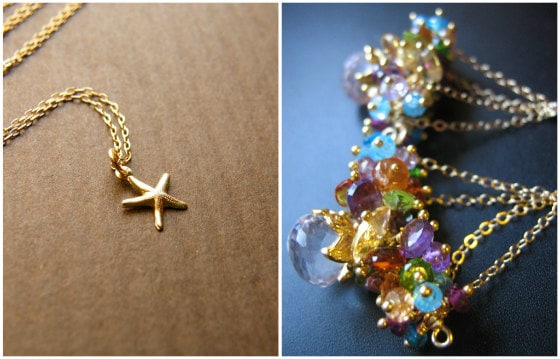 What have you found to be an unsuccessful promotion?
I have found having extended sales do not usually work very well for me: there is no urgency. Other than that, I cannot say I have had any unsuccessful promotion. I think if you follow through on everything you do, you can see some good results.
What is the biggest challenge you face during your daily schedule?
There are just not enough hours in a day! Being your own boss in this type of business takes a lot of discipline and organization. I wear all the hats, and it can be overwhelming at times. With all of the daily challenges this new adventure brings, I am still extremely excited because I am doing what I love.
What is the most exciting thing that has come out of selling your designs through Etsy?
So many exciting things have come out of selling my jewelry on Etsy:
First, Etsy made it possible for me to start my business!
I have made so many talented and amazing friends here on Etsy and I have become part of some awesome Etsy teams like TheNewNew, Etsy in Spanish and Luxe Gemstones.
I have been featured in the "101 Bracelets, Necklaces and Earrings!" Beadwork Magazine issue and Step by Step Beads Magazine.
Etsy has also made it possible for me to interact with customers from all over the world!
What advice would you give someone considering a similar path?
Make sure you are doing what you love and to be ready to love what you do, even when you are bombarded with paperwork and the daily grind of running a business. If you can, start part time and build your business in the meantime. Save for an emergency fund so that when you do take the plunge you have a safety net.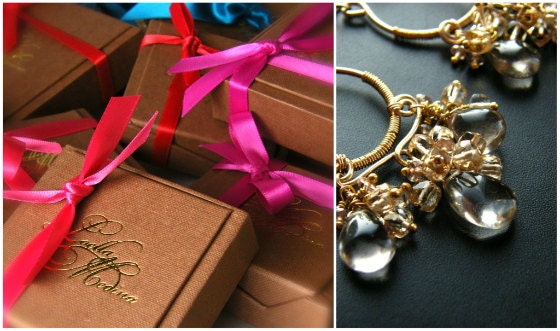 What goals do you have in store for the future of your businesses?
My main goal is to expand my business to wholesale and hire an employee to help with production.