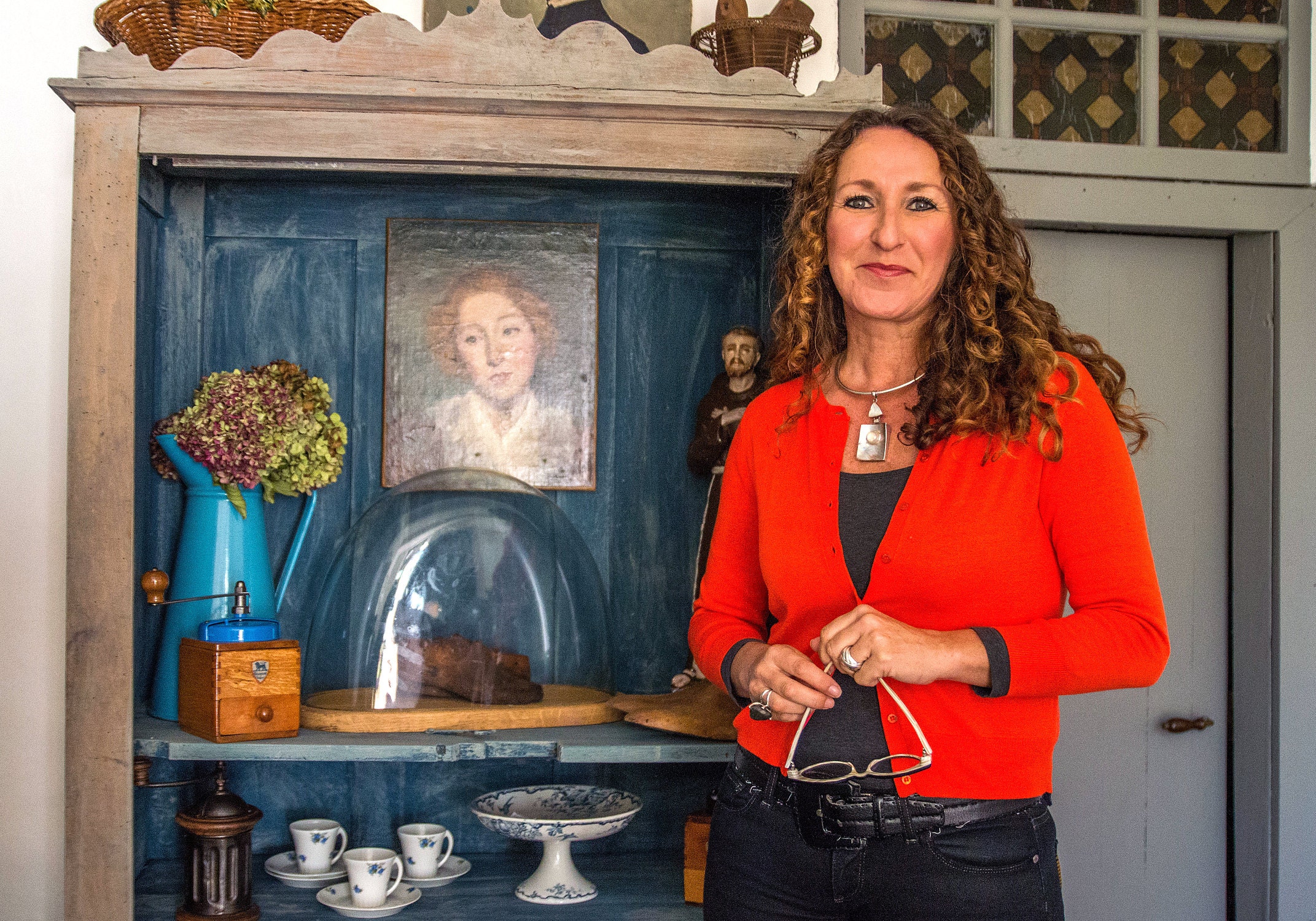 On New Year's Eve, the cusp of 2010, Christine Crowder went to bed early, forgoing festivities. Both her mother and a dear friend had recently died unexpectedly. "I didn't want to celebrate," Christine says, "because everything felt too sad." The next morning, over a mug of black coffee, Christine read a magazine article about Etsy. After perusing the site on her laptop, she immediately signed up — with only a half-formed idea for a shop. "I chose the username Maintenant because it means 'now' [in French]," Christine says. "It was now or never, a new beginning. I wanted to make something positive after the death of two close people."
For years, Christine had aspired to run her own creative business and live in France. Instead of deferring these dreams any longer, she took action. She quit her executive job in England, where she worked as the regional controller for a large retail company. She completed an intensive traditional upholstery course and opened her own upholstery workshop. As she hunted for chairs and sofas to reupholster, she also began buying other antiques. She started to dabble in her Etsy shop, occasionally selling vintage finds and small upholstered items.
Then, she and her husband set to work launching a new business: a boutique bed and breakfast in France. In 2011, the couple moved to rural France and renovated a house for their future business. But, after the bed and breakfast opened, their relationship fell apart and her husband took over the business. Christine's future as an innkeeper was over. However, Christine realized she could turn her burgeoning interest in vintage into a full-fledged business on Etsy.
Now Christine runs two vintage shops on Etsy — Maintenant and Rue Vert de Gris — as her full-time job. She lives in a small village (population: 100) near the Pyrenees and buys her inventory from flea markets and antique shops around the country. She has since sold more than 2,110 vintage treasures to customers across the world.
Recently, Christine talked with Seller Handbook writer Julie Schneider about how she channeled her grief into a powerful force that helped her achieve her entrepreneurial dreams.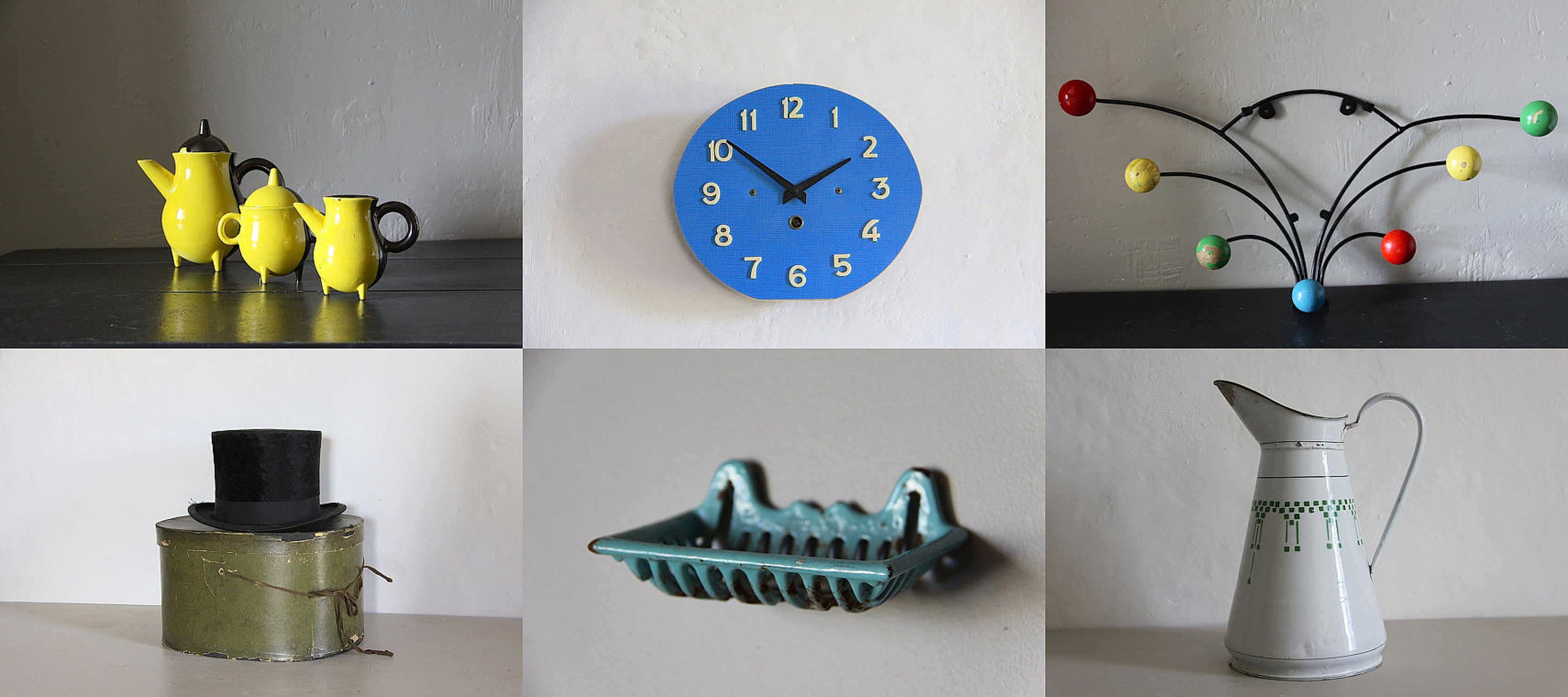 How did you start your own business in the face of such profound sorrow?
I always had dreams to have my own business, but I put it off, waiting for the right time. A sad situation made me really reflect on what I was doing with my life. My friend, who was the same age as me, had lots of dreams that she was going to make happen, but she didn't realize she was going to suddenly die. And I didn't want to miss out on life. It really gave me the kick that I needed to take the leap and trust in myself — and believe that I had the ability to make it work. Even though I had a lot of turmoil in my life at the time, focusing on the business helped me get through that period. I had purpose everyday. Customers were asking me questions. I had orders to pack and things to list. Every day my life was full of the demands of establishing a new business. It gave me clarity because I really wanted it to work. I put my heart and soul into it. It was a really grounding experience, and it made me stronger when I came out the other side.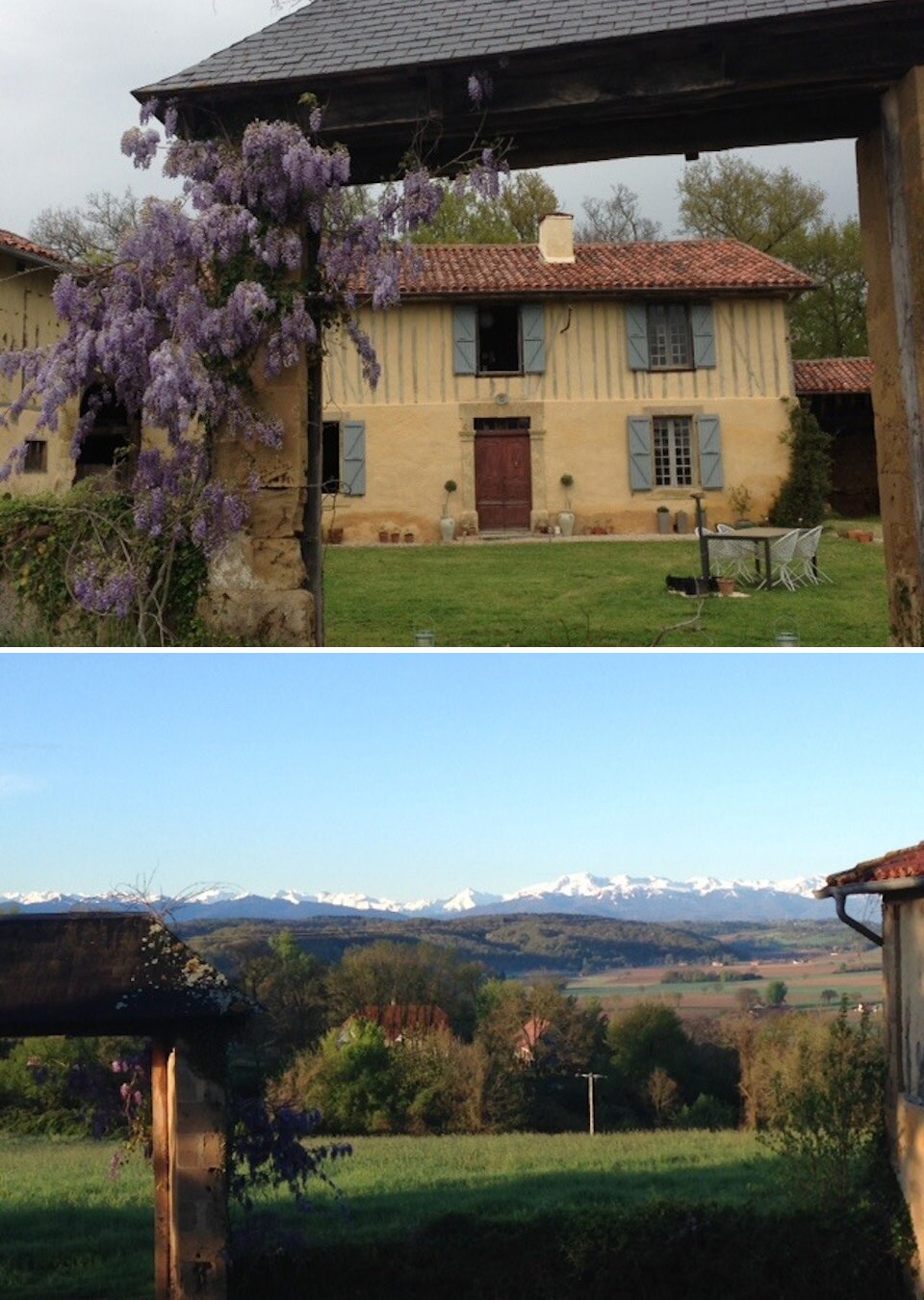 What's it like being a business owner living abroad?
Launching a business in a foreign country is quite difficult. All the rules and regulations are different. I'm originally from Scotland, but I make the effort to speak French, even though my grammar's not perfect and I don't always pronounce words with the right nuance. There are cultural differences too. Here in the French countryside, everything closes for two hours at lunchtime. I would plan a shopping trip and then realize some of the places were closed at lunchtime and I couldn't shop. But I've learned to embrace that, and now I stop for lunch with everyone else.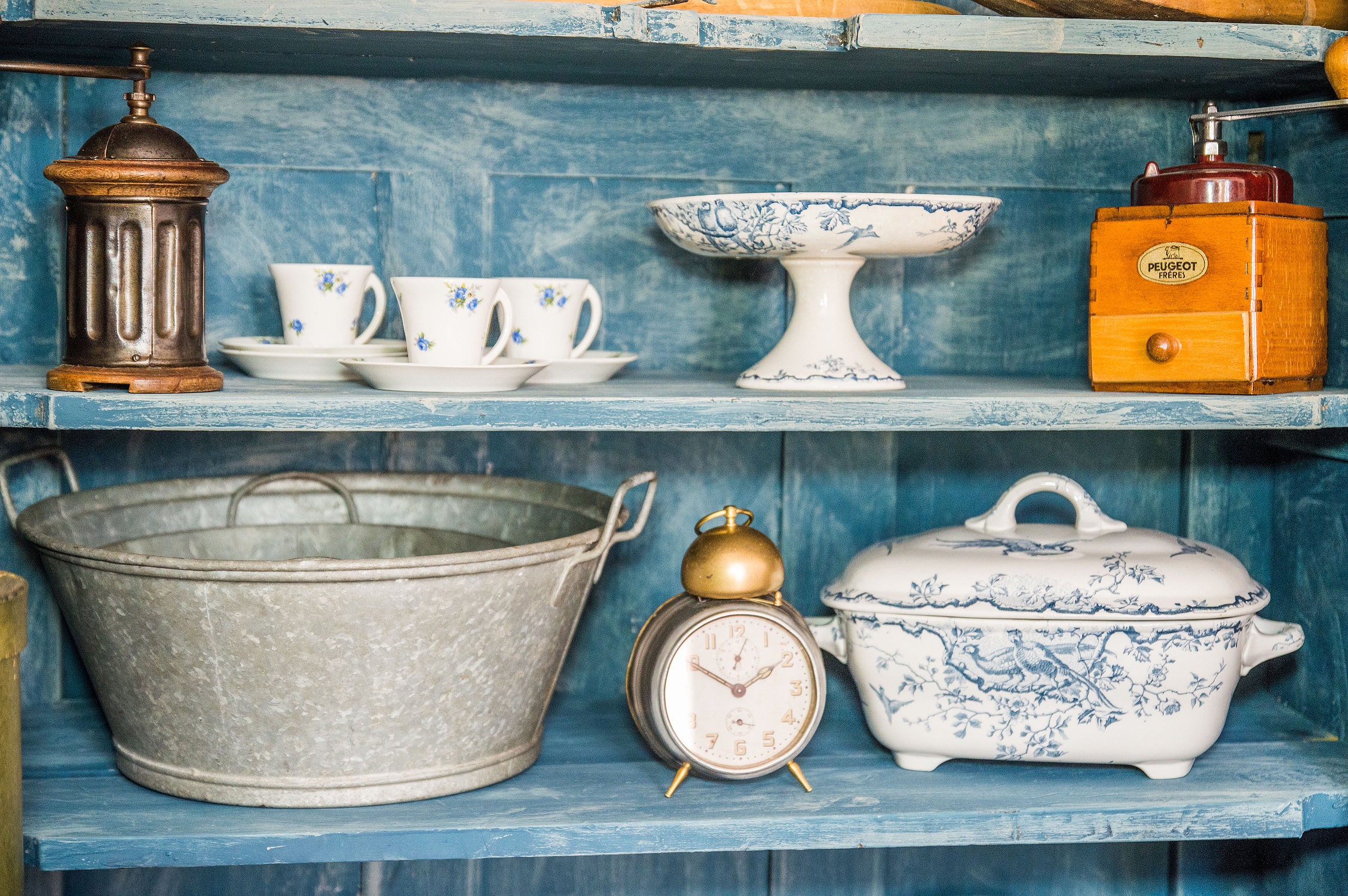 Where do you find your items?
In the summer, there are lots of flea markets every Sunday. I research where they are in advance and get up very early. I've built up quite a lot of contacts with these sellers and at antique stores. Some of them even keep things that they know I'd like. They phone me up to say, "Come and look, I found this!" When I shop, I try to be very productive and organized and buy as much as I can. I carefully plan the most effective route to cut the driving down. When I had my corporate job, I had a lovely little sports car. But I decided that it wasn't practical. I sold it and bought a van. It's not very feminine, but it's very, very practical. It means that when I go shopping I can buy quite a number of items. I always bring boxes, bags and bubble wrap to protect my purchases.
When you're shopping for vintage, you never know what you're going to find. I tend to buy with my heart. I'm drawn to things that are a bit quirky. I like when I can see the age and the history of the object. I recently found a brown leather hat box in the shape of a top hat with a handle. The lid is missing and it's aged, cracked and beautiful. Many people walked past it, but I looked at it and thought, "That would look amazing with a plant inside it." And I bought it. Some of these things, they're having a second chance and a new life.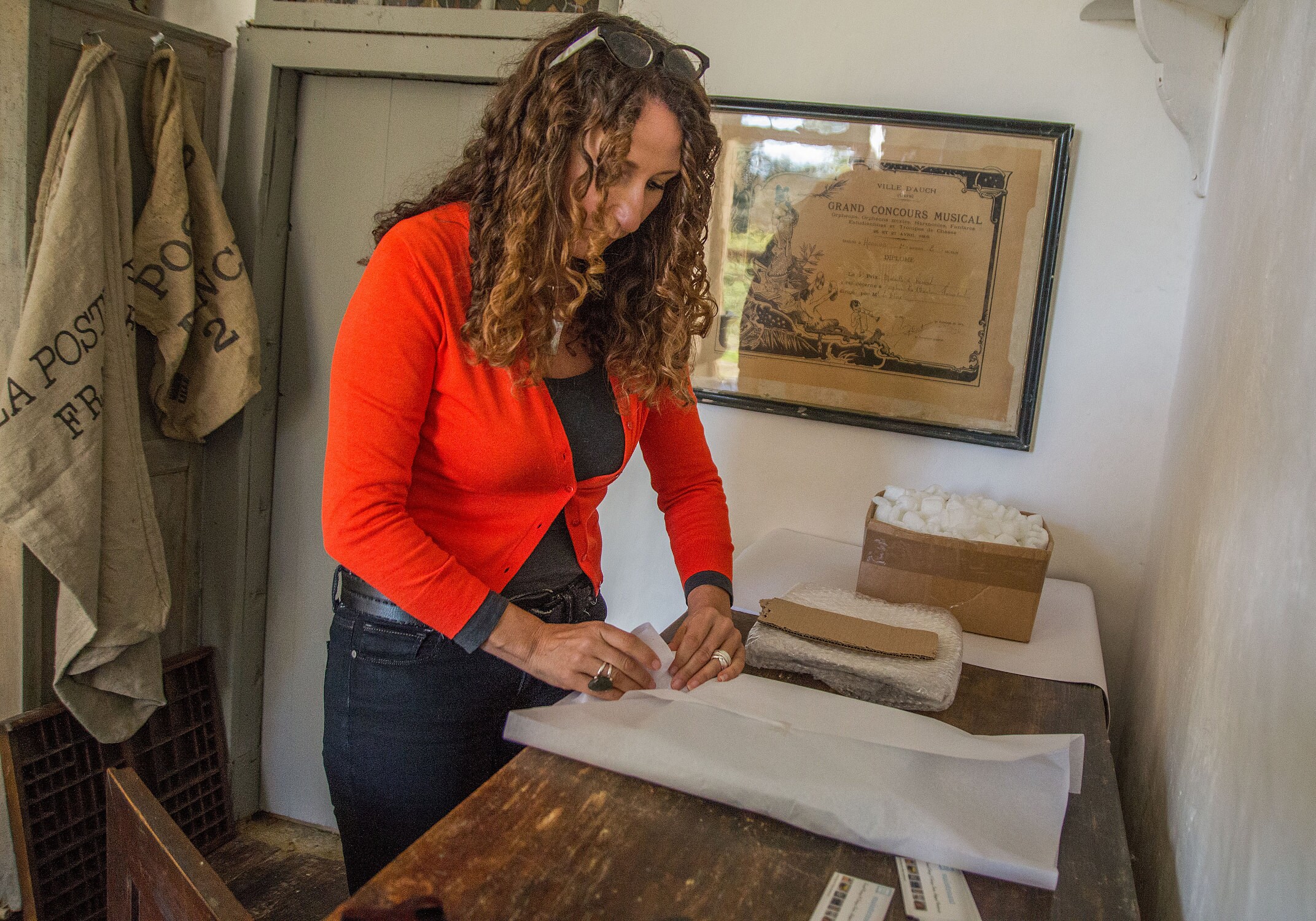 Photography can be difficult for vintage sellers, since the products are often one of a kind. What's your approach?
I look at the weather forecast, so I know what days will have the best natural light. Before I photograph the items, I clean them. I've got a dedicated photography table with varying heights that I've painted to match the wall. It's quite useful when I'm listing larger items, so I don't have to bend all the time; I can put things at eye level when I'm photographing. I have a back board that I can put on top of my photography table to hang coat hooks or wall lights on. When I'm not photographing those sorts of items, I take it down. Keeping your photographs simple helps. Often people put so many different things in a photograph, but really customers want to see the item that they may want to purchase. When it's all photographed, I carefully wrap up all the items to protect them.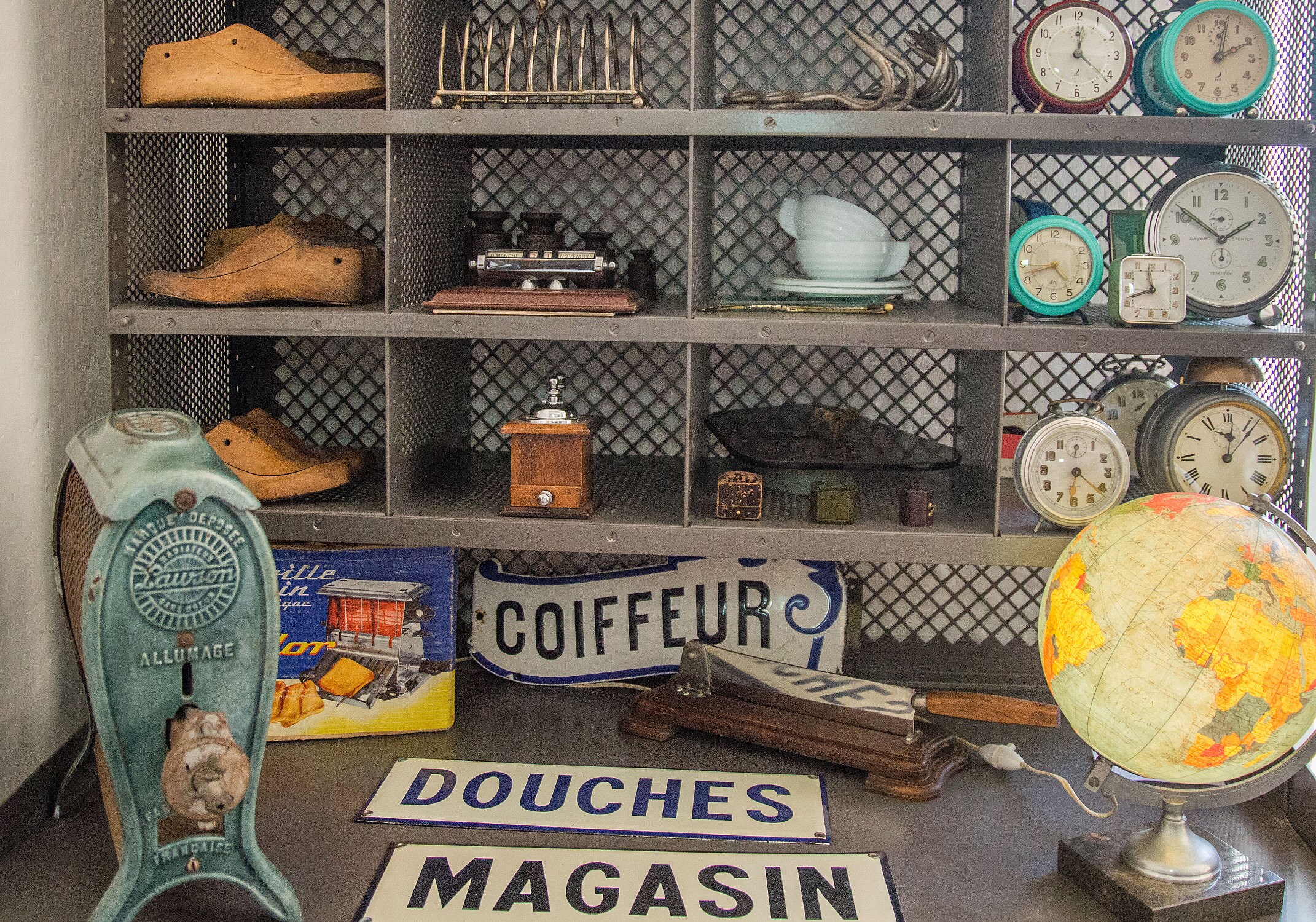 What part of your business makes you the most proud?
When I look back at the journey that I've taken, I'm proud that I've actually done it: I'm running my own business. When I had a corporate job, my mum used to tell me that I worked too hard. She'd probably still say that, but she'd be very proud and interested in what I'm doing. I know she's looking down on me, proud that I got here. I completely changed my life: the country I live in, my relationship, the job that I do. I feel very proud that I've managed to go through those changes and create something positive and successful.
To keep up with Christine's latest vintage finds, check out her shops, Maintenant and Rue Vert de Gris. Photos by Pascal Podlaziewiez, unless otherwise noted.
Has your business brought you on an unexpected journey? Share your story in the comments below.