Browsing through Molly Coombs Marr's Etsy shop is like reading a love letter to Australia. With pastel purple koalas, bright sulfur-crested cockatoos, and pale pink galah birds, every piece of her hand-sculpted polymer clay jewelry holds a special nostalgic appeal for Australians.
Her most popular item—playfully mismatched seagull and chips earrings—were inspired by one of her childhood memories that many Australians share. "It's a symbol of the quintessential, Australian summer," she explains. "Eating hot chips on the beach and fighting off the hungry and brave Australian silver gulls, who have a hankering for stealing the tastiest chip just before it reaches your mouth. Everyone's got their own story so it's a humorous and nostalgic piece for most."
With her delightful mix of bold colors, modern design, and a touch of sentimentality, the 26-year-old, Sydney-based jewelry designer has built a strong following in Australia and beyond. Since launching her Etsy shop in 2015, Molly has sold more than 2,200 of her handmade creations. And in 2017, she was able to quit her full-time job as a graphic designer for a small business to focus on her Etsy shop full-time.
Molly started tapping into her creativity from a young age. "I'd spend my school holidays making all sorts of sculptures," she recalls. While studying design at University of New South Wales, Art and Design in Sydney, she got into silversmithing and started making her own jewelry (mostly when items she wanted to buy were out of her price range). She also experimented with adding polymer clay to her designs to make them more colorful.
Back when Molly opened her Etsy shop, which she named after herself, she mostly made earrings that depicted food. She'd start with a sketch of what she wanted her finished piece to look like, then erase and redraw until the shape and size were perfect and felt confident she could sculpt it into a 3D form. She'd hunch over her workstation, shaping the clay until it resembled tiny french fries or hotdogs. But Molly soon realized that food-themed jewelry was pretty common on Etsy began working to create her own niche around her passion: her home.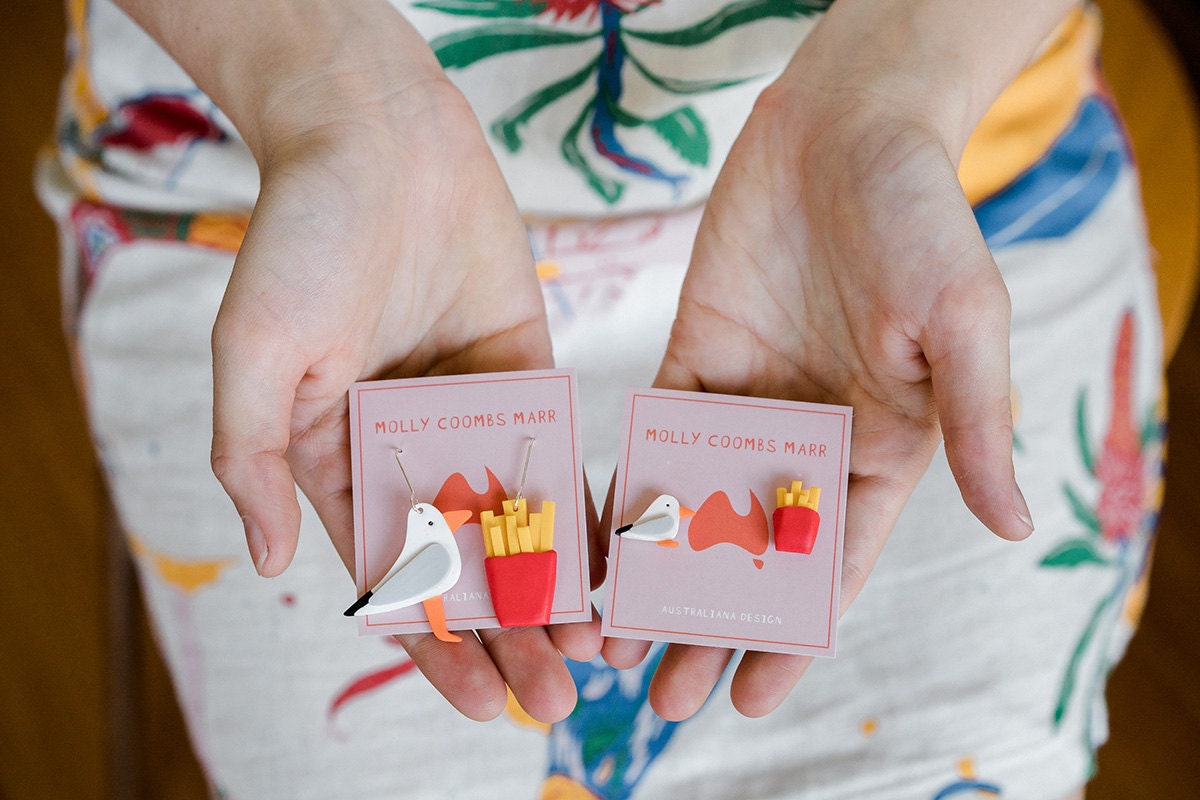 When she first began sculpting little seagulls and sulphur-crested cockatoo earrings, the end result was rough. "It was a new style for me and took a lot of practice and experimentation to get to a stage I was happy with, she says. "The first few attempts were chunky, heavy, and covered in fingerprints." Now, her designs are thin, lightweight, and smooth, perfect for her customers looking to sport bold kookaburra stud earrings or a rainbow-speckled fairy bread brooch.
Recently, Molly spoke with Seller Handbook contributor Brittany King about her creative process and what she's learned about the challenging—and rewarding—sides of being her own boss.
What inspires your work?
My work is influenced by my love of wearable art, the Australian landscape, popular culture, and the work of Australian artists like Ken Done, Jenny Kee, Linda Jackson, Peter Tully, and Reg Mombassa who pioneered an iconic, bold Australiana style of the 80s and 90s. There's been a growing appreciation for bold Australiana once again, and so many wonderful contemporary Australian designers are embracing the movement and helping to create this modern identity for our "sunburnt country."
Polymer clay has been such an excellent medium for me, because the color choices are endless. You can mix colors like to paint to create different shades and hues. I love to pick out a few main colors from the animal, flower, or food I'm designing and play around with those to create bold geometric shapes. I don't aim to create photorealistic pieces, instead following the lead of some of my favorite artists in making an almost surreal, but recognizable collection of colourful Australiana.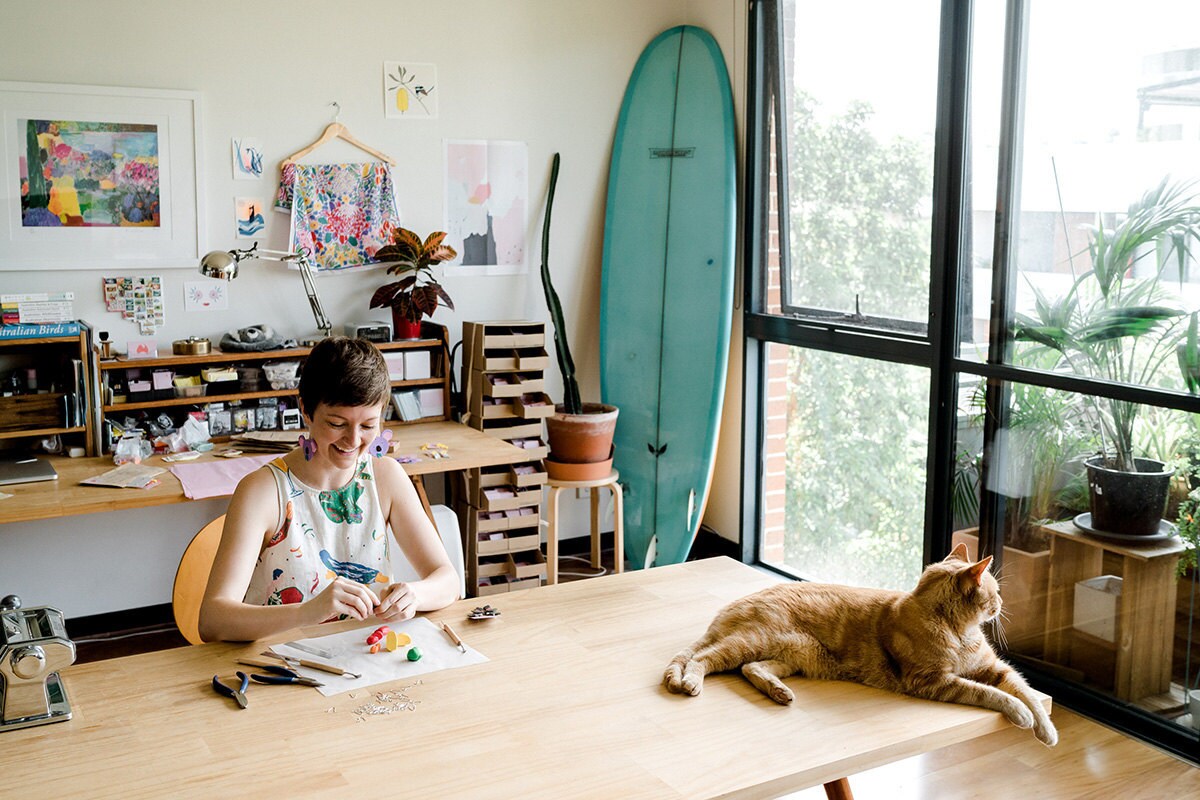 A lot of the pieces in your shop feature animal and plant motifs. What drew you to that?
I've focused on designing jewelry inspired by the nostalgic, unique and beautiful parts of Australia, from native Australian flora and fauna to everybody's favorite Aussie ice creams from their childhood. I feel so lucky to have grown up here, and I have a great love of our unique natural environment. Generally, I avoid the typical patriotic symbolism found in tourist gift stores. Instead, I draw from the true Australian experience and my favorite parts of Australia. My designs allow people to embrace and explore what it really means to be Australian.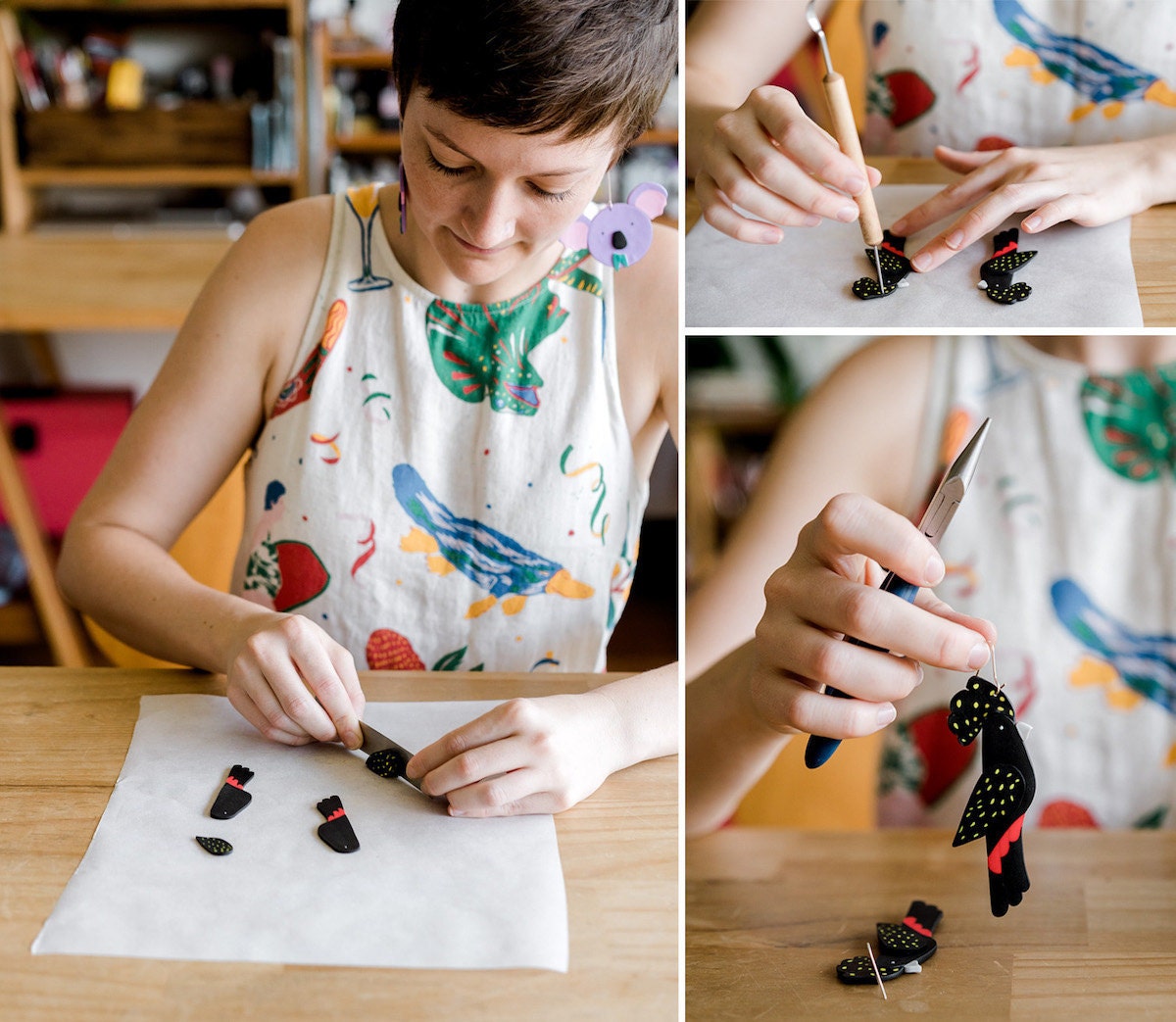 What was the most challenging part of transitioning from your day job to selling full-time on Etsy?
The hardest part about being my own boss is that there is literally no one else to rely on if things go wrong. When you're sick you either have to work through it or accept that money might be tighter while you recover. I've also realized that I'm not just a designer-maker anymore—I'm a bookkeeper, accountant, social media guru, graphic designer, website manager, and advertiser all in one. I've learned a lot of new skills along the way that aren't necessarily what I bargained for, but are so important in the long term of a successful small business.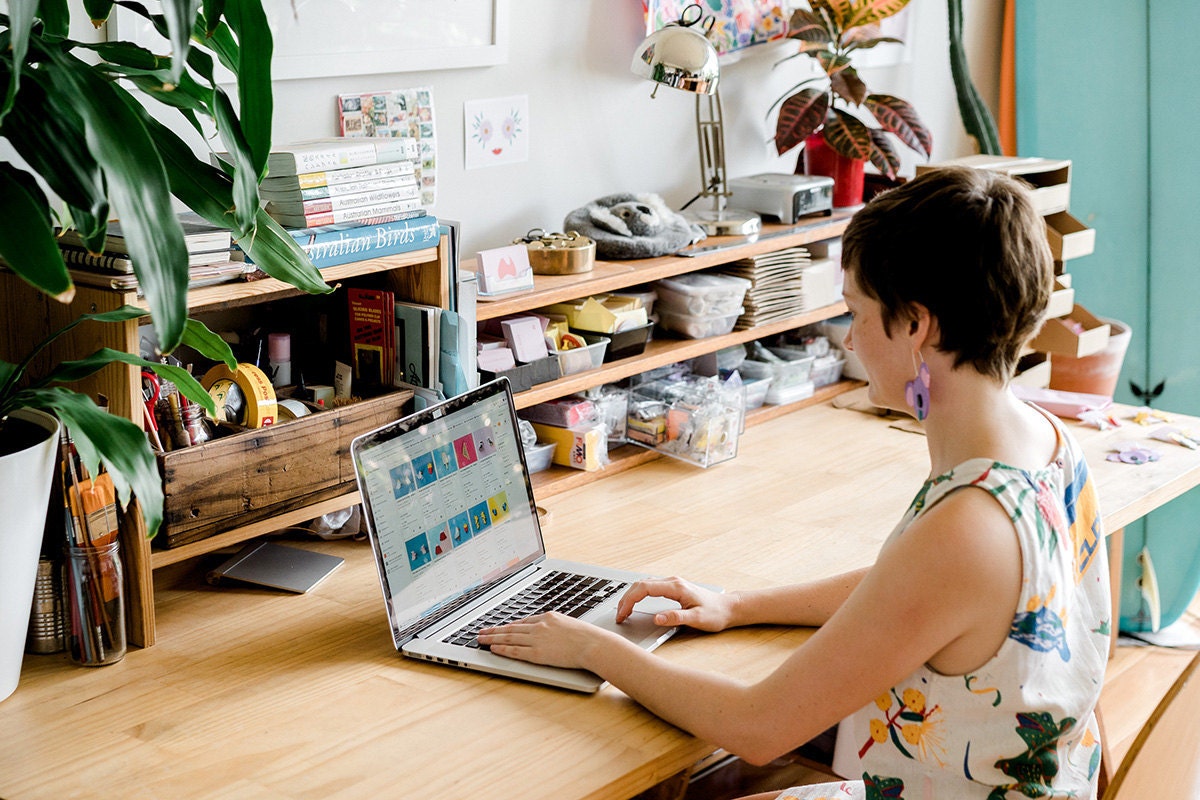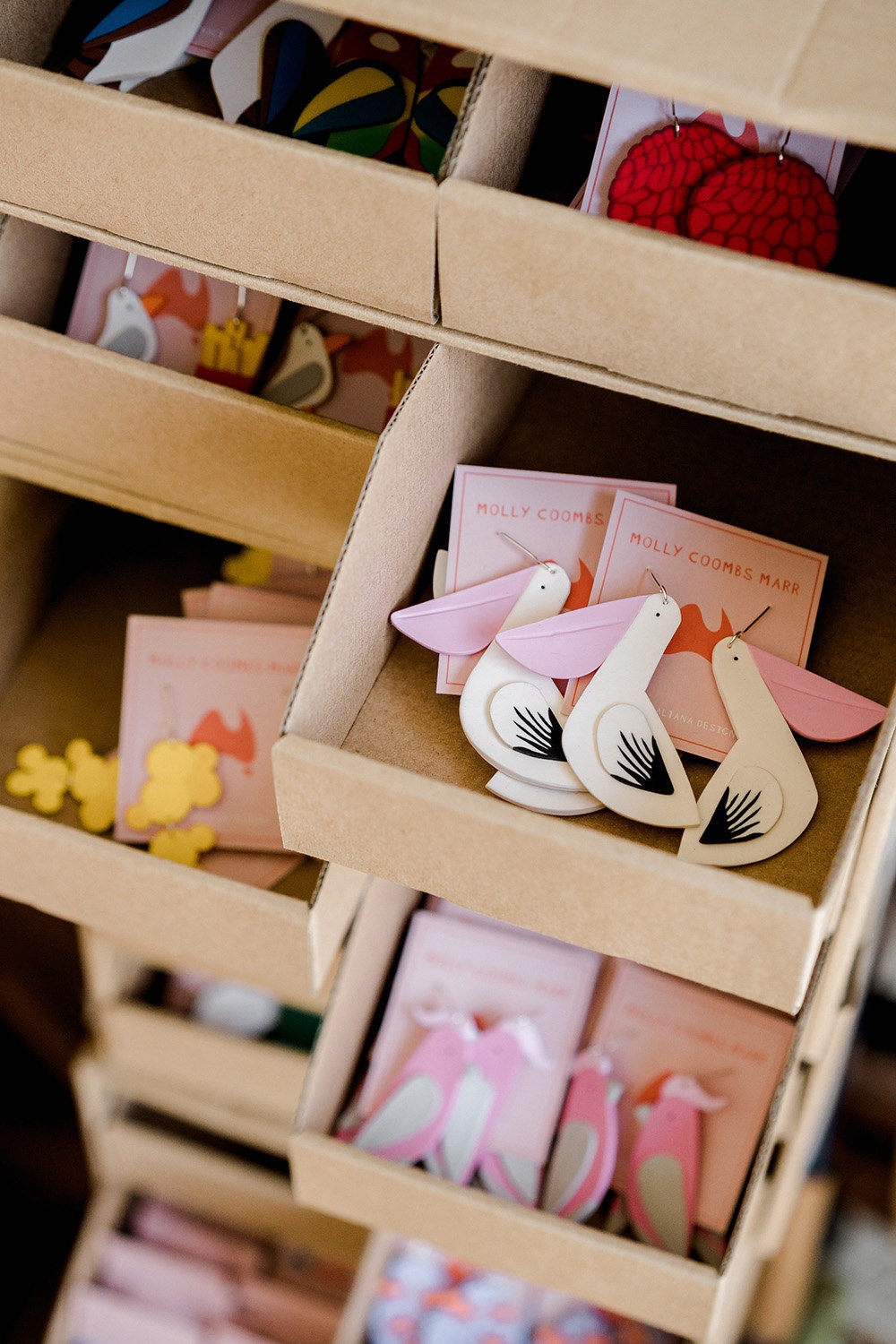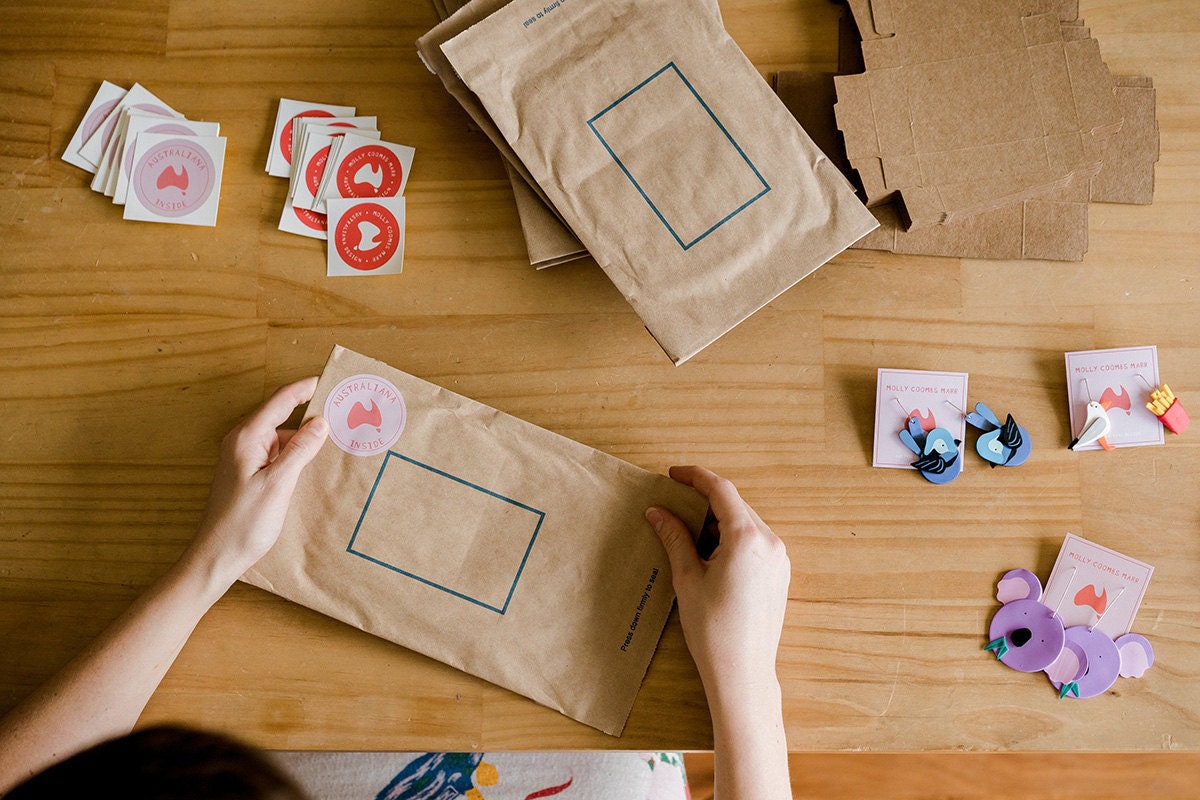 What do you wish you had known before being a seller on Etsy?
How wonderful I feel when I can help make someone's day, but also the pressure I put on myself to make sure I don't let anyone down. I've recently made the conscious decision to reply to messages from customers only during working hours. It's so easy to fall into the trap of working through your weekends, when you're out for dinner, or spending time with family, as the app is just a tap away on your phone. It's taken me a long time to realize that most people understand and are more than happy to wait for a reply within business hours.
What do you enjoy most about what you do now?
As a small business owner, I feel far more connected to my customers than I would working another job, and I think people feel the same way towards me. I've received some of the most beautiful stories from people who have bought my jewelry for loved ones, or in memory of someone they've recently lost. It honestly makes all the hard work so worth it. To make a product that people can really connect with on a personal level is one of the most fulfilling things I could ask for.
Photography by Lina Hayes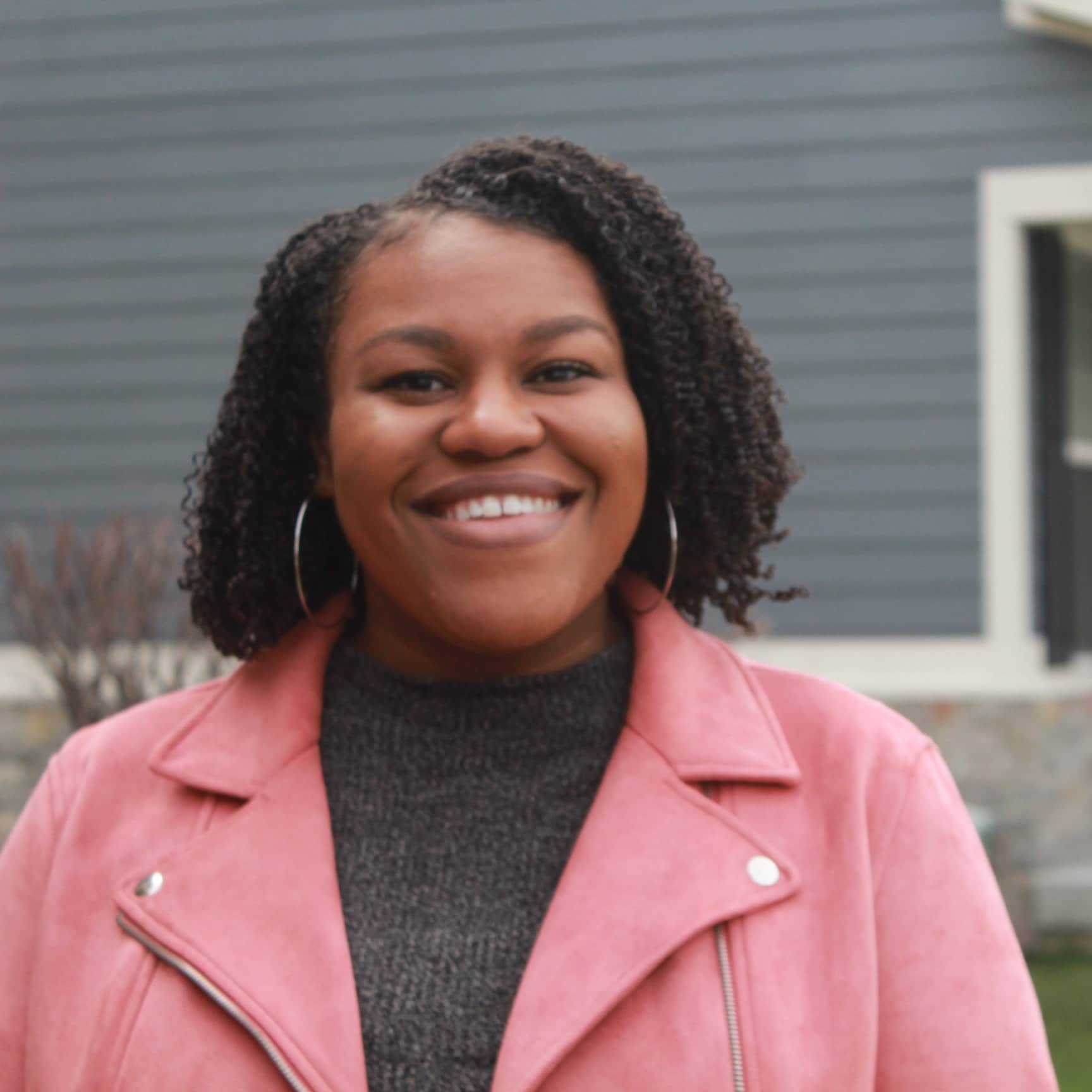 Words by Brittany King
Brittany King is a journalist and creative writer based in the Midwest reporting on women's issues, education, and race. Lover of handmade goods, genuine storytelling, and baking.