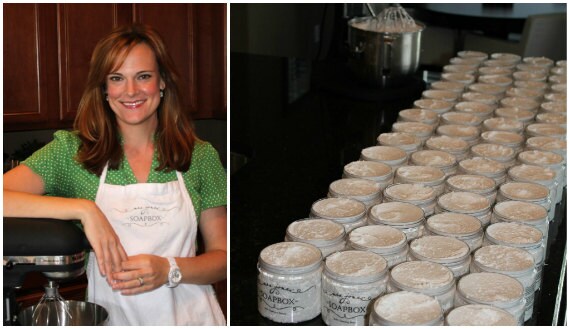 Tell us about your previous working situation and how you discovered Etsy.
I come from an entrepreneurial family. My mom runs a small publishing company and my dad owns an independent insurance agency. For the past five years I had the awesome opportunity to work for them and watch as they cultivated their own businesses. I discovered Etsy in 2007 when I was planning my wedding and quickly became an addict.
How did you prepare to transition into full-time Etsy selling?
For me there was a lot of mental preparation. I knew this is what I wanted to do full time but I was nervous to leave the stability of a full-time, salaried job. I finally reached a point where I knew I couldn't make my vision a reality until I gave it 100% of my attention so I sat down with my parents and told them I was ready to leave the nest and take off with my own.
What is your favorite part of the process in making cleaning products?
I love the way my house smells on mixing days! When I'm finished I use the overflow product to clean so the house is always spotless when I'm done. With most creative ventures your workspace looks like a hurricane rolled through when you're done but mine is just the opposite. It's a nice side effect!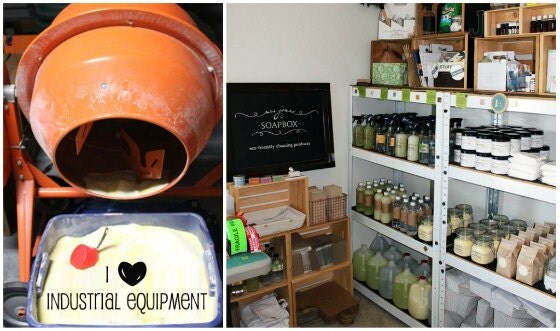 Why is it important to you to make eco-friendly products?
We are surrounded by so many synthetic chemicals that we don't know much about and the little that we do know is not good. They're disguised by ambiguous labels and clever advertising tactics so it's hard for people to see their true colors. I created Mrs. Jones' Soapbox because I think it's important for us to limit our exposure to these toxins and I wanted to provide a good alternative. Natural minerals, pure soaps and essentials oils can do just as good a job as their chemical counterparts but without the scary side effects. The added bonus is that they smell great and the packaging is fun and pretty so it's almost fun to clean.
What are your best marketing tips?
I think it's important to really establish a brand. Since I come from a marketing background I spent a lot of time thinking about the look and feel I wanted for this line. The logo and packaging design were my #1 priorities because that's what gets people's attention initially. But then once you have their attention, what do you do to keep it? I try to infuse my personality and brand into everything I do, whether it's how I package my products for shipment or what I'm saying on Facebook.
What's been your most popular item or line to date?
My laundry soap has been my biggest seller, but each of the products seem to have their own little cult following. I'm am thrilled to say that 70% of my customers become repeat customers! The soft cleaning scrub and Sparkle for glass, granite, stainless steel and mirrors are also big sellers.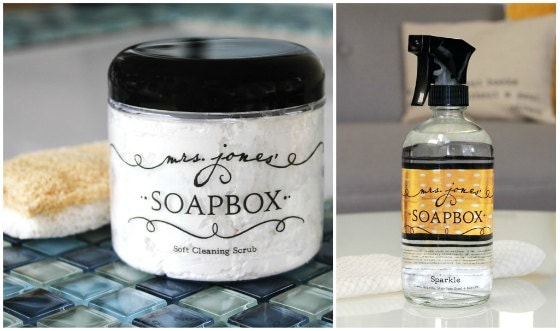 What have you found to be an unsuccessful promotion? Have you made any business mistakes you regret?
I've learned that while some things may not seem successful at first, there's usually some residual business that turns up later, so I don't think I can say anything's been truly unsuccessful. Certainly I've made lots of mistakes! In the very beginning my focus was too big. I started off wanting to have 15 different products in the line but quickly realized I need to pare down and focus on making the first 6 really great. I think also in the beginning I thought of it more as a crafting side hobby instead of a true business so I didn't do a great job of tracking sales and expenses. If there was one thing I could go back and change it would be that.
What is the biggest challenge you face during your daily schedule?
I struggle to get things done early in the day because I'm not a morning person. Since I work from home it's tempting to lounge around in the morning and leave things for the afternoon but what ended up happening was I'd be working late into the night and miss out on family time. Now I sit down each night and write down what I need to accomplish the next day and schedule the blocks of time so I know I'll be done by dinner.
What's the hardest part about running your own business?
For me it's just that everything is a solo venture. You don't have someone nearby to bounce ideas off of, proofread your materials, or motivate you when you're feeling down. And when you fail at something there's no one to share the blame. The buck really does stop here!
What do you enjoy most about not having a day job?
It's the most liberating feeling I've ever had! I love the freedom of making my own schedule, wearing running shorts and tank tops to the "office," and most of all, having my dogs lounge at my feet all day.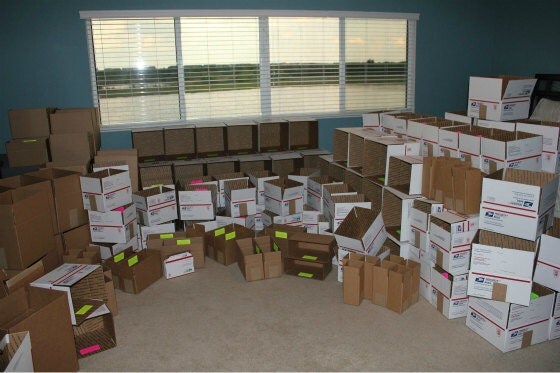 What is the most exciting thing that has come out of selling your designs through Etsy?
Every bit of it has been exciting! I'm constantly amazed at the excitement people feel to receive and use the products. The best part is when they use them and realize they work well too; they send me the funniest e-mails about their experiences: "I'm so excited to clean! I can't stop cleaning! This stuff is awesome!" It really makes every ounce of my blood, sweat and tears worth it. Far and away, the really touching responses are when someone writes to say that their baby has had severe eczema but it's gone away since they started using my laundry soap or they have bad allergies and this is the first product line they've been able to use. Those types of stories make me feel as if I truly am doing the good I set out to do.
What advice would you give someone considering a similar path?
Make sure it's a passion! It can't be about the money or the glory because those take time and they aren't fulfilling in the end. It really needs to be something you're passionate about. I believe our purpose is to use our life to serve others and if you can find something that lights that fire inside of you, go for it!