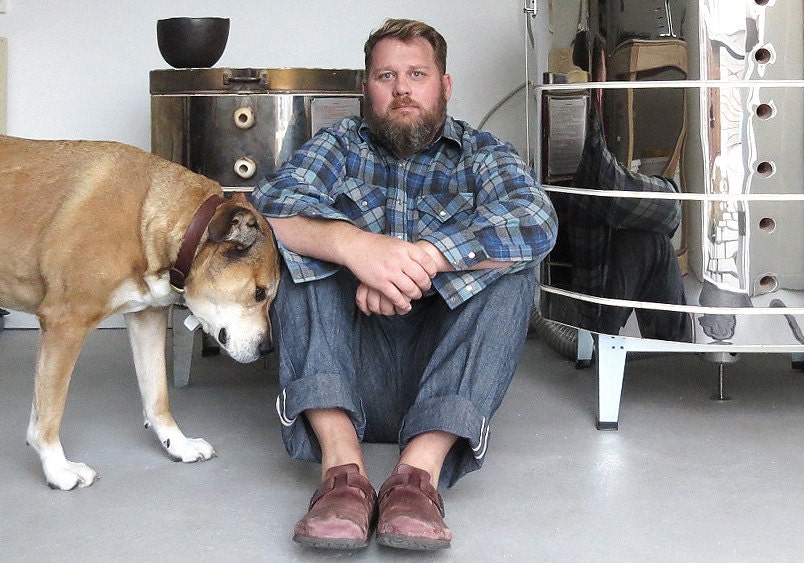 Before sales of his handmade ceramic skulls, baby doll head planters and air plant holders amounted to a livelihood, Mike McDowell had a very different life. He attended business school and worked as a mutual fund accountant, a stockbroker and, after further schooling, a web designer. But his corporate career path disintegrated in 2008 when the United States economy entered a recession. His company downsized and he was laid off. "Instead of looking for a job, I started investing my unemployment check, every penny of it, into building a business," Mike says. "And boy, it really changed my life. That was one of the best decisions I've ever made."
Mike completely devoted himself to turning his Etsy shop, Mudpuppy, which he started as a hobby in 2006, into a robust business. He invested in essential supplies, including clay tools, clay, slip and glazes and began marketing his brand via advertising and social media. It was no easy task, however. At one point, behind on bills, Mike had only $20 in his bank account. His unemployment benefits were dwindling and his credit cards were maxed out. But then, unexpectedly, he received a wholesale order. From this boost, he was able to keep going, growing his customer base, expanding into further wholesale opportunities, including Etsy Wholesale, and eventually purchasing his own cozy 857-square-foot midcentury modern home in Denver, Colorado.
Working 12- to 14-hour days, seven days a week, Mike was struggling to keep up with the growing demand. At the ceramics studio he shared with 10 fellow artists, located in a former dry ice factory, Mike met Chase Buerck, who worked in retail and pursued his passion for ceramics on the side. Mike realized that he could afford to match Chase's pay, and in turn offer him more creatively fulfilling work. "That was a tipping point for me," Mike says. Chase immediately accepted Mike's job offer. The two have since worked together for more than five years making artful housewares guided by Mike's keep-it-simple design sensibility and love of plants. "For me the biggest success is being able to do what I love every day and make a living from it," says Mike. "It's really a good life."
Recently, Mike spoke to Seller Handbook writer Julie Schneider to share how he built a creative business — and a creative life — that fuels him every day.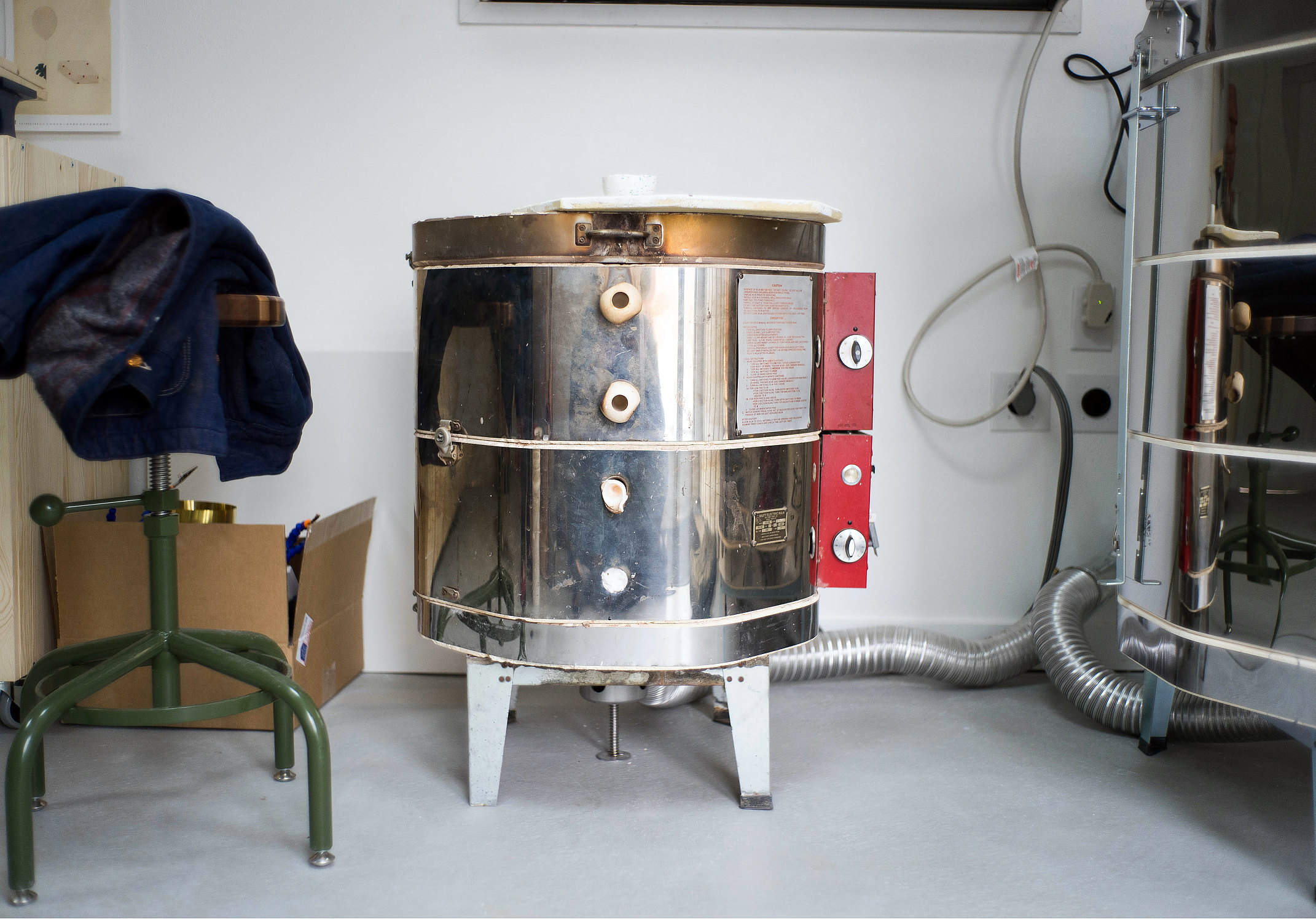 What was it like starting a business during an economic downturn?
Well, there was really nothing else to do. You could apply for jobs, but the rejection was never-ending. My friends were depressed and it was terrible. For me, building the ceramic business actually kept me feeling positive and going in a positive direction. Once I started making sales and people started showing interest in my work, it really showed me the way. I let myself be open to the opportunities. And, I realized one day after I had been working for myself, "What a relief. I don't have to apologize for being a human being anymore." I was so tired of making excuses for having feelings when working in the corporate world. Now I can just be me and enjoy what I'm doing.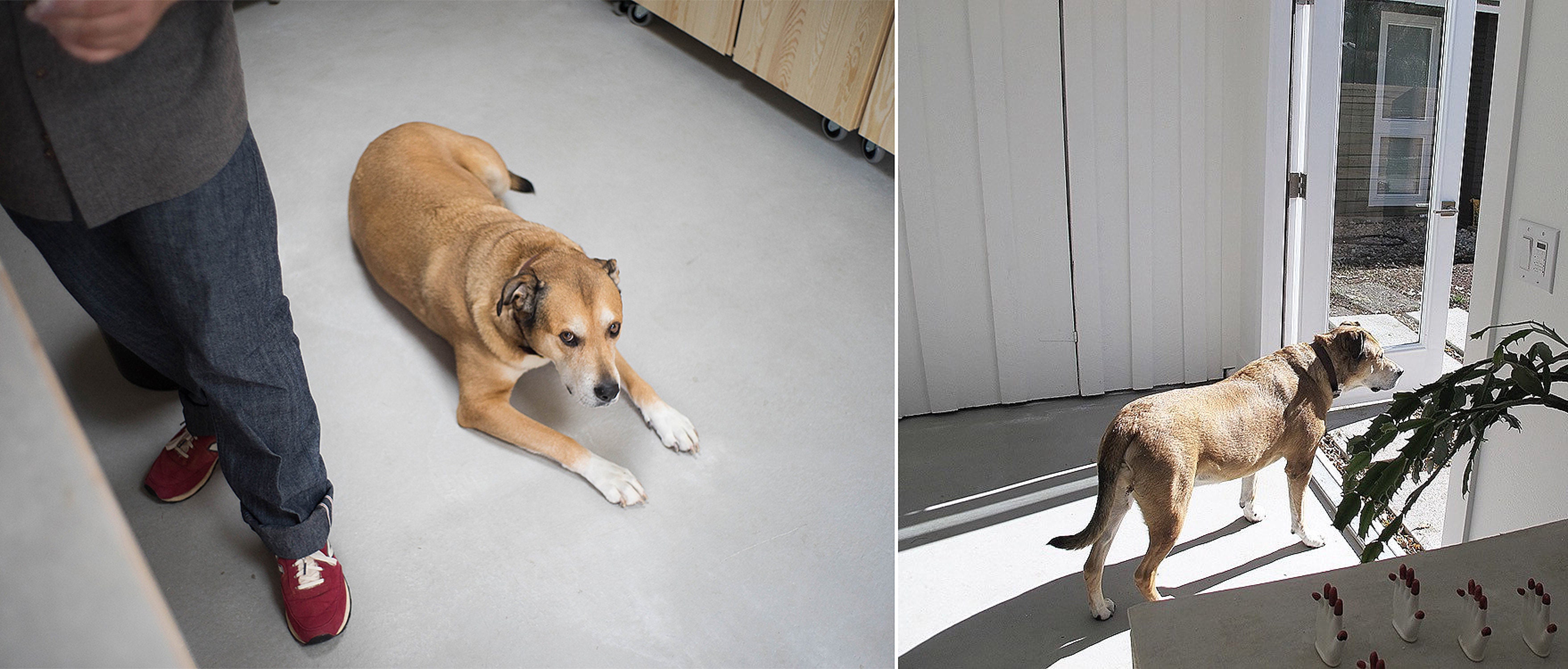 What's your advice for developing a business that stands out?
One of the foundations of my business is making something that I believe in. Every piece I believe in. I feel like people connect to things that you've put your soul in. When I create a new product, it's something that I would — and do — have in my own home. That's my biggest advice: create something you love that's unique and really good quality. When you're making something handmade, people can tell when your love and a little piece of your soul have been put into it.
I want to explode people's expectations and exceed them constantly, with packaging and care. Packaging is an opportunity to sell yourself again, after a sale. I include a postcard and a card with instructions for all my plant things. One side is about the product, how it's used and why I made it and on the back is air plant care. Back when I started, a lot of people didn't know how to care for air plants. I knew I needed to educate customers, so they would be able to keep them alive and come back and order more from me. I also include thank you cards. I really want people to understand my appreciation for their support because without them, I would not be living this incredible dream.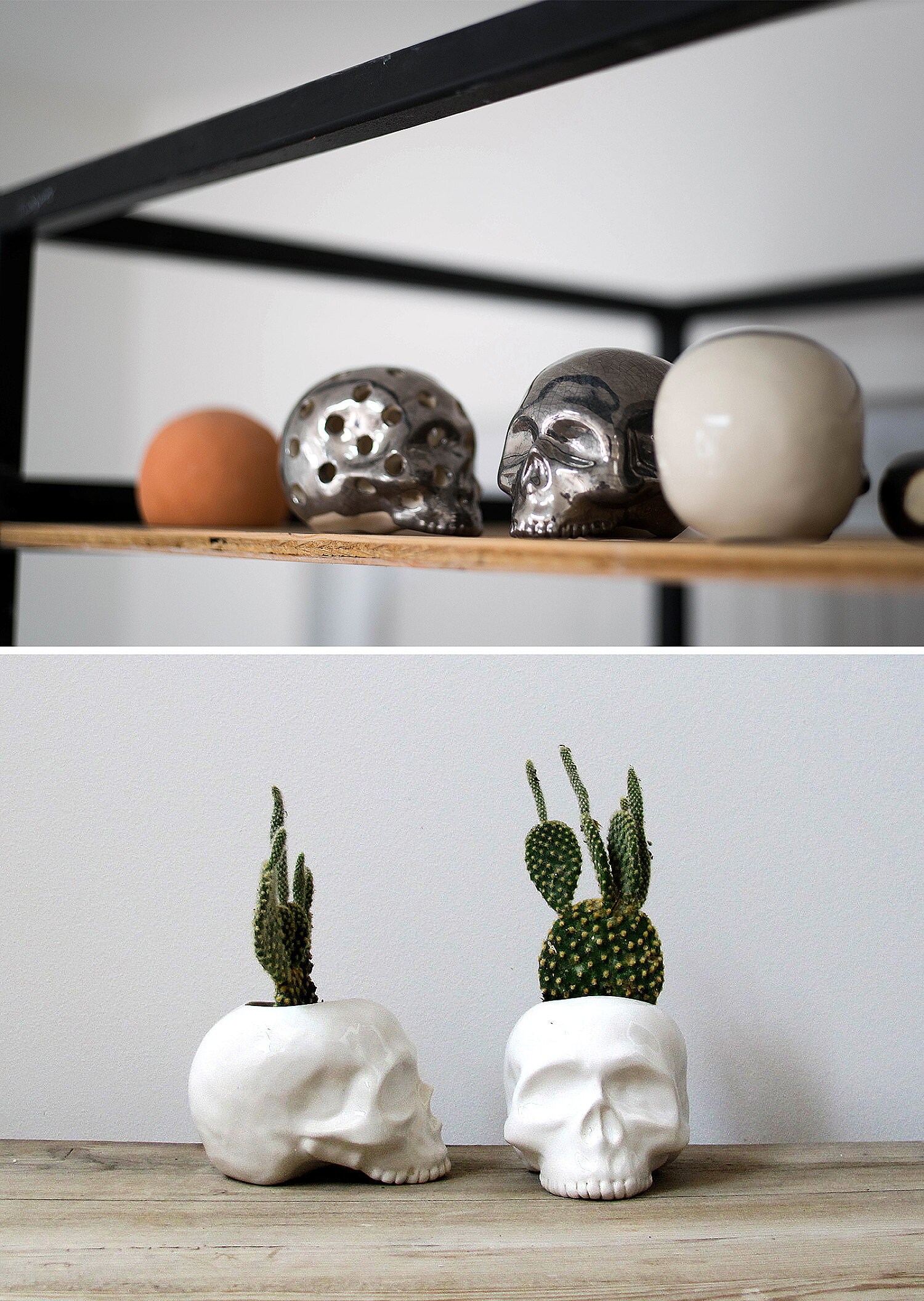 You have more than a million followers on Pinterest. What's your secret to social media?
I've always been an early adopter of the social media that interested me. Pinterest was a great match for me because I'm constantly online looking for new inspiration and seeing what other people are doing out there. As soon as Pinterest came out, I started a ceramics board to collect all the amazing pieces I was seeing. That board just exploded. I think a mistake that people make with social media is looking at it as a selling tool primarily, and I don't. I look at it as a way to connect with other people and build friendships. Then the sales come from that.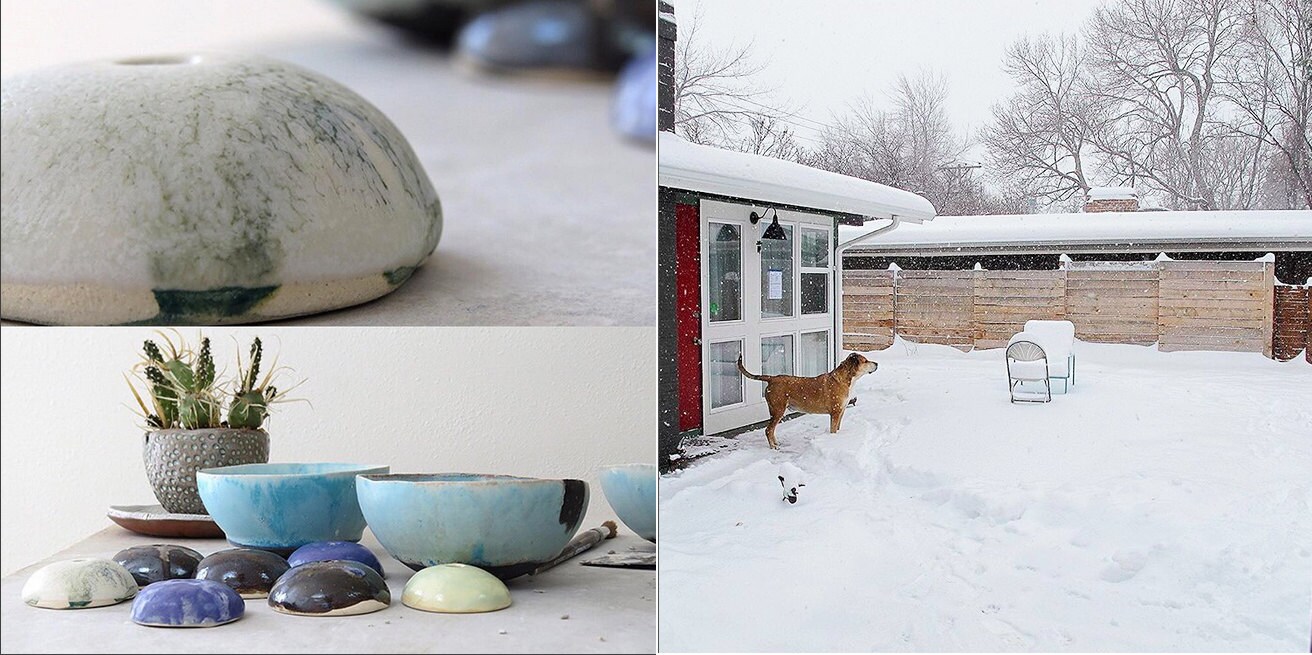 How do you approach pricing?
When you're first starting out, you might be desperate for money, so it's tempting to lower your prices. But there's a perceived value in your products. You really have to bite the bullet and price it fairly for you and fair enough that you can do wholesale. You can't be selling pieces for $6 and make a living.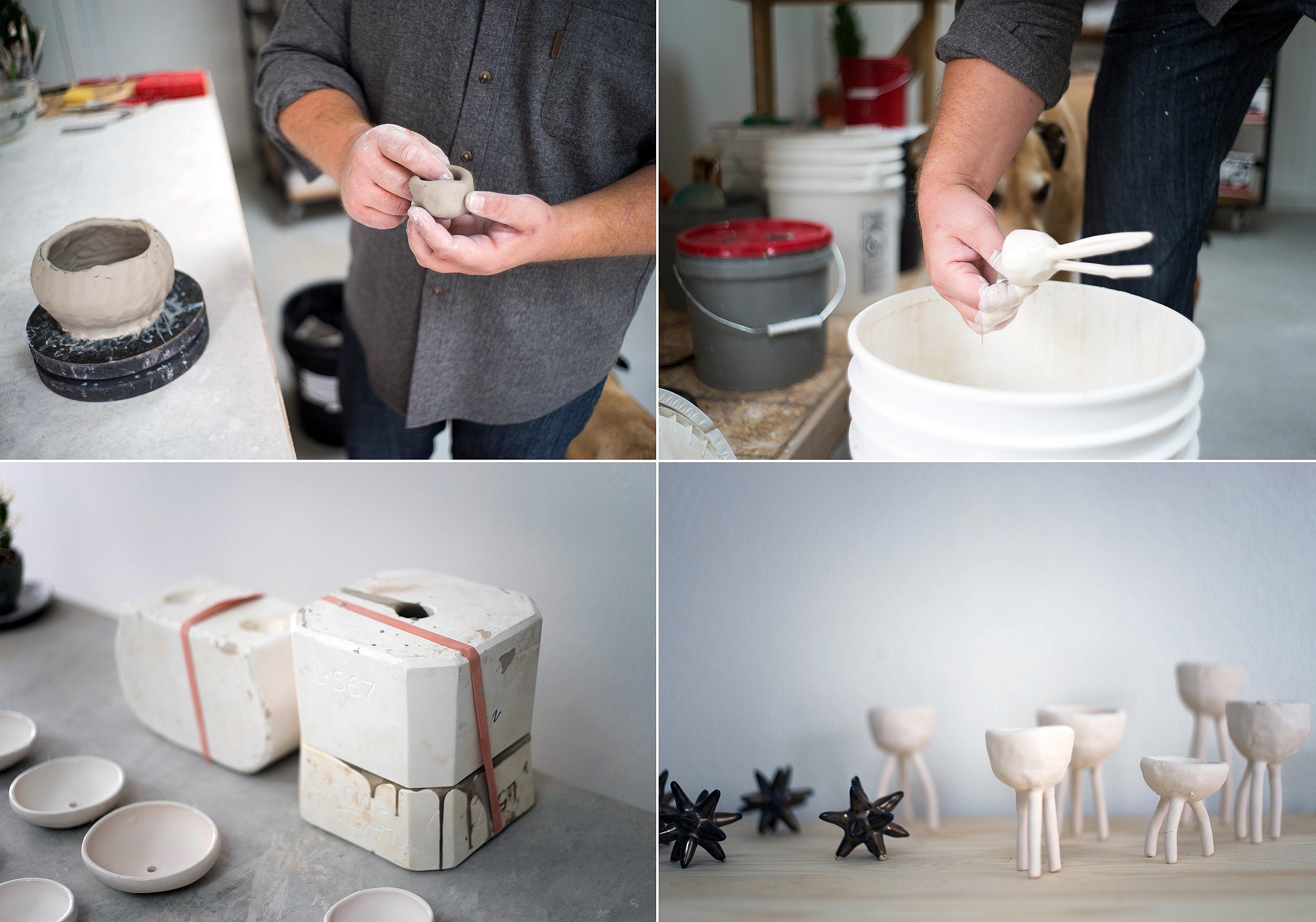 When did you recognize that you needed to hire help to scale your production?
Looking back now, I should have done it earlier before I was pushed to an overwhelming exhaustion level. It was really hard for me to give up control because I was used to making all the decisions and doing everything in a certain way. But I recognized that Chase and Fred were loyal, hard workers who I could depend on. A couple years ago, I tried expanding the production side of the business by working with a manufacturer. It was so much of an investment and it just didn't work for me. You end up doing a lot of management of money, taxes, ordering supplies and training people, which takes up so much time. I realized I'm not really interested in that. I don't like managing a lot of people. I realized that I'm happy where I am now. That turned out to be a good lesson. It's about where you want to direct your time. For me, nothing is better than being in the studio with the music on with my dog making a beautiful piece that I love. That, for me, fills my soul.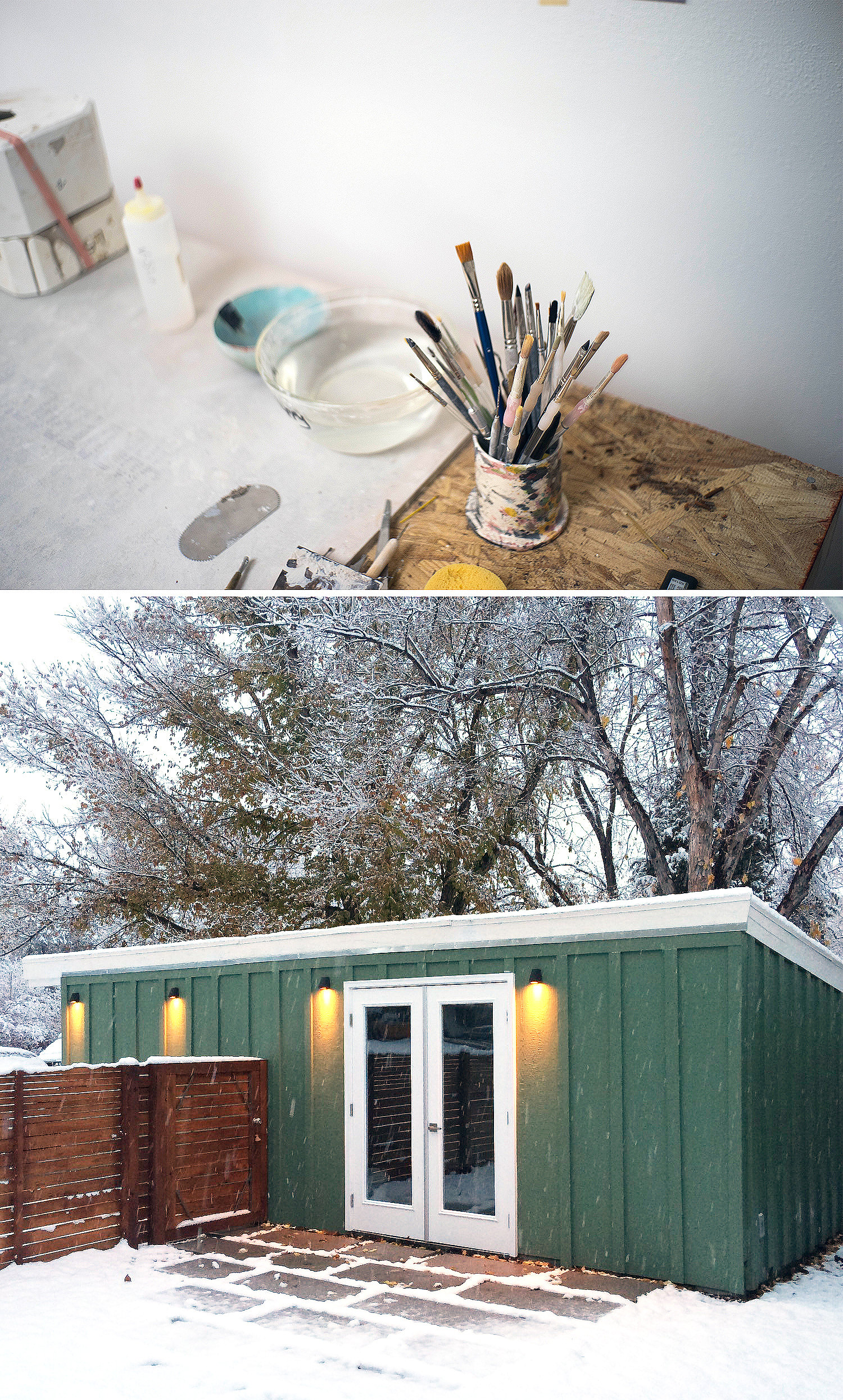 What are your biggest challenges as a business owner?
The cyclical nature of the business has been really difficult. In the past couple years I've finally gotten used to the fact that January and February are going to be dead. It's a time for making and a time for exploring new pieces. I remind myself to not freak about the future or think that it's the end of my business because I'm not having as many sales as I did in November and December. I try to save the money I make from the busiest months, so I can survive in the slower months. I've finally started getting used to this idea and embracing it. I really think you need to embrace it because the fear can be overwhelming and debilitating. Fear, I think, is one of the worst enemies of the small-business person. But I now approach January and February as a valuable time for exploring my ideas. You have to push through it, believe in yourself and open yourself to possibility.
Photos by Ross Evertson, unless otherwise noted. To see Mike McDowell's latest creations, check out Mudpuppy.
How do you overcome business challenges? Share your tips in the comments below.