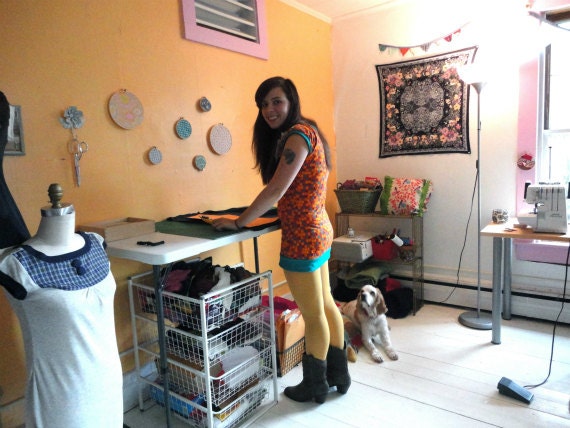 Tell us about your shop, nicolecarey, and the idea behind it.
I make clothing, accessories, jewelry and some housewares for gals who aren't afraid of color. The line is all made by me in my home studio in Johnson, Vermont, where I live with my boyfriend and two funny dogs.
Tell us about your previous working situation and how you discovered Etsy.
I've held jobs from retail to waiting tables. I also had a vintage pickin' habit and started buying and selling some vintage and handmade clothing on eBay. A lot of my favorite sellers migrated from eBay to Etsy — I was so inspired by the craft revolution that seemed to be taking place and was excited to join in myself.
What steps did you take to transition into full-time Etsy selling?
When I began selling on Etsy, I didn't take it very seriously. I was playing music a lot back then and crafting was on the back burner. It wasn't until I was let go from a waitressing job that I had an epiphany: I wanted all of my hard work to help me gain independence. I wasn't in a financial position to be a full-time Etsy seller, but I knew I had to step it up a notch. I started a new day job, but after my shifts I would come home and sew until I was exhausted.
I moved to a very rural part of Vermont last October. I was looking for steady work, but in rural Vermont it's slim pickings. As the holidays approached, my sales started snowballing! Suddenly, I had no time to look for a job and I wasn't even sure I needed to. Living several miles up a dirt road and not having high speed internet made it difficult to run an online business, but I was determined to make it work. When our half-year lease was up, we relocated to a slightly less rural town with more accessibility. I was never so excited for modern technology than after those six months!
As my teeny tiny business started to grow, it made sense to take things more seriously. I tried to be as organized as possible, which wasn't easy for me. I started buying supplies in bulk, which saved me money and allowed me to open my supply shop, basilandfluffy. I also moved my vintage clothing into a separate shop to distinguish it from my handmade shop.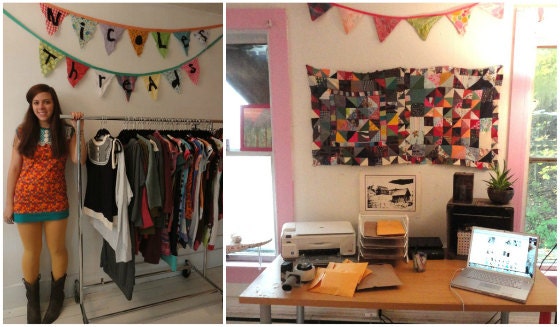 What is your favorite part of designing clothing?
I love stitching all of the pieces together and watching designs take form!
What are your best marketing tips?
Take great photos with natural light!
Brand your shop. Make your items look good together.
Never underestimate the power of social networking. If people are there, they are listening.
Provide exceptional customer service. If the customer is happy, they'll come back. Include a few extra business cards in case they want to tell their friends.
Always be one step ahead. When it's a hot and sticky summer, it's so hard to remember that it actually gets cold here and I need to be cranking out the flannel fabric and making some cozy tops for winter. Always be on the lookout for what will be good for you in the future.
Be proactive, yet humble. Look for new ways to get your name out there, but be tactful about it.
What's been your most popular item or line to date?
My black houndstooth top has been my most popular clothing item. I am going to offer it with long sleeves soon. My button earrings also sell really well!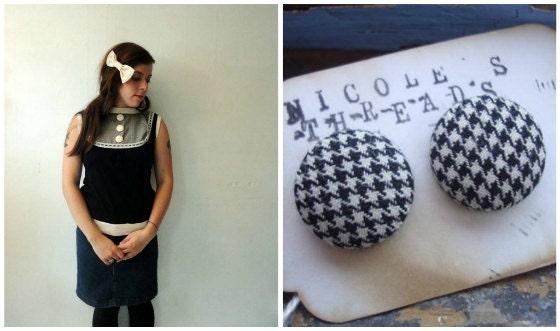 What have you found to be an unsuccessful promotion?
I haven't had a lot of unsuccessful promotions, but I also haven't done much in terms of paid advertising. I've had things on consignment in a few stores that closed and I was never paid. I now stick to wholesale.
What is the biggest challenge you face during your daily schedule?
Finding balance and giving myself time off. As the owner of your own business, you have to wear several different hats. Nicole's Threads is my bread and butter, so I don't always have time to go thrifting for Granny's Threads, and I have even less time to go make ceramic jewelry for the Pottery Lottery. It's often hard to leave work and do simple things like socializing, baking or playing music.
What's the hardest part about running your own business?
Finding the time to get everything done without the elves I'm always wishing for.
What do you enjoy most about not having a day job?
I love being being my own boss and being in control of my daily life. It is so liberating.
What is the most exciting thing that has come out of selling your designs through Etsy?
Well, being asked to do this interview is exciting and humbling! I am so thankful to be working for myself. Also, I used my Etsy shop as a portfolio to apply for the Renegade Craft Fair. I am so excited to be included in their Chicago and San Francisco shows for the holidays!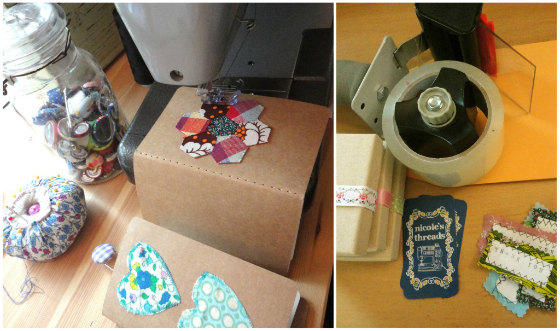 What advice would you give someone considering a similar path?
Work hard and have plenty of savings before you quit your job.
Always carry your business cards. Read and take the advice of successful, positive people in your field.
Surround yourself with positive, supportive and encouraging people. I would never be where I am today without my family and boyfriend.
What goals do you have in store for the future of your businesses?
It would be great to have an intern or an employee. I'd love to have a store but still have time to create. Burlington, VT could really use a great little handmade shop.
Anything else you would like to share?
I'd love to share with you some of my favorite shops: My mom's shop, Earth and Wears; Tiny Galaxies; Jennifer Kahn Jewelry; New Duds; and Clay Chickadee.