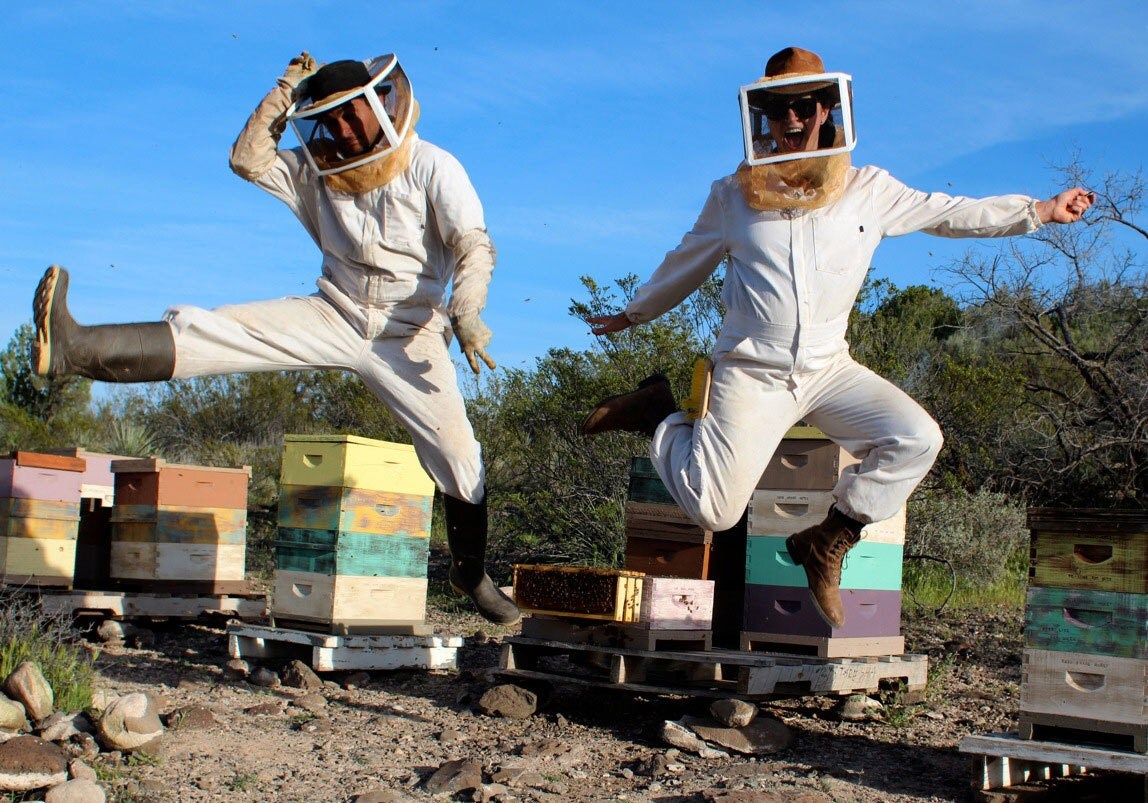 When Peter and Juwels discovered a vintage glass bottle washed up on a beach in southern California, the idea for their bottle-shaped beeswax candle business started to take shape. They taught themselves how to make candles and molds using a soup pot in the kitchen of their 1975 Winnebago (dubbed "Miss Winnie"). In November 2010, they opened their Etsy shop, Pollen Arts.
A few months after opening, the business started to take off. "It was this race for the moon," Peter recalls. No one else was making a product like theirs, so they felt a rush to get their name out there and accept every opportunity, including press coverage, a massive wholesale order from Anthropologie and a trade show where they picked up 30 more wholesale accounts. "We were like people who were being worked at gunpoint," Peter says. "We ate standing – just plain fried eggs directly out of the frying pan – blasted music all night and had bloodshot eyes."
They quickly outgrew the tiny four-burner propane stove in the Winnebago and relocated to a 1,500-square-foot warehouse space in Peter's home state of Arizona, where they continued to work ceaselessly to meet the demand. They fulfilled massive wholesale orders, including one that required $14,000 worth of beeswax weighing 5,000 pounds, which they hauled to their second-story space, melted, filtered, poured into molds and packaged up before hauling it back downstairs to ship on pallets. But the overwhelming pace of work and the lack of sunlight and fresh air in the industrial warehouse space was wearing on them. "The dream was not to be working nonstop," Peter says. "The dream was about having a good life and finding a nice balance."
They decided to take a step back from the frantic pace of work and stopped accepting new wholesale accounts and attending trade shows. To reconnect with nature, they settled down on a picturesque plot of land on the outskirts of Flagstaff surrounded by pine trees and a spring where they bottle their own water. While Peter and Juwels still call Miss Winnie home, the Pollen Arts productions have moved into an adjacent house trailer from 1968 called the Hive. They pour all of the beeswax candles for Etsy orders and more than 100 worldwide wholesale accounts inside the Hive in a sunny room with south-facing windows. Outside they have a dozen beehives housing over half a million bees, as well as a flock of chickens and two friendly Nubian goats.
Peter recently spoke with Seller Handbook writer Julie Schneider to discuss how he and Juwels have grown – and consciously pared back – their business to build a dream life surrounded by nature.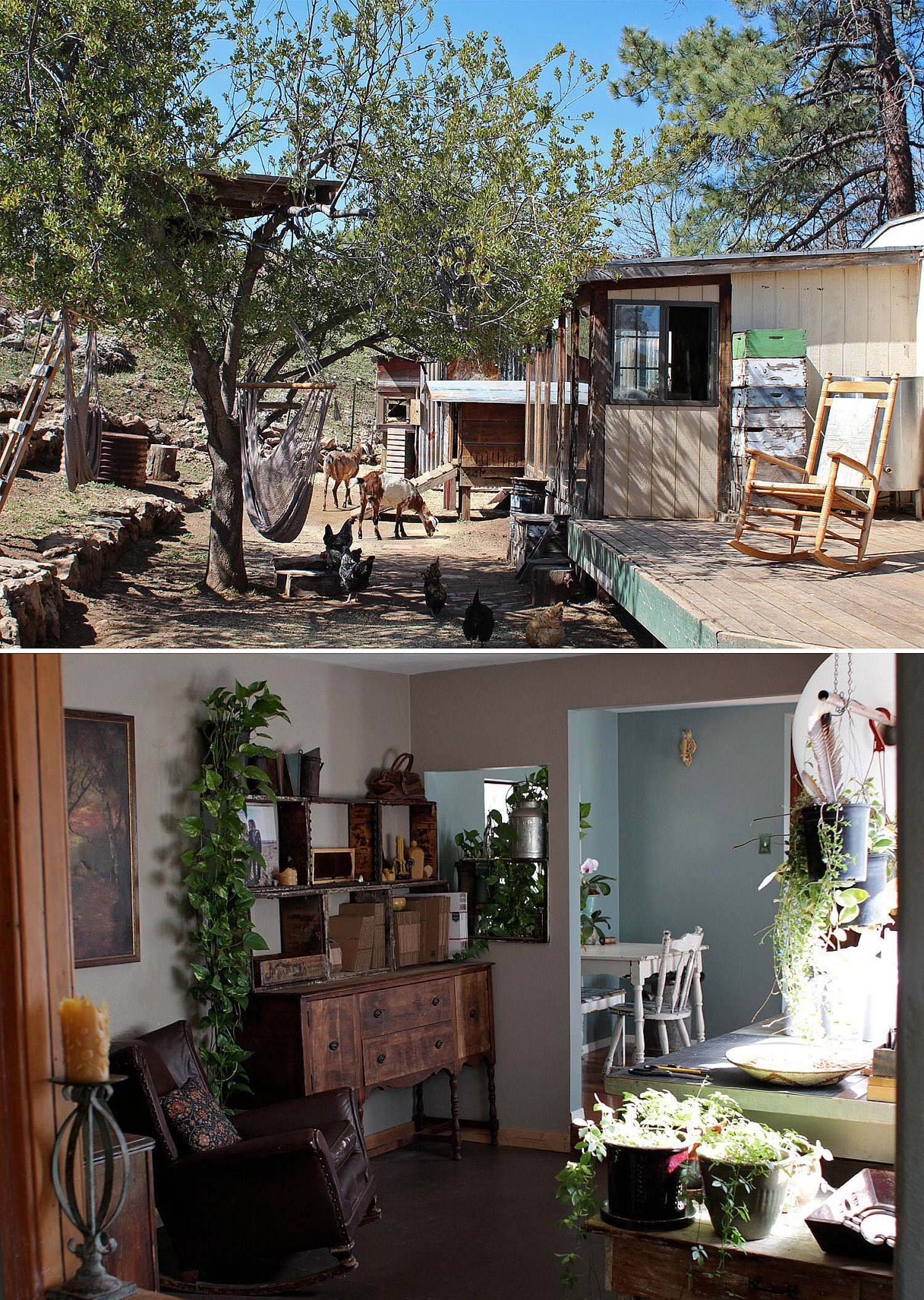 Why did you decide to slow down while business was booming?
There's a whole glamorous thing about being busy. Tell anybody that you've had, like, a 30-hour day and they'll say, "That's a good problem to have!" But it's a cliché that you should give up your life for money. I've found that self-employed people can be really bad bosses to themselves. They'll make themselves do things that they would never tolerate if somebody else was asking them to, like skipping meals, staying up all night and neglecting their bodies. There's really nothing glamorous about pumping your body full of caffeine and not eating enough at the right hours and not sleeping enough. What are you trading this for exactly? We've seen what all of that looks like – when we were going "grow, grow, grow!" – and it was crazy. We actually decided to put on the brakes and downsize. We had the opportunity to expand and grow and take on everything possible, but we decided against it because it doesn't seem kind.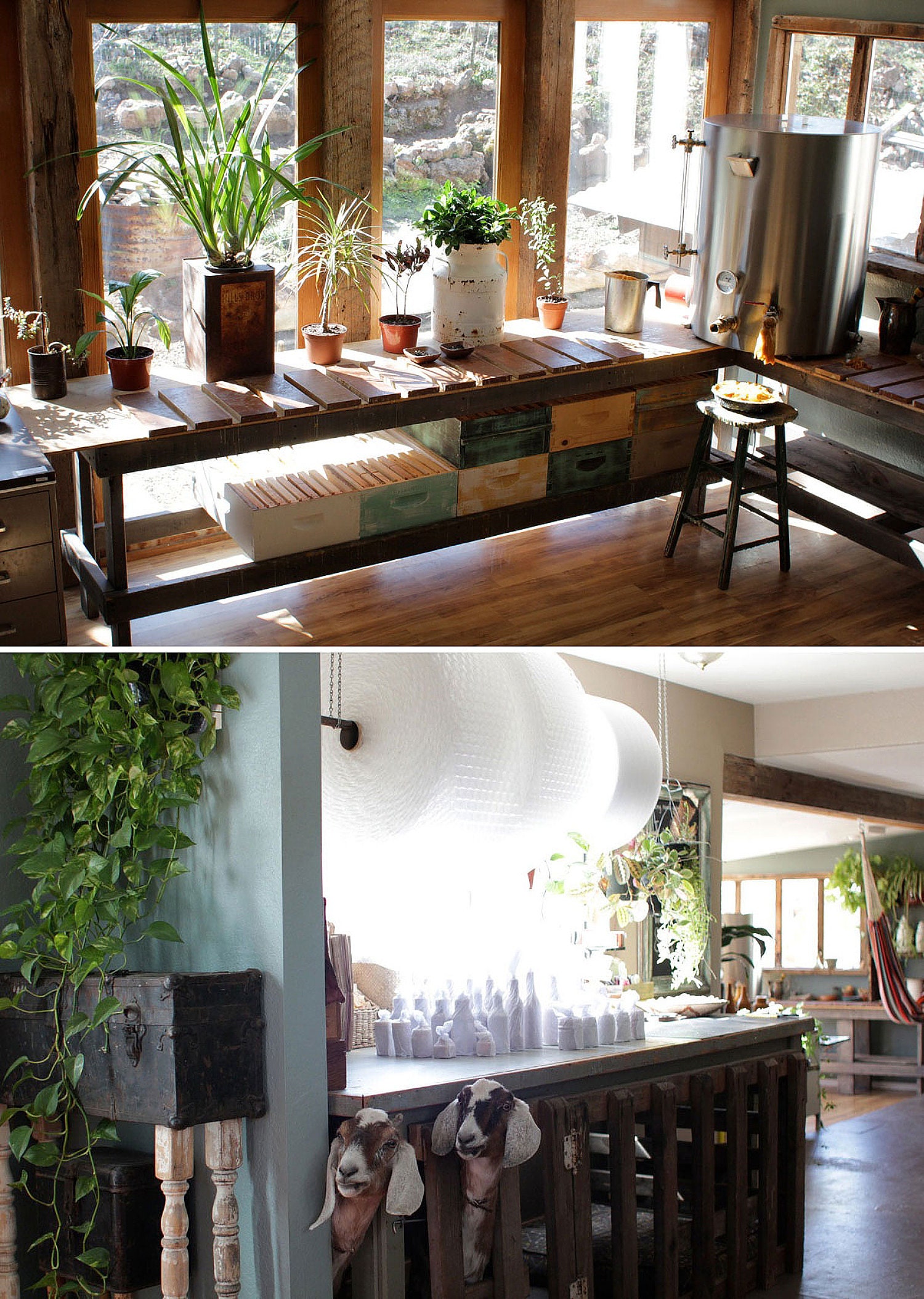 How did you learn to be good bosses to yourselves?
We had to adjust our thinking. We examined what we were asking ourselves to do and where we even wanted to go with the business. Then we gave ourselves dream jobs. We've been able to do that through a little bit of sacrifice and by cutting down our expenses. Our bills and rent are quite low. If we were in Brooklyn in some cool red brick building with a roll-up door we'd be broke, but here we're thriving. We went from working these crazy shifts and never seeing the outside world to walking in the forest every single day. Every evening just before sunset, we take a long, meandering walk through the woods with our goats and we all rest at a lookout and watch the colors in the sky and the silent peaks in the distance. The other day, I was typing an email and I looked out the window and I saw a hawk flying by with a live snake in its mouth. I love my life.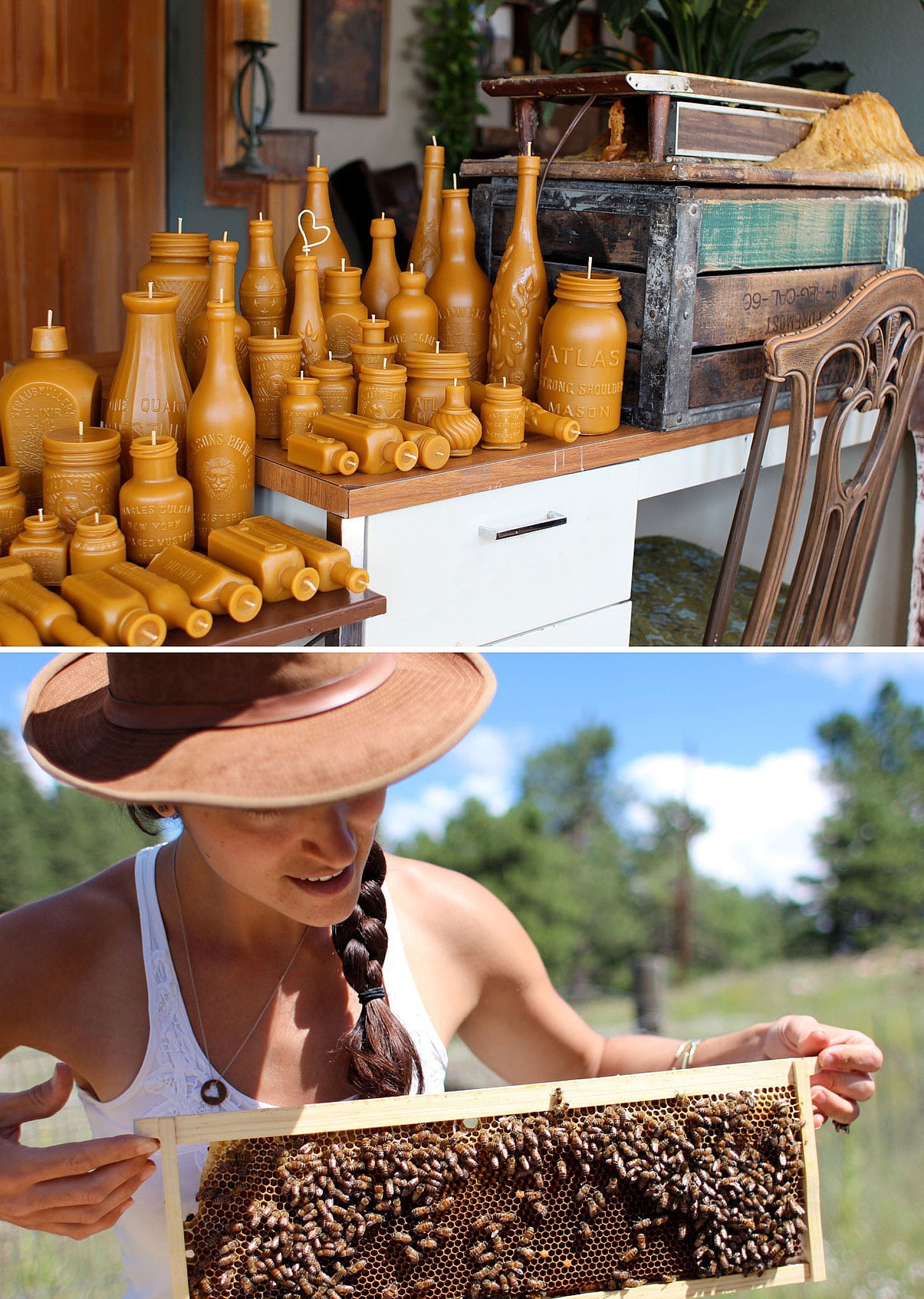 Describe how the environment shapes your business.
Our survival is very much tied to the survival and the health of bees. Bees not only make sweet honey and beeswax, they play a huge part in the food chain by playing cupid and passing pollen between flowering plants. Our bees live in the desert on a friend's property in the Verde Valley during the winter to stay warm and in the spring and summer too, so they can eat cat claw blooms (a delicious specialty honey which comes from a prickly tree) and mesquite (a dark, rich, flavorful honey). When those blooms die off, and the rain and wildflowers find us on the mountain, the bees move up here with us. I'll check the weather channel to see what the weather is like where the beehives are and get excited if it's raining. If it doesn't rain, the flowers don't bloom and the bees don't make as much honey – and that means not as much wax. With the droughts, it has been super hard to find good wax. We run out of wax all the time, every few months or so, and we start scouting out another source that meets our high standards.
We've also started working with local people to relocate unwanted swarms of bees. Bees end up in people's walls and gather in swarm clusters in trees. These swarms are a natural part of any healthy hive. Unfortunately, a lot of the time they're sprayed with hornet spray. Now people can call us and we'll come get the swarms free of charge. This year, we'll also be selling established hives to hobby beekeepers and doing workshops in the hives with kids.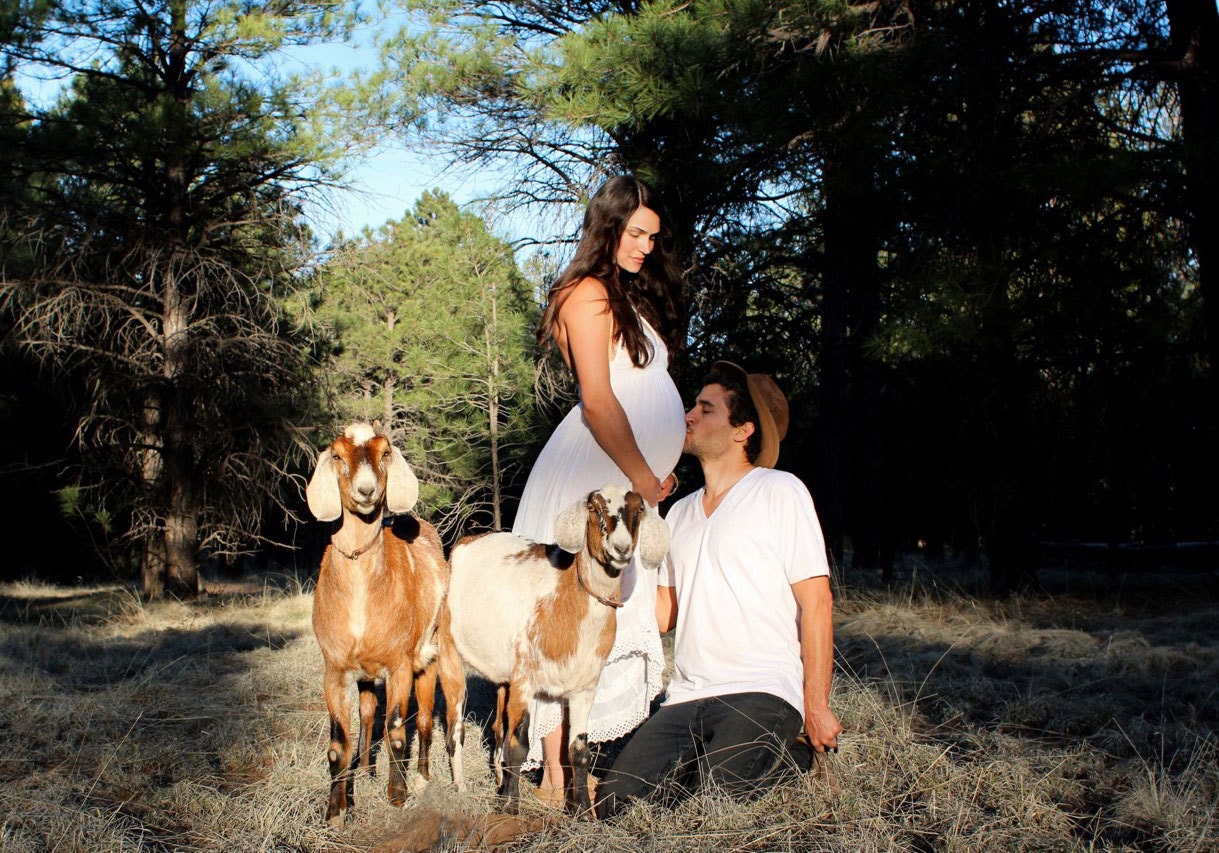 What's it like running a business with your wife?
For 10 years, we've been around each other almost all day, every day, and we just get along. We're two very easygoing people, so we don't get on each other's nerves. And I think that we got lucky to have a business that's very meditative. It can be done while listening to audiobooks and music. There's a lot of time where we get to be in our own heads quietly thinking about stuff and getting wrapped up in the narrative of a story. We choose not to fight about anything that doesn't matter. We see pretty eye-to-eye about most things. I let her do what she wants and she lets me do what I want. It tends to keep our lives interesting. It's like yin and yang, and we're always involved in each other's adventures.
Photos by Pollen Arts. Follow their adventures on their blog, The Winnebago Diaries, Instagram and Facebook.
How do you find happiness while running your own business? Share your tips in the comments below.