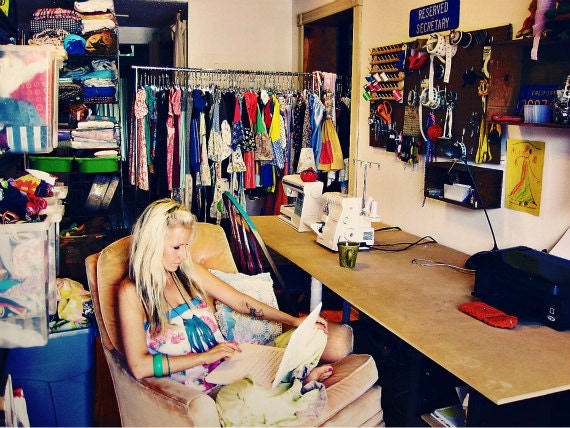 Tell us about your shop and the idea behind it.
Years ago, when recycling wasn't as cool as it is today, I was cutting up my clothing because I wanted to change it up. That birthed a passion to learn how to sew and go to design school, which later fed my desire to start my own business and share my creations with the world. The idea behind my clothing is really about embracing imperfect beauty and not clinging to obnoxious trends and name brands out of fear. Everything in my line is made from recycled scrap and given new life; the base for all of my designs is comfort and effortlessness.
Tell us about your previous work and how you discovered Etsy.
When I was 25, I had a quarter-life crisis and decided I was not going to wait tables anymore. A good friend of mine had recently passed away and I was reminded that life was short and "waiting for the opportune time" to follow my dreams was silly. One day, while driving around town with a friend, I saw a small building for lease. Thinking it was way over my head, I still inquired about it and filled out a rental application without a dime in the bank or a business plan. You can read more about that story in my Etsy About page, if you like.
As it turns out, I got the shop! I did it all on a shoe-string budget and it was a dream come true. Not even a year later I got married, and shortly after that I got pregnant. I always wanted to be a stay-at-home mom — one who could make her kids pancakes in the morning and wear pajamas until noon, if we had the desire. However, I had an ideal business setup: my shop was right on the beach, the florist neighbors were friends of mine and I was voted best one-of-kind clothing shop in the local paper — business was rocking.
When I prayed over my indecision, it was clear that it was time to shut the shop down and enter into a new life season. I didn't know how the finances would add up, but I completely trusted that God would provide, and he did. I found Etsy and it has been a huge blessing to me. Etsy has allowed me to be the stay-at-home mom I want to be and also run my business. Etsy has been life changing for me because I can count the days I have been away from my children, and I love that I can say I have been there to witness every milestone of their life thus far. That is priceless.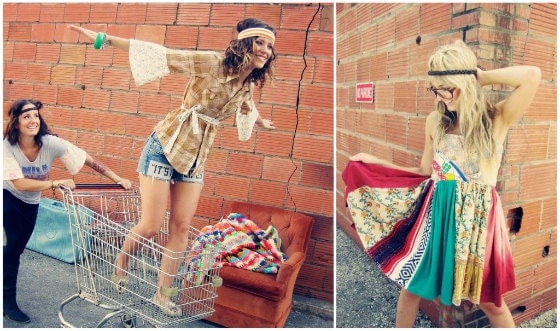 What is your favorite part of the clothing design process?
I love thrifting and finding cool, unusual treasures. I come home with bundles of sheets, towels, dishcloths, lace, shirts, flannels…you name it and I have had it. When I'm designing the clothing, I'm totally in my element. I have everything all over the floor and I'm throwing stuff around, putting color combos together — usually with coffee and music. I love how sewing mistakes can actually transform and inspire new ideas and creativity.
What are your best marketing tips?
Don't overdo it. You don't want to be the friend who's constantly trying to sell you something. In saying that, don't be shy, either. If the opportunity to present a business card arises, go for it.
Use the free stuff to your advantage: Facebook, blogging, Twitter, etc. It helps keep your fans in the know.
Don't be an island: help promote other cool art as well. Constant self-promotion can be tacky, so spread the word for your fellow artisans.
Happy customers are the best form of marketing. Take good care of your customers and they will naturally spread the word and return to shop again.
What's been your most popular item or line to date?
The Oxy. We call it my signature item because I sell 'em like crazy. My customers love how the Oxy can fit a range of sizes and can suit just about any style. I make custom Oxys for customers because they can send in their own favorite shirt and have it PPP'd to their size. It's a pretty simple, fantastic design.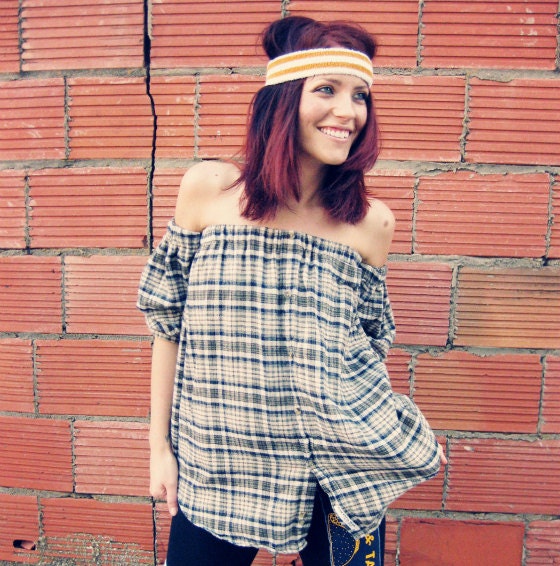 What is the biggest challenge you face during your daily schedule?
Being a homeschooler and mama of two, my day is busy. I have to be very disciplined. I recently had to hire help so I could have time to make more product. I was maxed out with the 17 or so items I was posting per week. They would sell so fast that my shop would look empty and I had nothing left to keep my shop stocked. I'm pretty frugal, but it really is money well spent if you get to that place where your business is forcing you to grow. I have an awesome assistant, Taylor, who also has a super cool Etsy shop. Be sure to check her out.
What's the hardest part about running your own business?
Balance is hard. I can work on something I'm excited about and totally forget to eat. Having a family has helped because I have other people who are depending on me to be normal. I attend to a few emails throughout the day and squeeze in a few errands if need be, but for the most part my days are dedicated to my children. I don't want them to remember me consumed by the computer and sewing machine. I have to be very disciplined to not overindulge in work during the day. I do most of my work in the evenings, during their nap time and after they go to bed.
Aside from being a mama and a wife, I also try to eat healthy, get regular exercise, be an involved friend and spend quality time with God and in his word. I'm constantly modifying my routine to iron our kinks and find new ways to create balance and peace in my life. It's an ongoing challenge. Some days I feel like Superwoman; other days I just need a nap.
What do you enjoy most about not having a day job?
Not having a boss is a great thing. I was never very good at taking orders. I also love the flexibility of my day — if it's raining outside and my kids and I feel like baking something and cuddling, then we do just that. I love being able to stay home with my kids and not have to leave them for work. My job is also really fun: instead of sitting in a cubicle, I'm outside doing photo shoots with my friends, thrift store shopping and wearing fun clothes all the time. I feel like it's almost unfair that I have this much fun at work.
What is the most exciting thing that has come out of selling your designs through Etsy?
This year I was able to take on homeschooling my five-year-old, and that has been really fun; I'm learning a lot. I may not be a lifer homeschooler but to be able to share in her education and watch her read and write and learn math and the joy that comes over her is pretty exciting. I would not have had this opportunity with a 9-5 job.
The Junk Gypsies, who now have their own reality show and are featured a ton in different magazines, carry my line. Because of that relationship, the country singer Miranda Lambert was spotted wearing my Patchwork Vest on the cover of People. That was an honor.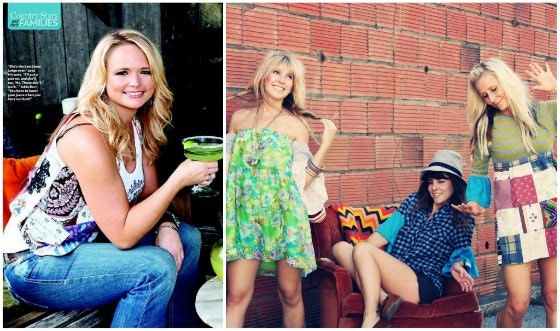 What advice would you give someone considering a similar path?
I'm with Nike on this one: "Just do it." I think a lot of people talk about their "dream job" as if it is lofty and unattainable. All of us have a purpose, and our work should be satisfying. Don't listen to nay-sayers; my experience with people who always think of the ten things that could go wrong is that they are riddled with fear, and it actually challenges them to see other people following their dreams. Trust me, I have my own set of fears too — I think we all do — but I'm not afraid to fail as much as I am afraid of not trying. If you are starting your own business, be prepared to fail at some level. Learn from it, then pick yourself back up, dust off the bad choice and march forward.
In saying that, make sure your motives for considering a life in art is really based in authenticity. Do you have your own unique idea? Do you love making things? Will you still love to make things once it becomes your job? Are you a self-starter? Do you have the discipline? Some honest self-evaluation would be a good place to start.
What does the future hold for Poor Pitiful Pearl?
I have a lot of goals. I am constantly reassessing them and I tend to be really dorky in that area of my life — annoyingly so. I beg my husband to sit down and make goal lists with me. (He is a good man and complies — while laughing at me, I might add.) I would love to learn more about indoor photography, do a trade show, create a maternity line.
But really, the driving force for my line is to be much more than clothing; it's to be a vehicle of ministry that reaches the unloved. We send 10% of PPP's profits to Casa Hogar Orphanage. I have big dreams that my designs could make some sort of a small difference in the lives of others, and to know that God is using my gifts in that way would be a dream come true.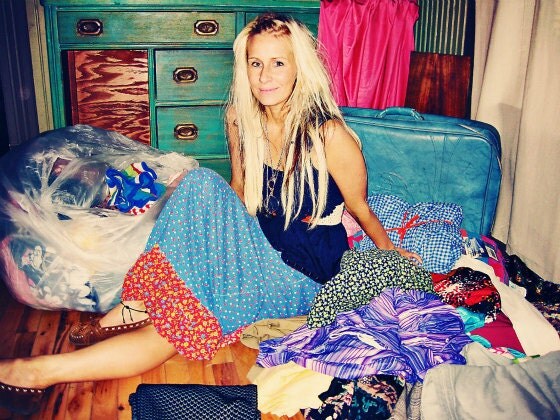 Anything else you would like to share?
Some of my favorite relationships on Etsy have evolved into real life friendships, and its been fun to watch other people I care about succeed in their Etsy ventures. I hope you'll check out these talented folks: sassafrassart, rmoratti, fleurdestone, firedaughterclothing, violetbella, obellaorganics and eviegreenpixie.