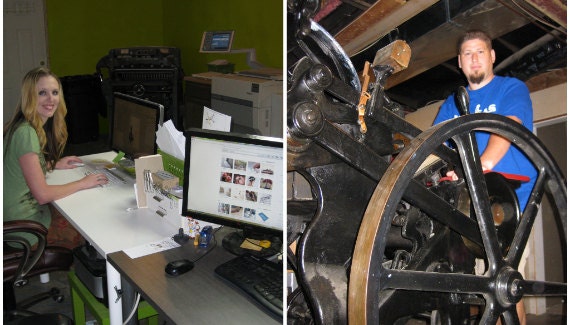 Tell us about your previous working situation and how you discovered Etsy.
Upon graduation from the University of Kansas, I set out with dreams of working in a really hip, laid back, trendy marketing firm as a designer. Turns out that those types of firms are few and far between so I built my resume and my skill set by working for a handful of marketing agencies, never really falling in love with the industry.
After getting married, I discovered Etsy. At the time, I was working as a designer for a small university. I opened my Etsy shop as a hobby and started out selling a few paper and fabric items. I quickly learned that success on Etsy came from developing a niche in the market. After designing my own wedding invites and several for my friends, I decided that the wedding industry was calling my name. I have the inspirational and talented people that I met along the way to thank for my design background and for the courage to start my own business on Etsy.
Did you do anything to prepare for transitioning into full time Etsy selling?
Soon after opening my Etsy shop, I was let go from my design job due to the poor economy and company wide cut-backs. Rather than drowning in my sorrows, I took it as a sign that it was the right time to try to make it on my own. Thus, Ruff House Art was born. After a year of steady growth on Etsy, it became clear I wasn't going to continue to grow without expanding. This is when my husband made the bold move to quit his job to join Ruff HouseArt full time. It has been a great decision and we have loved life since.
What are the pluses and challenges to working with your significant other? The addition of Jared to Ruff House Art has been a business changing move. Every day we are given opportunities and challenges that I would have backed away from when it was just myself due to lack of man-power or ability. Together, we tackle them head on and our business has benefited so much in the last few months. The ability to expand and offer a retail line as well as taking on even more wedding clients has been fantastic.
Of course there are day to day challenges of working with your spouse — the lack of personal space and my sole decision making ability has been eliminated. We are also both very opinionated and while we agree on most everything, we do have to negotiate at times. The biggest personal benefit of working together is that we both get to spend more time with our 10-month-old daughter and provide a great atmosphere for her.
What are your best marketing tips?
Success on Etsy is a combination of a great product highlighted by great photos and properly timed listings.
Once I had an established client list, word of mouth became very important as well.
When my husband quit his job to work full time for Ruff House Art, and our plans to grow the company expanded, we realized the importance of PR and sought professional representation.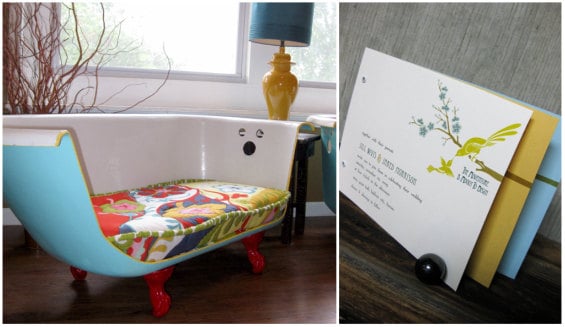 What's been your most memorable custom request?
We have so many custom requests that are all so unique and special. It would be impossible to isolate one couple or one design as our favorite. Each client and design has a special place in our hearts!
Have you made any business mistakes you regret?
In the beginning, when I was trying to find my niche, I dabbled in fabric items such as jewelry cases and iPhone cases. While some shops have great success, it just wasn't my calling and after a few sales I decided to discontinue those products and focus solely on the paper industry.
What is the biggest challenge you face during your daily schedule?
The biggest challenge is definitely time-management and organization. You really have to have a good system and good communication when working with a multi-person team. The days our daughter is at daycare, we are full-steam all day and rarely come up for air. The days that she is home with us, it is a juggling act to entertain her, manage our business and find a few hours to sleep!
What's the hardest part about running your own business?
The hardest part for me is definitely having patience. Running your own business is a fine line between knowing when to sit on something and knowing when to go for it. You can't do it all at once and you need to have a solid business plan. When working out of a home studio, it's a struggle to balance your work and personal life.
What do you enjoy most about not having a day job? Anything you miss?
I will confidently say this is the toughest job I have ever had. We work long hours and long weeks but the desire to be successful drives us forward. The benefit of not having to put Mila, our daughter, in daycare full time makes all the difference to us.
While most days I don't miss anything about working in the corporate grind, I do miss working with so many great people and drawing inspiration from coworkers. Being able to clock-out at the end of the day is something that you give up when you work for yourself — usually leading to late nights and work weekends — but it is absolutely worth it.
What advice would you give someone considering a similar path?
There is no half-way. If you want to run your own business you have to jump in with both feet and paddle like hell to stay afloat. It is the most awesome challenge you will ever face and while sometimes exhausting and stressful, the rewards will always outweigh the challenges. Stop saying "Someday I want to…" and make that someday, today.
Anything else you would like to share? We have been so blessed to have such supportive family and friends, we can never thank everyone enough. Without Etsy there would be no Ruff House Art, so we are grateful to have had the opportunity to grow and become a part of the Etsy community.