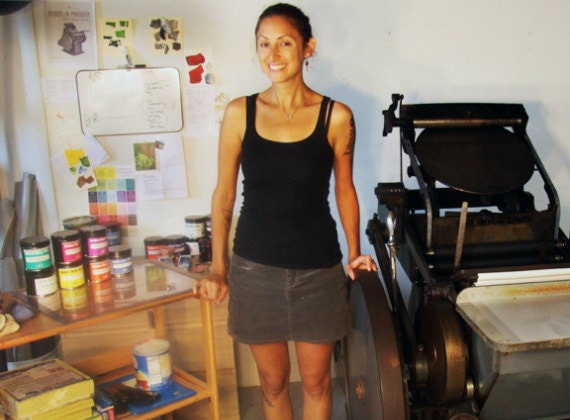 Tell us about your previous working situation and how you discovered Etsy.
I have a degree in fine art, big dreams, and not many practical skills, so I've always had to make ends meet through a random assortment of odd jobs and part-time work. After leaving grad school, I needed to figure out what to do with my life. As customer service work slowly killed my spirit, I realized I needed to look for more creative alternatives to make a living. I had already been selling my cards at a few local stores in Chicago and had only heard of Etsy through friends. After talking a look around, I decided to open up a shop and give it a go.
What steps did you take to transition into full-time Etsy selling?
I decided to give myself a year to really focus on getting my business going while still working full time.  If after a year I still wasn't making money, then I would figure out a plan B. It was really slow at the beginning, but I knew I had to keep working. I read the Forums, the Etsy Blog posts and the newsletters. I took advice from other Etsy sellers on how to improve my shop's appearance. I was constantly taking new pictures, updating my inventory, and tweaking my descriptions. As business started to pick up, I was able to switch to part-time customer service work, but I was still afraid to let my small (yet steady) income go.
At the very end of 2010 I was actually laid off. It was an absolute blessing in disguise. This allowed me to devote all my extra hours to creating new items and improving my Etsy shop. I was able to collect a (very, very small) unemployment check that helped supplement my income for the first few months. Within weeks, my Etsy shop was keeping me busier than I had ever been at my previous job. My husband has been hugely supportive throughout the entire experience. When things were going slow in the beginning, he would always encourage me to continue on, and when money wasn't always coming in, it definitely helped to have two incomes.
What is your favorite part of letterpress printing?
I love the designing part because I feel most creative during that stage. I come up with ideas and spend time sketching them out, arranging the page, and playing with the aesthetics. I love the actual printing because, although it is less creative, it is very tactile and very physical. I enjoy being on my feet and working in the studio. I absolutely LOVE all the very old machinery involved — the cranks and levers and gears are so beautiful and powerful. I also love seeing the finished product, holding it in my hands and (as clichéd as it may sound) feeling a sense of pride that I made it with my own two hands.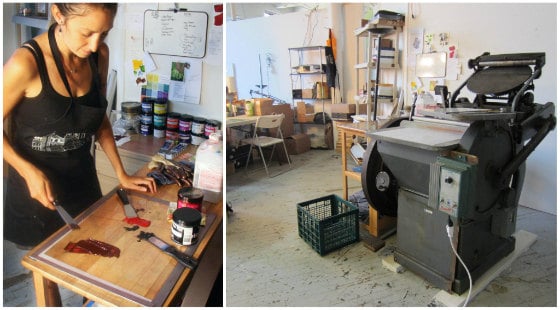 What are your best marketing tips?
It's important to have a really great, well-made and unique product. Having that makes the marketing part much easier. It's good to try a little of everything to see what works best for you. For example, I have never gotten the hang of Twitter, but I know others who swear by it.
Networking is important, especially in the beginning. Don't underestimate the power of your friends and family to help get the word out about your shop.
Once you start developing a customer base through Etsy sales and craft fairs, it's important to stay in touch. I use MadMimi to send out newsletters every other month with updates on what I've been working on. I highlight new card designs, promote upcoming craft fairs, and provide coupon codes for discounts in my shop.
I also have a Facebook page.
What's been your most popular item or line to date?
My Valentine's Day cards have always been very popular, and January/February is generally the busiest time of year for my greeting card sales.
What's been your most memorable custom request?
It's really difficult for me to pick just one. I spend so much time corresponding and working with clients on custom orders, so they all seem special and equally memorable. I guess some of my earliest clients were probably my most exciting, because I was still learning the ropes. In the beginning, each of my custom orders seemed like validation that I must be doing something right.
What have you found to be an unsuccessful promotion?
I think all promotions have some amount of success, even if it's very small or only a learning experience.  I can say that some of the paid advertising I have tried has had less return when compared to the cost. I regret fulfilling wholesale orders to a few stores before I was ready. At that time I didn't have enough experience to really know my market or to know which card designs would sell. I feel I may not have made the best impression, although I can still say I learned from those experiences.
What is the biggest challenge you face during your daily schedule?
Knowing how to prioritize. The limitation of running my own business is that I'm a one-woman show and there are never enough hours in the day. I always have to decide what needs to get done immediately and what can be put off a few days, or even a few months, or I might have to live with knowing some things might possibly never get done.
What's the hardest part about running your own business?
It can be a lot of pressure knowing the entire operation relies solely on me. If I have an impeding deadline for a custom job, I am the only one who will get it done. I don't have the time or the luxury to rest if I get sick. I work a lot and I love what I do, but I have trouble separating myself from my work and knowing when to take breaks. Luckily I have a very supportive husband and some amazing friends who are always reminding me that laughter, love and a good attitude are always most important.
What do you enjoy most about not having a day job?
Total independence: the choice to sleep in on a Tuesday and not having to answer to anyone; to wear pajamas all day if I so desire; to be self-reliant and to my own boss. But mostly I enjoy the sense of accomplishment and pride in knowing that my successes are a direct result of my own hard work, blood, sweat and tears. It's a pretty amazing feeling.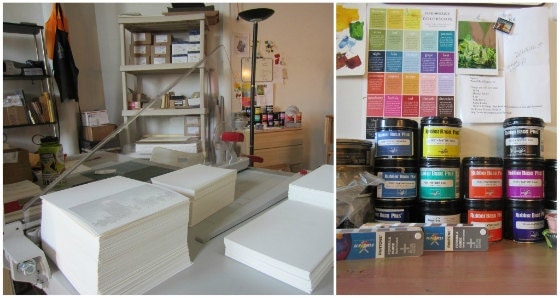 What is the most exciting thing that has come out of selling your designs through Etsy?
Is it cheating to say the ability to quit my day job'? Ever since graduating art school, my ultimate goal has always been to make a living using my skills and doing something (anything) creative and art-related.  Etsy has helped me attain that goal.
What advice would you give someone considering a similar path?
It always helps to love what you do. Passion and sincerity are key ingredients to success; people respond to those emotions and they can't be faked.
Start small. Take the time to make sure you do things well and you do them right.
Work hard. Don't stop adjusting and improving your shop: creating and adding new items, taking new photos, or changing the tags and descriptions based on the season.
Customer service is everything. Even if you have a fantastic product, if someone doesn't have a stellar experience, they probably won't buy from you again. Conversely, if you have a good product, but really amazingly fabulous service, customers are more likely to return.
Etsy is really great for online sales, but it's also important and informative to have face time with customers. I learned a lot about my market through selling at craft fairs. I observed first hand what cards people respond to, and I have been able to refine my designs based on those experiences.
Don't be afraid of failure. It happens all the time and at least you know you tried.
What goals do you have for the future of Steel Petal Press?
In the next few years I would like to move into a larger, cleaner studio space and fill it with more equipment. I dream about a nice, big industrial paper cutter and an additional Vandercook press.  Hopefully I can find an intern to help me a few hours a week with the more monotonous parts of the job, like folding and packaging individual cards and shipping out orders.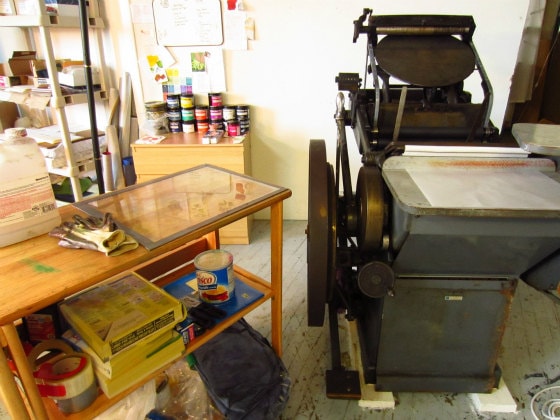 Anything else you would like to share?
Being able to make a living from my art is an absolute dream come true! I still can't believe I'm actually making it happen. When I first got started on Etsy I would read the Quit Your Day Job series and imagine that one day I would be telling my own story, and now I am! It's totally surreal.
Thank you, friends and family, for supporting me from the very beginning. Thank you, customers, for seeing the quality of handmade objects and for understanding the value of supporting small businesses.  Thank you, Etsy, for creating a marketplace where independent craftspeople and customers can connect.