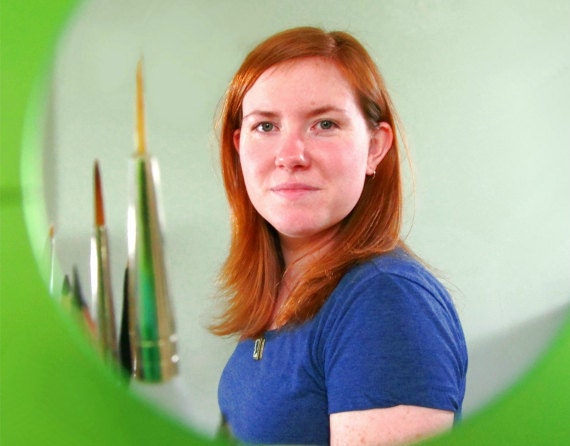 Tell us about your previous working situation and how you discovered Etsy.
During the summer of 2010 I was working as assistant manager in a shop in Lawrence, Kansas where I had been living and going to school at KU. I'd first discovered Etsy in 2007 while working in a student position at the Spencer Museum of Art, but didn't get really involved with it at the time.
I've always been really into art whether I was painting, drawing, trying to have a basic understanding of print making, or throwing on the wheel. While working at the Spencer I noticed some bottle cap pins we were selling in the gift shop that had resin-coated collages inside. My immediate thought was how cool they were and that I could do exactly that but with tiny paintings. I played around with the idea a bit and started listing a few on Etsy in May of 2010.
The following month, the business I had been working at closed. My husband and I, still in our first year of marriage, weren't quite sure what we wanted to do since jobs in the area were slim. At the time, I only had 14 sales, so relying on my shop wasn't a viable option. When my parents offered us a place with them in Atlanta, Georgia, we took the opportunity and moved out east. For the first two months, we hunted for jobs during the day and I created in the evening. As sales increased, I began to focus more and more energy on my shop and less on the job hunt. My husband, Jordan, began helping as well by keeping the books and shipping. By November, we'd managed to pull everything together and were making a steady enough income to strictly focus on our little business!
What steps did you take to prepare for transitioning into full time Etsy selling?
In October 2010 I was offered a job at a bookstore in Tennessee. The pay would have been alright and we would have been moving very quickly to a new state. We might have managed fine, and my shop would have probably continued at a decent pace, but I just had this gut feeling that I could make it a lot more. Turning down that job was the moment I really transitioned into the mentality of running a tiny business full-time. Within two weeks, thanks to a lot of SEO tweaks as well as a weekly listing and renewing plan, I was seeing the fruits of my labors.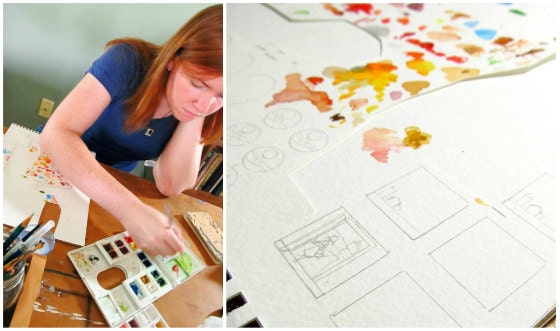 What is your favorite part of the process in jewelry making?
I love painting a piece for the very first time. While I do always enjoy repeating a painting and perfecting it little by little each time, my favorite aspect of the process is creating something totally new.
What are your best marketing tips?
Don't discount social media. It is an incredibly powerful thing! Twitter and Facebook are my favorites to play with, but blogging is great as well.
The best thing you can do for your Shop is keep it fresh. List new items or renew when there is nothing new to list. Let your shop stagnate and you'll find yourself without any customers.
What's it like being captain of the Aspiring Artisan's Guild Etsy team?
I started the Aspiring Artisan's Guild as a team to help sellers who have at least some experience with Etsy bring their goals for their businesses into fruition. For many, the ultimate goal is turning their creative business into a stable part-time or full-time job. Through team workshops, blog articles, and forum discussions we support and educate one another about running a small business.
In your opinion, what are the benefits to joining an Etsy team?
To me, Etsy Teams are some of the best things about this site! Yes, it's a good selling venue, but the teams help really make this the community it is. One of the best things about Etsy is that it is a global community. Embrace that! Join a team or two and meet some people. Finding teams that fit your personality and business needs can make a huge difference to your overall selling experience.
What's been your most popular item or line to date?
My "Le Ballon Rouge" necklace has been my most consistently popular item. It was inspired by the short film of the same title which has been one of my favorites since I was a kid. I'm an incredibly nostalgic person, so references to my childhood seem to pop up in a lot of my work.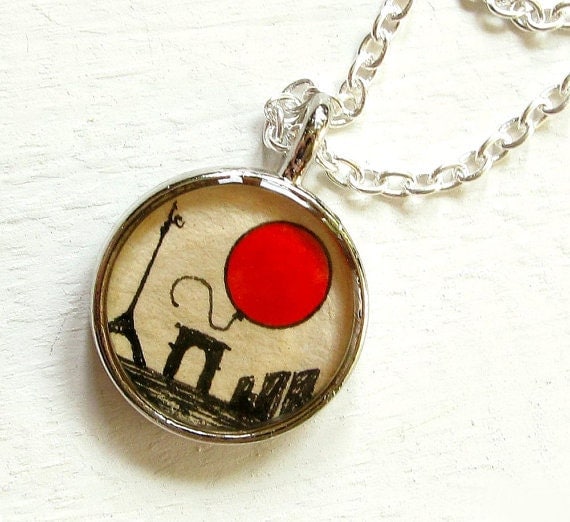 What is the biggest challenge you face during your daily schedule?
For me, the biggest daily challenge is making sure I've budgeted my time wisely. I frequently find myself feeling like I don't have enough time in the day to do everything I want to. Because I think of sleep as a waste, this generally means I stay up even later than I should and sleep a lot less than I ought to.
What's the hardest part about running your own business?
Pulling myself away from it for a break is a big challenge for me. When I take day trips I end up thinking about new ideas and all of the things I'd like to get home and accomplish. It's a real struggle to separate myself from my work. I'm not convinced I ever actually manage to.
What do you enjoy most about not having a day job?
Well, I do have a day job — in fact, I have a 24/7 job! What sets this apart is the fact that I own it and it is a big part of me. Working a more typical job, I could switch off and stop being a "librarian" or an "assistant manager," but I never just stop being myself. That's what I love most about it: the fact that it is 100% me. It makes it worth all of the time and effort.
What is the most exciting thing that has come out of selling your designs through Etsy?
Besides the connections I've made with so many awesome people, the fact that I am able to support myself and my husband has been huge for me.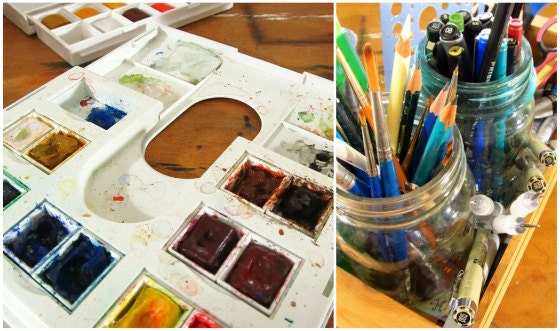 What advice would you give someone considering a similar path?
Research, research, research. Pretend like your budding shop is a term paper and how to sell is your thesis.
Don't spend more than you need to on start-up costs. Over spending is an excellent way to destroy your chances of having a successful business from the get-go. Start by being a frugal business person.
Form a deep affectionate relationship with your camera. It's going to be one of your best pals as your online business grows. Understand it thoroughly.
Don't turn your life-long hobby into your job. There is really no surer way to ruin it for yourself. Find something you like to do, but that is separate from what you do to disengage.
What goals do you have in store for the future of TuckooandMooCow?
Ultimately, I would like to be self-sufficient. Right now, I don't make my own settings, but my plan for the near future is to learn how to do just that.
My husband, Jordan, is in the process of joining the Air Force. Over the next few months, our whole game-plan will have to change. As our lives press forward and we move again, one of my biggest goals for my business is to not only weather everything that may come along, but continue to grow.
Anything else you would like to share?
Selling my art full-time has brought me so many wonderful things. Since March we have been living in beautiful Asheville, North Carolina entirely supported by TuckooandMooCow. Although a huge amount of the work and determination has been on my part, my husband has been an enormous support shipping items, buying supplies, and answering convos when I can't and just being here. I really could not have done this without him. In that sense, TuckooandMooCow is very much both of us working together.