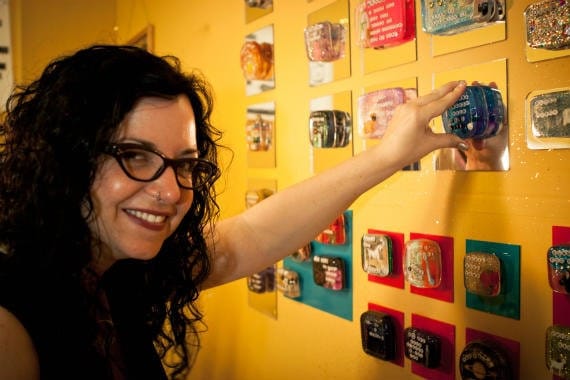 Tell us about your shop and the idea behind it.
My husband Doug and I invented Shower Art — waterproof art you can hang in your shower with a suction cup. They are made out of rubber, glitter, toys rescued from thrift stores and a fair amount of sarcasm.
Tell us about your previous working situation and how you discovered Etsy.
I have a degree in theatre performance from Bradley University in Peoria, Illinois. As soon as I graduated, I scooped up my diploma and got the heck out of the Midwest. My travels included two cats, a college boyfriend (complete with pony tail) and a tarantula (don't judge). I ended up in Seattle, Washington, and took a temp job at Amazon. Five years later, I came up for air and realized that I had dreams and aspirations that didn't include Amazon.
I enrolled in a certificate program for nonprofit management at the University of Washington and took a job at Intiman Theatre. My husband and I invented Shower Art while I was there. I cut my hours and began working part time.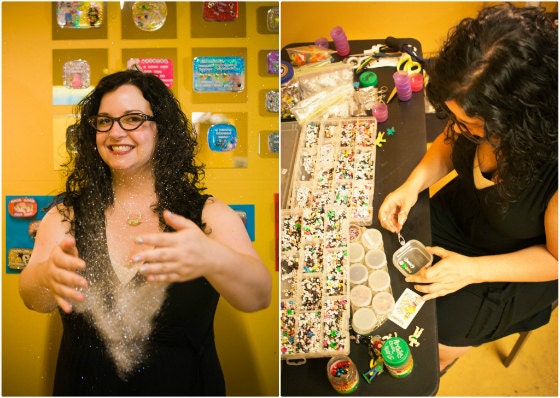 I moved on from the theatre to building websites for nonprofits and social causes at Pyramid Communications. I maintained my part-time status there which allowed me to continue to grow our Shower Art empire. While I was at Pyramid, I also built Unanimous Craft and EtsySaver. Pyramid was flexible enough to allow me to cut my hours further and I worked just 24 hours a week for about a year.
Then, one day after getting an epidural of steroids (I have a slipped disc in my neck), I got a call from my doctor. While doing the procedure, they found something irregular in my brain that they thought might be a tumor. And while everything turned out fine (I have no brain tumor), it became really clear to me that I wasn't doing exactly what I wanted to do with my life. So I quit.
I figured, what's the worst that could happen? It certainly can't be worse than wondering if you have a brain tumor, right?
What steps did you take to prepare for transitioning into full time Etsy selling?
Technically, I was preparing for this transition for the last five years. I gradually reduced my hours at work over that time, going from 40 hours (and then some) to 30 hours, and then 24 hours, and finally just doing outside consulting.
Did I have a huge bankroll of money? No.
Could I get health insurance through my husband? Yes! (Super important, as I am a bit of a disaster.)
Did I have a working handmade business that was sustaining itself? Yes.
Did I have multiple streams of income? Yes.
Did I have skills I could apply to freelance work to get by? Yes.
I decided that I didn't need the huge bankroll of money since I had a lot of other things going for me. Once I quit my day job, I posted once on Facebook to let people know that I was building websites freelance. The response I got was amazing, and I knew I would be able to use my skills to make ends meet if my Shower Art sales didn't skyrocket right away.
What are your best marketing tips?
Facebook is our hero. Whenever I post new Shower Arts on Etsy, I always post pictures of them on Facebook and most get snapped up right away. It's dreamy. I should do it more.

Do craft shows. We do lots and we travel as far as Washington, D.C., for some. We always start getting online orders from the places we visit almost immediately. If you've never done a particular show before, look at it as a marketing opportunity. That way, as long as you make your money back and plant the seeds for future orders, you won't be disappointed. The Renegade Craft show series is an amazing resource. You can try out craft shows in six different cities under the umbrella of one really well-run organization.

Our best marketing comes from other people talking about our stuff. My advice: make things that people will want to talk about. Take amazing photos that people will send to their friends. Simple, huh? Snort.
What's been your most popular item or line to date?
Most of our work is one (or a few) of a kind, but the one piece that we do recreate over and over is an image of a unicorn on rollerskates.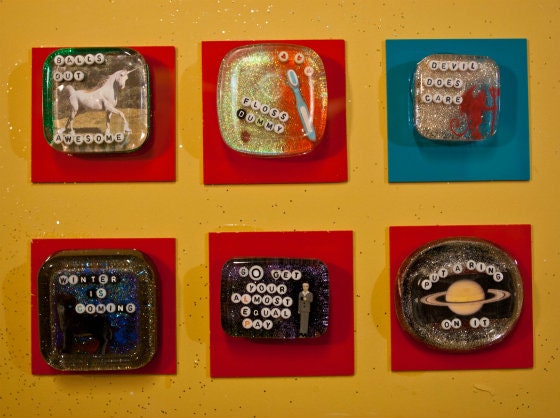 Everyone loves that unicorn. Granted, they are hard to catch in the wild — and to be able to photograph one on roller skates was a real gift indeed.
What have you found to be an unsuccessful promotion?
Print ads. We used to advertise in our local weekly free paper but we just never got the return that we would need to keep it up. Social media is easy and free, so it's difficult to compete with.
Made any business mistakes you regret?
I wish we had waited another year before we had started selling our pieces. Our initial pieces were made out of resin instead of the rubber we use now. I wish I could get all of those resin pieces back. If you own one, contact me to trade it in for a new one! Resin can be brittle and those older pieces will probably crack and chip over time. Now we use rubber, which makes the pieces a tad bit squooshy and much more suited for use in the shower.
What is the biggest challenge you face during your daily schedule?
Staying on task. Also, being realistic about how much I can actually accomplish in a single day. My to-do lists normally assume that there are about 3,000 hours in a day.
What's the hardest part about running your own business?
I don't have any coworkers to play with. I try to fend off loneliness by meeting my other work-from-home friends at different coffee shops. Occasionally I rent out the party room in our condo and have everyone over so we can all work in the same room together. I can't say we're totally productive, but we have fun.
What do you enjoy most about not having a day job?
Freedom. I love being able to do whatever I want. If I want to go to a movie in the middle of the day, I could. If something comes up and I need to switch my focus to take advantage of an opportunity, I can. Last minute trip to Portland? I'm in! Also, I like not having a boss. I'm just not cut out for it. The second someone tells me what to do, I want to do the opposite. That's not fun for anyone involved.
What is the most exciting thing that has come out of selling your designs through Etsy?
I have to pick one thing? I guess it takes very little to excite me because I still get excited every single time I get those magic "Etsy Order Confirmation" emails.
I tear up a little whenever people saying that my work is unique. That's exciting.
This article is freaking exciting.
Working for myself is exciting in general. I wake up every morning and can do whatever I want. It's pretty dreamy.
Perhaps I am just excite-able by nature.
What advice would you give someone considering a similar path?
Make sure you have multiple streams of income. I cannot stress that enough. You need money coming in from several different places. Etsy is only one part of a large equation.
Sign up for as many local craft shows and festivals that you can handle. Try out a few out-of-state shows each year and compile a list of your favorites.
Wholesale or consign your products to stores.
Find a way to make passive income. You need to sell something that you don't have to physically make in order to replace it in your shop. Can you sell a pattern? Do you have advice on a topic that would make a great e-book?
Hone a skill that you can freelance with on the side. Maybe you're a great marketer. Maybe you love doing your books. Build websites? Design logos? Any of the skills you use to run your own business can also benefit other people.
What goals do you have in store for the future of your business?
I'm in the process of opening a brick-and-mortar shop called Ugly Baby and LaRu with Lauren Rudeck of LaRu in the historic Pike Place Market. We looked for openings in the Pike Place Market on a whim and found a two story space with a studio upstairs and a small retail shop downstairs. What? In the Pike Place Market? Yeah. We're stunned too.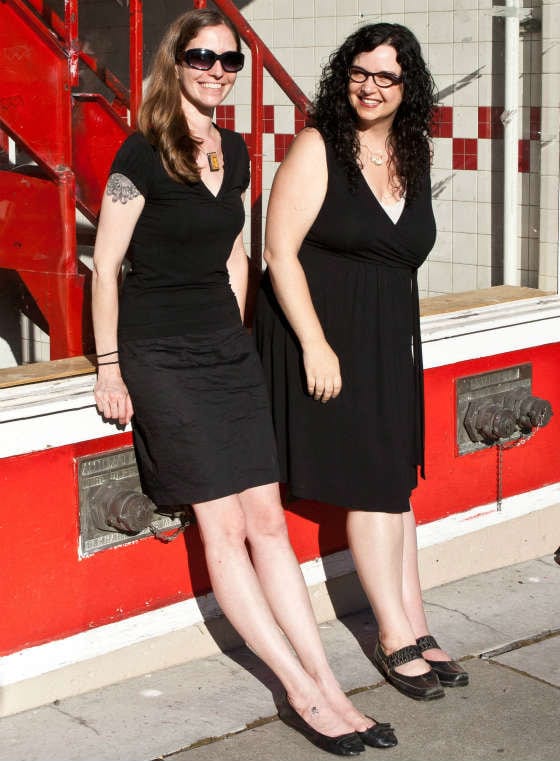 Our design has been approved by the Pike Place Historic Commission and the City of Seattle, so we're very close to taking ownership of the space. Once they complete some construction work, we will get the keys and take off on a new adventure. Lauren and I will be selling our own artwork along with consigning a select group of local Seattle artists. Did I mention that we are very excited?