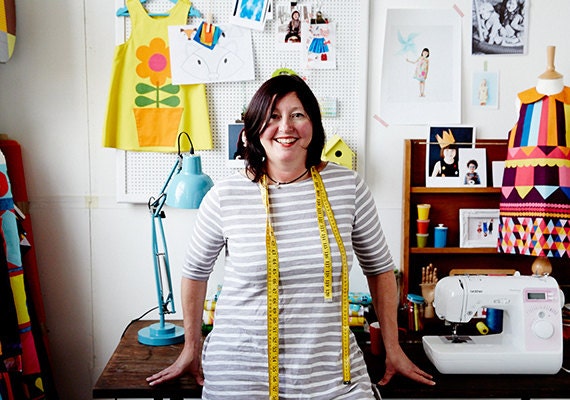 Wild things rule Kirsty Hartley's life. In addition to running her children's clothing business, Wild Things Dresses, she is raising three wild things of her own, Silva, Lila and Ewan (ages five, seven and 12). Kirsty has also been on a whirlwind ride since she started her Etsy shop in Chorley, England in 2011. She has made more than 2,500 sales and built a loyal following of customers around the world, including celebrities Charlotte Church, Lily Allen and Frances Bean Cobain. She has also garnered a slew of press mentions and awards. Last year, she appeared on the shortlist of the Junior Design Awards.
Before her business became a full-time job, Kirsty worked as a lecturer for nine years at Manchester Metropolitan University's School of Design and as a freelance designer for large clothing and textiles companies. She started sewing dresses for her younger daughter when she was on maternity leave. After that, she continued making dresses to sell at craft fairs and started her Etsy shop in 2011. "It was very, very slow to begin with," she recalls. With outstanding designs in place, Kirsty focused on marketing and building a cohesive visual presentation for her brand. "I suddenly found that a couple items were being bandied around social media," she says, including a photo of Silva taken on her first day of school modeling a mouse dress and whiskers. "I got this really fast response, which took me aback."
Things haven't slowed down since. Now, Kirsty is preparing for the debut of her first book, Wild Things: Funky Little Clothes to Sew. The book, which is slated to arrive in bookstores in April 2015, will feature instructions for making her signature children's garments. Kirsty recently spoke to Julie Schneider, writer-editor for Etsy's Seller Handbook blog, about her growing business.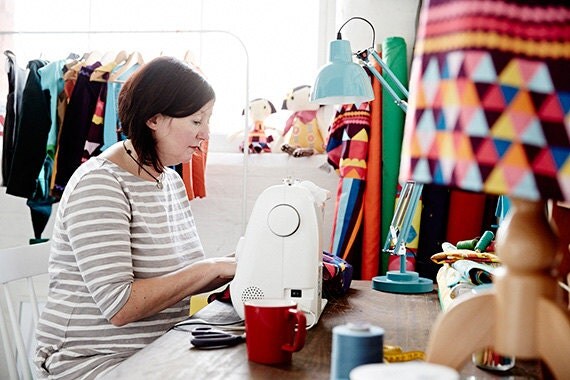 How did you find your business niche?
My own kids have an insatiable appetite to dress up. They're constantly living in dressing-up clothes. I wanted to come up with everyday clothing that's easy to wash, easy to wear and uses color creatively with simple imagery that young children can relate to. I wanted it to be playful and fun. I realized there was a gap in the market for simple clothing that wasn't too serious. Very often, children's wear is a drop down of women's or men's fashion and it's quite grown up. It was a pivotal moment when I realized there was a huge audience out there who likes what I do. That realization really shaped the direction of the business.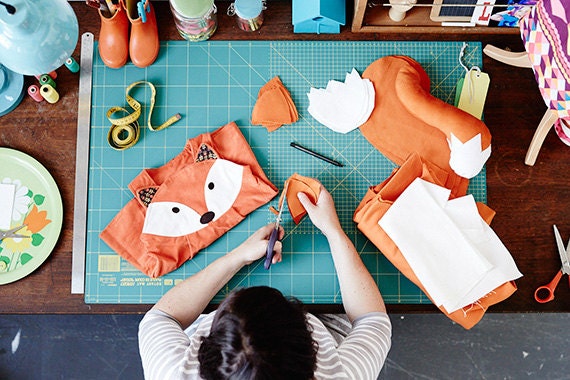 How do you merchandise your shop?
A classic fashion brand typically releases collections twice a year, if not more. At least 50 percent of the Wild Things range continues season after season, and the rest of it is new. I refresh my product photography each season, working ahead of time to photograph products in a seasonal style. I tend to focus on special occasions rather than seasons of the year. In autumn, I've got the animal characters leading into Halloween on the front page of my shop. I'll lead into Thanksgiving and Christmas with more seasonal colors. In spring, I've got spring animals. For summer, I'll add brighter and lighter colors and a dress with a flower collar and a stem. I also alter tags for items so they appear in more seasonal searches. For example, I run the penguin dress all year round, but would tag it as "Christmas" or "festive" around the time of Thanksgiving or Christmas.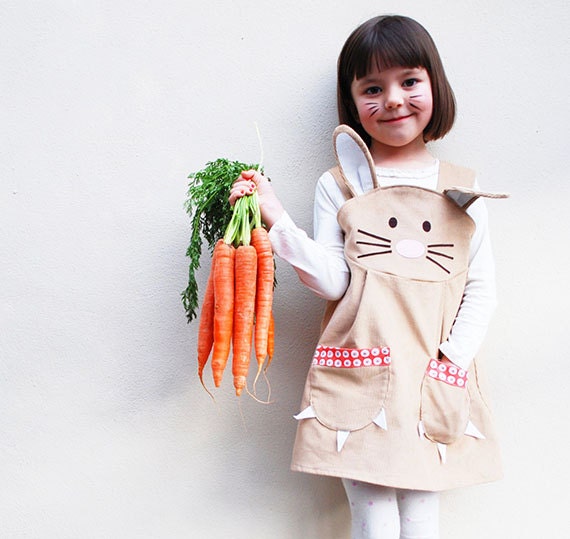 Describe your biggest challenges.
My biggest challenge has been growing the business past the stages of having to make everything myself, and finding the right people to support my whole process. As a mom with three children, it can be tricky meeting their demands and the demands of my business at the same time; there are only so many hours in a day. At a certain point, my production work became overwhelming. To free up time to focus on making new designs and running the business, I hired a sample machinist and a costume maker to help with sewing. Eventually, I hired a seamstress at a small Scottish workshop as well. I'm still very hands-on with the production of my clothes, from the initial sketch to the final construction. I feel lucky to have a really strong team.
I have also had a few intellectual property challenges with larger mainstream companies who have copied my designs. It always feels uncomfortable when you're a small person working in a world where everything you do is very visible and your ideas can be plagiarized. I am a member of ACID (Anti Copying in Design), a team of legal specialists who work to support designers and enforce their rights. Now that I've worked with a legal team, I feel a lot more prepared to deal with copyright infringement.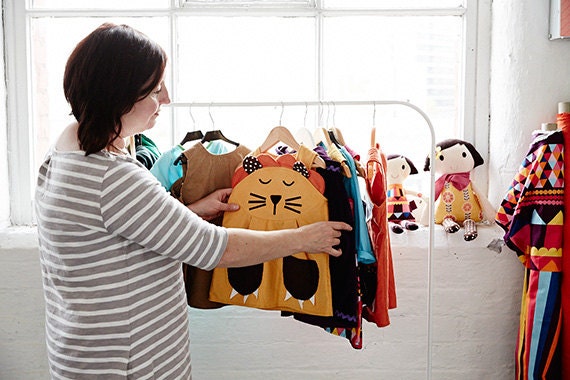 What are your top tips for new shop owners?
Look at your strengths. What can you produce and what are you good at? Keep your product offerings focused and create something that people want. If you have a number of ideas, start simple and get feedback from others. I've benefited tremendously from communicating with other Etsy sellers who have been come business mentors. That's been invaluable.
Concentrate on product photography. Style the photos really beautifully, but also show detail. Show how each product is constructed so shoppers can see the whole package and gain the confidence to make a purchase. I've learned a lot about photography from reading Etsy's photography blog articles.
Structure your time. Make sure you don't overlook the need for things you might feel less inclined to do, like accounting, paperwork and the other nitty-gritty day-to-day stuff that you need to do to make sure  your business is healthy. That's critical. It won't go away, so make time to do it. I'm also a big believer in balancing out your work by taking time out to connect with nature. I get a lot of inspiration and ideas during my morning walks.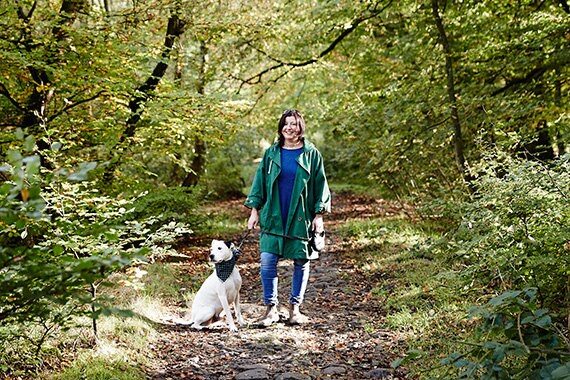 What do you love most about running your own business?
It allows me to grow as a designer and artist, while maintaining an income for me and my family. I feel very proud about my success in a competitive marketplace. I also feel proud to be part of the movement back to artisan techniques and skills. I think it's essential in a digital age — when we're bombarded with so much information and data daily — to switch off and make. I enjoy working hands-on creating things physically in my work, which is something that I missed for a long time when I was freelancing with clothing companies who were all producing overseas. I didn't have that hands-on ability to work with fabric, color and pattern in the same way. Now I'm doing what I enjoy doing and do best. I'd rather have that than the security of a design job. And, by remaining true to myself, it's giving me more recognition than I've ever had before.
All photographs by Will Shaddock.
How has your business helped support your family? Share your story in the comments.