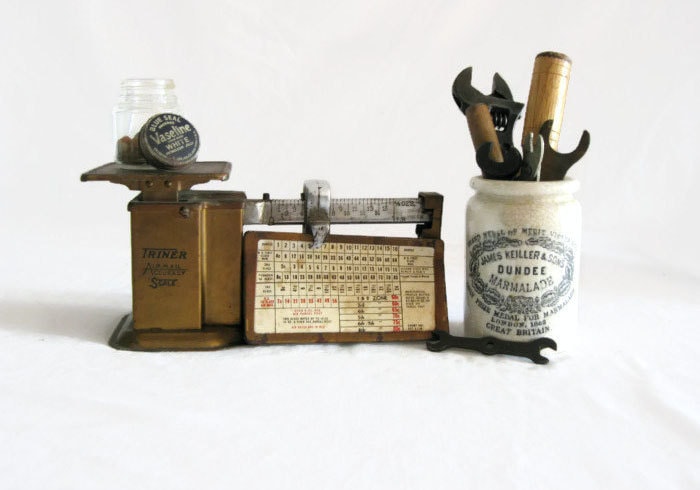 In sharing these vintage-specific tips from the community, my hope is to inspire you to rock your shop, but don't forget we have an entire Seller Handbook that goes into these topics in great detail.
Titles & Descriptions
After great photos, titles and descriptions are the next important areas in your shop. (They also can be the hardest areas to master.) A few tips from Wire9Vintage: "Describe the colors, the fabric, the shape, where the hem falls on an average person, the shape of the item, and most thoroughly describe the condition (show damage clearly in photos, too). Monitors show things differently, so it doesn't hurt to describe carefully in addition to photos. Shoppers will buy things with a little damage (sometimes a lot of damage!). But they have to be able to make an informed decision."
"Good rule to follow about both descriptions and condition: explain it the way you would explain it to your mother. Your mom's a smart lady, but maybe she isn't as into vintage stuff as you are and doesn't live for the next antiques show that comes to town. She doesn't know the lingo or any of the stuff that you totally take for granted (then again, my mom was a dealer and taught me tons, but you get what I mean). Just keep it simple but thorough, and show as much as possible in your images. Your buyers will trust you for this, and hopefully return often," adds MyHanaleiHome.
EarthElements has a great tip to help with titles: "Think like a buyer who is out there in cyberspace looking for just the item you are trying to sell. And then work on titling it as you might expect them to search for it."
Don't forget that buyers come from search engines like Google, too. 4GetMeNotTreasures says, "Describe the ever important maker of the item. I've found that putting this tidbit of info in the title as well as the first line of the description really helps to bring traffic from the search engines to my shop."
Do you sell vintage clothing? SassySisterVintage suggests, "Be aware that the sizing on vintage clothing isn't the same sizing that we have today. For instance, a piece of vintage clothing from the '60s that is listed as a size 10 is actually around a size 3 to 5 by today's standards." Tlgentile adds, "As a vintage clothing buyer, I want measurements, measurements, measurements — top to bottom. Vintage clothes are sized so differently that it's important for me to make sure what I'm getting is going to fit!"
Etsy is a global marketplace, so be sensitive to the needs of international buyers. Coconutroad says, "I measure everything in inches/feet and in centimeters/millimeters. This will encourage buyers from other countries. Measuring the item gives a more complete view of it."
I love this creative tip from ShinyGoLucky: "Include a description of how the wonderful vintage find can fit into their modern life. 'This pearl collar will be stunning when paired with your little black dress or worn to a Mother's Day brunch.'"
Tagging
Each item listing comes with tags to describe your items. Use search terms that buyers might look for.
Make sure you include the era in your tags. You might want to use three tags: "60s," "1960s," and "sixties." But don't fill up your tags with only era-specific information. PennyDreadfulVintage says, "I also think it is really important to keep in mind other factors such as color, size, fabric, cut and style — often when I am shopping for vintage I am looking for a certain TYPE of item, I don't really care about the era. For instance, at the moment I am obsessed with finding a perfect buttercup yellow lace mini dress for summer. I really don't care what era it is from, so all those other details are really important for my search."
Shipping
First things first, are you charging the correct amount for shipping? "Be accurate about your shipping rates for your items. Get a scale and weigh your heavier items to make sure that you are charging an accurate amount for shipping. This can save you lots of heartache from having to shell out extra money when shipping a piece, or from having to overcharge your customers," advises NomadVintage. For more shipping tips read "4 Steps to Shipping Success."
Before you ship your unique, probably irreplaceable, vintage find, make sure you've packaged it for a bumpy trip. SalvageNation says, "With vintage, package carefully: overkill with wrapping paper, tissue paper, bubble wrap. These items may have made it across the country on a stagecoach, but the internal stress doesn't ever show until it's thrown around by the postal system. "
DecoratingYourself says, "Think hard about packaging that is environmentally friendly. I use recyclable envelopes and knit cell phone cozies to send items in. Vintage is green. Vintage packaging should strive to be as green as possible. "
Regular Etsy buyer, ijsbeer, reminds us that this is another area where you can reach out to international buyers. "Please ship internationally. Don't rely on the buyer to Convo you. When I search for something, I choose to show only items that ship to Norway. The reason for this is that I have experienced many times that, while waiting for a reply to a Convo from a seller, the item has sold to another buyer. The disappointment has been large enough to filter out people who don't ship to Norway already when doing a search. I understand people have their reasons not to ship internationally but there are a lot of people in Europe that love vintage clothing!"
Feel free to share your tips and resources in the comments below!