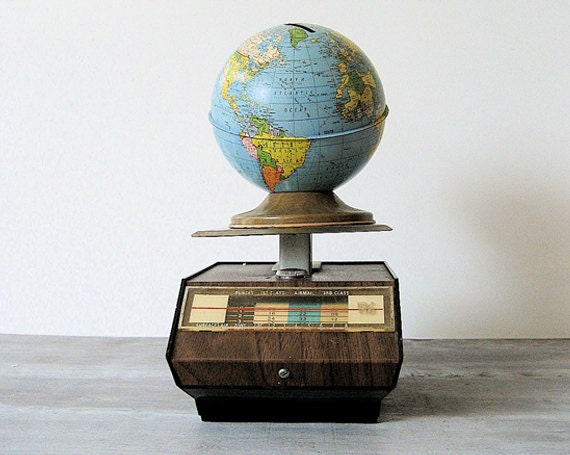 I recently came across an amazing mid-century glass coffee carafe with matching glasses at a thrift store. For fear of someone else grabbing it before me, I ran down the aisle, elbows out, and practically threw it in my cart. As I sat examining each and every starburst with a stupid smile on my face, it inevitably loomed before me: how in the world could I ship this?
I'm sure those sentiments resonate with many vintage sellers. You have the goods and a buyer halfway across the globe, but how to get it there in a way that works for the both of you? Together, with the help of Etsy's vintage community, we'll walk you through the process and give you some tips on how to ship vintage items.
Getting Started: Package Size, Shape and Weight
Vintage items come in a variety of shapes, materials, and weights. Because each item is more different and unique than the next, an important step of the shipping process is to quickly and efficiently size up the item. Along with determining the dimensions of the package or envelope, the weight is especially important. Investing in a small postal scale is a great first step to ensure accurate shipping costs.
Measuring and weighing: "After I photograph and take the measurements of the item, I pack it into the box I intend to use with all of the packaging materials to protect it. I weigh it on a digital scale and then I go directly to the USPS and UPS website to figure out the most economical way to ship it to my customer." — frenchpackrat
Shipping system: "I keep a ruler and scale in the same area I photograph. I weigh and measure the items and jot it down on a notepad. Then I photograph, check the photos to be sure they are not blurry and then wrap up items and place them in a box that is labeled for retrieval later. I have found this system works pretty well. Having a routine is essential in keeping everything organized." — GSArcheologist
Calculating Shipping
After you've weighed and measured your package, turn to a shipping calculator. Plug in destinations, both near and far, and you'll get an accurate estimate of how much it will cost to ship your package. Here are a few handy links to some commonly used shipping calculators:
USPS | Royal Mail | Canada Post | France | Australia Post | FedEx | UPS | Greyhound
Shipping calculator: "An accurate postage scale will be your best friend. That and a link to the USPS rates. Weighing your object, then referencing the USPS rates, will save you loads of frustration. Just be sure you take into account your box and packing supplies: a well-packaged item can add up to 1 pound to your final weight." — nellsvintagehouse
When measuring your items and packaging, keep in mind that shipping carriers determine postage pricing not only by weight, but also by dimension and destination. When choosing packaging materials for your items, the smaller the size and the lighter the materials — the cheaper the price.
Using USPS Priority Mail Flat Rate boxes for heavy items: "I find that most of my items fit into the USPS Flat Rate Priority boxes very easily. There are three different sizes available, which give me a good range, and they ship for the same rate all over the U.S., which is efficient and cuts down on the guesswork. And since many of my items are heavy — vintage cameras, or silver holloware, for example — it ends up being economical for a lot of buyers." — FalconandFinch
Shipping Furniture
Heavy and large in size, determining accurate shipping costs for furniture can be a challenge. Here are a few tips and elements to consider when shipping vintage furniture:
Estimate. Provide a shipping estimate in the shipping profile and direct buyers to reach out to you for an accurate quote. You can then customize the listing with the accurate shipping cost.
Overages. Determine the costs of shipping a heavy item to a destination far away from you. Let buyers know you'll refund overages over a certain amount.
Local only. Listing items for local pick-up or local delivery only. For more tips on selling local, check out this blog post.
Policies. Rely on your Shipping Policies to help educate a buyer on your shipping processes.
Shipping Profiles
Now, what to do with all this information? First step, create a Shipping Profile. Shipping Profiles on Etsy are a simple way to save a specific set of shipping information, which you can then apply to listings. If you sell items that weigh a similar amount and ship in similar packaging, save time in the future by setting up a shipping profile which you can quickly add to those items while listing.
Recordkeeping
Mistakes and miscalculations happen occasionally. One way to account for your mistakes and speed up your process is to keep a record of your shipping costs.
Keeping track of shipping costs: "I have a list of the most common weights for the vintage items I sell in a Word document, as well as box sizes. I use this as a fast guide and rarely have problems with shipping costs. For instance, if I have shipped a fondue set in the past, I add a note to the document as to how much it cost for shipping and packing materials. That way I don't have to weigh and measure every fondue set for shipping. It makes things easy when I go to list something because all I have to do is refer to the Word document." — GSArcheologist
And, account for those mistakes. If you realize you underestimated a shipping cost, go back and update your Shipping Profile and similar listings to ensure that you're protected in the future.
Update Shipping Profiles based on experience: "I know this sounds too obvious, but keep up with shipping costs for sold items! When I first started selling on Etsy I lost money shipping a few items. You bet I went back and updated shipping on similar things in my shop! If you aren't sure, there are always people you can ask!" — NaturalandVintage
Insurance
Shipping fragile, collectible, and valuable vintage items is no easy feat. One way to cover yourself in the off chance that a package will get lost or broken in transit is to purchase insurance. Here are some things to consider if you offer insurance:
Let buyers know! Purchasing valuable or fragile items can be intimidating to a buyer. If you offer insurance on items, include that info in the item description or your Shipping Policies.
Self-insurance. You don't need to purchase insurance through a shipping carrier to insure your packages. Build in a couple extra dollars to your items' prices or shipping costs. If and when a package gets lost or broken in transit, you've already covered yourself.
Just in case: "Another helpful thing is to purchase insurance on anything expensive or fragile. In the event something happens at least you won't lose your money. Filing a claim is a hassle, but it's nice to be covered." — sorrythankyou79
Self-insurance: "Just pack sufficiently, double-boxing fragile items, and charge a modest handling fee. The handling fee will essentially act as your 'self-insurance,' covering the rare instances when an item is lost or damaged." — LaurasLastDitch
Packaging Vintage Items
You've sized up your package, calculated the price, and created a Shipping Profile. What's next? Getting your item out the door and to your buyer in one piece. Here are some tips to help you get your package there safely:
Double-boxing: "I double-box very fragile items. Wrap the item in bubble wrap and put it in a box. Bubble wrap the box. Place box in bigger box, putting stuffing all around the inside box so the small box does not move around. Put the fragile label on all sides of the box and cross your fingers." — GotMilkGlassAndMore
Shake test: "Vintage breakables need to be packaged so that when you perform a 'shake test' nothing moves inside the box." — WhimzyThyme
Recycled materials: "As a vintage seller, I find it challenging to have just the right box for shipping items that vary in size, shape, and weight. I have become very resourceful at finding a wide variety of boxes. A local children's store allows me to pick up gently used but very sturdy shipping boxes each week. They are also happy to pass along the packing material that would otherwise end up in a landfill." — PassedBy
Thoughtful protection: "I'd say the single biggest thing about shipping is erring on the side of overdoing protective packaging. You generally can't replace a vintage item, so it's better to spend a little more time making it extremely safe for whatever it might encounter on its journey to your customer, than skimping and regretting it." — FlourishCafe
Fill us in on your tricks and tips for shipping vintage below!