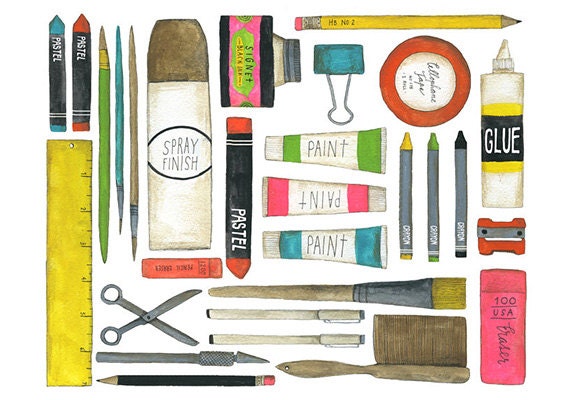 There's nothing quite like the feeling of making a sale. When someone clicks the purchase button, it's an acknowledgement of your hard work. And for Etsy sellers like myself, it can also offer the encouragement necessary to keep making art.
To successfully sell artwork online, whether it's an original painting, drawing or a print, there are some best practices to be aware of. These tips, when used in combination, will keep your listings accurate and your customers happy, while simultaneously helping your fan base and sales grow to new levels.
1. Stand Out From the Crowd
Trying to differentiate your offerings may seem like a no-brainer, but it's one of the most important aspects of running a successful art business. "It's good to be aware of what's trendy, but it's also important to bring new work to the table," says Ryan Berkley. Ryan and his wife Lucy sell animal portraits in their Portland-based shop, Berkley Illustration.
If your work is very similar to the work of hundreds of other artists in the marketplace, it will be more difficult to stand out. Ask yourself: What is my unique perspective? How is my work different? Put your energy into capitalizing on the answers to those questions — not on trying to fit into the crowd.
2. Vary Price Points
Offering different sizes and price points for products can draw in a variety of shoppers. "You don't have to cater to one audience over another," says Berkley. "We make sure to have something for everyone." For example, if you offer smaller original pieces at lower price points, people who can't afford the large or expensive pieces can still purchase from you. Later on they may return to acquire the more expensive work.
Make sure to offer higher-end options in your shop too. Some art buyers are actually drawn to more expensive original work. They might assess your value as an artist by the price tags they see on your work, especially the originals.
3. Showcase Your Art
"Take high-quality photos to showcase your work," advises Mati McDonough, owner of Mati Rose Studio. Using natural light and clutter-free backgrounds has helped her sell over 1,600 prints and originals in her Etsy shop, which is based in Oakland, California. Since hues can get skewed during the photography and scanning processes, you can correct colors using a photo-editing tool like Photoshop to ensure your online product photos will match the work your buyers receive in the mail.
Don't forget to fine-tune the thumbnail photos for each of your listings. Photographs of your work should read well even when shrunken down to the size of a postage stamp.
4. Leverage Tags and Keywords
When writing a title, tags or item description, incorporate keywords. There are obvious ones, like the type of art you're selling (a painting, print, ceramic pot), the medium (oil paint, collage, clay) and key colors. To generate a list of keywords, think about what your potential customer would type into the search bar to find what you're selling. Use Etsy's search bar to research popular terms that real shoppers are searching for on the site. Write down the relevant terms that appear in the auto-suggested list and add them to your listings.
5. Be Descriptive
Use each product description to preemptively answer questions that customers may have. Communicate important details about your art, including the medium, dimensions and whether it's a one-of-a-kind original or a reproduction. The description section is also an opportunity to share what inspired the art — but keep it brief. Instead of telling people how they should feel about the work or how they should experience it, let art buyers create their own connections to your work.
6. Handle With Care
Take time and care packaging your art so that it doesn't bend, chip or break in transit. Label packages with brightly colored stickers or stamps that say "Fragile" or "Do not bend." Prints and unframed drawings should be paired with a hard surface like chipboard or foam core to prevent bending, and then wrapped in a clear sleeve. Consider building the cost of packing materials, like boxes, peanuts and bubble wrap, into your shipping charges.
7. Clearly State Policies
Articulate all of your shipping and return policies upfront, including how often you ship, when returns or exchanges are accepted (if ever) and whether you'll cover packages that are lost or damaged. Some Etsy sellers have a policy of shipping every few days, or whenever they get an order. Some artists, like Mati McDonough, have chosen one day a week as their designated shipping day. "That way I have accountability and consistency with my customers," McDonough says.
8. Personalize Customer Service
Making your customers happy will encourage them to return and recommend your shop to their friends. As a small-business owner you're in a great position to make a personal connection with buyers. Answering customer service emails quickly with a polite, positive attitude shows that you understand and care. "Our customers are often surprised when we personally respond to an email, rather than the robotic responses they're used to from corporations," Ryan Berkley says. It also can foster high reviews from customers, which adds cachet to your business.
Understanding how to run a successful fine art Etsy shop can take time, experimentation and practice. But the good news is, with some basic tools and knowledge you can sell your art and related products with ease and confidence. The time, energy and resources you invest up front will pay off in the long run.
How do you keep your customers  happy? Share your tips in the comments.