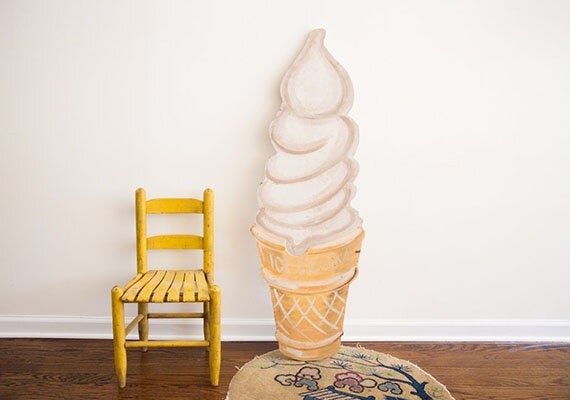 Husband and wife team Earl Einarson and Jan Halvarson have been taking the design world by storm since starting their Vancouver-based lifestyle blog, Poppytalk, back in 2005. With a continually growing readership, more than eight million Pinterest followers, a newly acquired brick and mortar shop and some massive collaborations with high profile companies (Target, anyone?), the dynamic duo undoubtedly have some exciting developments on the horizon this summer. Having such a bright forecast, we knew they were the perfect fit for our Trend Watch series, and couldn't wait for the chance to pick their ever-stylish brains on this summer's trends. Read on for their predictions for summer 2014 and top tips for incorporating the trends into your shop.

What's your favorite part of running your blog and business?
Finding new talent and introducing them to our readers. Poppytalk often features content from guest contributors that share recipes, DIY projects and design inspiration.
What's the most challenging element of your work?
Writer's block is definitely challenging, but taking walks or mini field trips throughout the workday helps keep the ideas flowing.
How do you keep up with trends without losing site of your brand vision?
We try to stay abreast to changing trends by keeping our radar out there on a regular basis, both online and in the real world, hoping to take everything in. We also go by the rule that if you love it, it'll work. That doesn't always work, mind you, but it's a good place to start.
What are your favorite trend predictions for Summer 2014?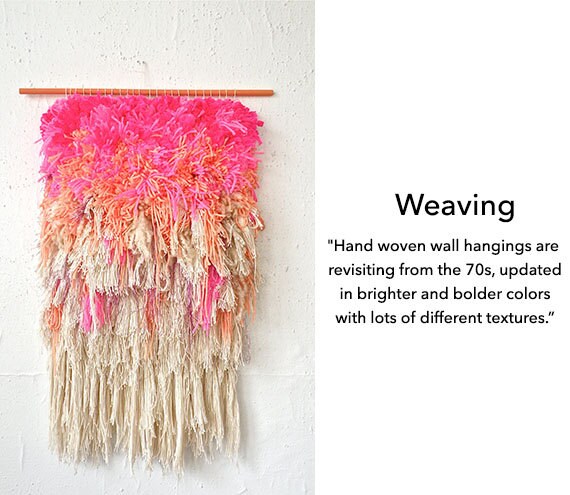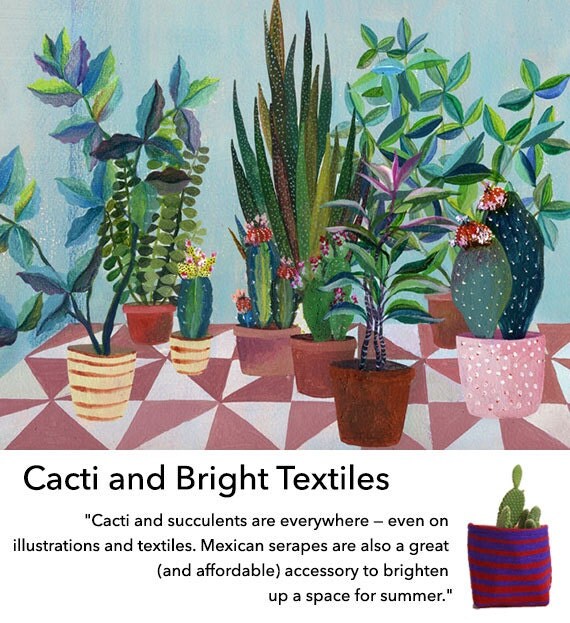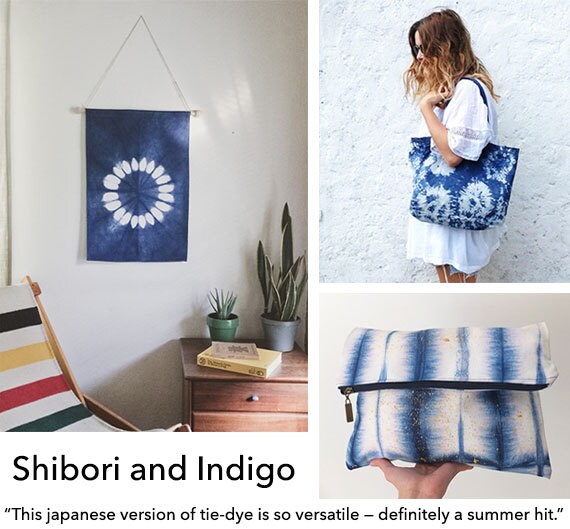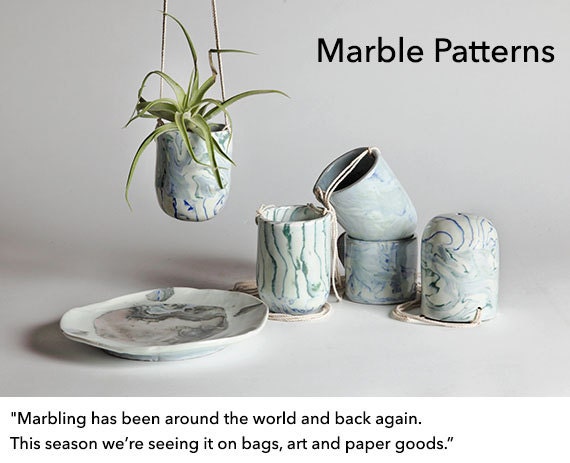 [Clockwise from top left: Tapestry by JuJuJust; Succulent Illustration by Art and People; Fabric Planter by Nesta Home; Wall Hanging by Earnest Dry Goods; Shibori Tote by Pup Tart Handmade; Indigo Clutch by Liduvina Design; Marbled Planter by Leah Ball]
What's your advice for Etsy sellers looking to incorporate trends into their shops?
Stay true to your brand. If you really love a trend and feel it fits in well with your other pieces, then use it. But as is true with all trends, it might not be best to dive in head first. Try adding just one aspect of a trend to your pieces first to make sure it feels right, and don't force it.
Another good idea is to stay within the complimentary colors of your collection. If you want to add marbling for example, stay with one or two colors that complement the rest of your collection. That way, the trend will fit visually when someone is looking at your shop as a whole, keeping things cohesive.
More trend tips for your shop from Etsy: Think about what colors or keywords are gaining popularity due to seasonality, and add those tags to your items if they apply. If none of your items seem to reflect upcoming trends, why not experiment with trend-relevant packaging or photo styling? For instance, create your own marbled hang tags or a mini weaving to add to high volume orders. Spice up your photos by adding props that reflect the trends of the season so shoppers can more easily imagine your items as a part of their daily lives. Find more ideas for spicing up your packaging in Branded Packaging Basics and tips for photo styling in How to Make Your Photos Publicity Ready.
How are you incorporating summer trends into your shop? Let us know in the comments below.