Etsy Shipping
We've made order fulfillment easier and more affordable with tools like shipping labels, calculated shipping, and shipment tracking.
Ship for less with Etsy shipping labels
Etsy Shipping Labels let you ship orders with USPS, FedEx, or Canada Post right from your Etsy shop. Once you purchase a label for an order, we'll automatically mark it as shipped. Then just print the label out and your item is ready for delivery!
Save up to 30% on shipping
Purchase Etsy Shipping Labels for big discounts on shipping costs from USPS, FedEx, and Canada Post.
Ship almost anything, nearly everywhere
Send packages up to 150 lbs to buyers worldwide as quickly as you'd like. We can help you with customs forms too.
It couldn't be easier
Purchase and print shipping labels in seconds, right from your Etsy account. You never have to set foot inside a post office.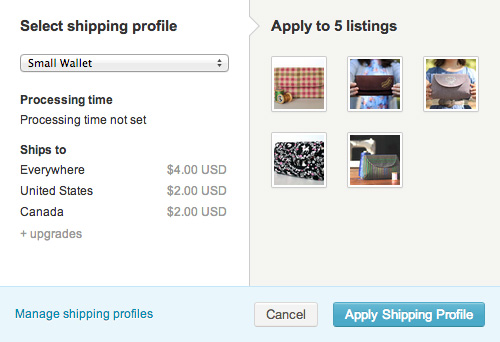 Shipping Profiles
Create profiles to automatically and seamlessly add shipping costs to your items. The Shipping Profile Bulk Editor can help you set up profiles for multiple items or types of items that cost the same to ship.
---
Tracking Updates
Put buyers' minds at ease by purchasing Shipping Labels with tracking. You can add tracking to orders shipped without Shipping Labels too. You and your buyers can track items every step of the way.
---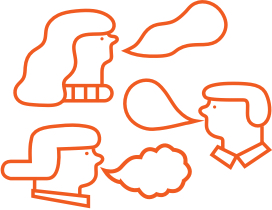 Stellar Support
Have questions? Our shipping specialists are eager to help! You can also check out our FAQs for quick guidelines and answers.
Frequently Asked Questions
Here are some common questions about selling on Etsy
What are Shipping Labels?
With Etsy Shipping Labels, you can purchase and print postage from USPS, FedEx or Canada Post directly from your Etsy shop. Learn More.
How can I learn more about what is offered through USPS and FedEx Shipping Labels?
Learn about all the services offered through USPS Shipping Labels at the Shipping Help page. You can also learn about the services offered through FedEx Shipping Labels by going to the FedEx Shipping Labels Help Center.
What are Shipping Profiles?
Shipping Profiles let you save shipping information for specific items or types of items. Shipping Profiles are ideal for similar items that cost the same to ship. To add or edit a Shipping Profile, your shop set-up must be complete and not in Draft Mode. You can add Shipping Profiles to listings individually or through the Bulk Editor in your Listings Manager. Learn More.
How do I buy Shipping Labels on Etsy?
Sellers in the U.S. or Canada who use Etsy Payments or PayPal can go to:
1. Your Shop > Orders.
2. Find your paid order.
3. Click "Print Shipping Label."
4. Select your carrier (FedEx or USPS in the US, and Canada Post in Canada).
5. Enter your shipping method, package type, weight, and other details.
6. Confirm your details.
We'll send a shipping notification to your buyer, and mark that order as shipped. Download purchased labels immediately or from your Orders page. Learn more about USPS Shipping Labels, FedEx Shipping Labels and Canada Post Shipping Labels.