Announcement We have t shirts for the whole family from 3 months to 4xxxx with warm hoodies pull over and zip up hoodies , thigh high socks , long sleeve shirts, thermal kids shirts, thermal adult sets , leggings, scarfs , skirts, dresses, dog and cat shirts, onesies, toddler dresses, jeans, leggings , socks, book bags, purses, headbands, festival dresses, sarongs, shorts that are Ice dyed✌🏽️and liquid dyed. We do tons of special orders please message us if you don't see it in your size.
Follow us on Facebook, Instagram, Twitter and Pinterest. See all the new things we dye on our facebook page first.
http://m.me/twogirlstyedye
Announcement
Last updated on
Feb 14, 2017
We have t shirts for the whole family from 3 months to 4xxxx with warm hoodies pull over and zip up hoodies , thigh high socks , long sleeve shirts, thermal kids shirts, thermal adult sets , leggings, scarfs , skirts, dresses, dog and cat shirts, onesies, toddler dresses, jeans, leggings , socks, book bags, purses, headbands, festival dresses, sarongs, shorts that are Ice dyed✌🏽️and liquid dyed. We do tons of special orders please message us if you don't see it in your size.
Follow us on Facebook, Instagram, Twitter and Pinterest. See all the new things we dye on our facebook page first.
http://m.me/twogirlstyedye
Reviews

Omg! I love these hoodies. They are absolutely beautiful! Now my kids want to steal them. I guess they'll eventually pick out their own. Thank you!!!😊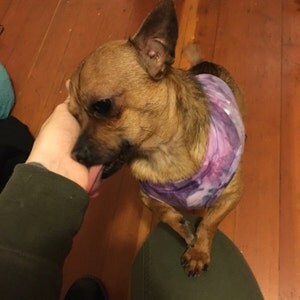 Ducky loves his new muscle tee 💪🏼✨💜
About
2 collage friends making tye dyes and enjoying life✌🏽️
Angie and i have been long time friends . We met @Ferris State University back in 1988. Angie and I have remained great friends since then. 25 years later we have our friendship and lots of memories. One thing we love getting together to go see live concerts. Our summers are spent listening to music and tye dyeing . We love creating new things with the tye dyes. Our goal is to spread the color !!! Tye dye every where with lots of color . With that we are going to be tye dye on the go. Set up party's to learn how to tye dye. Birthday party's , reunions , school class rooms, house party's etc.
We do have a etsy account with our creations look under 2girlstyedye.
Instagram #2girlstyedye
Twitter 2girlstyedye@2girlstyedye

Peace and love
Gra8fulanna and Angie
Shop members
Gra8fulana

Creator, Owner

I am a stay at home mom who enjoys tye dyeing all kinds of item. Love selling and going to festivals and craft shows. Enjoy our tye dyes we sure love making them for you💜✌🏽️☀️ Peace and Love Gra8fulana

Angie

Owner, Creator

Angie is a great person to be around . she is happy and positive in all ways. she loves her dog Jojo .I enjoy working side by side with her in our adventure with 2girlstyedye! Thanks Angie . Peace and love

Vicki (Grandma)

Seamstress, Designer

My mom helps in every way she can with our tye dyeing company 2girlstyedye. We love that my mom helps us out on any sewing and dyeing projects. she is always there to help us out when needed :) Grateful to you mom thanks Anna and Angie

Tracey B

Creator

Tracey is our friend from collage 25 years ago. She is our cheerleader and she helps us look outside the box to be creative with color when dyeing. She helps dye and gives us honest feedback. Tracey you rock girl!!! Thanks Sister Anna And Angie
Shop policies
Last updated on
December 19, 2016
We met @Ferris State University back in 1988. Angie and I have remained close friends since . I have been married 14 years and with my husband for 24 years. I am a crafty mom i love doing crafts with my kids. i am the mom that signs up for all the class party's . We love to go to concerts and festivals. We have 2 boys that keep us very busy. Tye dyeing has become a fun craft in our house over the past several years. Angie has been married to her husband for 9 years . She has a heart of gold when it come to animals. Angie and her husband love to travel and go to concerts during the summer. 25 years later Angie and I have our friendship and lots of great memories together. One thing we have in common is that we love getting together to go see live concerts. Our summers are spent listening to music and tye dyeing with our friends and family . We love creating new things with the tye dyes. Our goal is to Tye dye every where parks , schools ,camp grounds , garages, basements you name it we will bring the tye dye to you . With that we are going to be tye dye on the go. Set up party's to learn how to tye dye. Birthday party's , reunions , school class rooms, house party's etc. We have a Etsy account with our creations look under the following.
Face book ~2girlstyedye.
Instagram~ #2girlstyedye
Twitter ~2girlstyedye@2girlstyedye

Peace and love
Gra8fulanna and Angie
Accepted payment methods
Payment
We accepted credit cards, PayPal and Etsy cards.
Shipping
Depending on what and how many items are being shipped . Message to group some items for a different price.
Refunds and Exchanges
You have 7 days after you receive it to notify us and get it back in the mail to us. ( minus the shipping) Sorry no cash refunds .We will give credit towards another item. (after the item is sent back to us) no exchanges or refunds for special orders. There will be a fee for any special orders that are requested in bulk ordering.


NO SHIPPING FEES WILL BE RETURNED unless I ship out the wrong item or item is received broken (with proof of photo showing outside of box as it was received and showing the broken item)
Additional policies and FAQs
*We love doing Tye dye party's for kids and adults. We set up and show you how to Tye up a shirt and dye it. Lots of fun. Message us if you are in Michigan.
More information
Last updated on
Nov 1, 2016
Frequently asked questions
Are all tshirt the same size?
No we use several different brands in tshirts. They differ in size slightly. Please message us for the size if you have questions.
Gift wrapping and packaging
Yes for a charge we will wrap it up and ship it.
Custom and personalized orders
Yes we love to make special orders. Please message us for details. We can do things in different sizes. If you see something that we can do in your size please let us know.
Wholesale availability
Message us on this depends on what is being ordered.
Custom and personalized orders
No tye dyes are the same there might be a slight difference when we make the Tye dye. We promise we will do our best to match it up to the one request. Please know we thank you for asking us to make you something in Tye dye. It is our passion 💜