Announcement Welcome! I will be away starting 9/25/16 through 10/3/16 and will have limited to no internet access. Shipping & communication will be suspended starting 9/24/16 and I expect to all to be normal again by 10/5/16. 4Get-Me-Not Treasures will stay open for your browsing & shopping pleasure. Thanks so much for your understanding & patience – it is SO appreciated! I hope you enjoy your visit and return again soon! Have a wonderful day!
************************************************************************************************
Welcome to 4Get-Me-Not Treasures where you can find all kinds of vintage heirlooms & treasures. You'll find a wide variety of vintage jewelry, sterling silver, housewares & collectibles in the shop, so do come back often to see what has been recently listed.

In addition to the many vintage items there are handcrafted items in 4Get-Me-Not Treasures as well! These include diorama eggs, humorous & inspirational cross stitch designs as well as some other items we make here at home.

I hope you enjoy browsing through memories of yesterday and that you come back often to see the newest additions to the shop.

Proud Member of the DLC & CIJ Teams
Announcement
Last updated on
Sep 22, 2016
Welcome! I will be away starting 9/25/16 through 10/3/16 and will have limited to no internet access. Shipping & communication will be suspended starting 9/24/16 and I expect to all to be normal again by 10/5/16. 4Get-Me-Not Treasures will stay open for your browsing & shopping pleasure. Thanks so much for your understanding & patience – it is SO appreciated! I hope you enjoy your visit and return again soon! Have a wonderful day!
************************************************************************************************
Welcome to 4Get-Me-Not Treasures where you can find all kinds of vintage heirlooms & treasures. You'll find a wide variety of vintage jewelry, sterling silver, housewares & collectibles in the shop, so do come back often to see what has been recently listed.

In addition to the many vintage items there are handcrafted items in 4Get-Me-Not Treasures as well! These include diorama eggs, humorous & inspirational cross stitch designs as well as some other items we make here at home.

I hope you enjoy browsing through memories of yesterday and that you come back often to see the newest additions to the shop.

Proud Member of the DLC & CIJ Teams No items listed at this time
Reviews


It's an absolute beautiful piece of jewelry and the seller is wonderful! Thank you!!!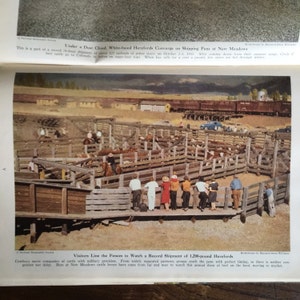 NG magazine shows two wonderful pictures of the event I was looking for in 1944 at N. Meadows, Idaho. My dad participated in this cattle milestone. Afterwards, the cowboys headed to the local pool hall to throw back some beers ( or flask of whiskey ). Dad rode his horse into LaFay's pool hall...others followed. The owner had cleared out some of the deep ice bins and filled with water for the horses. My dad loved telling stories of this event. When very little, I was 5 or 6, my dad, grandad, sister and me drove our cattle to the railroad to be shipped out. (Yes, that is a pretty little girl buckaroo but we ALWAYS helped. I had the worst job...riding "drag" at the end of the herd. Later, around 8 or 9 my sister and I would ride our horses into the 2 miles to town and practice our "barrel racing" in the stockyard corrals.
Shop policies
Last updated on
September 22, 2016
Hello! Thanks so much for visiting 4Get-Me-Not Treasures my first Etsy Shop! I hope you enjoy your visit & that you'll come back often.

Honestly, I still feel quite new to Etsy & online selling so please be patient as I attempt to make your shopping experience a wonderful one. Etsy is such a wonderful place where I learn new things on a daily basis (BIG example – photography of items). I am trying to implement them all (quite a difficult task) while keeping up with adding things to the shop. It's a bit overwhelming at times but I'm learning to be patient with myself – and to take as many baby steps as possible towards achieving a successful Etsy shop. (And – I will say – it's been a wonderful experience so far :) )
Accepted payment methods
Payment
4Get-Me-Not Treasures accepts PayPal & Direct Checkout. Please note that purchases are not considered final until payment has been received. If payment has not been received within 3 days and there has been no communication from the buyer, the transaction will be canceled and the item relisted.
Shipping
Welcome! I will be away starting 9/25/16 through 10/3/16 and will have limited to no internet access. Shipping & communication will be suspended starting 9/24/16 and I expect to all to be normal again by 10/5/16. 4Get-Me-Not Treasures will stay open for your browsing & shopping pleasure.
****
The safe arrival of items purchased from 4Get-Me-Not Treasures is our first priority. Each item is carefully wrapped and packaged with this in mind. Due to the variety of weight, size, shape, and fragility of the items found in 4Get-Me-Not Treasures it is near impossible to figure accurate shipping costs when multiple items are purchased.

Shipping overages are expected at 4Get-Me-Not Treasures though we try to be as accurate as possible. We always happily (and automatically) refund any shipping overages over $1.00.

Items will not be shipped until complete payment has been received.

Whenever possible and safe for the item we combine shipping to insure our customers the lowest shipping prices. Our first priority when shipping any item is careful packaging to be sure the item arrives to you safely. Padding & proper cushioning can take up a lot of space. :) Very fragile items (such as the diorama eggs & fine porcelain) are typically shipped separately from other items though there are some exceptions at times.

Our shipping days are officially Tuesdays and Thursdays though typically items are shipped within 48 business hours of receiving confirmation on the shipping address.

We try to recycle whenever possible and when safe for the item being shipped. Shredded paper and circulars is the main form of filler used. Boxes are only reused for shipping if they show no/minimal wear. Occasionally we will put the item in a box before adding to the box it will be shipped in. Stamps are shipped between unused waxed paper and then "sandwiched" between sheets of cardboard from cereal or other similar items where the food does not come in contact with the actual box. If you prefer all new packaging please let us know when you order.

Most items are typically shipped via USPS First Class. Items weighing over 13 ounces cannot be shipped via this method to US customers. In most cases the shipping cost quoted in these listings is for Priority Mail to which delivery time is similar to First Class. In some cases we opted to list the Standard Post rate which can be less expensive & is always used whenever Priority Mail or First Class cannot be an option; however it can take 7-10 days for parcels to reach their destination via this method.

Books weighing over 13 ounces are shipped via USPS Media Mail which also takes a bit longer than First Class or Priority Mail.

A more accurate shipping quote for most shipping methods can be given once the destination zip code is given. If you would like a quote on a different shipping option, please contact us.

In most cases insurance is purchased for the item. Should you have a question if the item you'd like to purchase will be insured, please contact us for clarification.

International customers are very welcome at 4Get-Me-Not Treasures but please be aware that you are responsible for all customs and tariff fees that apply to your country. We have no way of knowing what these costs would be as they are specific to each country. Please note that 4Get-Me-NotTreasures will NOT state "gift" under any circumstance so please do not ask us to do so. (This would be considered asking us to break the law.) Please allow a minimum of 14 days for your order to arrive – in some cases/countries delivery can take up to 6 weeks or longer, especially if the parcel gets held up at your customs office.

The shipping charges you see in 4Get-Me-Not Treasures are just that – shipping charges. We do not add handling fees or packing costs to our shipping charges (we do add anywhere from $.50 - $2.00 to our prices to help cover these business costs). Our reason for choosing this option is so that our shipping fees are "transparent". We use the USPS shipping charts to calculate our shipping prices which are available here: http://pe.usps.com/text/dmm300/Notice123.htm

If you have any questions regarding shipping at 4Get-Me-Not Treasures please contact us and we'll do our very best to get the answers for you.
Refunds and Exchanges
It is not 4Get-Me-Not Treasures standard policy to accept refunds or exchanges. However, if you do receive an item that you are unhappy with please contact me within 7 days and we will discuss how to best work out the situation for both of us.

I want you to love your purchase and get many years of joy from it and we understand that you are purchasing by pictures & descriptions. I do my best to look for any flaws and if possible, take pictures of them and include these in each listing. Please take the time to read the description of the item thoroughly and if you have any further questions on the condition of the item please ask before purchasing.

Additionally, please remember, if you are purchasing a vintage item, that it is a minimum of 20 years old – a substantial portion of my items are over 40+ years of age. It is rare that items of this age will be in pristine condition. Buyers purchasing vintage items should be well aware that there will be evidence of use & age.
Additional policies and FAQs
I typically spend a minimum of an hour researching the items for sale. I am not an appraiser – only a collector and as stated earlier, much of what I am selling has been handed down in my family. It has held more sentimental value to me more than historic or monetary value. However, being a collector myself I like to know a bit about the things I purchase so I am trying to do the same for you.