Announcement Ink raven paintings, ink art from Europe for sale. Needle felted cats (geeky Christmas ornaments) for sale. Needle felted mermaid and human dolls for decoration only.

SHIPPING: Shipping worldwide! Shipping usually takes around 2-4 weeks to USA, Most commonly 10 working days.
Canada, Australia 3..4 weeks. (4 to 14 days) to Europe, UK, and 8-9 months to Italy.

Felt is handmade using local lamb wool and some Marino wool. Needle felting is a pretty long process, so in case of queues around holidays, shipping can delay. Thank you for your patience!

Write me if you have any questions, custom orders or problems! If you write me, you are my new best friend.

DID IT HURT WHEN YOU FELL FROM HEAVEN? BECAUSE YOU'RE AN ANGEL.

Please read the item descriptions before you buy. At least the important parts. I know you don't read them, don't lie! I don't read them either and end up buying a baby chair for a necklace. So considering this I try to make the photos as informative as possible and add a hand for scale, but still.

OAAK means one of a kind and that there is this one item only which is on the photo.
MADE TO ORDER means that the item is made after the order is placed, the photo is usually illustrative and one handmade item is never exactly like the other one. But they're pretty alike, because it's my style and I follow my pattern and use the same color wool.
ORIGINAL PAINTING means that the item for sale is the actual painting. (not a printed version)
DIGITAL PRINT means that the item is printed with a printer onto a paper or a canvas sheet.
RESERVED in the title of the listing means it's listed for a specific person. This will make you feel excluded and sad, while me and the buyer of a reserved listing make inside jokes, giggle and point at you.

SHIPPING QUEUE: Ready made items are usually posted within 2 working days. Custom made and made to order listings are shipped later, in the holiday season the queue has been even up to 3..4 weeks if it happens that there are a lot of custom orders. The queue forms chronologically. When ordering a batch, ask me about the estimated finishing time!

Message me if you'd like something custom made! I'm happy to discuss all ideas, ask anything and we'll discuss how is the best way to continue with the idea.

Contact info:
E-mail: siljaerg [!at] gmail.com
Facebook: www.fb.com/SiljaErgArt
Instagram: https://www.instagram.com/5erg_artworks
Deviantart web gallery: http://doodlewithgluegun.deviantart.com/
Announcement
Last updated on
Aug 6, 2016
Ink raven paintings, ink art from Europe for sale. Needle felted cats (geeky Christmas ornaments) for sale. Needle felted mermaid and human dolls for decoration only.

SHIPPING: Shipping worldwide! Shipping usually takes around 2-4 weeks to USA, Most commonly 10 working days.
Canada, Australia 3..4 weeks. (4 to 14 days) to Europe, UK, and 8-9 months to Italy.

Felt is handmade using local lamb wool and some Marino wool. Needle felting is a pretty long process, so in case of queues around holidays, shipping can delay. Thank you for your patience!

Write me if you have any questions, custom orders or problems! If you write me, you are my new best friend.

DID IT HURT WHEN YOU FELL FROM HEAVEN? BECAUSE YOU'RE AN ANGEL.

Please read the item descriptions before you buy. At least the important parts. I know you don't read them, don't lie! I don't read them either and end up buying a baby chair for a necklace. So considering this I try to make the photos as informative as possible and add a hand for scale, but still.

OAAK means one of a kind and that there is this one item only which is on the photo.
MADE TO ORDER means that the item is made after the order is placed, the photo is usually illustrative and one handmade item is never exactly like the other one. But they're pretty alike, because it's my style and I follow my pattern and use the same color wool.
ORIGINAL PAINTING means that the item for sale is the actual painting. (not a printed version)
DIGITAL PRINT means that the item is printed with a printer onto a paper or a canvas sheet.
RESERVED in the title of the listing means it's listed for a specific person. This will make you feel excluded and sad, while me and the buyer of a reserved listing make inside jokes, giggle and point at you.

SHIPPING QUEUE: Ready made items are usually posted within 2 working days. Custom made and made to order listings are shipped later, in the holiday season the queue has been even up to 3..4 weeks if it happens that there are a lot of custom orders. The queue forms chronologically. When ordering a batch, ask me about the estimated finishing time!

Message me if you'd like something custom made! I'm happy to discuss all ideas, ask anything and we'll discuss how is the best way to continue with the idea.

Contact info:
E-mail: siljaerg [!at] gmail.com
Facebook: www.fb.com/SiljaErgArt
Instagram: https://www.instagram.com/5erg_artworks
Deviantart web gallery: http://doodlewithgluegun.deviantart.com/
Reviews

Looks great on my Halloween tree! Thank you!

Yes arrived on time. Pan Yes arrived on time. The panda is beautiful and just whatvI wanted.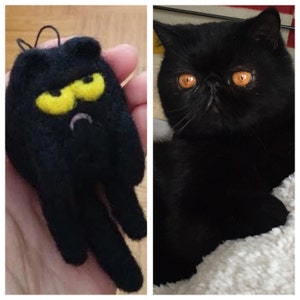 I absolutely love the little kitty that 5erg made for me. It looks just like my grumpy cat. Amazing work will definitely purchase from this vendor again 😃
Shop policies
Last updated on
December 14, 2013
Shop info in a nutshell:
♥items ship internationally, they are shipped from Europe
♥Shipping cost is written in each listing, scroll down to see it.
♥ only Paypal is accepted
♥If you have any questions, don't hesitate to message me, I'll be happy to reply.
♥if the shop is on vacation, message box is still active!
Accepted payment methods
Payment
Paypal is accepted.

eChecks take a few days to clear, orders are never processed before payment.

Visa bank and Western Union transactions can be discussed for bigger orders.
Shipping
Premade items usually ship out within 1...2 work days. Made to order items are shipped depending on a live queue. During holidays this means a 5 day to 3 week queue, so holiday items are usually ordered early.


Items ship from North Europe. Post travels to further countries like USA, Canada, Australia in 2-4 weeks, most common is 10 business days. Around Europe it usually takes 7..10 days. To Japan the post is pretty fast, 5 days or so.
Time depends on the local postal service also.

Be sure to get your package from your local postal office in time or it will be sent back (they keep registered packages about one week and if noone picks it up, the postal office will send the package back to the sender and for some reason, that takes one million years).

Packages are never shipped before payment has cleared.
Refunds and Exchanges
Refunds for defective items are done after the item has returned.
Refunds for packages lost in the mail are done after tracking, this may take some days, local postal service has to look into it and sometimes it takes a few days to even get a reply.
If you have complaints, please send them in one week.

About lost packages, so far *fingers crossed* it has been the matter of a lost notice slip from the local postal office, so one way of checking about the location of the package, is calling your local postal office and asking if they got anything there for you.

Please be patient about the shipping time, especially from Europe to USA, it can take several weeks. Especially around holidays when the customs offices are busy.