Reviews

I ordered this 2 months ago and still haven't gotten the item.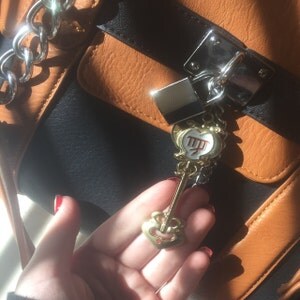 Beautiful! I love it. Came in on time and gorgeous.
Shop policies
Last updated on
June 10, 2015
Welcome to Anime Couture! What separates Anime Couture from other designers of jewelry, is that our attitude is genuine and awesome as moon prism power (sorry, obscure Sailor Moon reference). We try to create unusual and eccentric pieces, combining prolific thinking and unique creativity to each piece of jewelry. All designs are original designs OR recycled items that I have added elements to make the new recycled item a sui generis piece. You will also find our personal desire to give you excellent service and a quality product. Anime Couture encourages customization and creative ideas from our customers.Thank you for visiting our store and we hope you in enjoy our shop.
Accepted payment methods
Payment
Payments

We accept Paypal, etsy instant check out, etsy gift cards, money orders and personal checks. All money orders and personal checks can obtain a mailing address by emailing me at animecouturejewelry [!at] gmail.com.



Orders that pay by money order OR personal check will not have their item(s) shipped until after payment has been received and successfully cleared by bank.

Please, please, please!!!---> Pay for your items at the time of sale or at LEAST within 48 hours. If an item has gone unpaid for more than 48 hours and no response to our e-mails have been received, the sale will be canceled in 24 hours.

***We will GLADLY extend the payment time if you ask nicely. :-)
Shipping
Shipping

ATTN: ALL customers, please, look at my STORE ANNOUNCEMENTS for regular updates and news. I cannot always individually e-mail each customer if there is an issue or something happens out of my control. I WILL always keep my customers updated through my STORE ANNOUNCEMENTS, PLEASE, be sure to check my STORE ANNOUNCEMENTS if you have an immediate concerns.

**I do want all customers to take note! I have four children and if something happens where they need my immediate attention this can affect processing and shipping at times. Accidents happen especially with four of them under one roof and they can get sick at times. I will let customers know in the event something happens that will affect processing and shipping times but please understand my family has to come first in the event they require my immediate attention. I will do my very best to get items out as fast as I can always but I just want all customers to be aware. I thank you all for your understanding and kindness.

Please, take note once an item is shipped IT IS OUT OF MY HANDS! I have absolutely NO control over USPS and NO control over USPS fulfilling their time requirements of a package. I will ALWAYS do everything I can to make sure you receive your package. It is unfortunate but true USPS is capable of losing items and also when traveling through states sometimes USPS does not scan the tracking number to update the system. International Orders do NOT panic if you see marked not shipped on your item. There are times my shipping program does not sync with etsy and will remain unmarked shipped when it IS shipped. Please, contact me if you have ANY concerns! International orders have several reasons your package could be delayed. Customs is slow sometimes especially if customs has issued a high alert and weather plays a big part of international shipping. Alas, I wish I could control the weather or personally deliver everyone's packages to them but I probably would not be here if I had those capabilities. ;-)

If you do not receive your item or worried about your item because there has been a long wait period, PLEASE--PLEASE, contact me. I will be happy to work out any shipping issues with my customers. My customers are EXTREMELY important to me and my goal is to make sure my customers are happy. So, please--please, feel free to contact me about any shipping issues you may have. Again, my goal is for my customers to be HAPPY!

In the extreme case of an emergency that most likely will not happen but I want to address in Anime Couture's policies. Please, understand upon purchasing items in the case of a SERIOUS FAMILY EMERGENCY and Anime Couture has shipping delays and/or temporarily closes shop it is asked you give appropriate time for Anime Couture to address the issues at hand. Anime Couture asks you refrain from negative reviews until I can address the situation with you. Anime Couture's goal is to always do whatever I can for the customer to be happy and a positive experience and I will go to great lengths to make that happen. I ask that you acknowledge this statement as part of Anime Couture purchasing policies.

1. How fast do you ship?

Upon receipt of payment, we will ship your item(s) out to you within 2-10 BUSINESS days (except during holiday season, we will ship out as fast as possible November 1st-December 24th) and you will receive your items once SHIPPED after the 2-10 BUSINESS days time frame this EXCLUDES all weekends and holidays. In some cases, it may be 2-15 BUISNESS days depending on the volume of orders we have at the time. Our busiest time is from November 1st through February 28th, this is our busiest months if you need an item right away PLEASE let us know. Otherwise, during our busy months it could take 10-18 business days IN EXTREME CASES with the volume of orders we get but WE WILL SHIP AS FAST AS POSSIBLE DURING HOLIDAY SEASON NOVEMBER 1st - DECEMBER 24th. That is only "handling" time. Please, understand delivery of packages can be delayed for various reasons during the Holiday season. It could be anything from weather, they lost your package or your package was damaged and sent back to us. We CANNOT control USPS scanning your package or updating their system. Items are shipped Monday through Friday. We occasionally will ship packages on Saturday but NOT on Sunday, or any US holidays. We will notify you via e-mail during our not so busy months (November 1st - February 28th BUSY MONTHS) if there will be a longer delay in shipping your item for any reason. Please, take note, During November 1st - December 24th WE WILL SHIP AS FAST AS POSSIBLE and we are committed to take as little time as possible to process and ship orders out!

**We DO NOT process orders made five days prior to December 30th through January 2nd until January 4th. We may be able to process and ship orders faster depending on time spent with family for the holidays. Processing time from January 4th to January 25th may take up to 12-18 BUSINESS days due to volume of orders we may have after the holidays and that is only "handling" time.. During the holidays, USPS and customs takes much longer to get packages to where they need to go. The following is for US & International customers: USPS and customs has had robberies from within, packages DO get lost, packages DO get damaged and sent back to us and packages CAN BE VERY delayed due to weather and volume of packages USPS has and customs can be VERY delayed due to security, volume of packages and procedures they take at times.

**Please, understand Anime Couture has NO control rather USPS updates their system once shipped! Your package can look like a pre-shipment state but is NOT. Anime Couture takes a personal financial hit on every single orders shipping cost in order to keep shipping cost low for customers. If it is marked shipped it IS shipped, Anime Couture would not just spend money until it needs to be spent. Please, understand Anime Couture works VERY hard always but works even HARDER during November through February and would like to spend at least a week with family for holidays. Regardless of what happens Anime Couture's goal is for customers to be happy, so, if anything DOES happen to your package it WILL get fixed! Anime Couture just asks please--please--PLEASE before getting upset give Anime Couture a chance to make everything right with you. ALL customers are VERY important and we WANT you to be happy above anything and thank you for all your kindness in the process! :-)

2. What shipping method do you use?

The shipping rates for all items listed are for first class shipping if you would like a tracking number for first class shipping it is additional .30 cents. You can message Anime Couture to request for a tracking number to be attached to your package and we can then make a custom listing for you. You may ask to upgrade to US Priority Mail shipping the price is $5.05 for USPS Priority Shipping this price for US Priority Mail includes a tracking number and delivery confirmation. You may ask to upgrade to US Express Mail shipping the price is $18.11 for USPS Express Shipping this price includes a tracking number and delivery confirmation. International orders receive a Customs Label # and proof of mailing. USPS does NOT provide tracking numbers for international orders! The only way you can be provided a tracking number with international orders is by doing registered mail. Registered mail can be VERY expensive. The only thing USPS provides with international orders is a customs number. We do hope in the future tracking will be provided as a service with USPS.

3. When will I receive my item(s)?

US: 2-10 BUSINESS days upon shipping (During the peak holiday season November 1st through February 28th, packages can take up to 20 BUSINESS days.) Canada: 7-25 business days upon shipping* (During the peak holiday season November 1st through February 28th, packages can take up to 30 BUSINESS days plus.) USPS does not always scan the tracking number, it happens and the system is not updated. This is something I cannot control but I can always help if you ask.

EVERYWHERE ELSE: 10-40 BUSINESS days upon shipping* (During the peak holiday season, November 1st through February 28th, packages can take up to 50 business days.) *On occasion, there may be additional delays out of our control with customs that make it take longer. If it is determined that your item was "lost" in the mail, we will gladly refund you the price of the item MINUS shipping, unless you wish to replace the item with another or ship you the same item that was originally shipped free of charge. We only ask that you give international orders at least 50 business days (no weekends or holidays) before expecting a refund. Please--please understand once your package leaves the USA Anime Couture has NO control over of what happens to your package and how long it may take to arrive. We are very committed to doing everything that is in our power to get your package to you as fast as we can but packages can take longer sometimes and packages can get lost.

4. Can I get my item faster?

Yes. We also offer expedited shipping if you need something in a BIG HURRY. Some examples of expedited shipping services we provide are listed below: USPS EXPRESS MAIL - Overnight or 1 business day GUARANTEED (During the peak holiday season, packages can take up to 2 business days.) and USPS EXPRESS International Mail, varies (please ask) Any of the above services can be applied for an additional charge, which is calculated BEFORE making a purchase. Please e-mail us if you need to request any of these services BEFORE carting any items or completing the transaction.

5. Do you combine shipping?

We DO combine shipping. All combined shipping rates are listed upon checking out.

6. Why am I being charged a VAT fee by my post office for International orders?

In most countries, the law requires that you pay taxes or "duties" on imported goods. These fees are specific to your country and we have ABSOLUTELY NO CONTROL over them.

7. My international order still has not arrived?

International orders can be lost while going through customs. It happens more than one would think, if this is the case we will be happy to give you a refund or resend your item free of charge to you.

***Please do not ask us to change your customs label to say "gift" or "sample" to avoid paying these fees. That is fraud and we could be charged with a federal offense. Going to jail is not my idea of a good time.

****** If you have any specific questions about shipping that were not answered here, please feel free to send us an e-mail at any time.
Refunds and Exchanges
Returns & Exchanges

WE STAND BEHIND OUR PRODUCTS 100%!!!! Nothing is ever 'FINAL SALE' if you are unhappy. We will work with you if something goes wrong with your purchase in any way.

If you buy a piece from us and are not satisfied with it, Anime Couture will gladly refund your money if the piece is returned to us in excellent condition within 2 weeks. Upon the event of a damaged item, you must e-mail us within 3 days of receipt for return authorization. A refund will be issued once the item is received back, unless the buyer wishes to have the item repaired. There is no fee to repair an item that is received damaged. And there is a lifetime warranty on damage due to children's need to touch their parents things. I have four of them, I understand completely. :-)

If your purchase should need a repair at any time, please return it to us for a free repair. Please also keep in mind, depending on the nature of the repair, some components may not be repairable OR replaceable. In the event that something breaks on your piece within 30 days and cannot be repaired OR replaced, Anime Couture will ABSOLUTELY issue you a refund or replace the item the best we can.

Please, e-mail us if there is an issue or a need to return an item. We will happily give you our address and any other information you need.
Additional policies and FAQs
Anime Couture has a cruelty free commitment to our customers : NO animals are ever harmed in the creation of our work. There is no selling of or use of animal parts, teeth, bones etc regardless of the source! Anime Couture is a store who fully supports using recycled pieces in our creations to emulate new found uniqueness. Anime Couture does not like to see old items or unused parts just thrown away.