Announcement We make custom metal coated signs and artistic home accents.

Check out our address signs, name plates, welcome and memorial plaques and browse the different styles of Arts and Crafts, Mission, Craftsman, Victorian, Kitch, and Modern. The possibilities are endless. Choose from a style you see or create something unique and personal to you.

*All orders SHIP in three weeks. Sooner if we can. Items that state ready to ship will ship ASAP. For International shipping convo for quote if it is not listed on the listing.

**Visit Our Blog at www.customASAPblog.com where we occasionally feature other ETSY Shops and go into detail about our product and how we make them.

*Atlas Signs and Plaques are made with 30 pound HDU base and coated with REAL metal (NOT paint) theywill not rust, rot, fade, or promote insects and are suitable for exterior applications. Visit our policy page and profile page to learn more about our process and how your sign is made.

PLEASE READ my PROFILE and POLICY page to learn more....xo
Announcement
We make custom metal coated signs and artistic home accents.

Check out our address signs, name plates, welcome and memorial plaques and browse the different styles of Arts and Crafts, Mission, Craftsman, Victorian, Kitch, and Modern. The possibilities are endless. Choose from a style you see or create something unique and personal to you.

*All orders SHIP in three weeks. Sooner if we can. Items that state ready to ship will ship ASAP. For International shipping convo for quote if it is not listed on the listing.

**Visit Our Blog at www.customASAPblog.com where we occasionally feature other ETSY Shops and go into detail about our product and how we make them.

*Atlas Signs and Plaques are made with 30 pound HDU base and coated with REAL metal (NOT paint) theywill not rust, rot, fade, or promote insects and are suitable for exterior applications. Visit our policy page and profile page to learn more about our process and how your sign is made.

PLEASE READ my PROFILE and POLICY page to learn more....xo
Reviews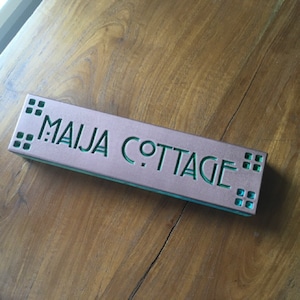 This plaque will decorate the back garden of my newly purchased 1904 Craftsman bungalow, ready for tlc. This is just the inspiration the project needed.

LOVE my adorable sign! Unique addition to my home and it even came packaged with screws/anchors to hang it. Highly recommend!

Sign turned out fantastic and I love that I could get a matching font to one we had ordered previously. Can't wait to hang it up and show it off! Loved the bonus gift for spotting our sign on Facebook as well.
About
Who is John Galt?
And why does anyone care? Because Atlas Signs and Plaques owes John Galt, and the book "Atlas Shrugged," a note of gratitude. When I started Atlas, I was partially inspired by the "get it done" attitude of the book's main character, Dagny Taggart.

It is with her morals, ethics, and commitment to doing things right, that I offer the following as a Mission Statement for Atlas Signs and Plaques:

The goal and mission of Atlas Signs and Plaques is to provide the utmost in personalized customer service while creating unique signage that will please both the eye and the budget.

As we grow we will maintain the same commitments to quality, service, innovation and integrity that were our founding principles. And, we will have a blast doing it!

We ARE:
Woman Owned. A Certified Woman Owned Business Enterprise (WBE)
Veteran Owned. And proud of those who serve our country.
Local. We are located in the beautiful town of Lake Mills, Wisconsin. We love ya, but please don't just drop by. Usually too busy to talk.
Creative. No Beige Here. Our designs are original and unique. If you want something that looks "off the shelf," you know where the shelves are.
Worldwide. We create for the world and have had products shipped to almost every continent (we're still waiting on Antarctica).
Completely Different. So we have been told. No one else does quite what we do.
Made in the U.S.A. And made with products from the U.S.A.
Appreciative. We never forget that the customer pays the bills around here.

We are NOT:
Perfect, despite doing everything in our power to achieve perfection.
Money grubbers. We will never rake you over the coals for an extra nickel. Your auto mechanic on the other hand...
Eco-terrorists. Rest assured--the environment does not suffer because of us.
Satisfied, we will never stop working hard to make you, the customer, completely satisfied (as long as you're not a jerk).
Heavy Metal, despite looking the part.

So that about covers it. Agree with us or not, we are unlikely to change our core beliefs.
Shop members
Janey

Owner, Maker, Designer

Before Atlas, Janey was a faux finisher and was hands-on with her concrete acid staining business. The sign idea came from playing with the metal coatings in 2008. Mountain biking is her pastime hobby. Favorite lunch food is chicken and spinach.

Happy

Spirit Lifter, Goof Ball, Funny Dog

Happy Happiness protector of Atlas land. Happy is all about protein. He loves cheese, meat and giving kisses.
Shop policies
Last updated on
April 24, 2018
Welcome To Atlas Signs and Plaques - The place to find and create beautiful signage.

What You Need To Know

Our Signs and Plaques have a base of modern 30 pound High Density Urethane (HDU) sign board. This is a product that was developed for the aerospace industry and has been used for signage for over 40 years. It's highly desirable because it is light weight, waterproof, easily carved, will last decades in an exterior environment and cost efficient.

We coat our HDU with a real metal coating that is in use world-wide as an architectural and industrial coating. It is a well-proven, tough, and beautiful coating that gives the look of cast metal without the limitations of weight and cost.

Therefore, when you receive your order, you will notice that it is light weight. Since it is HDU with a thin metal coating, it is light and easy to hang on any wall without fear of testing the building's structural integrity. (As in the 5' round Copper Plaque crafted for the U.S. Coast Guard Academy, weighing in at only 60 pounds compared to hundreds if it were made of foundry casting.)

Our signs and plaques receive a marine grade, lacquer coating prior to shipment. "Marine Grade" means that the coating is designed to protect even in harsh coastal environments. That being said, our metal coatings are a "living finish" and you can expect some changes over time even though they are protected with a high-quality protective clear coat. Our "verdi" and "iron rust" finishes seem to patina a little more than others, so enjoy as your sign develops even more beauty and character over the years. Even our high quality clearcoats won't completely halt the aging process. The result is that you may notice some staining to your mounting surface or below the sign.

In addition to the U.S. Coast Guard Academy project, you can see our accomplishments at the new United States Capitol Visitor Center in Washington, D.C. which has metal coated HDU in highly visible locations. The same process and materials that we employ are extensively used at the MGM Grand, Bellagio and other Las Vegas Properties. In addition to Las Vegas, this patented process is in use from Mexico to Times Square.

In fact, you have probably observed metal coated HDU, but were unaware that you weren't looking at a foundry casting.

Please note, our Signs and Plaques are very durable, but are only as hard as their substrate. They WILL NOT stand up to REPEATED ABUSE. If you wish to embed a plaque in the ground, hit it with a mower, or look at it in 500 years, you should order a foundry-cast plaque (we don't make these you will have to google it).

Like windows, ceramic garden art, and countless other examples, our signs and plaques are not immune to breakage and or denting if dropped, struck, or banged. "Exterior" means that the plaque "will not rust, rot, fade, or promote insects" and does not have any correlation with "breakability" before it is mounted in place. Our process is not repairable using original materials. However, accidents do happen. If you inadvertently drop or otherwise damage your purchase and get a dent, try a little stain, dye, paint or even a colored marker to cover the blemish. Practice on the back or a less conspicuous area first. We can not fix it, and need to start from scratch, and of course, charge, if you require a replacement.

Due to variances in materials utilized for your sign or plaque, colors may have differences and variations. Metal finishes are also affected by the ambient conditions in our shop during our creation process. Colors also present differently in photos than to the human eye, and each computer monitor and browser combination renders colors differently. All of these variables are a normal occurrence.

A note about hand-crafted goods and multiple orders: Due to the nature of hand finishing, no two patinas are exactly alike. With multiple plaques ordered at the same time, we take care to match tone and texture as closely as possible. For plaques ordered at different times, you may notice a slight variation. This is usually minor enough not to be noticed unless the plaques are placed side by side.

Now For The Technical Stuff:

The REAL Metal Coating - will NOT flake or peel but will chip if you are not careful. So treat it nice and don't drop it, bang it or throw it around.

The real metal coatings have been proven for over 20 years. These are cold-applied (meaning they won't melt things) REAL METAL coatings that allows a layer of metal to be applied over almost any substrate (surface), in virtually any configuration or design. The incredible results look, feel and act just like hot foundry cast metal but without the weight and expense.

The metal coating is NOT paint. It is a patented cold sprayable metallizing process comprised of up to 75% real metal. There is documented ASTM testing with zero breakdown equivalent to 30 years outside. The metal is unaffected by UV exposure, rain, sleet and snow. If left without a clear coat it will tarnish like a solid piece of metal.

The clearcoats - We use a really expensive marine grade clear. Marine grade means it is resistant to salt spray and is really good stuff.

-Leach Rate Test Data: 1020 parts per billion - (means is doesn't absorb much if any water)
-Weatherometer Test: astm D2565 Completed 3000 hours without any delaminating, corrosion, blistering or breakdown. Equivalent to 30 years. (means is ain't paint and it is not going to peel like paint does)
-Envirotest Machine: astm D2246 Completed 3000 hours without any delaminating, corrosion, blistering or breakdown.Equivalent to 30 years. (kinda the same thing, it "ain't" paint.
-Pull Off Strength using Portable Adhesion Tester Type II with a 0-2000 psi scale – astm D4541-95: No coating to substrate failures were reported. PSI 2465. (this is test to see if it can be pulled off...why? the US Navy wanted to know)

Our 30 pound HDU board is documented as -
- Closed Cell Structure- Won't absorb anything. It is NOT a sponge.
- Will not crack, rot or peel
- "Green" urethane components. So there is no gassing off and is not made of icky stuff.
- Meets flammability burn test requirements of ASTM D-1692-74, Far 25.853, Mil-P-26514 & ASTM D635
- Totally inert and contains no VOC's, no carcinogens and is non-toxic. Again, not icky.
- Assists in meeting LEED requirements for obtaining USGBC and ICC 700-2008 building credits

Our Promise
With a Sign or Plaque from Atlas, you will receive a quality product with the look and many of the characteristics of a foundry cast piece. You will have a truly custom product that is Made In the USA using American materials and labor. You will receive exceptional customer care from the very owners and craftspersons that are creating your selection.
Accepted payment methods
Accepts Etsy Gift Cards and Etsy Credits
Returns and exchanges
I don't accept returns, exchanges, or cancellations
But please contact me if you have any problems with your order.
Questions about your order?
Please if you have any problems with your order.
All of our items are custom order, so returns are not accepted. If there is an error in the processing of your order, we will gladly make it right. Please call or convo with any questions you may have before ordering your custom piece. To reach Atlas Signs and Plaques call 970-399-3122
Payment
After payment is received we start creating your Atlas Sign or Plaque. All orders ship in three weeks or less after artwork is approved and payment is received.
Shipping
We normally ship USPS Priority Service to homes and business addresses, and to PO Boxes. We also utilized FED EX Home Delivery. International orders will ship best way, usually USPS First Class. We can provide price quotes for you to decide before you purchase. Just convo us with your address for a quote.

For those residing out of the US, duty tariffs, and other fees are your responsibility. In some cases, or for commercial orders, it may be best for you to secure the services of a Customs Broker to smooth the way.

URGENT AND IMPORTANT Atlas Signs and Plaques packs all shipments in a careful and thoughtful manner. Atlas Signs and Plaques is NOT RESPONSIBLE for damage occurring in transit including any CONCEALED DAMAGES. It is your responsibility to Inspect your shipment immediately upon deliver. Be sure all packages received are accounted for and are in good condition prior to signing or accepting them. If there is any sign of damage, you must note it on the receipt and open the package in the presence of the delivery person, and, have the delivery person countersign the acknowledgement of damage.

Any Loss or Damage discovered at or after delivery must be REPORTED IMMEDIATELY to Altas Signs and Plaques. No claim will be honored if more than 5 business days have elapsed from day of delivery.

YOU MUST RETAIN ALL CARTONS AND PACKING MATERIALS IN THE EXACT CONDITION AND LOCATION AS DELIVERED FOR INSPECTION BY THE CARRIER IN ORDER TO MAINTAIN ANY RIGHT TO A DAMAGE CLAIM. ANY FAILURE TO DO SO WILL RESULT IN THE INSTANT DENIAL OF ANY DAMAGE CLAIM AND ANY ALL ALL RIGHTS TO REIMBURSEMENT OR REPLACEMENT.
IN OTHER WORDS AND TO BE REPETITIVE - Keep boxes and packing materials intact. If you toss those things before the shipper has time to see them they will do NOTHING, and Atlas will do NOTHING. If the box is damaged and the driver is present, have them make a note and have them wait until you open the package to inspect for damage. Take pictures!
Additional policies and FAQs
No Obligation on custom proofs. Really. If you are sending us your artwork, design fees may apply if they are not in a format that we can use and have to redraw. But convo us...we will tell you everything upfront. No surprises.

The metal coating is warrantied against delamination while sign is displayed.