Announcement ´*•.¸(´*•.¸♥¸.•*´)¸.•*´´*•.¸(´*•.¸♥¸.•*´)¸.•*´
♥•.*MUGS •♥ MUGS •♥ MUGS •♥
¸.•*´(¸.•*´♥´*•.¸)´*•.¸¸.•*´(¸.•*´♥´*•.¸)´*•.¸

My custom designs are a heat-pressed sublimation process using eco-friendly ink with vibrant color detail.
Ensuring your mug a long lasting permanent design image that will not fade, peel or wash off.

★ Ceramic white mugs available in 11oz or 15oz capacity

★ Design is placed on 'BOTH SIDES' of the mug

★ Dishwasher safe

★ Microwave safe

★ FDA approved mug for food & beverage

★ Each mug arrives in a white gift box

★ I custom make each order here in my home studio and then carefully pack mug(s) into a sturdy corrugated box for safe travels to final destination via USPS Priority with tracking.

* Please Note: Due to differences in computer monitor settings and the nature of the material & ink, colors on your screen may vary slightly from actual printed product.

@*@*@*@*@*@*@*@*@*@*@*@*@*@*@*@*@*@*@*@*@*@*@*@*@*@*@

PINBACKS & MAGNETS

★ I design and hand-press all of my pinbacks & magnets in my home studio.

★ I use the finest components to make each item in my shop.

★ All components are proudly made in the USA.

★ The magnets DO NOT have backings to be worn on clothing.

@*@*@*@*@*@*@*@*@*@*@*@*@*@*@*@*@*@*@*@*@*@*@*@*@*@*@

★ COUPON INFORMATION ★

$50.00 or more USE COUPON: TAKE5

$100.00 or more USE COUPON: TAKE10

$150.00 or more USE COUPON: TAKE15

$200.00 or more USE COUPON: TAKE20
Announcement
Last updated on
Dec 31, 2016
´*•.¸(´*•.¸♥¸.•*´)¸.•*´´*•.¸(´*•.¸♥¸.•*´)¸.•*´
♥•.*MUGS •♥ MUGS •♥ MUGS •♥
¸.•*´(¸.•*´♥´*•.¸)´*•.¸¸.•*´(¸.•*´♥´*•.¸)´*•.¸

My custom designs are a heat-pressed sublimation process using eco-friendly ink with vibrant color detail.
Ensuring your mug a long lasting permanent design image that will not fade, peel or wash off.

★ Ceramic white mugs available in 11oz or 15oz capacity

★ Design is placed on 'BOTH SIDES' of the mug

★ Dishwasher safe

★ Microwave safe

★ FDA approved mug for food & beverage

★ Each mug arrives in a white gift box

★ I custom make each order here in my home studio and then carefully pack mug(s) into a sturdy corrugated box for safe travels to final destination via USPS Priority with tracking.

* Please Note: Due to differences in computer monitor settings and the nature of the material & ink, colors on your screen may vary slightly from actual printed product.

@*@*@*@*@*@*@*@*@*@*@*@*@*@*@*@*@*@*@*@*@*@*@*@*@*@*@

PINBACKS & MAGNETS

★ I design and hand-press all of my pinbacks & magnets in my home studio.

★ I use the finest components to make each item in my shop.

★ All components are proudly made in the USA.

★ The magnets DO NOT have backings to be worn on clothing.

@*@*@*@*@*@*@*@*@*@*@*@*@*@*@*@*@*@*@*@*@*@*@*@*@*@*@

★ COUPON INFORMATION ★

$50.00 or more USE COUPON: TAKE5

$100.00 or more USE COUPON: TAKE10

$150.00 or more USE COUPON: TAKE15

$200.00 or more USE COUPON: TAKE20
Reviews

Perfect for my favorite ninja short girl. I put it on her locker at work on her day off. Somehow she knew it was from me. ;-)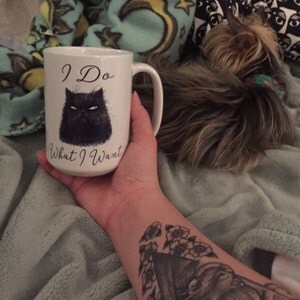 Love this mug. I got the 15oz and it's the perfect size- taller rather than wider, with a long handle. The print is, obviously, adorable. Well made, holds up well in the microwave, and has a very nice smooth texture. Shipping was super fast! I ordered another mug from a different shop three or four days prior to ordering this one, and this one came within three days! The other one still hasn't arrived!

so cute! I am sure my daughter will love it.:)
About
★ Welcome to Baymoon Studio. I design all of my shop products from my home studio in the beautiful countryside of Gettysburg Pennsylvania.
I have been involved in the printing and publishing business for over 34 years.
I love graphic design and sometimes get lost for hours designing new creations for the shop.
I am a one woman show and work sometimes up to 10 hours a day, designing, working with the machinery, packing, shipping, customer service, delivering boxes to the post office, and ending the day around 7-8 pm.
I sold my brick and mortar businesses in 2005 and was diagnosed with breast cancer in October of that year. 10 months later I kicked cancers ass, and was ready to start my life anew.
Here I am 10 years later, and really blessed to be able to say that Etsy is my full time business thanks to all the wonderful customers that have found their way to my shop over the years, and have enjoyed owning something I made with my own 2 hands, just as much as I enjoyed creating it.
Bright Blessings - Sue
Shop members
Sue

Owner, Graphics Designer Machine Operator Packing Dept, Shipping Dept Customer Service
Shop policies
Last updated on
January 6, 2017
´*•.¸(´*•.¸♥¸.•*´)¸.•*´´*•.¸(´*•.¸♥¸.•*´)¸.•*´
♥•.*MUGS •♥ MUGS •♥ MUGS •♥
¸.•*´(¸.•*´♥´*•.¸)´*•.¸¸.•*´(¸.•*´♥´*•.¸)´*•.¸

My custom designs are a heat-pressed sublimation process using eco-friendly ink with vibrant color detail.
Ensuring your mug a long lasting permanent design image that will not fade, peel or wash off.

★ Ceramic white mugs available in 11oz or 15oz capacity

★ Design is placed on 'BOTH SIDES' of the mug

★ Dishwasher safe

★ Microwave safe

★ FDA approved mug for food & beverage

★ Each mug arrives in a white gift box

★ I custom make each order here in my home studio and then carefully pack mug(s) into a sturdy corrugated box for safe travels to final destination via USPS Priority with tracking.

* Please Note: Due to differences in computer monitor settings and the nature of the material & ink, colors on your screen may vary slightly from actual printed product.

@*@*@*@*@*@*@*@*@*@*@*@*@*@*@*@*@*@*@*@*@*@*@*@*@*@*@

PINBACKS & MAGNETS

★ I design and hand-press all of my pinbacks & magnets in my home studio.

★ I use the finest components to make each item in my shop.

★ All components are proudly made in the USA.

★ The magnets DO NOT have backings to be worn on clothing.
Accepted payment methods
Accepts Etsy Gift Cards and Etsy Credits
Payment
★ PAYPAL & Etsy Direct Check-Out ★
Shipping
All Mugs are shipped via PRIORITY with tracking.
Shipping costs are set by your Zip Code.
Shipping transit times are 2-3 days once your package has been dropped off at the US Post Office.
*****************************************************
Pinbacks and Magnets are shipped via USPS First Class with tracking.
Shipping fees are a flat rate of $3.00 + .10 cents for each pinback or magnet added to order. Shopping cart will adjust fees.
Shipping transit times are 2- 6 days once your package has been dropped off at the US Post Office.
Refunds and Exchanges
REFUND INSTRUCTIONS ~ PLEASE CONTACT ME WITHIN 24 HOURS

MUGS - If mug arrives damaged or misprinted a replacement will be sent.

PINBACKS & MAGNETS - If damaged or misprinted a replacement will be sent.
Additional policies and FAQs
COUPON INFORMATION:
$50.00 or more USE COUPON: TAKE5
$100.00 or more USE COUPON: TAKE10
$150.00 or more USE COUPON: TAKE15
$200.00 or more USE COUPON: TAKE20
More information
Last updated on
Dec 29, 2016
Frequently asked questions
Do you offer Coupons?
Yes I do!
$50 or more 5% off ~ Use coupon TAKE5
$100 or more 10% off ~ Use coupon TAKE10
$150 or more 15% off ~ Use coupon TAKE15
$200 or more 20% off ~ USE coupon TAKE20