Announcement Welcome to Comic Fusion Decor where we take boring furniture and turn it into a piece of art by hand cutting actual comic books and placing each image individually on the furniture to create a breathtaking collage. Each item that we make is unique because of this method. Aside from furniture we also collage a variety of items such as, guitars, wall canvases, picture frames, women's shoes, and more!

We also offer custom orders where you may choose a collaboration of characters to personalize your item. Our most popular products for custom orders feature characters from printed comic books and trades, but you're not limited to just those. You may also select from manga, magazines and art books. Prices may vary based on the obscurity of your item(s).

People often ask how we came up with the idea and grew a business out of it. It started when we needed to decorate our new home and wanted something new and unique. So we used some old manga and collaged a few end tables. Soon friends would come over and be amazed by what they saw. Because of this great response we went ahead and made several items for gifts for friends and family. From there we set up a tiny shop online, then we ventured to several local comic cons and continued to grow and enjoy everything about it.

Please email us at comicfusiondecor [!at] gmail.com for further questions or details. And LIKE us on Facebook! www.facebook.com/comicfusiondecor
Announcement
Welcome to Comic Fusion Decor where we take boring furniture and turn it into a piece of art by hand cutting actual comic books and placing each image individually on the furniture to create a breathtaking collage. Each item that we make is unique because of this method. Aside from furniture we also collage a variety of items such as, guitars, wall canvases, picture frames, women's shoes, and more!

We also offer custom orders where you may choose a collaboration of characters to personalize your item. Our most popular products for custom orders feature characters from printed comic books and trades, but you're not limited to just those. You may also select from manga, magazines and art books. Prices may vary based on the obscurity of your item(s).

People often ask how we came up with the idea and grew a business out of it. It started when we needed to decorate our new home and wanted something new and unique. So we used some old manga and collaged a few end tables. Soon friends would come over and be amazed by what they saw. Because of this great response we went ahead and made several items for gifts for friends and family. From there we set up a tiny shop online, then we ventured to several local comic cons and continued to grow and enjoy everything about it.

Please email us at comicfusiondecor [!at] gmail.com for further questions or details. And LIKE us on Facebook! www.facebook.com/comicfusiondecor No items listed at this time
Reviews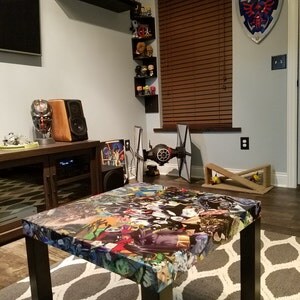 Absolutely Love! It's the perfect addition to my husband's geeked out office! Plus, I just won Valentine's Day! The table is perfect! Thank you!


It's been awhile since I have made a purchase from this shop but it's always been exciting to unwrap their items upon delivery to see the finished product. Everything they have made for me has been consistently impressive and it still holds true to this day. These tables are stunning, they really are. I'll admit I made the mistake of purchasing a similar item from another shop not too long ago out of convenience, I thought well how hard could it be. Well...let's just say...never again if you're looking to buy something like this Comic Fusion Decor is the way to go - trust me don't pass this shop up they are complete professionals.
About
About Comic Fusion Decor:
Welcome to Comic Fusion Decor where we take boring furniture and turn it into a piece of art by hand cutting actual comic books and placing each image individually on the furniture to create a breathtaking collage. Each item that we make is unique because of this method. Aside from furniture we also collage a variety of items such as, guitars, wall canvases, picture frames, women's shoes, and more! We also offer custom orders where you may choose a collaboration of characters to personalize your item. Our most popular products for custom orders feature characters from printed comic books and trades, but you're not limited to just those. You may also select from manga, magazines and art books. Prices may vary based on the obscurity of your item(s).People often ask how we came up with the idea and grew a business out of it. It started when we needed to decorate our new home and wanted something new and unique. So we used some old manga and collaged a few end tables. Soon friends would come over and be amazed by what they saw. Because of this great response we went ahead and made several items for gifts for friends and family. From there we set up a tiny shop online, then we ventured to several local comic cons and continued to grow and enjoy everything about it.
Shop members
Colleen

Owner, Maker, Designer, Owner, Maker, Designer

I live in Fort Lauderdale, Florida and love it down here! Originally from Michigan, I came here for college and never left! I have been digging deeper into the comic book scene with the collage decor and love it more and more!
Shop policies
Last updated on
May 15, 2011