Announcement Moissanite Engagement Rings, Gemstone Engagement Rings, Russian Brilliants Engagement Rings and Custom Designed Jewelry. Please visit us at belviaggiodesigns.com
Announcement
Last updated on
Nov 29, 2016
Moissanite Engagement Rings, Gemstone Engagement Rings, Russian Brilliants Engagement Rings and Custom Designed Jewelry. Please visit us at belviaggiodesigns.com No items listed at this time
Reviews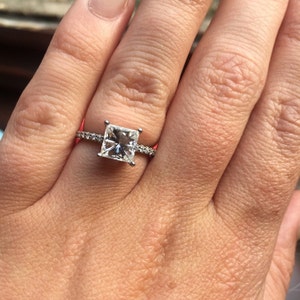 Amazing ring. Exactly as described. Fits perfectly. Great service through out. Will definitely purchase from Stacey again!

Stacey took a sad situation (we found out my gorgeous diamond solitaire was actually a blood diamond purchased from the notorious Serge Muller) and turned it into a wonderful situation! Once Stacey found out my story, she quickly got to work, designing and crafting another one of her delicious creations! We went back and forth for nearly a month (over 137 email exchanges - I counted!!) before settling in on the perfect design to match my already gorgeous wedding band she did last year! Stacey surpassed ALL my expectations when I opened my little box! What a beautiful piece of work she has done - again!! ORDER FROM THIS LADY!! You will not be sorry!! She is talented and professional and kind and PATIENT!!! She has a lifetime customer in me. Thank you Stacey!!!

I cannot say enough about how gorgeous this ring is! I appreciated how wonderful the seller was in answering questions and customizing my ring. I have received numerous compliments! Thank you, thank you, thank you! 💗
About
Busy Happy Girl
The crazy adventure of parenthood and owning and operating a business. I love being a mom and a Jewelry designer. Juggling both can be challenging at times, but I've found my true passion, something that not only I enjoy, that I can be really proud of, something for me.

What do I do in my "spare" time? We are the parents of four children, three boys, ages 17, 12, 3 and one girl age 2. I'm a professional chauffeur, jeweler, designer, metalsmith, and a foster mom. I love my job, my children, my husband and my life. I believe in living life to the fullest, every single day, Tomorrow is never guaranteed.
Shop members
Stacy

Owner, Designer, Managing Director

Mom of four children, 17, 12, 3 and 2, soccer mom, metalsmith, jewelry lover, jewelry designer, and business owner. I hope you love my shop and my jewelry as much as I do.
Production partners
A Casting House

Lafayette, LA

Casting of precious metal to our design specifications can not be done in a studio, large equipment and warehouse type facility is required.
Shop policies
Last updated on
February 19, 2017
We offer a large selection of Moissanite Engagement Rings, Russian Brilliants, Canadian Conflict Free Diamonds, and other gemstones set in the metal of your choice. Custom design and custom changes are always available for the convenience of our customers. You can also visit our website at belviaggiodesigns.com
Accepted payment methods
Payment
We accept all major credit cards through direct check out and Paypal. We also accept Paypal credit and FuturePay financing on our website, belviaggiodesigns.com

Once an order has been placed it can not be canceled as the production process starts immediately.
Shipping
Our typical production time is 14 to 21 business days. Every item is made to order, enabling us to offer our customers custom design changes to meet their every need.

For domestic orders we use FEDEX with insurance and delivery signature required. Any requested upgrades to shipping will be buyer's responsibility.

International orders are shipped FEDEX. We can not be responsible for packages after they leave United States Customs and enter a foreign Country customs department.
Refunds and Exchanges
30-Day Money Back Guarantee -Effective for purchases after 2/14/2017

At Bel Viaggio Designs we offer only the finest products available in the industry at unparalleled prices. If at any time during the first 30 days after you have received your piece of jewelry you are displeased for any reason, please contact us at customerservice @belviaggiodesigns.com. We will provide you with a return approval code and shipping instructions. We guarantee you will be 100% satisfied or you will receive 100% of your money back.

To qualify for a 30-day money bank Guarantee, the item must have the security tag attached, not have been altered in any way, and be unworn. Sale items and custom items are not returnable. Items with personal inscriptions/engraving are not returnable. We can not accept returns if the security tag has been removed. You must also be able to provide a receipt and any paperwork that accompanied your purchase such as appraisals, warranty cards or certifications of any kind.

**LOOSE STONES - We offer a 5 day viewing period. If you are displeased you may return the stone for 100% money back or exchange. After 5 days of receipt your loose stone is no longer returnable. All products require an RMA for return. Please email us at customerservice [!at] belviaggiodesigns.com for return instructions.

You will be responsible for the cost of shipping the item back. We cannot assume any responsibility for any item not returned to us in this manner. We cannot be responsible for loss or damage of return shipments. Please pack the item appropriately, insure it and required a signature.

Upon arrival the item will be inspected for security tag, your receipt, warranty and certification card and any wear. If the tag is not attached, the item shows signs of wear, the certification and warranty card and receipt are not present, or you out of the allotted return period, the item will be returned to you. Refunds are processed within 7-14 business days.
Additional policies and FAQs
CUSTOM DESIGN:

Custom design and custom changes are always available for the convenience of our customers. Custom changes are any changes to the existing for sale design. Custom design is a design create just for you.

We offer up to (3) custom changes to an existing for sale design, free of charge. If you would like more than three changes to an existing design or a new design done for you there is a $100 deposit required. This deposit will go towards any future purchases.

All designs and custom designs are property of and copyrighted by Bel Viaggio Designs, LLC. They may be reproduced at our discretion.

WARRANTY INFORMATION:

Bel Viaggio Designs, LLC offers a one year warranty. This excludes theft, loss, and acts of God. During and after this warranty period it is highly recommended visiting a jeweler for cleaning and maintenance. Prongs can loosen, get bent or damaged from wear, jeopardizing the integrity of the setting. Many jewelry stores offer free check-up or professional cleaning at scheduled intervals: Jewelry should be checked every six months and cleaned frequently. Look for a jeweler with professional training and a good reputation. We do not recommend a Mall Jewelry store as these are sales people not jewelers and the item will be sent out for service.


If you would like your center stone and item covered against loss, damage, or theft etc, you can insure your piece through your Homeowner's Insurance Policy, or purchase a Jewelry Insurance Policy.

If you have your own center stone set by a different jeweler, the warranty is automatically voided as we cannot guarantee our product after it has been modified in any way by another jeweler. If you have another jeweler work on the piece in any way you will void the warranty. We cannot be responsible for any damage or problems arising after another jeweler has performed service.

Charles & Colvard gemstones are warrantied by Charles & Colvard.

Russian Brilliants are warrantied by Russian Brilliants.

Quality Gold Products are warranted by Quality Gold.

Bel Viaggio Designs does not warranty your center stone. Please contact the manufacturer.

Your Pure Light and True Light Moissanite arrives with a certification and warranty.

Your Forever Brilliant and Forever One Moissanite arrives with a certification and warranty.

Your Amora Gem arrives with a Gemological Laboratory Grading Report and Certification.

Your NEO Moissanite arrives with a certification and Warranty.

Your Russian Brilliant is covered by a lifetime warranty.

SUPERNOVA Moissanite arrives with a certificate of authenticity from Moissanite International.

If you would like your center stone and item covered against loss, damage, or theft etc, you can insure your piece through your Homeowner's Insurance Policy, or purchase a Jewelry Insurance Policy. If you have your own center stone set by a different jeweler, the warranty is automatically voided as we cannot guarantee our product after it has been modified in any way by another jeweler. If you have another jeweler work on the piece in any way you will void the warranty. We cannot be responsible for any damage done or problems resulting to the ring by another jeweler.

If, upon receipt or at a later date, your ring needs to be re-sized, please feel free to contact us for more information and/or quotes. Having another jeweler size it will void your warranty.

How do I care for my fine jewelry?

Many jewelry stores offer free check-up or professional cleaning at scheduled intervals: Jewelry should be checked every six months and cleaned frequently. Look for a jeweler with professional training and a good reputation. Your prongs can naturally loosen from wear or get damaged. Visiting the jeweler at the recommended intervals can prevent the loss of any of your stones.

Put Jewelry On After Applying Makeup, Cosmetics, hairspray, perfumes and lotion can contain chemicals that can often damage jewelry. Putting jewelry on after applying these materials will limit exposure to jewelry and any potential damage.

Don't Wear Jewelry In Swimming Pools and Spas, Chlorinated water can react with the metals found in jewelry causing color changes and even structural damage. As a result it's a good idea to remove jewelry before entering the pool or spa.

Take off your jewelry before doing manual work or playing sports. Gemstones could be jarred loose or chipped by a hard blow.

When you're not wearing your jewelry, be careful that pieces do not tumble against each other to avoid scratching or dulling. Ideally, store each piece in its own box.

Cleaning your jewelry - While it is best to have your jewelry professionally cleaned by a reputable jeweler, there are a few ways to help keep your jewelry looking great between professional cleanings. Ultrasonic cleaners, while they do a good job, they can loosen your stones due to the vibration, So use them sparingly. Warm water and gentle soap like Ivory is a good choice, dry with a soft cloth. A warm water and white vinegar soak can remove hard water stains. Use 50/50 mix of water and white vinegar.

Copyright Disclaimer

All text, images,and design in this store are copyrighted by Bel Viaggio Designs, LLC or by third parties who have granted their permission for their materials to be included on the site.

Bel Viaggio Designs, LLC prohibits the copying of protected materials from this store, except for purposes of fair use, as set forth in the copyright laws. Fair use permits the use of protected materials for personal, noncommercial, educational purposes and users may download materials from the store for such purposes without Bel Viaggio Designs's consent, but must cite the author and the source of the material (www.belviaggiodesigns.com).

Anyone wishing to publish or otherwise make commercial use of any material from this store must request and receive express written permission from Bel Viaggio Designs, LLC. Inquiries should be directed to customerservice [!at] belviaggiodesigns.com