Announcement Demand is currently very high and so the turnaround time for sculptures is around 4 weeks. Please order in plenty of time to avoid disappointment



Welcome to Ben Mcfuzzylugs, home of needle felted cat dog and pet sculptures and the famous SPLAT felt animal bookmarks. All handmade for you on the west coast of Scotland in my pet loving smoke free home.

I care deeply about animal cruelty and my core fibre is usually Whitefaced Woodland wool from UK sheep. In the UK it is illegal for sheep to be mulesed. For the widest matches of colours I often use merino fibres - my merino is sourced from non-mulesed flocks From South America.
If you dont want to use sheeps fleece at all I also have a supply of Alpaca fibre which comes from stunning farm in the Middlands of England. I have actually visitied the farm and the Alpaca are kept in beautiful hillside fields, they are cared for and not slaughtered, when they do pass away they are given an autopsy by the vets. There is no organic standard for Alpaca at the moment in the UK but as the hillside runs to a reservoir for human drinking water there is great care put into what is put on the ground or used on the Alpacas
The fibre is natural, not dyed so I am limited in the colours I can use in the sculptures. If you would like a custom sculpture in Alpaca fibre please contact me.

It is also possible to create sculptures in different fibres like silky bamboo or even recycled plastic - please contact me if you are interested in something like this


Have a look in my shop sections for completed work ready to sell and examples of the custom needle felted animals I can make for you

How about a splat cat bookmark https://www.etsy.com/uk/listing/43361218/cat-bookmark-black-needle-felted-kitty?ref=shop_home_feat_2
A small sculpture of your pet https://www.etsy.com/uk/listing/206668565/miniature-wire-fox-terrier-sculpture?ref=shop_home_active_8

Like my facebook fan page (http://facebook.com/benmcfuzzylugs) when I reach 1000 likes I will have a HUGE shop wide sale

Want to be featured on my blog? (http://http://benmcfuzzylugs.blogspot.co.uk/) connvo me

If you are ordering custom work please allow me 7 days to complete your order to your satisfaction and up to 14 days in busy periods



To see more about me, my work and mibby a little about how the real Ben Mcfuzzylugs is doing in his agility training please visit my blog http://benmcfuzzylugs.blogspot.com/

Please also visit my mums shop http://beaulyben.etsy.com for knitware and crafts. Also selling for BACCAS.



I support BACCAS the bowel cancer charity http://www.baccas.org.uk/
Thankyou for looking
Announcement
Last updated on
Jan 21, 2016
Demand is currently very high and so the turnaround time for sculptures is around 4 weeks. Please order in plenty of time to avoid disappointment



Welcome to Ben Mcfuzzylugs, home of needle felted cat dog and pet sculptures and the famous SPLAT felt animal bookmarks. All handmade for you on the west coast of Scotland in my pet loving smoke free home.

I care deeply about animal cruelty and my core fibre is usually Whitefaced Woodland wool from UK sheep. In the UK it is illegal for sheep to be mulesed. For the widest matches of colours I often use merino fibres - my merino is sourced from non-mulesed flocks From South America.
If you dont want to use sheeps fleece at all I also have a supply of Alpaca fibre which comes from stunning farm in the Middlands of England. I have actually visitied the farm and the Alpaca are kept in beautiful hillside fields, they are cared for and not slaughtered, when they do pass away they are given an autopsy by the vets. There is no organic standard for Alpaca at the moment in the UK but as the hillside runs to a reservoir for human drinking water there is great care put into what is put on the ground or used on the Alpacas
The fibre is natural, not dyed so I am limited in the colours I can use in the sculptures. If you would like a custom sculpture in Alpaca fibre please contact me.

It is also possible to create sculptures in different fibres like silky bamboo or even recycled plastic - please contact me if you are interested in something like this


Have a look in my shop sections for completed work ready to sell and examples of the custom needle felted animals I can make for you

How about a splat cat bookmark https://www.etsy.com/uk/listing/43361218/cat-bookmark-black-needle-felted-kitty?ref=shop_home_feat_2
A small sculpture of your pet https://www.etsy.com/uk/listing/206668565/miniature-wire-fox-terrier-sculpture?ref=shop_home_active_8

Like my facebook fan page (http://facebook.com/benmcfuzzylugs) when I reach 1000 likes I will have a HUGE shop wide sale

Want to be featured on my blog? (http://http://benmcfuzzylugs.blogspot.co.uk/) connvo me

If you are ordering custom work please allow me 7 days to complete your order to your satisfaction and up to 14 days in busy periods



To see more about me, my work and mibby a little about how the real Ben Mcfuzzylugs is doing in his agility training please visit my blog http://benmcfuzzylugs.blogspot.com/

Please also visit my mums shop http://beaulyben.etsy.com for knitware and crafts. Also selling for BACCAS.



I support BACCAS the bowel cancer charity http://www.baccas.org.uk/
Thankyou for looking No items listed at this time
Reviews

A perfect work!!! Thank you

This was actually a felt dog called Sally which Pam did for us. This is the second item we have purchased from Pam. Both are just fabulous. Highly recommended !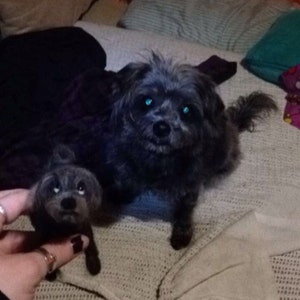 Thank you so much for making me a mini bean! Kezzie seems very proud to have her own ornament 😁 You, my good woman, are truly talented. 🐾💕
About
Dog lover does art
My family have always been arty - I was the science on
Then one day in a craft store a needle felting book fell off the shelf infront of me
I fell in love
The rest is history

well almost
Once I started friends asked for me to make sculptures for them and suggested I should start a shop
I struggled for a name so called the shop after my muse, my first ever dog, little Ben McFuzzylugs
Shop policies
Last updated on
April 28, 2016
Hi, welcome to my shop.
I make origonal one of a kind artworks. A % of all my sales go to BACCAS the bowel cancer charity.
I love to make commisions so please feel free to ask if there is something specific you would like. If you dont like it you dont have to have it!
Accepted payment methods
Payment
only accept paypal as it protects us both
Shipping
I usually post royal mail 1st class package service. If you would like postal insurance or any other carrier please get in touch.
NOTE UK post office does not provide a tracking number as standard, if you require tracking please get in touch with me before you order
I post out within 2 working days after payment. International buyers please alow 7-14 days for delivery.
For Custom orders I post out within 2 working days of receiving your conformation that you are satisfied with your sculpture
Refunds and Exchanges
If you are not happy with the item please return it in origonal condition within 10 days for a refund (minus p&p) I do not accept returns on custom items, I send images for approval before shipping and don't ship till you are 100% happy
Additional policies and FAQs
If you have requested a custom item I will always send you a photo first so you can decide if you are happy with it.

I will take all efforts I can to get in touch with you with convorsations and emails - but if I havent been able to get in touch with you within 2 weeks then I will create a replica of the breed that is listed in the listing that you have purchased

Prices vary in my store based on the time it takes to produce an item. As I have improved at my craft I add more and more details and peices actually take longer to make. The older peices are still perfectly well made just not up to the standard of peices I make now (and future peices will be even better!) So prices will be lower