Announcement BlackHeartOrganics offers custom, hand crafted, and high quality wood plugs & other jewelry for stretched lobes and piercings, from 0g(~8mm) through 3"(~76mm) and larger.

Most of the jewelry that I offer is through custom order, and I rarely have pairs made and ready to ship. Each and every pair is handmade by me, and me alone. I take great pride in every step of the process, especially working with my clients one-on-one to ensure you receive the best pair possible for your custom order.
I am happy to ship world-wide!
_________________________________
✱Please feel free to contact me, I'm happy to answer any questions you may have, and look forward to working with you! Feel free to ask about currently available wood types for your custom jewelry. I'll always reply as soon as possible. You are certainly not limited to the jewelry you see in the example listings in my shop, I encourage creativity! I will set up a special listing for you to purchase for your custom pair(s), once we're on the same page with your order.
I ALWAYS offer discounts on multiple (more than one) pair purchases.✱

✱✱FOR OTHER WOOD-RELATED GIFTS: Please view my other Etsy shop, specializing in wooden stash keychains & cigarette clips, as well as pens and other handmade wooden gifts. Perfect for the holidays!✱✱
www.etsy.com/shop/TheWoodenBlimp

Thank you so much for your support,
Billi -BlackHeartOrganics-
blackheartorganics [!at] yahoo.com
Announcement
Last updated on
Sep 27, 2016
BlackHeartOrganics offers custom, hand crafted, and high quality wood plugs & other jewelry for stretched lobes and piercings, from 0g(~8mm) through 3"(~76mm) and larger.

Most of the jewelry that I offer is through custom order, and I rarely have pairs made and ready to ship. Each and every pair is handmade by me, and me alone. I take great pride in every step of the process, especially working with my clients one-on-one to ensure you receive the best pair possible for your custom order.
I am happy to ship world-wide!
_________________________________
✱Please feel free to contact me, I'm happy to answer any questions you may have, and look forward to working with you! Feel free to ask about currently available wood types for your custom jewelry. I'll always reply as soon as possible. You are certainly not limited to the jewelry you see in the example listings in my shop, I encourage creativity! I will set up a special listing for you to purchase for your custom pair(s), once we're on the same page with your order.
I ALWAYS offer discounts on multiple (more than one) pair purchases.✱

✱✱FOR OTHER WOOD-RELATED GIFTS: Please view my other Etsy shop, specializing in wooden stash keychains & cigarette clips, as well as pens and other handmade wooden gifts. Perfect for the holidays!✱✱
www.etsy.com/shop/TheWoodenBlimp

Thank you so much for your support,
Billi -BlackHeartOrganics-
blackheartorganics [!at] yahoo.com
Reviews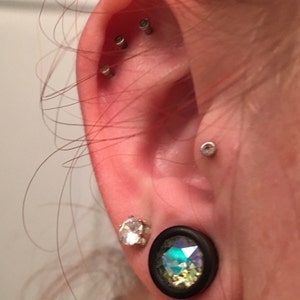 Love them! Super colorful and just as I asked for them! Fast replies to my questions as well as good customer service. Took less time to receive than expected!

billi is the best! his work is fantastic and I absolutely reccomend buying plugs from him <3

I had the hardest time finding someone to make custom meteorite jewelry as an engagement gift. Billi was extremely helpful and informative with this order and went above and beyond helping me build these. They came out even better than I could have hoped and we love this shop! Will definitely be purchasing again in the future.
Shop policies
Last updated on
May 27, 2016
BlackHeartOrganics offers custom, hand-crafted wooden jewelry for stretched lobes and other piercings, starting at 0g (~8mm), and as large as 3" (~76mm) and beyond.
Please message me with any custom inquiries, and I will respond as soon as possible.

blackheartorganics [!at] yahoo.com

My knowledge, confidence and skill in my trade has grown exponentially in the last 6-7 years, and I could not have come this far without the support of my amazing clients. It's truly my pleasure to work with you on your custom order!

-Billi-

(Debit or credit card payments can be made easily through Paypal, even without a Paypal account.)
Accepted payment methods
Payment
*By sending me an inquiry, you agree to having read my terms & policies section.

I do require payment in full before starting on custom orders, to cover my material & labor costs. Once we're on the same page, if you'd like to place an order I'd set you up a reserved custom listing here on Etsy to purchase.

Please be sure that the shipping address that you enter with any form of payment is correct and up-to-date, or please let me know immediately if shipping to another address than what is on your payment information.

While Paypal is shown as my only accepted payment method on Etsy, please note that any debit or credit card may also be used easily through the same checkout form, even if you don't have a Paypal account.
Shipping
You will be notified of the turn around/completion time for your particular order when inquiring.
Please note that my business days are Monday-Friday, and generally do not include weekends, when considering the turn around time I've given you.
I will always have a finished product photo(s) for you prior to shipment.

I ship worldwide!
Shipping is a low, flat rate, and usually included in the price quote for any given custom order (unless noted otherwise).

I will not ship via UPS or FedEx, no exceptions. My default shipping method is USPS First Class, for both international and domestic packages.
USPS Priority or Express shipment is available for both international & domestic - please feel free to ask.

I will always obtain delivery confirmation (tracking) on your package if within the US. *Some*, but not all, international packages can be tracked as well.

Though it occurs very rarely when I ship internationally, please note I am not responsible for potential customs & duties (VAT) fees on international packages....that is unfortunately beyond my control, and the responsibility of the customer.

If you have any questions about shipping, please feel free to ask!
Refunds and Exchanges
-BlackHeartOrganics does not issue monetary compensation/refunds, under any circumstance, unless an irreparable mistake was made on my part. Please understand that my labor, material cost, time, and effort went into creating your hand-crafted pieces, and that these are custom-made pieces of body jewelry that cannot be re-sold due to the nature of the product.

-No remakes or exchanges for client error in ordering, which is why I ask you to please be sure to double check your order before placing it (double checking on the size you'd like, style, wood type etc). This assures there are no complications.
***This includes errors in shipping addresses***
Please double check the shipping address that you put on your order before and after confirming. I have absolutely no way of knowing if the address that you've given on the order is incorrect. I cannot be held responsible if your package does not arrive to you due to client error in the ship-to address on your order.
Please let me know as soon as possible if the ship-to address is different than the address you have provided on the order.

-Please remember that wood is a natural material. All cuts of wood are different and unique (I cannot *guarantee* you a certain grain pattern/color, but will always try my best to find a good match to any reference photo provided). This makes each and every pair truly one of a kind.
All wood may move and shift naturally over time, which is beyond my control. All pieces are hand-crafted. Due to these factors, there *may* (This does not mean 'will') be a variance of up to 1/16" in any pieces, on either the wearing length or over all diameter.

Having said this, I will always work with you to the best of my ability to make things right by you, if you have any issues with your order. I want all of my clients to be pleased with their custom purchases from my shop!
You must contact me with any issues within 3 business days of receiving your order, per the tracking number provided to you at time of shipment. If anything is to be shipped to me for any reason, buyer must pay return shipping, and package must arrive within 10 business days of agreement (if within the USA).
Additional policies and FAQs
~ Have a design in mind that you don't see throughout the example listings in the shop? Your creativity and imagination in the design process is always encouraged. Feel free to run it by me!
~ Nearly everything is customizable on your jewelry.
If not specified, the saddles of any pieces will be standard subtle saddle-style double flared, and have roughly 1/2"(13mm) wearing length between flares.
~ What can be customized on your pieces?
-Wood type (please ask for a list of the wood types I'm currently offering, if you don't already have something in mind!)
-Style / Inlay
-Wearing / Over all length
-Double, Single, 'Spool-style', or No-Flared, with the option of grooves for o-rings if you'd like them. Please note that I do not provide the actual o-rings in this case.
-Flare size
-Whatever else you'd like!
~ Your wooden jewelry should be considered semi-fragile and should always be treated with respect and care. ***DO NOT expose your wood pieces to excess heat or cold, extreme humidity, or EVER any type of moisture (i.e. showering with the pieces in) if at all possible.***
~ I also offer CLIENT-SUPPLIED INLAYS in your custom jewelry. Please note that there are some limitations for this. What is to be inlaid into your custom jewelry must be at least 4mm smaller than your jewelry size in diameter, relatively circular, and flat-backed. Please contact me regarding client-supplied inlays and I would be happy to work with you on your custom jewelry order.
~ Please respect your jewelry to ensure a long-lasting, beautiful pair.
It is recommended that you do not use organic products to stretch or up-size with. BlackHeartOrganics is not responsible for misuse/mishandling of jewelry.
~ I'm currently using my own blend of lemon oil & beeswax for polishing of custom jewelry. If you would like another option, please let me know. Please know your allergens before placing an order.
If you have any other questions, please feel free to contact me. I'm always here to help and will reply as soon as possible.
Your support and kindness is greatly appreciated :)
Thanks,
-Billi- @ BHO
Contact info:
BlackHeartOrganics [!at] yahoo.com
BlackHeartOrganics.Etsy.com
facebook.com/BlackHeartOrganics