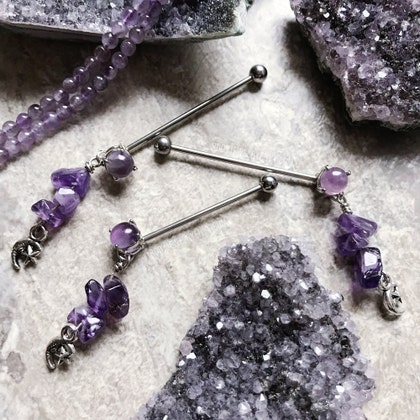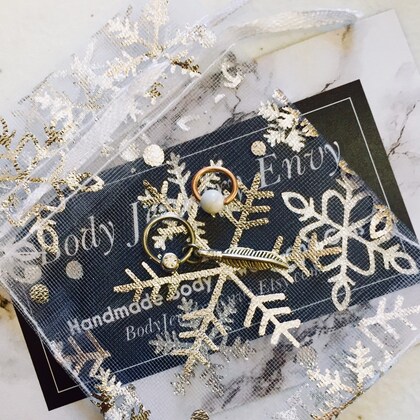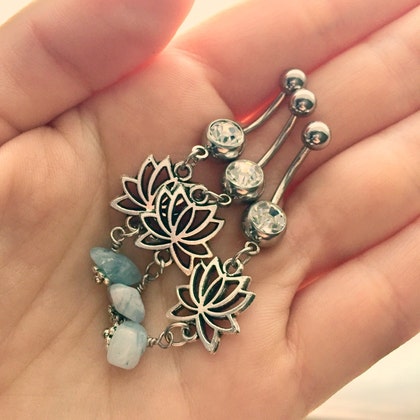 BodyJewelryEnvy is taking a short break
Average item review
(6631)
See reviews that mention:
Loading
Perfect size, I love the dainty look of it. Thank you so much!

Really cute and just the right size!

Fantastic piece. I needed a longer bar for a vertical industrial and finding my size is hard. I love the length and the options!

Very pleased with my purchase will place another order soon

They are cute. I got a yellow and a blue one.

I really liked the piece, the look I got was a tad bigger than I would've liked but that's on me for not paying close attention since the measurements are accurate. It's not heavy so it doesn't hurt your ear, I really like it.

Always an amazing shopping experience. They are so kind and helpful.

So cute! Just like the photo
I create unique body jewelry designs inspired by my love for alternative style, body piercings, and my home in beautiful Upper Michigan.
Shop members
Bianca

Owner, Maker, Customer Service

Artist, wife and mother. I love body mods, crafts, bicycling and video games. After struggling with my disability at conventional jobs, my Etsy store has given me the ability to help support my family again. Every little bit helps. I love what I do!

T.J.

Assistant, Shipper, Maker

Dedicated husband and father. My hobbies include the outdoors and video games. I help Bianca in any way I can packaging orders, doing some heavy lifting and even making some jewelry. I also work a retail job away from our Etsy store.
Shop policies
Accepted payment methods
Accepts Etsy Gift Cards and Etsy Credits
Returns & exchanges
See item details for return and exchange eligibility.
Privacy
This privacy policy is meant to adhere to certain obligations I have as a seller. Your personal information and privacy are not taken lightly and I am committed to protecting your information as outlined in this policy. You may contact me directly on Etsy by message about concerns or questions about your personal information.

About the Personal Information I Collect:
To fulfill your order, you must provide me with certain information (which you authorized Etsy to provide to me), such as your name, email address, mailing address, payment information, and the details of the product that you're ordering. You may also choose to provide me with additional personal information if you contact me directly.

How I Use Your Information:
As needed to provide my services, such as when I use your information to fulfill your order, to settle disputes, or to provide customer support; if necessary to comply with a legal obligation or court order or in connection with a legal claim, such as retaining information about your purchases if required by tax law; and as necessary for the purpose of my legitimate interests, if those legitimate interests are not overridden by your rights or interests, such as 1) providing and improving my services. I use your information to provide the services you requested and in my legitimate interest to improve my services; and 2) Compliance with the Etsy Seller Policy and Terms of Use. I use your information as necessary to comply with my obligations under the Etsy Seller Policy and Terms of Use.

Information Sharing and Disclosure:
1) Etsy. I share information with Etsy as necessary to provide you my services and comply with my obligations under both the Etsy Seller Policy and Etsy Terms of Use. 2) Service providers. I engage certain trusted third parties to perform functions and provide services to my shop, such as delivery companies. I will share your personal information with these third parties, but only to the extent necessary to perform these services. 3) Compliance with laws. I may collect, use, retain, and share your information if I have a good faith belief that it is reasonably necessary to: (a) respond to legal process or to government requests; (b) enforce my agreements, terms and policies; (c) prevent, investigate, and address fraud and other illegal activity, security, or technical issues; or (d) protect the rights, property, and safety of my customers, or others.

Data Retention:
I retain your personal information only for as long as necessary to provide you with my services and as described in my Privacy Policy. However, I may also be required to retain this information to comply with my legal and regulatory obligations, to resolve disputes, and to enforce my agreements. I generally keep your data for the following time period: 7 years.

Transfers of Personal Information Outside the EU:
I may store and process your information through third-party hosting services in the US and other jurisdictions. As a result, I may transfer your personal information to a jurisdiction with different data protection and government surveillance laws than your jurisdiction. If I am deemed to transfer information about you outside of the EU, I rely on Privacy Shield as the legal basis for the transfer, as Google Cloud is Privacy Shield certified.

Your Rights:
Access. You may have the right to access and receive a copy of the personal information I hold about you by contacting me using the contact information above.
Change, restrict, delete. You may also have rights to change, restrict my use of, or delete your personal information. Absent exceptional circumstances (like where I am required to store data for legal reasons) I will generally delete your personal information upon request.
Object. You can object to (i) my processing of some of your information based on my legitimate interests and (ii) receiving marketing messages from me after providing your express consent to receive them. In such cases, I will delete your personal information unless I have compelling and legitimate grounds to continue using that information or if it is needed for legal reasons.
Complain. If you reside in the EU and wish to raise a concern about my use of your information (and without prejudice to any other rights you may have), you have the right to do so.

How Personal Information is Deleted: If a customer contacts me to access, correct or delete personal information held by Etsy, I may contact Etsy at Etsy.com/help for assistance, or you, the customer may send a request directly to Etsy.
See this Seller Handbook article for a sample privacy policy you can customize for your shop.
More information
Last updated on
May 18, 2022
Frequently asked questions
What size should I get? Will this piece of jewelry work for my piercing/a certain piercing?
If you are unsure of what size jewelry you need, please DO NOT guess! See a body piercing professional OR measure your existing jewelry. There are also guides on the internet that can help you decide on a size or measure your piercing/existing jewelry yourself.

Be mindful that an item with the word "helix" in the title/tags is not a guarantee it will work for your particular piercing, just that it can be worn that way. Anatomy and placement matter and won't be the same for everyone. Everybody is different!

I am not responsible for your size selection. If you are unclear on any details of a listed item, please send me a message so I can help before ordering.
Where is my order?
You can check on your Order Status here: https://www.etsy.com/your/purchases Please note, estimated arrival dates are not guaranteed.

Every order comes with a tracking number which can be found on your order page or shipping email.

Orders scheduled to ship on a holiday (that have not yet shipped) will be shipped on the following business day.
Care Instructions for Jewelry Pt. 1
Please keep clean and dry! To extend the life of your jewelry, avoid contact with water/lotion/perfume and remove jewelry before swimming/showering/exercising. For jewelry with wire-wrapped or other delicate designs, please replace with a basic piece of jewelry before sleeping.

Always wash your hands with soap and water before and after touching your piercing or piercing jewelry to prevent infection. Always clean and dry piercing jewelry before and after wearing. Use a mild soap and water to gently clean, rinse, and dry thoroughly. Store in an air-tight plastic bag or container. Store plated jewelry separately to protect the plating from scratches/fading.
Care Instructions for Jewelry Pt. 2
All jewelry can tarnish over time. If your jewelry still looks dull after cleaning, a jewelry cloth can bring back shine and rub away mild/moderate tarnish. Never use abrasive cleaning methods like baking soda to remove tarnish.

Plated jewelry is highly sensitive to wear-and-tear and as such needs special care. To extend the life of plated jewelry, follow care instructions and store it away from other jewelry to prevent unnecessary wear/scratches.

Some people are more susceptible to jewelry tarnishing than others. Surgical steel/titanium jewelry can still have base metal alloy charms, components, etc. It is in your best interest to research different metals to learn more about their care and find which one works best for your lifestyle.
Jewelry Material Info & Measurements
Please be aware that cast/fancy components, prong gem settings, wire, findings, etc. are typically metal alloys, even if the wearable area of the jewelry is implant grade titanium or steel. To the best of my ability I strive to be clear, concise, and consistent when describing my items, but sometimes this means minor details are unclear or missing. If you need specific information for a listing, please let me know and I will do my best to help! As a rule, body jewelry length/diameter measurements are taken internally, so that means between the end beads or the inside diameter for rings.
Is Surgical Steel Hypoallergenic?
Those who are sensitive or allergic to NICKEL should avoid stainless steel jewelry. Even 316L Grade Stainless Surgical Steel contains a very small amount of nickel and can irritate piercings in those who are highly allergic to nickel. Please become familiar with different types of metals and your reaction to them before buying our handmade items. If you have a reaction, discontinue use immediately. If you have a question about any materials that have not been made 100% clear in the item details, please send me a message before ordering and I will answer to the best of my ability.
I lost a piece of my jewelry. Can I have a refund/free replacement?
I do not offer refunds/replacements in the event that you lose a piece of your jewelry, so please be careful when handling beads and other small parts! Always make sure your jewelry and beads/charms are secure. Be mindful not to over-tighten screw-threaded jewelry. If you're worried about losing the beads to your jewelry, please kindly leave me a note when you order and I'll be glad to include a 1-2 extras :) Please message if you would like to buy additional or replacement parts, I can usually find a way to help!
How do I use a captive bead ring?
Captive bead rings use pressure to hold the bead in place; there are no threads or screws. The bead can be removed by holding the ring in one hand and popping the bead out with your other hand, usually by focusing on removing one side first. The bead can be replaced by putting the dent from one side of the bead against the end of the ring and popping the bead back into place.

There are videos on the internet visually demonstrating how a captive bead ring works. If you are new to captive bead rings, you may want to practice on a cheaper ring to find out if captive bead rings are right for you.

Some may find it is easier to use pliers to open and close a captive bead ring. Never use pliers directly on stone, gemstone, glass, or wood beads.
📏 Common Piercing Jewelry Sizes 📏
Note: I have customers who fall outside of these measurements every day; this list is not a guarantee. Placement/anatomy matter! The reason I offer a wide variety of sizes is because no one is the same. :) If you are unsure of what size jewelry you need, please DO NOT guess! See a professional piercer OR measure your existing jewelry.

Piercing Type: gauge/thickness, wearable length of a bar/inner diameter of a ring
Earlobe: 22g-18g, 8mm-10mm
Cartilage: 16g, 6mm-8mm
Industrial: 16g-14g, 30mm-38mm length
Tragus/Rook/Daith: 16g, 6mm-8mm
Conch: 14g, 8mm length/14mm-16mm diameter
Navel: 14g, 10mm-11mm
Septum: 16g-14g, 8mm-10mm
Nipple: 12g-14g, 12mm-16mm
Nostril: 22g-18g, 6mm length/6mm-10mm diameter
Eyebrow: 16g, 8mm-10mm
Lip: 16g-14g, 8mm-10mm
📏 Conversion Chart (Gauge, Millimeter, Inch) 📏
Gauge to Millimeter, Metal/Piercing Thickness
26g = 0.4mm, 24g = 0.5mm, 22g = 0.6mm, 20g = 0.8mm, 18g = 1.0mm, 16g = 1.2mm, 14g = 1.6mm, 12g = 2mm, 10g = 2.5mm, 8g = 3mm, 6g = 4mm, 4g = 5mm, 2g = 6mm, 0g = 8mm, 00g = 10mm

Millimeter to Inch, Length or Diameter (Approximate Conversions, Some Vary +/- 0.5mm)
4mm = 5/32", 5mm = 3/16", 6mm = 1/4", 8mm = 5/16", 10mm = 3/8", 11mm = 7/16", 12mm = 1/2", 14mm = 9/16", 16mm = 5/8", 19mm = 3/4", 22mm = 7/8", 25mm = 1 inch, 29mm = 1 1/8", 32mm = 1 1/4", 35mm = 1 3/8", 38mm = 1 1/2", 41mm = 1 5/8", 44mm = 1 3/4", 48mm = 1 7/8", 51mm = 2 inches