 No items listed at this time
Reviews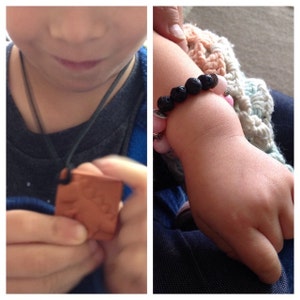 So great! Perfect Dino for my son and the bracelet for my 2 year old fits perfect. I can't wait to gift the floral necklace to my sister.

Disappointed with this purchase, received different but similar item. Design not centered on stone.

Purchased this Batman necklace for my 6 year old, he wears calming and focusing oils and I wanted to make it fun for him, he wears the necklace to school. It was delivered just a few days after purchase, is of great quality, the design is very detailed, and I plan to buy more necklaces.
About
Terra Cotta Pendants
Each pendant is handmade and unique. The pendant has a special absorbent surface meant to diffuse essential oils. Enjoy the benefits of aromatherapy all day long, wherever you go!
The chemical composition of essential oil molecules carefully penetrate the lungs when inhaled and are absorbed through the skin and into the bloodstream to deliver efficient and effective healing qualities.
They support the bodies natural healing processes and give the body the opportunity to heal itself. They have also been shown to enhance and balance out moods and bring energy or calm when needed.