Announcement Spring came and I got a few mittens made, with more to come. Gas prices stayed down so I'm not going to raise the prices. Thanks Elmer A few customers ask me about the white powder that comes out of the mittens sometimes. Its a old trappers secret, Its glade carpet stuff, its the nice smell. Just work it in the fur and let set for hour, day or week, then shakeout hard, could also clean the fur. I been using it for years with no problems. I grew up on a little farm in Minnesota.Our only water supply was a old windmill and I still felt like I was born one hundred years to late. But, one hundred years ago, I couldn't have a fine shop like this!!

Tips for wearing fur mittens!

- mittens should be a little big so you can create a heat pocket, this is why mittens are warmer them gloves.
- If the mittens are big and slip down when held down at your side, touch the tip of your middle finger to the tip of your thumb, this will hold them in place.
- If you have to do something, like unlocking a car door, just slip your hand out of the mitten, the cold key will feel good in your warm hand.
- If people look at your mittens and say "the poor animal", just remind them, the fur looks better on your hands then going to waste laying on the road.
- In the case of the coyote, remind them, you have the coyote under control so it won't eat their cat.


THANK YOU ALL!

Grace sent me a convo and told me how much she liked her new mittens. I sent her a convo and told her it will take two whole coyote pelts to made me a new hat because she made my head so big. After reading all the nice convo's and feedback, all of you sent me, it's going to take six x-large whole coyote pelts to make me a new hat! You all gave me a real big head!

Thanks Elmer
Announcement
Last updated on
Jul 11, 2016
Spring came and I got a few mittens made, with more to come. Gas prices stayed down so I'm not going to raise the prices. Thanks Elmer A few customers ask me about the white powder that comes out of the mittens sometimes. Its a old trappers secret, Its glade carpet stuff, its the nice smell. Just work it in the fur and let set for hour, day or week, then shakeout hard, could also clean the fur. I been using it for years with no problems. I grew up on a little farm in Minnesota.Our only water supply was a old windmill and I still felt like I was born one hundred years to late. But, one hundred years ago, I couldn't have a fine shop like this!!

Tips for wearing fur mittens!

- mittens should be a little big so you can create a heat pocket, this is why mittens are warmer them gloves.
- If the mittens are big and slip down when held down at your side, touch the tip of your middle finger to the tip of your thumb, this will hold them in place.
- If you have to do something, like unlocking a car door, just slip your hand out of the mitten, the cold key will feel good in your warm hand.
- If people look at your mittens and say "the poor animal", just remind them, the fur looks better on your hands then going to waste laying on the road.
- In the case of the coyote, remind them, you have the coyote under control so it won't eat their cat.


THANK YOU ALL!

Grace sent me a convo and told me how much she liked her new mittens. I sent her a convo and told her it will take two whole coyote pelts to made me a new hat because she made my head so big. After reading all the nice convo's and feedback, all of you sent me, it's going to take six x-large whole coyote pelts to make me a new hat! You all gave me a real big head!

Thanks Elmer No items listed at this time
Reviews

Thank you, Elmer, for another beautiful fluffy neck warmer!! With best wishes 😘😘😀

Love the mittens! Can't wait for some cooler weather so I can show them off!1 I hate my friends will be jealous...oh well; they'll just need to buy a pair for themselves:)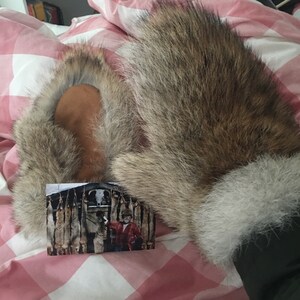 These beautiful mittens are perfect for the up coming winter! The fur is soft and they fit perfectly. Shipping was also extremely fast! Thank you Elmer :)
Shop policies
Last updated on
May 20, 2015
My old grandma told me sixty years ago, to always follow the golden rule and I've never let her down.I treat people the way I want to be treated.
Accepted payment methods
Payment
At this time I'm using PayPal because its so easy, I'm old and a slow learner. Also credit and debit cards
Shipping
I use first class mail,1 to 3 days after I get paid(then I know no one is fooling with me)I ship in 10 1/2 by 15 bubble mailers, if the fur is mated down just shake it hard like a dog shakes when they come out of water and the fur will fluff up.
Refunds and Exchanges
If you have a problem,I'll work with you to fix it.I'm a nice guy,I spent many years,getting out of bed in the middle of the night to check on sick calves.