Reviews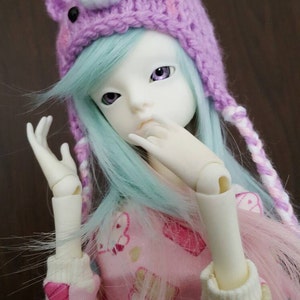 Beautiful eyes! Very happy with them! Thank you so much!

Beautiful eyes! Very expressive.

Gorgeous eyes which look like jewels! They shimmer nicely<3

Could not have asked for a more perfect pair of eyes! The color is spot on, and they look great! Wonderfully made, thank you so much :)
About
My name is Linny S Shephard and I am a doll addict.
I started collecting ball jointed dolls in 2006, and I still love the hobby today. My collection remained as 1 doll who I had for 2 years, Then I succumbed to the dark side!
As we all know the hobby can be very very expensive, so I decided primarily to make my own clothes for my doll. I was already making miniature fairies, and I could never figure out how to create teeny tiny eyes. I practiced and practiced and one day created a pair that were quite good! I just kept creating different techniques and eventually came up with my own formula for designing my own. It took 3 years for me to perfect eyes, and now it is great as I can make or design any colour or pattern I want.
I went to a doll meet and someone asked me where I got my eyes for my doll from. When I explained I had created them myself, I was asked if I could make a pair for her doll and she would buy them! WOW I thought , perhaps I could offer them as a product and here I am. I never take it for granted, I have a very high standard and I will always give that back to you. If something is not perfect it will simply not go out, and I will start again until that pair of eyes are just perfect for your dolls. I strive to give you beautiful eye creations that are worthy of your dolls.
I LOVE designing eyes! I create my own patterns and my own artwork. I also design my own outfits and miniature fairy wings for dolls.
I have met a lot of lovely people since I have been in this hobby, and I love the fact that my lovely customers support and come back for my work.
So thank you all for your love and support, and welcome to my little corner of the world.

Love Linny xxx
Shop members
Linny S. Shephard

Owner, I Design Make & Create Everything In My Shop, Creator

I started creating my own eyes for my dolls, as I could never find the styles and colours I liked. They were always too expensive and not very good quality. So here I am now creating them for you. xxx
Shop policies
Last updated on
August 2, 2016
Welcome to my shop policy section

I am based in the UK

Please read the terms and conditions carefully
Accepted payment methods
Payment
Please pay for your item within 2 days of purchase. All sales are final. If you are unhappy about something, lets talk about it, and lets resolve it.
Please understand i cannot be held responsible for things that go astray in the post. If you want to add insurance to your parcel, please ask me and i will add the appropriate postage to your bill to cover it.
All items will be sent via First Class Mail within 2 days working days of payment for dresses and fairy wings.
I will accept PAYPAL only

THIS IS IMPORTANT!!!

If you do choose to send payment via an e-cheque that is absolutely fine
BUT I WILL NOT start your order until your payment clears....
So whatever date it clears i will then commence work on your order and NOT before
Thank you for understanding.....
Shipping
WITH IMMEDIATE EFFECT!!! ALL SHIPMENTS TO CANADA WILL HAVE TO BE ON A TRACKED AND SIGNED FOR SERVICE, DUE TO THE APPALLING SERVICE THE CANADIAN POSTAL SYSTEM HAVE RECENTLY PROVIDED INCLUDING LOST ITEMS AND LATE DELIVERIES.
THE INCREASE IN SHIPPING COSTS TO CANADA IS REFLECTED IN THE LISTINGS.
I AM SORRY I HAVE HAD TO RESORT TO THIS, BUT IT WAS EITHER AN INCREASE ON A TRACKED SERVICE OR NOT SEND TO CANADA AT ALL.

Dresses or fairy wings will be sent out within 2 working days of payment....Your item will be sent out in a well padded jiffy/parcel to keep down shipping costs for you.

If you order a pair of wings that are a custom design and not in the shop, these can take up to a week to make the tiny sizes...MSD and SD will take much longer, on average 3 weeks or more.


Eyes take longer....All eyes are made from scratch and to order, I do not hold any in stock. Typical processing times take between 10-14 days depending on sheer volume of work and weather conditions which add to the drying times

Your item should arrive within 1-3 weeks internationally, and 1-7 days within the UK. if you do not receive your item within this time frame please contact me.
Contact should be made within a reasonable time frame. I cannot do anything if you do not contact me within the first 4-6 weeks. You MUST contact me through Etsy where you placed the order. I know many of you belong to the big doll forums, but it is not my responsibility to try and make contact via such forums if I cannot get an answer from you here on Etsy.
All my parcels are sent out on an untrackable service unless you ask for an insured signed for service at extra cost to you. They are sent on an untrackable service ( other than arranged through me by you) to keep the shipping costs as low as i possibly can for you.
If you have Customs charges within your country you will have to pay them.
Please also note that U.S/Canadian postal service is notoriously slow..This is totally beyond my control....I cannot do anything about this so please be patient

MOST IMPORTANT !

if you have changed your address recently, please let me know. I cannot be held responsible for something you do not update....Please also understand that I will not be able to replace your items for you if they go astray, because you have not updated your address nor will you receive a refund.

If you do not receive your item in a reasonable time frame please contact me

Please also take into account that my colours on my eyes are true colours and not computer enhanced in any way....please also realise that colours vary from monitor to monitor...
I will not give refunds if you have ordered the wrong colour, i only give refunds for faulty items

ALSO PLEASE TAKE INTO ACCOUNT THAT I AM AT THE MERCY OF THE GLOBAL POSTAL SERVICE. If your item is a little late in arriving in a specified average time frame, it is NOT MY FAULT...I will try my best to help you
Refunds and Exchanges
I cannot be held responsible for things that go missing or are damaged in the post.
However if you choose additional insurance for your item of course you will be covered for loss or damage.

You Cannot return eyes simply because you don't like them, all sales are final

Please also be aware it is up to you to order the correct eye sizes for your doll, dress size for your doll etc....please do not guess, be sure on your measurements....Please also understand i will not be able to replace these items for you if you state the wrong size.

If an item needs to be returned for a refund you as a customer you are liable for that postage cost. I will refund you the original shipping costs you paid NOT the return postage. (This return shipping cost does not apply to damaged items)
Additional policies and FAQs
FAQ

Question:
Can you make me eyes that are under 14mm?

Answer:
Yes. I now make 12mm eyes. I can also make 10mm but these will cost extra due to the tiny size.


Question:
I live in the U.S and I ordered my eyes recently, can you tell me if they have gone out yet and when will they be here?

Answer:
My eyes take between 10 - 14 days to create. I need this time for them to dry properly and it very much depends on weather conditions and sheer volume of work. Please note I do not work at weekends or public holidays. I also will NOT start your eyes on the same day as your order. They are made on a first come first served basis....You may be at the top of the queue or at the bottom, it just depends. Please note I do not hold any eyes in stock whatsoever, I have a master set and that's it. When stated they are a pre-order, it means just that


Question:
I ordered my eyes a week ago where are they?

Answer:
My eyes are handmade, they are not produced in a factory...I make them from my home....some designs are hand painted within the iris so this also takes time

Question: I don't think they suit my doll, can i return them for a refund..

Answer: simply put no you cannot return them for a refund. Please be careful with your choices. ALL sales are final .

Question: My eyes have arrived damaged, what can i do?

Answer: I will always request a photo of said damage, and will assess it for myself. Should you need a replacement or refund i will discuss that with you.

They are made to order...They take time...please understand

If you want eyes that will be sent to you quick then you can buy eyes from many websites and shops on the web....
My eyes are designed by me made by me..they need to be hand rolled, cured, glazed and finished so please understand I will not send out eyes of an inferior quality....

They are NOT plastic They are NOT glass they are a "recipe" that has taken me 3 and a half years to perfect, so they cannot be rushed

Please also note I live in the UK

Orders placed for eyes, wings, dresses will be sent out a.s.a.p

But please be aware that items can take anywhere up to 3 weeks from posting


Details about EYE orders

Please note - I DO NOT supply you with eye putty, you will need to supply that yourself.

IMPORTANT ! PLEASE READ YOUR CARE INSTRUCTIONS, THEY ARE FOR YOUR BENEFIT.


Also please do not compare iris size to other companies . All iris sizes from company to company vary, and mine are no exception. They are MY sizes and if you need measurements before i start your order please ask me.



UK can take up to 1 week EU can take 1-3 weeks

U.S and Australia can take up to 3 weeks even longer

I have no control over postal/shipping times

I do get asked quite often within 1 week of ordering where international orders are.... I give a estimated time of 10 - 14 days to give me time to create my eyes to the highest standard that I can produce for you as a customer....This time may occasionally be reduced due to light work load, but on average it will be the stated time....

if a pair of eyes that I am making dont dry properly, or are not up to standard I WILL NOT send them out...I will start them again so I have to have this time period if anything goes awry.

Please understand once they go out of my hands into the postal system, I have no control over the post and how long it takes....

I receive your order via Etsy
You will then go into a queueing system that is on a first come first serve basis
I then make your order which can take 10-14 days
When finished I will contact you and tell you when your order has gone out in the post.

The 10 - 14 days is the time it take me TO MAKE your order, the 10-14 days DOES NOT include your shipping times....So please make sure your order in plenty of time.

I create the eyes on my own, they are not produced in a factory and they are not the DIY inserts..My eyes are handmade and take time.

Thank you so much for understanding