Announcement OV ARTist Alison Thompson is on VACATION from July 27th to Aug. 3rd. Anything ordered between this date will be sent off when I return home. BLESSINGS>~

Welcome to Ocean View Art. I am a Local Artist in my area and I turn my Art into beautiful gifts for any beach lover~
¨¨¨¨°º©©º°¨¨¨¨¨¨°º©©º°¨¨¨¨¨¨°º©©º°¨¨¨¨¨°º©©º°¨¨¨¨¨°º©©º°¨¨¨¨¨¨°º©©º°¨¨¨¨¨¨°º©©º°
I was raised in the Beach town that we call Ocean View.I am still here raising mine as well. Enjoy my OV Photos. I don't claim to be a Photographer....but I do have an eye for Art and I do get Lucky behind my Lens Sometimes. I can write you a personalized message in the Sand of Ocean View on the Chesapeake Bay,because I am here on the beach always with my camera. Enjoy my painted Shells. Hand Picked from Ocean View. I have spent my life collecting shells and beach glass.Why not create with my treasures and share with others. To me there is only one Place I call Home and that is on the Chesapeake Bay in Ocean View of Norfolk, VA. I hope that I can bring a piece of my home to yours. My Ocean View Artwork comes in many forms but it all originates in one mind. Mine! Welcome to my World and Always Check back. I am working on My Art Full Time.
¨¨¨¨°º©©º°¨¨¨¨¨¨°º©©º°¨¨¨¨¨¨°º©©º°¨¨¨¨¨°º©©º°¨¨¨¨¨¨¨°º©©º°¨¨¨¨¨¨°º©©º°¨¨¨¨¨¨°º©©º°Another Shop of mine is: http://www.etsy.com/shop/beautyonabottle or just Goto Seller Beautyonabottle
Announcement
OV ARTist Alison Thompson is on VACATION from July 27th to Aug. 3rd. Anything ordered between this date will be sent off when I return home. BLESSINGS>~

Welcome to Ocean View Art. I am a Local Artist in my area and I turn my Art into beautiful gifts for any beach lover~
¨¨¨¨°º©©º°¨¨¨¨¨¨°º©©º°¨¨¨¨¨¨°º©©º°¨¨¨¨¨°º©©º°¨¨¨¨¨°º©©º°¨¨¨¨¨¨°º©©º°¨¨¨¨¨¨°º©©º°
I was raised in the Beach town that we call Ocean View.I am still here raising mine as well. Enjoy my OV Photos. I don't claim to be a Photographer....but I do have an eye for Art and I do get Lucky behind my Lens Sometimes. I can write you a personalized message in the Sand of Ocean View on the Chesapeake Bay,because I am here on the beach always with my camera. Enjoy my painted Shells. Hand Picked from Ocean View. I have spent my life collecting shells and beach glass.Why not create with my treasures and share with others. To me there is only one Place I call Home and that is on the Chesapeake Bay in Ocean View of Norfolk, VA. I hope that I can bring a piece of my home to yours. My Ocean View Artwork comes in many forms but it all originates in one mind. Mine! Welcome to my World and Always Check back. I am working on My Art Full Time.
¨¨¨¨°º©©º°¨¨¨¨¨¨°º©©º°¨¨¨¨¨¨°º©©º°¨¨¨¨¨°º©©º°¨¨¨¨¨¨¨°º©©º°¨¨¨¨¨¨°º©©º°¨¨¨¨¨¨°º©©º°Another Shop of mine is: http://www.etsy.com/shop/beautyonabottle or just Goto Seller Beautyonabottle No items listed at this time
Reviews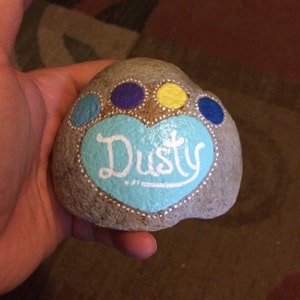 Another beautiful stone. My friend in Iowa loves it! He was very happy to receive it. Thank you, Alison! :)

Love these mementos! Seriously......love them!
Shop policies
Last updated on
February 3, 2011
Welcome to Custom Sand Art. The Coolest way to make any announcement!
Accepted payment methods
Payment
I accept Paypal and as soon as payment is received I will need 5 to 20 days to produce your photo or photos.Depending on the project and request.
Shipping
Your Photo will either be shipped in an envelope or it will be emailed to the address that you provided.
Refunds and Exchanges
Absolutly No Refunds...This is Art. Art is flexiable!
Additional policies and FAQs
For all Custom Orders....If you would like a certain Layout...Please be specific in your description. I will take numerous photos of your Message and Pick the one that I feel is the best quality shot.