Reviews

I absolutely love this. I've been adoring your work from a distance for the longest time and finally had the chance to buy something, and I'm so absolutely happy and astonished by the detail. Beautiful, unique, extremely well-packaged, and well worth the wait!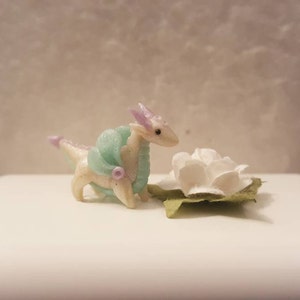 This miniature dragon figure exceeded my expectations. It is micro small but holds an unbelievable amount of detail at the same time. The care put into this piece really shines through. The size alone shows how much effort was put into it and also its such an adorable size that it can be put almost anywhere as a cute decoration to brighten your day. I will definitely be returning to this shop, the art is worth every cent! I highly recommend this lovely and talented artist as someone to check out and support.

Very cute! It's even tinier in person than I was expecting, making the details and craftsmanship even more impressive. It was very nicely packaged, and shipped out quickly. I'm so glad I was able to bring this little one home. Absolutely recommended!
Shop policies
Last updated on
January 16, 2016
Returns and exchanges
I will return the money, if the parcel arrived broken (then I can ask to send it back) or not delivered at all.
If you have not taken the parcel, I will return the money as soon as I get the parcel back.

Я верну деньги, если посылка пришла разбитая (тогда я могу попросить выслать её обратно) или не пришла вовсе.
Если вы не забрали посылку с почты, я верну деньги, как только получу её обратно.
Payment
I accept Paypal.

Покупатели из России могут оплатить заказ через Яндекс.Деньги или наличными, если забирают самовывозом.
Shipping
Orders are shipped by post in parcel with the tracking number. It may take about a month.

Отправка посылкой с номером для отслеживания. Или самовывоз из Ростова-на-Дону.