Reviews

It was a great Christmas gift for my daughter! She loved it!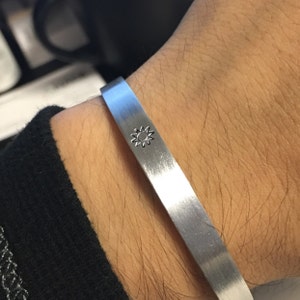 Wonderful person running a quality business. I will definitely be purchasing from her in the future
About
A Business Owner Goes to Law School and Instead Becomes an Artistic Entrepreneur
I started my business ventures eight years ago when I opened an orthodontic laboratory in Scottsdale, Arizona. My father is an orthodontist, and I grew up working for the family business. I developed my per-hour day job into a self-sufficient small business LLC. Over the years, the business grew, I hired a staff, and I upgraded my corporation. I looked toward the future, realizing that this was not the life I wished for my next 30 years, and thought that law school might be a positive change. I hired my own replacement for my lab and I moved to Los Angeles to begin my graduate program.

During my time at Pepperdine law school, while I enjoyed learning about the law, I felt constantly stressed about the course load and consistently anxious about the job market. While I felt an affinity for several disciplines of law, it still felt like a 30-year career path that was not the life journey I'd imagined. I started Delight and Rage in my second year, to help decompress and to remind myself that hobbies are still important, even when you feel overloaded.

As time progressed, I realized my hobby was my passion, and my education path felt more like my hobby. I enjoyed the learning process but shied from desk job opportunities. As I poured more of my soul into my jewelry and art, my Etsy shop grew to a proper functioning business. By the time law school graduation arrived, I knew I had to make a decision between pursuing a full time law position or pursuing a future with my shop. I chose Delight and Rage, and I have never looked back!

I make everything you see in the shop, by hand as much as possible, out of my living room! Our "dining table" is actually my work space, and every inch of free space on the living room walls is taken up by tools, art, and necklaces! The "family computer" is dominated by my photographs, listing drafts, shipping label printer, and other Etsy necessities. Almost all of my dresser drawers have been converted to supply storage for my shop. In short, my amazing, endlessly patient, and incredibly supportive partner Dan is a SAINT for not kicking me out of our apartment for the mess!

(By the way, Dan is the owner of Meliaceae Designs, another AMAZING Etsy shop, which features his handmade woodworking! He makes valet boxes, shoe shine boxes, cutting boards, coat racks, cajon drums, and so much more. GO CHECK IT OUT!)

In the year and a half since graduation, I have moved to San Diego (a city that I adore!) and have grown exponentially as an artisan and designer. I cannot wait to see where Delight and Rage goes in 2016!

We pride ourselves in nerdy, steampunk, and nature inspired designs, but we do a little bit of everything because our motto is to do what you love and love what you're doing. Variety is the spice of life, and we'll continue to make a pinch of everything for as long as it makes us happy! We strive to make things that are meaningful, resourceful, clever, and high quality. But most of all, we strive to put love and happiness into our work to impart as much joy, awe, and silliness as we can to our customers.

From the bottom of our hearts, thank you for stopping by. Thank you for reading our story. Come back to see how it all unfolds! We are immensely grateful to do what we love, and to grow as we do so; and it is ALL thanks to you.

With Love, Delight, and Rage,
Jamie
Shop members
Jamie Rage

Owner, Designer

I started my shop as a coping method to get me through law school. After I graduated, I realized I'd found my real calling while studying another discipline; so I made the scary, exhilarating decision to pursue my true passions & never look back! :)
Shop policies
Last updated on
January 7, 2015
Thank you for visiting my shop! I pride myself on unique and handmade items that capture personality and expression. Each piece will be different, even duplicates, as I purchase each set of materials separately. I like the idea that each buyer has something truly unique and one of a kind to share with their friends and family.

I am more than happy to create custom listings, make unique productions or reproductions of customer ideas, and to help match you to the perfect piece of wearable art! See something you ALMOST love? Contact me, and tell me how you would prefer it to differ, and if it can be done, I will make you the perfect piece! However, custom orders take time, and cannot be done in a rushed time frame without a rush fee.

Finally, if you have special shipping requests (i.e. Overnight, Priority, Insured, Tracking Info, Special Message Included, Etc) simply contact me before placing your order, and I will accommodate any reasonable request. Additional fees may apply, for things such as rushed shipping.
Accepted payment methods
Payment
I accept Paypal. Paypal is a safe, secured, and convenient way to make and track payments through services like Ebay and Etsy. Don't have a PayPal account? No problem! Click on the PayPay link on Etsy to set one up in just a minute!

I also accept electronic checks processed through Paypal, and credit cards through Direct Checkout! Finally, Etsy gift cards are accepted in my store.

Payment is required before items can be shipped. Prices and Shipping Information will be clearly listed for each item. Prices are not negotiable, but I offer many coupons and promotional codes for bulk purchases and repeat customers, as well as holiday promotions! Please contact me for more information!

Orders cannot be cancelled once shipped, unfortunately. If you receive an item and are disappointed for any reason, simply contact me and we will discuss the best course of action for your satisfaction!

As always, when in doubt, contact me!
Shipping
Payment is required before items can be shipped. If for any reason your package comes to you damaged, or your package is lost in transit, please contact me so that I may make arrangement to assist you. I package all items very carefully to ensure against damage, but we can never be certain what magical accidents may happen along the way, and I will do my best to repair or replace any damaged items.

I suggest purchasing insurance or tracking information if you have had bad luck in shipping in the past. I am more than happy to add those options on to any shipment, and I will not charge any more than the post office will charge me! If you choose not to purchase insurance, I will evaluate each instance on a case by case basis, but I ensure you that customer satisfaction and security is my number one goal, and I will not leave you hanging.
Refunds and Exchanges
I will offer replacements or refunds where appropriate. Please note, that as my pieces are all 100% handmade and unique, I sadly cannot guarantee that a replacement piece will be identical to the one purchased, if an item is damaged or lost in shipping. If a replacement piece is sent and not favored, I will take a return and offer a full refund.

Again, as my pieces are handmade, often from vintage findings and fragile goods, they must be handled with care. I cannot be responsible for damage incurred while you own the product. However, if anything happens within two weeks of receiving your purchase, either damage or disfavor, contact me and we can make arrangements to return the product for a refund. Refunds will not be given without product return, save for extenuating circumstances. Please understand that all lovingly handmade goods will have minor flaws and imperfections that add to their charm! I am more than happy to provide additional photographs of any piece for purchase prior to payment and shipping to ensure that you get exactly what you are expecting and looking forward to!

In short, my policy is to be fair yet wise. My first priority is to ensure your absolute happiness and comfort, both in purchasing from my store and in receiving and keeping your product. I will take every instance case by case to determine the appropriate response. Simply contact me!
Additional policies and FAQs
On any custom made product or custom listing, I cannot accept returns, but if an item did not turn out as expected, I will absolutely make amends and repair or remake any piece specially ordered. Your satisfaction is my number one priority.

For additional questions, comments, ooohs and aaahs, simply contact me and we can talk all you wish. I look forward to hearing from you! Until then, window shop, imagine, and enjoy!