Announcement Baby Diaper Cakes for baby shower centerpiece or a gift across the miles.

PLEASE USE A RESIDENTIAL ADDRESS FOR ANY STATE WEST OF OKLAHOMA AS I HAVE A CONTRACT WITH FEDEX, I DO NOT GET DISCOUNTS ON COMMERCIAL ADDRESSES (a commercial CA address can cost as much as $27.00) FedEx and USPS both raised their shipping prices for 2017.

PO Boxes for the West Coast will not be accepted and orders may be cancelled if an alternative residential address cannot be given.

I try to be as creative as possible and try to list all items with measurements & a picture of the back of the diaper cake. Listing have the brand name of the diapers that are layered and not rolled for easy reuse. They are ONE PIECE STRUCTURES, no assembly necessary, unless stated for the toppers in the listing. Want something other than Luvs? then see the Diaper Brands section and add it to your cart with the diaper cake. (cannot be used on Alreadymade diaper cakes)

Most of my baby diaper cakes are wrapped with useable handmade 2- PLY BURPCLOTHS that I create myself on my serger sewing machine. I can create LARGER diaper cakes than those wrapped with commercial baby blankets, as they are usually on a 10" white round plate - and mine are on a 12" or 14" faux silver scalloped edge cake plate. They are not just wrapped with pieces of fabric as other shops, so the mom will remember your gift as she uses the handmade burpcloths for the months to come!

Have you noticed most diaper cake shops do not show a picture of the back of the diaper cake, not in the final packaging, and/or no measurements? Why is that? Mine do not have gaps on the back, there are bows. I try to include all of this information in every listing.

I am able to create registered trademark diaper cakes just not able to list with a picture so if you are looking for something ask and I will see if I have the nessary items and could create something for you.

Created in my clean, fresh air, non-smoking home.

Custom orders are accepted and I will create it if I have the necessary items for your theme in my vast storage of items.

The 3 tier baby diaper cake will be wrapped in crystal clear cellophane. Why cellophane instead of tuelle? to look great and to keep out smells, dust, and moisture - so this can be a decoration in the nursery. (Tuelle does not protect the baby diaper cake.)

PLEASE read the description fully and understand what you are purchasing BEFORE you purchase the product, read what it is made of, the SIZE, color, etc. I list everything you need to know prior to purchase. If you do not like the diaper brand listed I have other brands available. (see diaper brand section)

Think my prices may be too much? I spend approx. 3+ hours on each diaper cake, time to aquire the supplies, time to assemble, and time to pack product & print label. I have paperwork & listing fees, seller fees, and payment processing fees. And sometimes additional shipping overage costs. Then on top of that I have to pay a higher income tax for self employement, so if you take away cost of goods I am really reasonably priced.

I strive to give excellent customer service so if you have a question or comment send me a message.

Feedback is greatly appreciated.

Thanks for stopping by!
Dianna Stewart
Owner & Designer
www.diannasdiapercakes.etsy.com
www.diannasdiapercakes.com has a photo gallery
Announcement
Last updated on
Jan 18, 2017
Baby Diaper Cakes for baby shower centerpiece or a gift across the miles.

PLEASE USE A RESIDENTIAL ADDRESS FOR ANY STATE WEST OF OKLAHOMA AS I HAVE A CONTRACT WITH FEDEX, I DO NOT GET DISCOUNTS ON COMMERCIAL ADDRESSES (a commercial CA address can cost as much as $27.00) FedEx and USPS both raised their shipping prices for 2017.

PO Boxes for the West Coast will not be accepted and orders may be cancelled if an alternative residential address cannot be given.

I try to be as creative as possible and try to list all items with measurements & a picture of the back of the diaper cake. Listing have the brand name of the diapers that are layered and not rolled for easy reuse. They are ONE PIECE STRUCTURES, no assembly necessary, unless stated for the toppers in the listing. Want something other than Luvs? then see the Diaper Brands section and add it to your cart with the diaper cake. (cannot be used on Alreadymade diaper cakes)

Most of my baby diaper cakes are wrapped with useable handmade 2- PLY BURPCLOTHS that I create myself on my serger sewing machine. I can create LARGER diaper cakes than those wrapped with commercial baby blankets, as they are usually on a 10" white round plate - and mine are on a 12" or 14" faux silver scalloped edge cake plate. They are not just wrapped with pieces of fabric as other shops, so the mom will remember your gift as she uses the handmade burpcloths for the months to come!

Have you noticed most diaper cake shops do not show a picture of the back of the diaper cake, not in the final packaging, and/or no measurements? Why is that? Mine do not have gaps on the back, there are bows. I try to include all of this information in every listing.

I am able to create registered trademark diaper cakes just not able to list with a picture so if you are looking for something ask and I will see if I have the nessary items and could create something for you.

Created in my clean, fresh air, non-smoking home.

Custom orders are accepted and I will create it if I have the necessary items for your theme in my vast storage of items.

The 3 tier baby diaper cake will be wrapped in crystal clear cellophane. Why cellophane instead of tuelle? to look great and to keep out smells, dust, and moisture - so this can be a decoration in the nursery. (Tuelle does not protect the baby diaper cake.)

PLEASE read the description fully and understand what you are purchasing BEFORE you purchase the product, read what it is made of, the SIZE, color, etc. I list everything you need to know prior to purchase. If you do not like the diaper brand listed I have other brands available. (see diaper brand section)

Think my prices may be too much? I spend approx. 3+ hours on each diaper cake, time to aquire the supplies, time to assemble, and time to pack product & print label. I have paperwork & listing fees, seller fees, and payment processing fees. And sometimes additional shipping overage costs. Then on top of that I have to pay a higher income tax for self employement, so if you take away cost of goods I am really reasonably priced.

I strive to give excellent customer service so if you have a question or comment send me a message.

Feedback is greatly appreciated.

Thanks for stopping by!
Dianna Stewart
Owner & Designer
www.diannasdiapercakes.etsy.com
www.diannasdiapercakes.com has a photo gallery No items listed at this time
Reviews

The diaper cake was absolutely perfect! Mom to be loved it!! Dianna was amazing to work with ... even with late ordering on my part, the cake was received in time for the shower. Thank you so much for your hard work!!

Shipped fast! Hoaky. It's not as unique as I had hoped. It was a picture glued to a night light.

Dianna responded on Jan 16, 2017
It was exactly as described in the listing - a painted wooden animal shaped glued to a nightlight. First bad feedback ever received on this item, and we have sold alot of them!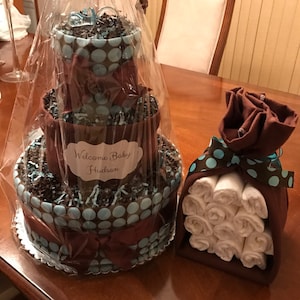 Thank you so much for this diaper cake and the bundles. Only one bundle pictured here but received two as described. Dianna was so great to work with!! I needed this cake really fast and she responded quickly and made it happen. I am grateful for that. Quality is outstanding as well. It is absolutely adorable and can't wait for mom-to-be to see it this weekend!! And lastly Dianna added the the baby's name which was "icing on the cake"!! Thank you. Thank you. Thank you. I will order again and recommend.
About
Helping to create memories.
I established this business on Etsy in June 2010 since my husband's job has us moving around so much. Although, I do have my own commercial website, and have been creating and selling them since 2007. Baby Diaper Cakes just seems to be the perfect fit for me. I love to create them, and the challenges of custom orders really lets me branch out and try new things. I have so much creativity just waiting to be released!

Dianna Stewart Owner, Designer & Creator
Dianna's Diaper Cakes
Shop members
Dianna Stewart

Owner, Designer

Baby Diaper Cakes are my passion, I love to create them! Dianna's Diaper Cakes is my full time joy & job.

Debbie Gauntlett-Moore

Maker Of Plug Covers And Mobiles

My sister Debbie is a Special Needs Teacher for the blind Pre K to 5th grade. She wanted a creative outlet so she contributes to my shop, the items she makes are clearly defined as the plug covers, and nightlights.
Shop policies
Last updated on
January 8, 2017
Welcome to Dianna's Diaper Cakes, I am not limited by the listings in my shop as I have endless creativity. don't see what you are looking for? Send me a picture of what the diaper cake needs to coordinate with.
Accepted payment methods
Payment
Dianna's Diaper Cakes accepts Credit Cards through Etsy and PayPal. (electronic checks can take up to 10 days to clear and items will not be shipped until notice is receive it has cleared)

International sales are accepted ONLY if the baby diaper cake is being shipped within the USA or an APO address. I have my PayPal account set up to accept any currency. Just make sure the Etsy checkout info has the correct mailing address. If you still wish to receive a diaper cake overseas then contact me and I will give you the rate USPS gives me.
Shipping
Items are shipped usually within 5 days, However, I will now list the turn around time in my shop announcement. I will send all 3 tier diaper cake packages with FedEx (there will be exceptions, like weight or PO Boxes) and usually delivers with 2-6 days, USPS 2-9 days. Smaller packages may be sent through the mail.
I do not send packages where a signature is required, unless buyer pays additional for this service.

PLEASE USE A RESIDENTIAL ADDRESS FOR ANY STATE WEST OF OKLAHOMA AS I HAVE A CONTRACT WITH FEDEX, I DO NOT GET DISCOUNTS ON COMMERCIAL ADDRESSES (a commercial CA address can cost as much as $27.00) THANK YOU!

I AM SORRY I HAD TO RAISE PRICES BUT FEDEX AND USPS RAISED THEIR PRICES THIS YEAR SO I RAISED THE DIAPER CAKE PRICES A BIT TO HELP COVER THE EXPENSE. IF YOU LIVE ON THE EAST COAST YOU MAY RECEIVE A REFUND FOR PARITAL SHIPPING COST.

ALASKA AND HAWAII: Packages will be sent with either USPS or FedEx depending on your address and the cost, cannot determine delivery days.

Plug covers, nightlights, and mobiles CANNOT be shipped in the same box as the diaper cake as they are created by my sister who lives in Texas and I live in Maryland.

International sales are accepted ONLY if the baby diaper cake is being shipped within the USA or an APO address.
If you still wish to receive a diaper cake overseas then contact me and I will give you the rate USPS gives me.
Refunds and Exchanges
It is usually not an issue with my shop. Contact me for any questions or problems.
Additional policies and FAQs
Q. Is there any information I need to know before purchasing a product?
A. Please read over the policies sections so that you are clear with all of
the details pertaining to a transaction with Dianna's Diaper Cakes.

Q. How do I PROPERLY remove the diaper cake from the cellophane?
A. Open the curling ribbon on back by pulling, then reach your arm down the
back of the diaper cake. Tip the diaper cake so it rests on your arm and pull
off the cellophane, you can reuse the cellophane if needed and re-close the
bag using the same ribbon.

Q. Are the cakes made with brand name diapers?
A. Yes, most diaper cakes are made with Luvs. However I can create with
other brands, find the listing and add it to the cart with your diaper cake.
If ordering more than one make sure the QTY is correct. I have listing for
Luvs sz 2, Pampers Swaddlers, Honest, 7th generation, Earths Best, and
I prefer to not make them with Huggies because they do not look as good.

Q. Are all items useable when the cake is taken apart?
A. Yes, I do not use rubber bands or glue when making the diaper cakes so all
items are reuseable when the cake is taken apart. And are made with layered
or fanned diapers so they are easier to re-use than rolled ones.
Stork bundles are also useable, but are rolled with tape.

Q. Do I need to be careful having the cake around small children?
A. Decorations on Dianna's Diaper Cakes products may detach and pose a
choking risk or may be hazardous if swallowed. The cellophane could cause
suffocation, please dispose of properly. By purchasing our products you
agree not to hold Dianna's Diaper Cakes or affiliates responsible for actions
that come as the result of the products we sell. This includes all but
specifically injury to minor children.

Q. Do you allow International/overseas orders?
A. I allow international purchasing through PayPal however the item must be
delivered in the USA or an APO address, so you could purchase and send as
a gift - I will include a gift hang tag with your salutation given in the notes to
seller at checkout. If you want to pay the postage for international
shipping contact me with your address I will see what I can do for you.
The post office will not insure the diaper cake packages due to size, buyer
assumes all responsibility for international shipping, taxes, fees, customs, etc.
More information
Last updated on
Jan 4, 2017
Frequently asked questions
Custom and personalized orders
Custom Order are accepted, send me a message with the theme, date needed by, quantity, and the State the order will ship to. Include a photo if it needs to coordinate with bedding, nursery decorations, shower invitation, or a specific theme and color - if possible.

To personalize add the listing to your cart along with the diaper cake:

https://www.etsy.com/listing/104658871/personalize-your-baby-diaper-cake-with?ref=shop_home_active_58
Gift wrapping and packaging
3 tier baby diaper cakes come wrapped in a cellophane bag, tied with curling ribbons, a party favor, and gift hang tag. They are ready for use at the baby shower or for gifting!

2 tiers, minis, and 4 tiers do not come wrapped in cellophane but in a plastic bag in most cases.
Shipping preference
I have my own contract with FedEx and they take great care with the larger packages. I need a residential address for all packages west of Oklahoma. PO Boxes for the West Coast will not be accepted and orders may be cancelled if an alternative address cannot be given.