Announcement Welcome to our Multi media shop of one of a kind art. Along with Antiques and Collectibles. Paintings,watercolors and acrylics, handbuilt pottery, wheelthrown pots, fused glass jewelry, and note cards will be included from time to time. Antiques and Collectibles too will appear as we downsize our year's of treasure collecting. Retired teachers, one an art teacher, one a business teacher, and now we are offering a shop on Etsy.
Our silver and gold plated jewelry are designs that Donna drew, inked and sent to be laser cut out by the Photofabrication Engineering, Inc. company in Maine. The brass tooling sheet is received from that company and Donna and Chuck clip and file the individual pieces, then tumble them in a tumbler, then attach the bails, and chains if appropriate and send this to be plated to the G. Tanbury Plating Co. in Rhode Island. The items then are packaged and ready to sell. The start of the design to finish is sometimes a good month or more. The designs and the toolings belong to Donna. Over the years, I have had my designs in various Zoo Gift shops, but have recently reactivated them and am offering them on Etsy.. .
Visit our new blog: www.theartofdonnajohnston.blogspot.com
Announcement
Last updated on
Aug 2, 2016
Welcome to our Multi media shop of one of a kind art. Along with Antiques and Collectibles. Paintings,watercolors and acrylics, handbuilt pottery, wheelthrown pots, fused glass jewelry, and note cards will be included from time to time. Antiques and Collectibles too will appear as we downsize our year's of treasure collecting. Retired teachers, one an art teacher, one a business teacher, and now we are offering a shop on Etsy.
Our silver and gold plated jewelry are designs that Donna drew, inked and sent to be laser cut out by the Photofabrication Engineering, Inc. company in Maine. The brass tooling sheet is received from that company and Donna and Chuck clip and file the individual pieces, then tumble them in a tumbler, then attach the bails, and chains if appropriate and send this to be plated to the G. Tanbury Plating Co. in Rhode Island. The items then are packaged and ready to sell. The start of the design to finish is sometimes a good month or more. The designs and the toolings belong to Donna. Over the years, I have had my designs in various Zoo Gift shops, but have recently reactivated them and am offering them on Etsy.. .
Visit our new blog: www.theartofdonnajohnston.blogspot.com No items listed at this time
Reviews
No reviews in the last year

I received these books and catalogs yesterday in perfect condition!! I'm so honored to have purchased them from a sellers collection!! They will help me with my start of collecting Peter Rabbit figurines!! I will be visiting this shop often!!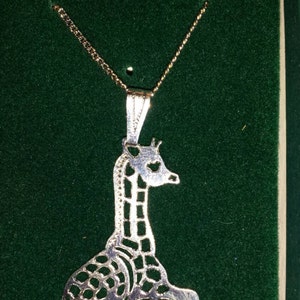 My camera phone doesn't do the necklace justice, but it is beautiful. It arrived yesterday along with a personal note from Donna explaining the origin of the product. I'm very happy with it and wholeheartedly can recommend buying from her. Thanks again!

Looks great, will make a great gift
About
Donnasartyparty is a shop offering original hand made or designed items by the artist.
I have been an art teacher and artist for many years. I am 87 years old this year, and have been creating art for a good 60 years of that time. My husband and I work together, he is my support, my go for, and the sturdy hand when I need that. He helps fire my kilns, cuts my glass, opens my clay packages and mails my packages. I have also used his email for this shop as I did use my email for my SORORITYJEWELRY shop which is no longer active.
I have written a book of some of my art lesson plans from my teaching years, and it is listed on my Donnasartyparty shop site.. it is NOW THIS IS ART!, Completely written by me, sent to the publisher XLIBRIS to do the printing, which I have paid for, so it was a self published book. I did the photography or had a friend do it as I was teaching some of the classes pictured.

The metal jewelry shown on this site, was done by first making a sketch in pencil, then I finalize my design with India Ink as to the exact shape and size I want, and send it to be cut out with a laser. I used the laser cutting manufacturer, Photofabrication Engineering, Inc. to cut the design from my inked drawings. They then sent me a brass sheet with the partially cut out shapes, which I then clipped out, filed, and put into my tumbler to finish the smoothing. Then I applied a bail, and sent to be silver or gold plated by G. Tanury Plating Co. When finished they are returned to me to photo, package and hopefully sell. The animal and other designs that I have shown to sell on Etsy, have been done by me over the past 25 to 30 years. I have sold them to Zoos and Boutiques in the past, but wanted to try them on Etsy too.

Any pottery I show has been done in my ceramic studio either by throwing on my wheel, or hand building. I also do paintings, dyed silk scarves using a variety of printing techniques. Once in a while I have offered small antiques or collectibles from my household.

I also have photographed some of my paintings and had these printed by various print shops, most recently Send Out Cards, and offer these as note cards. They are of my original paintings , either watercolors or acrylics, and once in a while, I have photographed a collage of hand made paper and a hand printing process that I have done. Having been an art teacher I have taught and used most media, and now in my retirement and as an artist, I many times mix the media for a personal statement.

Fused glass items, both pendants and various dishes are also offered from time to time. These pieces are all designed, cut and fired by Donna and her husband Chuck in their home studio. These designs are all original and usually one of a kind. Although similar designs might be tried more than once. Each is individually made.

Most of my items are one of a kind, other than the notecards that are reproduced original paintings or my metal pendants that are my original designs as explained above, and the manufacturing process allows me to offer multiples of each at a reasonable price.

My Etsy shop will offer different items from time to time. Some are one of a kind, some are made in multiples as described above. All are my original designs. Recently I have written and had printed in a local graphic print shop my Arty Doodle Coloring Book for Adults. This is a fun approach to the coloring book craze and offers a do it yourself approach. Or if you live near me, I offer a class for 6 to 10 folks, and am happy to show you my approach over a three day workshop of 2 hours per day. Just write or call me.

My End of the Road Studio in Traverse City Michigan is Open weekends, and we welcome a visit anytime if a telephone call is made to be sure we are home and not out fishing...
Shop members
Donna Johnston

Owner, Creator, Designer

Retired art teacher showing my own one of a kind creations. Pottery, paintings, fused glass, crafts, plus designs of metal jewelry, that are multiples made by a laser manufacturer cut and plated. I may offer small antiques and collectibles too.

Chuck Johnston

Assistant, Shipper, Owner

Chuck, my husband, helps me in everything, he is my go for... takes packages to the PO... helps lift and carry... helps cut out glass designs, helps fire the kiln... helps me in anyway so I can create and do all the many art media I enjoy..

Photofabrication Engineering, Inc.

Laser Cut From My Design, Laser Cut My Designs

Photofabrication Engineering, Inc ( PEI) Milford, MA. I send them my black inked designs they laser cut shape out of a brass sheet. They send the full sheet of designs back to me. I clip them out, file, tumble, add a bail then send to plater,

G. Tanury Plating Co

Gold Or Silver Plater

G. Tanury Plating Co., Johnston, R.I. plates my pendants in either gold or silver. Then send them back to me and I package in bags with logo ready to sell.
Production partners
G. TAnury Plating Co.

Johnston, RI

I send my cleaned and filed brass bases to G Tanury In Johnston, Rhode Island to be plated in either gold or silver. They treat the brass bases as needed to accept the plating. They are then returned to me plated and ready to package and sell.

Photofabrication Engineering Inc. and G. Tanury Plating Co.

MA, United States

Both have worked with me over 15 years and several of the workers have become friends over the years.
Photofabrication Engineering Inc. of Mass. and G. Tanury of Rhode Island

Milford, MA

Both of these manufacturers were extremely helpful in offering suggestions for my little business, I have been working with each of them over 15 years They coached me on how I needed to send the drawings done in India Ink, and to size & plating.

Send Out Cards Photo Store

UT, United States

I have paintings in acrylic and watercolor. I use these paintings in designing my own note cards to send to friends and family. Using SOC in order to do this for about 9 months. I have the cards printed in quantity so that I may sell from Etsy

Send Out Cards Photo store

UT, United States

Photographing my original paintings, either watercolor or acrylics, I send the photos to SOC photo store, and they are reproduced in quantity so that AI may sell them on my Etsy shop site, My original paintings from my photos are reproduced 5x7 in.
Shop policies
Last updated on
August 2, 2016
Delighted to have you visit my shop. I also am happy to combine shipping to help with the P.O. costs.
Accepted payment methods
Accepts Etsy Gift Cards and Etsy Credits
Payment
I appreciate Pay Pal payment, and will get any items out as soon as payment is recvd. I also accept Bank Money orders.
Shipping
I use USPS, and usually send things first class mail with a confirmation.
Refunds and Exchanges
If items are damaged in shipping, an exchange or a refund will be made.
Additional policies and FAQs
Sales within the United States only. Thank you.