| | |
| --- | --- |
| Steampunk Jewelry, Hats, Accessories and Devices | |
DrBrassysSteampunk is taking a short break.
---
Sign in to be notified by email when the shop owner returns.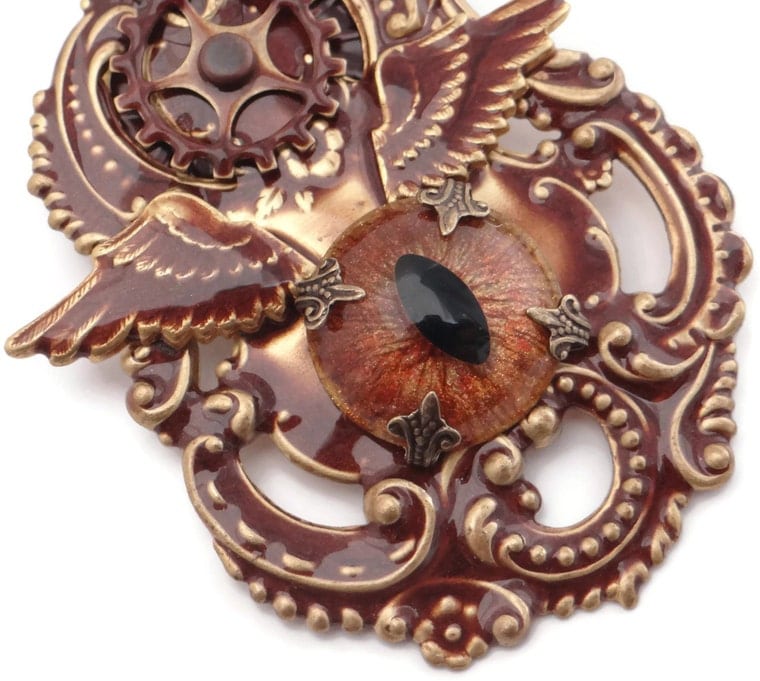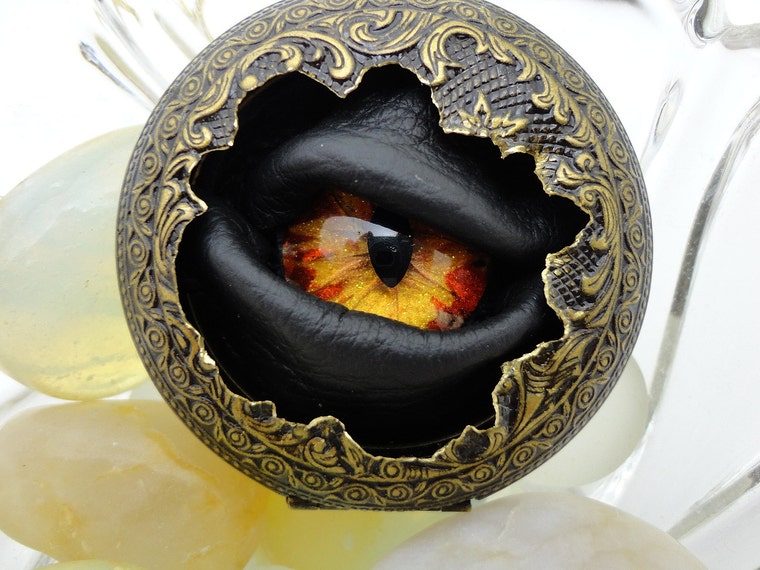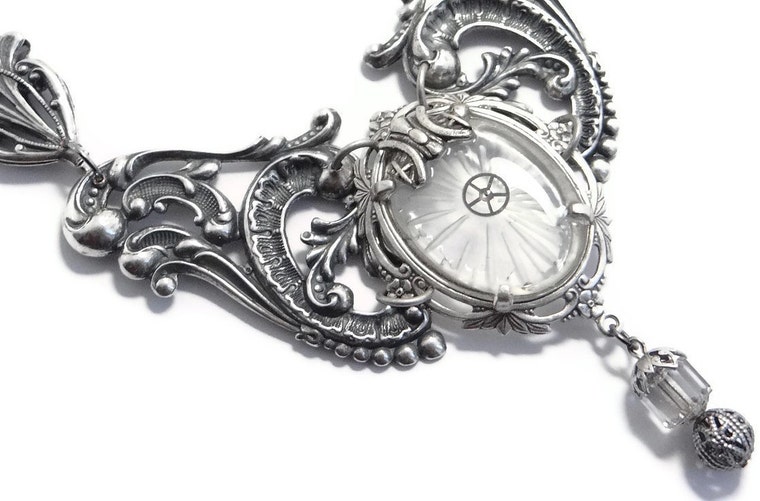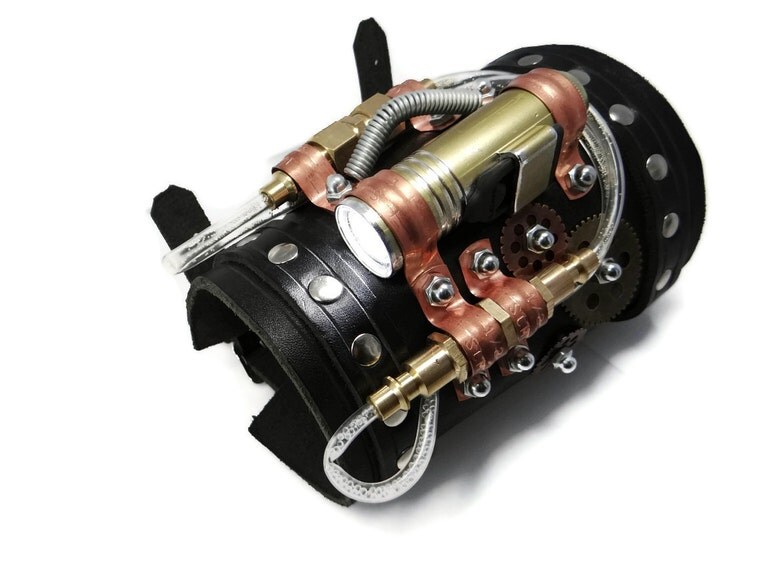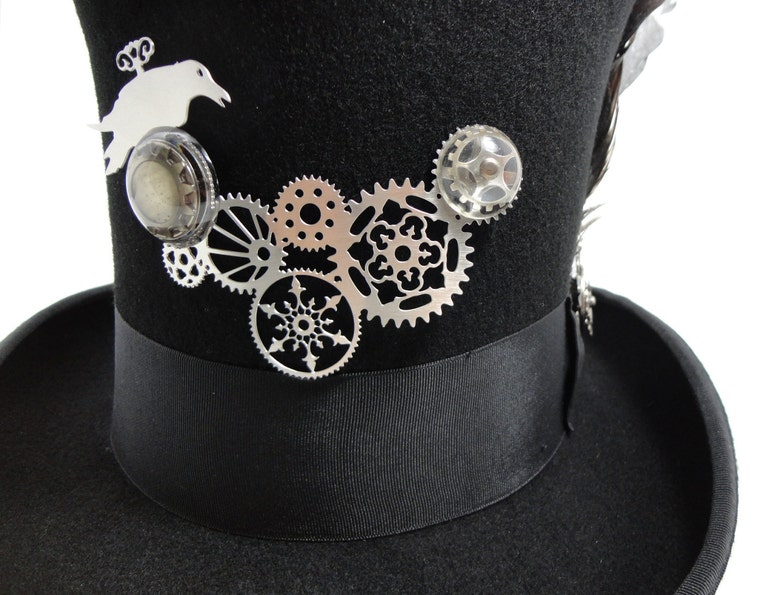 Dr Brassy-A Steampunk Girl who loves the dark side and Her Husband Professor Aether Pendragon
Dr Brassy has been a Maker and muse of the Steampunk genre for 27 years. Yes! Long before it was "Steampunk" Dr Brassy was makering. As a Published Artist and Jewelry Design Contest Artist, Dr Brassy is known as "The Goddess of Gears" and "The Queen of Brass".

Dr Brassy's partner in all things Steampunk is Professor Aether Pendragon. If it's a Peace Pistol, Armtraption, Tesla Lightning Cane or Air-Conditioned Hat, you can be sure the good Professor makered it!

Dr Brassy was born in a small town in California called San Luis Obispo and has spent the majority of her life there in the place locally known as "SLO Town" (but our girl is anything but slow). Professor Aether was born in Shell Beach, CA a stones throw from the Pacific Ocean, it's a beach town smack dab in the center of The Middle Kingdom.

Dr Brassy is most proud of her "Sightmares ™ ©" Pocket Watcher Steampunk Eyes. All original, hand made, by Dr Brassy. Each one is unique and magical. Some glow, some look like animal eyes, some like dragons, some human and some alien but all are little Steampunk creatures clawing their way out of a pocket watch case time portal. Each has it's own expression and "It" factor. Dr Brassy holds Copyright on these and was the very first to use eyes in Steampunk Art.

Professor Aether is a Maker's Maker in Steampunk with both historical reimaginations and futuristic yesteryear pieces. There is nothing Professor Aether can not modify or build. From portable-wearable cooling systems to robots, he is your guy!

Dr Brassy's general theme of work is "Soft Steampunk" or "RenSteam" with heavy Nouveau, Victorian and Art Deco influences.

Aether is big on the "No Glue" method and loves to weld. His favor metal at the moment is Copper.

Both Dr Brassy and Professor Aether are now makering for not only the Steampunk body but also the home. Lamps, visual oddities, artistic relic decor and clocks are among the newest pieces.

This shop is a dream come true for us. Both Dr Brassy and Professor Aether have health challenges that make working from home, ideal.

You are assured that every item comes from a cigarette smoker free environment, so buy with confidence from Dr Brassy and Professor Aether!

We donate a portion of the shop sales to these charities we hold dear:

Woods Humane Society-Helping our furry friends
Hopeforpaws.org
Thecathouseonthekings.com

There is no way to express how grateful we are, every day, to be able to do this. It is truly a gift and we are honored to share it with our customers.

Dr Brassy is blessed to have worked with or provided art for, the most amazing people in the business. The World of Steam Series by Matt King, Mythbusters, Maker Magazine (Makezine), The League of S.T.E.A.M., Kato, Ladies of Steampunk Magazine and Calendar, The Bronze Age Magazine, The BBC TV, Victoriana Lady Lisa of "International Steampunk Fashions", Gothic Beauty Magazine, Model La Esmeralda, Actor Michael Rooker of The Walking Dead fame, Thomas Willeford and Lady Clankington (Sarah Hunter) of Brute Force Leather, Professor Algernon, Model Ulorin Vex, Von Gutenberg Magazine, Model and Actress Anastasia Heonis (Acid PopTart), Topher Adam of Dark Beauty Magazine, Erin Layne and Jack Dean Stauss of MYTH Masque, Jenny Lawson aka The Bloggess, and Samuel Ratcliffe of "Steampunk Fashion" .

See these publications for Dr Brassy and/or Professor Aether:

Makezine (Maker Magazine)
Steampunk Fashion by Spurgeon Vaughn Ratcliffe
Steampunk Jewelry by Spurgeon Vaughn Ratcliffe (For release in 2014)
International Steampunk Fashion by Victoriana Lady Lisa
Ladies of Steampunk Magazine (Many issues)
Firemountain Gems Catalog
The Bronze Age (Cover, October 2013)
Gothic Beauty Magazine (Issues 38, 40 and 42 Artist Bio) Issue 44 Cover.
Dark Beauty Magazine
Von Gutenberg Magazine Oct 2013 Issue

Many, Many Blogs, Webseries, TV Shows, Videos, Music Videos and Websites, including:

Mythbusters
The BBC TV
The World of Steam
The League of S.T.E.A.M.
The Bloggess
The Ministry of Peculiar Occurrences http://www.ministryofpeculiaroccurrences.com/2012/10/04/sightmares/
Dr Brassy's Blog drbrassysteampunk.blogspot.com
The Steampunk Empire
The Steampunk Lab
The Artifice Club
Makezine
http://modellaesmeralda.blogspot.com
Dr Brassy's Press Page is here Drbrassy.com
Steamcast The Aether Brigade
Dr Brassy Steamington on IMDb
http://www.sanluisobispo.com/2012/08/20/2192847/steampunk-jewelry.html
And many, many more.....

If you have a custom item request, we would love to hear about it. If you can Dream it, we can Steam it! ™

Thank you from our heart, to yours~~~

~Dr Brassy Steamington and Professor Aether Pendragon
(and Delilah, Farallon and Cassiopeia-Cats of Steamington Manor).

Dr Brassy Steamington
Owner, Maker, Designer, Curator, One Woman Show
Dr Brassy Steamington has been a Maker in the Steampunk genre for 27 years, Yes~ Before it was called Steampunk. Every piece in this shop is hand made, with love~~ I was the first to do eyes and I hold Copyright on Sightmares ™ © Pocket Watchers.
Professor Aether Pendragon
Maker, Maker
Shop Owner

San Luis Obispo, CA, United States