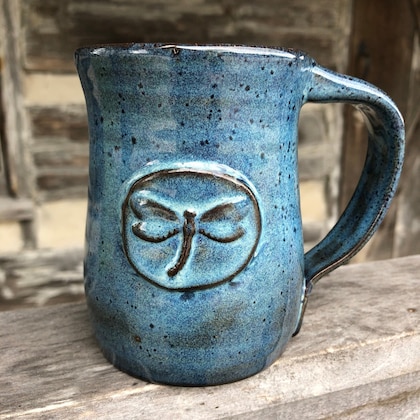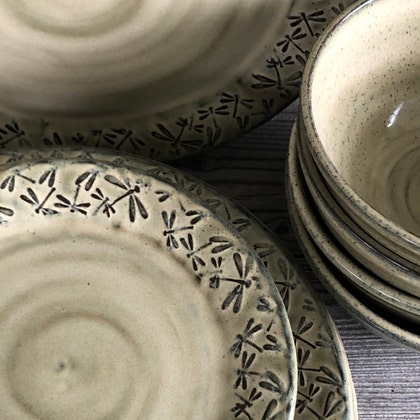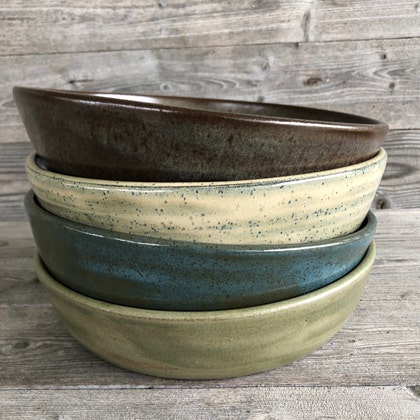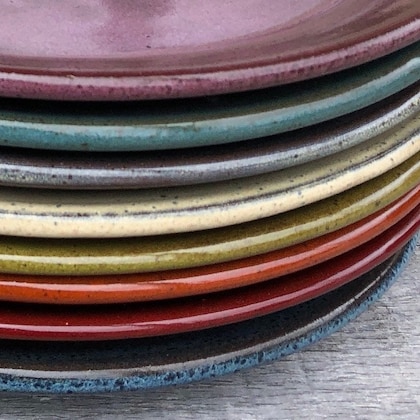 Announcement Thank you for visiting my Etsy Shop! ****PLEASE READ****
Please note that ALL ITEMS ARE MADE TO ORDER. Quantities listed are for ordering purposes only, I DO NOT warehouse stock. I am a one woman business, so production time may be a little longer than you are used to waiting. Please note production time before placing orders. I appreciate your patience as I create your handmade pottery dishes.

Forget Granny's china. Handmade pottery dishes are the new heirlooms! Everything just tastes better on a handmade dishes, They add warmth to your table that you just don't get from mass produced ceramics. I look forward to working with you to create your custom dinnerware that will be enjoyed for years to come!

Photos included in listings are stock photos. Each piece is individually handcrafted. I am not a production potter, your piece will not be an exact replication. Variations will occur in size, shape and glazing (even within a set), and pieces may have slight imperfections. At Dragonfly Pottery, I believe that these imperfections and quirks add to the beauty and charm of handmade. Each piece is unique! Enjoy!

Interested in adding items to a wedding registry? Use Etsy's registry service available here... https://help.etsy.com/hc/en-us/articles/115015521428-Gift-Registry

Warm Regards,
Shari D
Announcement
Thank you for visiting my Etsy Shop! ****PLEASE READ****
Please note that ALL ITEMS ARE MADE TO ORDER. Quantities listed are for ordering purposes only, I DO NOT warehouse stock. I am a one woman business, so production time may be a little longer than you are used to waiting. Please note production time before placing orders. I appreciate your patience as I create your handmade pottery dishes.

Forget Granny's china. Handmade pottery dishes are the new heirlooms! Everything just tastes better on a handmade dishes, They add warmth to your table that you just don't get from mass produced ceramics. I look forward to working with you to create your custom dinnerware that will be enjoyed for years to come!

Photos included in listings are stock photos. Each piece is individually handcrafted. I am not a production potter, your piece will not be an exact replication. Variations will occur in size, shape and glazing (even within a set), and pieces may have slight imperfections. At Dragonfly Pottery, I believe that these imperfections and quirks add to the beauty and charm of handmade. Each piece is unique! Enjoy!

Interested in adding items to a wedding registry? Use Etsy's registry service available here... https://help.etsy.com/hc/en-us/articles/115015521428-Gift-Registry

Warm Regards,
Shari D
Average item review
(1271)
See reviews that mention:
Loading
About DragonflyPotteryCom

Where it all began and how it became Dragonfly Pottery...
I got my hands in the mud for the first time at a Smoky Mountain pottery studio in Gatlinburg. For a short time, they offered a make it and take it hands on experience and I couldn't wait to try it! With hand over hand assistance, my kids and I created something resembling bowls… I was hooked.

But, as it often does, life got busy and it was a move and a few years later before I played in the mud again. My teen daughter and I signed up for an open wheel night at a studio in Cincinnati (www.queencityclay.com), we had a blast! We followed that with an eight week beginner's class, and started creating some very primitive, but functional pottery… it wasn't pretty, and it weighed a ton… and life got in the way again. With the studio an hour away from our home, it was a year before we took another class, and then another 6 months later…

I have owned my own gift shop since 2000, and being in a rather remote area, I depended heavily on internet sales. It was great for a while, but has become impossible to compete with the internet giants. So, it was time to start thinking about other options. In 2013-14, my daughter went off to college, I got divorced, I lost my dad to cancer, my heart was broken and I was lost. Pottery became my therapy… and my answer.

In 2015, I added a studio space to my store and Dragonfly Pottery was born. You can visit the store in Metamora, Indiana from May-Dec and may even catch me throwing or glazing…

What Pottery has taught me about life…

Pottery and life have quite a few things in common I've learned over the past few years. The wheel has been my therapist as I transition from what I thought my life should be into what my life will be. I've learned to push a little harder and I've learned to let go… and I've needed lots of therapy to learn when to do which.

1. Find your center. Everything begins with centering. It doesn't matter how much effort you put into something, if it's not centered, it will never be balanced. I found my center on my potter's wheel. It is my place to forget about everything around me, it is my place to reflect, and it is my place to get lost in the process.
2. Life is a process. Pottery is a process. There are lessons that must be learned. You can't create a beautiful piece of pottery without first getting dirty and making lots of mistakes. I am learning to worry less about the destination, and enjoy the journey. There are times I have started with an image in mind only to end up with something completely different… and perhaps even more beautiful. Someday I will be able to do what I want to do and create what I want to create, but for now I will enjoy the process. Because even small steps are steps in the right direction.
3. There is beauty in imperfection. Beauty truly is in the eye of the beholder. I have had customers rave over glazes that I thought were hideous, and leave my favorite piece untouched for months. Pottery is a work of heart, and a handmade piece just feels warmer and more comforting than anything mass produced… even when it's not perfect. Or perhaps BECAUSE it's not perfect. When I am feeling less than stellar, I remind myself that in the eyes of those that matter, I am enough.
4. Shit happens… know when to let it go. Like life, there are some mistakes in pottery that with enough patience can be fixed. Push a little harder, keep a steady hand, and hope for the best. But sometimes, you can work on a piece too hard and find that all your efforts have in fact weakened the piece beyond repair, and you just have to let it go and start over. It is a fine line, there are days when everything is golden, and there are days when nothing works out… you just let it go and start again tomorrow.
5. Like clay, your life is yours to shape. It may not always go as planned, but you might just end up with something beautiful.

Why a Dragonfly?

The dragonfly, in almost every part of the world symbolizes change, strength and courage... I discovered my love for pottery during a difficult time in my life and it is helping me to find my place in this ever changing world. Every piece I create has a dragonfly as part of my signature or stamped on the handle of a mug. I hope that when you see it, it reminds you to follow YOUR dreams!

Thank you for being part of my journey!
Shari D
Shop members

Shop policies
Welcome to Dragonfly Pottery!

All of my pieces are one of a kind and handmade by me. My glazes are all LEAD FREE and FOOD SAFE. They are durable and dishwasher, microwave and oven safe, unless otherwise stated. It is best to hand wash pieces that have large areas that are left unglazed. When baking stoneware, please be sure to place in cold oven and allow to warm to temperature... never place stoneware in a preheated oven. To avoid thermal shock (and breaking) do not cook frozen item directly on pottery. Heat and cool your pottery slowly.
Accepted payment methods
Accepts Etsy Gift Cards and Etsy Credits
Returns & exchanges
See item details for return and exchange eligibility.
Privacy
This Privacy Policy describes how and when I collect, use, and share information when you purchase an item from me, contact me, or otherwise use my services through Etsy.com or its related sites and services.

This Privacy Policy does not apply to the practices of third parties that I do not own or control, including Etsy or any third party services you access through Etsy. You can reference the Etsy Privacy Policy to learn more about its privacy practices.

Information I Collect

To fulfill your order, you must provide me with certain information (which you authorized Etsy to provide to me), such as your name, email address, postal address, payment information, and the details of the product that you're ordering. You may also choose to provide me with additional personal information (for a custom order of pottery, for example), if you contact me directly.

Why I Need Your Information and How I Use It

I rely on a number of legal bases to collect, use, and share your information, including:

-as needed to provide my services, such as when I use your information to fulfill your order, to settle disputes, or to provide customer support;
-when you have provided your affirmative consent, which you may revoke at any time, such as by signing up for my mailing list;
-if necessary to comply with a legal obligation or court order or in connection with a legal claim, such as retaining information about your purchases if required by tax law; and
-as necessary for the purpose of my legitimate interests, if those legitimate interests are not overridden by your rights or interests, such as 1) providing and improving my services. I use your information to provide the services you requested and in my legitimate interest to improve my services; and 2) Compliance with the Etsy Seller Policy and Terms of Use. I use your information as necessary to comply with my obligations under the Etsy Seller Policy and Terms of Use.

Information Sharing and Disclosure

Information about my customers is important to my business. I share your personal information for very limited reasons and in limited circumstances, as follows:

-Etsy. I share information with Etsy as necessary to provide you my services and comply with my obligations under both the Etsy Seller Policy and Etsy Terms of Use.
-Service providers. I engage certain trusted third parties to perform functions and provide services to my shop, such as delivery companies. I will share your personal information with these third parties, but only to the extent necessary to perform these services.
-Compliance with laws. I may collect, use, retain, and share your information if I have a good faith belief that it is reasonably necessary to: (a) respond to legal process or to government requests; (b) enforce my agreements, terms and policies; (c) prevent, investigate, and address fraud and other illegal activity, security, or technical issues; or (d) protect the rights, property, and safety of my customers, or others.

Data Retention

I retain your personal information only for as long as necessary to provide you with my services and as described in my Privacy Policy. However, I may also be required to retain this information to comply with my legal and regulatory obligations, to resolve disputes, and to enforce my agreements. I generally keep your data for the following time period: 4 years.

Your Rights

If you reside in certain territories, including the EU, you have a number of rights in relation to your personal information. While some of these rights apply generally, certain rights apply only in certain limited cases. I describe these rights below:

-Access. You may have the right to access and receive a copy of the personal information I hold about you by contacting me using the contact information below.
-Change, restrict, delete. You may also have rights to change, restrict my use of, or delete your personal information. Absent exceptional circumstances (like where I am required to store data for legal reasons) I will generally delete your personal information upon request.
-Object. You can object to (i) my processing of some of your information based on my legitimate interests and (ii) receiving marketing messages from me after providing your express consent to receive them. In such cases, I will delete your personal information unless I have compelling and legitimate grounds to continue using that information or if it is needed for legal reasons.
-Complain. If you reside in the EU and wish to raise a concern about my use of your information (and without prejudice to any other rights you may have), you have the right to do so with your local data protection authority.
How to Contact Me

For purposes of EU data protection law, I, Shari Bartish, am the data controller of your personal information. If you have any questions or concerns, you may contact me at sharid [!at] dragonflypottery.com. Alternately, you may mail me at:

Shari Bartish PO Box 68, Metamora, IN 47030
See this Seller Handbook article for a sample privacy policy you can customize for your shop.
More information
Last updated on
Oct 7, 2022
Frequently asked questions
Care instructions
Dragonfly Pottery is food safe. I use commercial clay and glazes that are lead free and have been strictly tested.

Pottery is durable, but avoid sudden temperature changes. - hot to cold or cold to hot. Thermal shock will cause pottery to crack/break.

Do not put pottery in a preheated oven. Pottery must be heated WITH the oven to avoid thermal shock. Do not heat frozen items on pottery. Do not place hot pottery on a cold surface or submerge in water.

Do not use pottery on stove top.

Pottery is microwave safe. Do not use for prolonged microwave cooking. Do not microwave frozen meals on your pottery.

Pottery is dishwasher safe. Hand washing is recommended. Allow pottery to cool in dishwasher. Do not put cold food or drink in hot dish