Announcement Eclisse Creazioni Art & Photography only offer the top of the line products to our customers.
All jewelry listed are made out of Silver from all around the world. Each piece is anti-tarnish treated before your images are applied. We use a non-acrylic, acid free mixture to permanently seal your image onto the piece. It is water resistant, scratch resistant, ultra hard, and as clear and smooth as glass.

Every single pieces in the store can be customized with your own picture, silhouette, handprint, quote... whatever u want, the sky is the limit, and we will work together to achieve your own one of a kind, unique jewelry. Each one of our pieces is classified 'Heirloom Quality" and u can rest assured that they will be around to stand the test of time.

°º©©º°¨¨¨¨¨¨°º©©º°¨¨¨¨°º©©º°¨¨¨¨¨°º©©º°¨¨¨¨¨°º©©º°¨¨¨¨¨¨°º©©º°¨¨¨¨¨¨°º©©º°¨¨¨¨°º©©º°

WHOLESALE:
Please inquiry for price list.

°º©©º°¨¨¨¨¨¨°º©©º°¨¨¨¨°º©©º°¨¨¨¨¨°º©©º°¨¨¨¨¨°º©©º°¨¨¨¨¨¨°º©©º°¨¨¨¨¨¨°º©©º°¨¨¨¨°º©©º°

©2016 Eclisse Creazioni
www.eclissecreazioni.com
Announcement
Last updated on
Aug 10, 2016
Eclisse Creazioni Art & Photography only offer the top of the line products to our customers.
All jewelry listed are made out of Silver from all around the world. Each piece is anti-tarnish treated before your images are applied. We use a non-acrylic, acid free mixture to permanently seal your image onto the piece. It is water resistant, scratch resistant, ultra hard, and as clear and smooth as glass.

Every single pieces in the store can be customized with your own picture, silhouette, handprint, quote... whatever u want, the sky is the limit, and we will work together to achieve your own one of a kind, unique jewelry. Each one of our pieces is classified 'Heirloom Quality" and u can rest assured that they will be around to stand the test of time.

°º©©º°¨¨¨¨¨¨°º©©º°¨¨¨¨°º©©º°¨¨¨¨¨°º©©º°¨¨¨¨¨°º©©º°¨¨¨¨¨¨°º©©º°¨¨¨¨¨¨°º©©º°¨¨¨¨°º©©º°

WHOLESALE:
Please inquiry for price list.

°º©©º°¨¨¨¨¨¨°º©©º°¨¨¨¨°º©©º°¨¨¨¨¨°º©©º°¨¨¨¨¨°º©©º°¨¨¨¨¨¨°º©©º°¨¨¨¨¨¨°º©©º°¨¨¨¨°º©©º°

©2016 Eclisse Creazioni
www.eclissecreazioni.com No items listed at this time
Reviews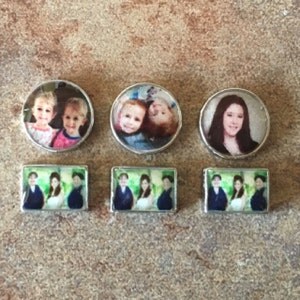 Beautifully done. The shop owner was very patient as I figured out what I wanted and great about sending proofs.

I looooove this charm!!!! Aurora put together a truly special charm for me which I have not taken off since I received it in the mail!! It will forever stay close to my heart!! Aurora is the best!!!! Her responses to my questions were immediate and the charm arrived within days of ordering it!! She is so kind and very compassionate!!!! The charm is beautifully crafted!! I get tons of compliments on it!! I cannot say enough positive comments about Aurora and her work!!!!! 💖💖💖💖💖💖💖💖💖💖💖

Aurora was wonderful and shipped me the charm right away! The picture came out beautiful I know my mom will love it for her bracelet :)
About
A one woman show...
Art has played a role in my life for as long as I can remember. At the age of nine, I began at the Liceo Artistico in Italy and became devoted to the world of Art. After that, I enrolled at the Accademia di Belle Arti where I continued gathering the tools necessary to express the passion you see now throughout my original artwork. I quickly gained popularity in Italy and am now determined to conquer the US. My artwork was displayed in exhibits across Italy. I was very proud to have my pieces shown in private homes, galleries, nightclubs, bars, and offices. Designers and decorators use my artwork for their showrooms, model apartments and homes. With over 16 years of experience, the images you see on your monitor are just a taste of the art that i have created. My specialties extend far beyond painting. Photography, sculpting, and scenography, are just a few of the other forms of art I have embraced. .I also enjoy creating customized orders, including rare and one of a kind pieces. As an artist who loves to capture the uniqueness of the world in photographs, I created Eclisse Creazioni Art & Photography. Throughout life I have been keenly sensitive to the visual world. For me, it comes naturally to "see" the world on a level foreign to most. Colors dancing together on pallet knives, fingers molding clay, a shade of lipstick on a mouth, light catching beads of water on skin, fresh vegetables scattered on a counter--such seemingly ordinary things often strike me as remarkable. After discovering the ability to preserve these gorgeous arrays of "everydayness" indefinitely, my passion for art came to embrace photography. I am extraordinarily passionate as a person and I find constant inspiration simply by celebrating life and remaining aware with "eyes open." The extensive, formal background I have of fine arts is incorporated into this perspective. However, it has enhanced rather than formed my artistic viewpoint. Along with capturing the fine art of every day scenery and culture in my work, I am especially drawn to people. The life and energy of a person's expression or the look and mood found in an individual is the magic of humanity suspended in time. Thus, I find the most joy in photographing a glimpse of a wondrous child, a provocative woman, or a pensive man, in a timeless array of portraiture. When I manage to preserve the vastly beautiful and complex images of faces and emotions, I feel for a moment that a breath of eternity has gone through my camera and will remain on film.
Shop members
Aurora Rosselli

Owner, Creator, Designer

I'm a Woman, a Mother, an Artist, a Photographer and a designer. I'm the woman behind the beautiful creations of Eclisse Creazioni Art & Photography.
Shop policies
Last updated on
May 23, 2016
*´¨)
¸.·´¸.·*´¨) ¸.·*¨)
(¸.·´ (¸.·´ * Eclisse Creazioni Art & Photography only offer the top of the line products to our customers.
All jewelry listed are made out of Silver from around the world. Each piece is anti-tarnish treated before your images are applied. We use a non-acrylic, acid free mixture to permanently seal your image onto the piece. It is water resistant, scratch resistant, ultra hard, and as clear and smooth as glass. This is why each piece is classified as "Heirloom Quality". U can rest assured that your jewelry will be around to stand the test of time.

¨¨¨°º©©º°¨¨¨¨¨¨°º©©º°¨¨¨¨°º©©º°¨¨¨¨¨°º©©º°¨¨¨¨¨°º©©º°¨¨¨¨¨¨°º©©º°¨¨¨¨¨¨°º©©º°¨¨¨¨°º©©º°¨¨¨¨

All "Portrait Tile" items are strong and lightweight. Your images are not glued onto the tile, they are part of the tile. They are waterproof, scratch resistant and assembled with only the finest Sterling Silver components.

¨¨¨°º©©º°¨¨¨¨¨¨°º©©º°¨¨¨¨°º©©º°¨¨¨¨¨°º©©º°¨¨¨¨¨°º©©º°¨¨¨¨¨¨°º©©º°¨¨¨¨¨¨°º©©º°¨¨¨¨°º©©º°¨¨¨¨
Accepted payment methods
Accepts Etsy Gift Cards and Etsy Credits
Money Order
Check
Other Method
Payment
We accept Paypal, personal checks and money orders. Payment must be received within three (3) days of your purchase. I will not be able to start working on your item until payment has been received and cleared. Please note that paying with an e-check through PayPal takes an additional 3-4 days for funds to clear. Same thing for checks and money order. When checks are cleared and money order cashed i will start working on your order. Thank you.

¨¨¨°º©©º°¨¨¨¨¨¨°º©©º°¨¨¨¨°º©©º°¨¨¨¨¨°º©©º°¨¨¨¨¨°º©©º°¨¨¨¨¨¨°º©©º°¨¨¨¨¨¨°º©©º°¨¨¨¨°º©©º°¨¨¨¨
Shipping
INTERNATIONAL SHIPPING:
We ship internationally merchandise to over 190 countries.
We are not responsible for any duties, taxes, fees or delays that may be assessed by your Government.

¨¨¨°º©©º°¨¨¨¨¨¨°º©©º°¨¨¨¨°º©©º°¨¨¨¨¨°º©©º°¨¨¨¨¨°º©©º°¨¨¨¨¨¨°º©©º°¨¨¨¨¨¨°º©©º°¨¨¨¨°º©©º°¨¨¨¨

INSURANCE:
It is an option for all shipments. If you choose not to add insurance to your order, please be aware that we are not responsible for loss, theft or damage on the route.

¨¨¨°º©©º°¨¨¨¨¨¨°º©©º°¨¨¨¨°º©©º°¨¨¨¨¨°º©©º°¨¨¨¨¨°º©©º°¨¨¨¨¨¨°º©©º°¨¨¨¨¨¨°º©©º°¨¨¨¨°º©©º°¨¨¨¨
Refunds and Exchanges
We stand behind our products 110%. We will repair or replace any piece of jewelry that we offer if it is flawed or damaged in the manufacturing process. We are not responsible for damage that is caused by everyday wear and tear.
Once the item is shipped we aren't responsible for any damage or loss, please include insurance if you're worried about it arriving safely.
If an item needs to be repaired or replaced, you must return the item in its original packaging within 14 days of receipt. Item must be packaged in a padded envelope or box. Please ship with delivery confirmation and insurance. We will not be responsible for items that "got lost in the mail" on their way back to us.

PLEASE NOTE:
ALL OUR PORTRAIT TILE PIECES ARE WATER RESISTANT NOT WATERPROOF!
Differences between Water Resistant and Waterproof:
WATER RESISTANT, water will not soak through your portrait tile piece right away but after a while water will start to soak through.
WATERPROOF, water will never get in, these items are meant to go under water and are perfectly protected against H2o

¨¨¨°º©©º°¨¨¨¨¨¨°º©©º°¨¨¨¨°º©©º°¨¨¨¨¨°º©©º°¨¨¨¨¨°º©©º°¨¨¨¨¨¨°º©©º°¨¨¨¨¨¨°º©©º°¨¨¨¨°º©©º°¨¨¨¨

Due to the highly custom nature of the products, we do not offer refunds. All sales are final. No Exceptions.

¨¨¨°º©©º°¨¨¨¨¨¨°º©©º°¨¨¨¨°º©©º°¨¨¨¨¨°º©©º°¨¨¨¨¨°º©©º°¨¨¨¨¨¨°º©©º°¨¨¨¨¨¨°º©©º°¨¨¨¨°º©©º°¨¨¨¨
Additional policies and FAQs
You are responsible for relaying cropping instructions to us. When you send an image, we assume that we should crop to fit the jewelry. If you need a tighter crop, please include cropping instructions in your order.
We do everything in our power to be sure that each piece looks its best. If we are concerned about a crop, we will inform you before the piece is made.

¨¨¨°º©©º°¨¨¨¨¨¨°º©©º°¨¨¨¨°º©©º°¨¨¨¨¨°º©©º°¨¨¨¨¨°º©©º°¨¨¨¨¨¨°º©©º°¨¨¨¨¨¨°º©©º°¨¨¨¨°º©©º°¨¨¨¨

Occasionally, very popular items will go on backorder. Sometimes they return, sometimes they do not.
We do everything in our power to get the items back in stock, but we are not always successful.

¨¨¨°º©©º°¨¨¨¨¨¨°º©©º°¨¨¨¨°º©©º°¨¨¨¨¨°º©©º°¨¨¨¨¨°º©©º°¨¨¨¨¨¨°º©©º°¨¨¨¨¨¨°º©©º°¨¨¨¨°º©©º°¨¨¨¨