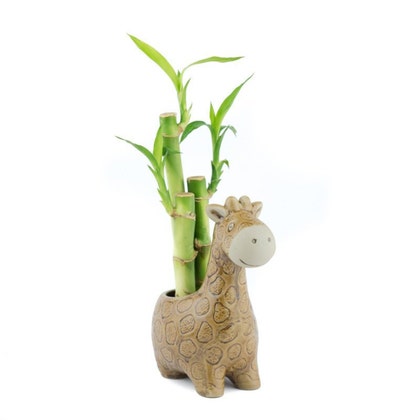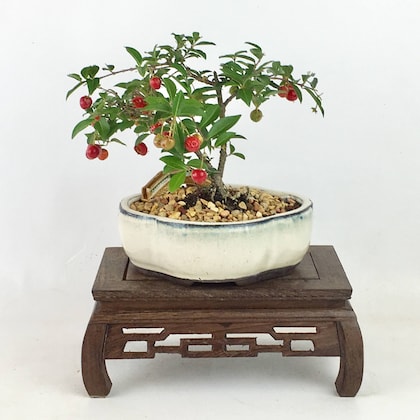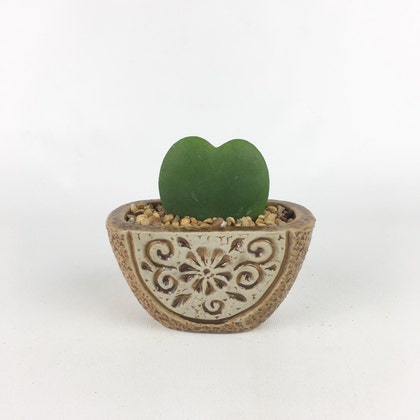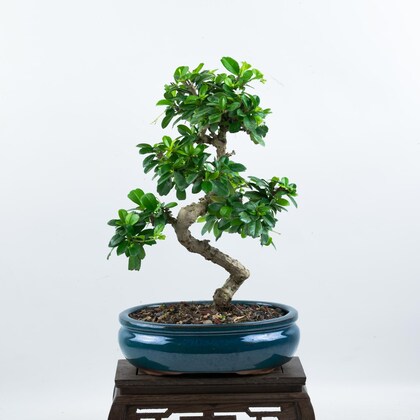 Announcement *-*PLEASE READ FOR IMPORTANT INFO*-*

Thank you for checking out our shop!

--------------
**Message us here on Etsy if you would like to see if a better shipping estimate is possible!
---------------
Our plants will have an option for a $4 heat pack (heat, w/ ht, with heat) before checkout. This is available year-round, but is only necessary for winter. We double check the weather and will determine if one is necessary for the trip.
*We will refund accordingly if the weather permits safe shipment without one.

*We will request an additional purchase of one if we see it wasn't already purchased.

--------------
Check out our FAQ section for in depth info on shipping with USPS, multiple item ordering, care info, beginner tree recommendations, toxicity, etc.

Please make sure you also read our item descriptions thoroughly to understand what you'll be receiving!

--------------
We provide replacements! There are a few conditions that must be met beforehand, so please read carefully.

We must be messaged within 1 week and be provided with photos. We are flexible on timeframe (to a certain extent) when it comes to cold weather and we're able to check for delays in USPS tracking.

We must be able to determine the cause was due to an issue in transit. We will ask several questions to get a better idea to help out. We try to be as transparent as we can when it comes to our plants and their health before shipment, so we kindly ask for honesty in return. It is possible for us to miss things when packing, but we will try our best to make things right.

**A replacement will only be sent if the plant is unable to recover. We will provide thorough advice in recovering the plant and will work with you in the following weeks. If it is unable to recover over time or we can immediately determine that it won't recover at all, we will get a replacement ready for you.

*If we cannot determine that transit was an issue and/or if it has been several weeks or more since delivery, we can only provide the best advice possible to help recover plants. Please message us before it is too late! Plants should always give you signs of problems before they completely die.

-------------

Our usual shipping days are Monday-Wednesday. Please message us if you have any questions or concerns about your order!
Some orders will go out Friday and Saturday if there are weather constraints or holidays.

**We are more than happy to ship through FedEx or UPS, just let us know if you'd like a better shipping quote!

---------------
*Please note, emojis in gift notes do not translate well for printing. They will appear in alt text format!

---------------
We have some hours for customer service when you'll most likely receive a response! **Please be patient with us and make sure you message directly through the Etsy platform.

Justin is usually the only one working on Etsy messaging and sometimes requires time to discuss with the family. Thank you!
You will most likely receive a response during these hours:
Monday - Friday, 12pm -6pm
Announcement
*-*PLEASE READ FOR IMPORTANT INFO*-*

Thank you for checking out our shop!

--------------
**Message us here on Etsy if you would like to see if a better shipping estimate is possible!
---------------
Our plants will have an option for a $4 heat pack (heat, w/ ht, with heat) before checkout. This is available year-round, but is only necessary for winter. We double check the weather and will determine if one is necessary for the trip.
*We will refund accordingly if the weather permits safe shipment without one.

*We will request an additional purchase of one if we see it wasn't already purchased.

--------------
Check out our FAQ section for in depth info on shipping with USPS, multiple item ordering, care info, beginner tree recommendations, toxicity, etc.

Please make sure you also read our item descriptions thoroughly to understand what you'll be receiving!

--------------
We provide replacements! There are a few conditions that must be met beforehand, so please read carefully.

We must be messaged within 1 week and be provided with photos. We are flexible on timeframe (to a certain extent) when it comes to cold weather and we're able to check for delays in USPS tracking.

We must be able to determine the cause was due to an issue in transit. We will ask several questions to get a better idea to help out. We try to be as transparent as we can when it comes to our plants and their health before shipment, so we kindly ask for honesty in return. It is possible for us to miss things when packing, but we will try our best to make things right.

**A replacement will only be sent if the plant is unable to recover. We will provide thorough advice in recovering the plant and will work with you in the following weeks. If it is unable to recover over time or we can immediately determine that it won't recover at all, we will get a replacement ready for you.

*If we cannot determine that transit was an issue and/or if it has been several weeks or more since delivery, we can only provide the best advice possible to help recover plants. Please message us before it is too late! Plants should always give you signs of problems before they completely die.

-------------

Our usual shipping days are Monday-Wednesday. Please message us if you have any questions or concerns about your order!
Some orders will go out Friday and Saturday if there are weather constraints or holidays.

**We are more than happy to ship through FedEx or UPS, just let us know if you'd like a better shipping quote!

---------------
*Please note, emojis in gift notes do not translate well for printing. They will appear in alt text format!

---------------
We have some hours for customer service when you'll most likely receive a response! **Please be patient with us and make sure you message directly through the Etsy platform.

Justin is usually the only one working on Etsy messaging and sometimes requires time to discuss with the family. Thank you!
You will most likely receive a response during these hours:
Monday - Friday, 12pm -6pm
See reviews that mention:
About ElementalBonsaiGardn

On our journey we have educated the public on the beauty and tranquil effects of shaping and caring for Bonsai.
Established in 2002, Elemental Nursery has served the state of Florida with its full range of Bonsai and Exotic Plants. We are suppliers of quality pre-bonsai, nursery material and finished bonsai, specializing in unique varieties. We offer a full range of exotic, carnivorous plants and handmade potteries. Our unique potteries are made in our family owned and operated manufacturing facility in Taiwan.
Shop members
Jessie

Owner, Designer, Marketer

My husband and I established our business in 2002. Our goal is to bring people the enjoyment of caring for plants. We love what we do and we like to educate people about Bonsai. The art of Bonsai brings people so much peace.

Jamie

Customer Service, Designer, Assistant

I grew up with my family's business. I love what I do and learn a lot from my parents! I help my parents with customer service, social media, and bookkeeping. I graduated from UCF with a BS in Biology and a penchant for insects!

Jimmy

Owner, Designer, Marketer, Bonsai Instructor, Bonsai Creator

I graduated from UMASS, formally Lowell, with an electrical engineer degree. I worked in the computer field for many many years. Now I'm a bonsai instructor!

Justin

Assistant, Photographer, Shipper

I love to work with my parents. They work very hard. I've learned a lot from our family business since I was 9 years old and now I'm 28! I'm proud that we bring joy to so many people through our plants.

Waffle

Assistant

Our little baby who has supported us throughout all of our business ventures.

Justin

Assistant, Photographer, Shipper

Thank you for visiting our store. I manage our website, products, social media, and customer service.
Production partners
Pottery Studios

Taiwan

Pottery studios from Taiwan designed and created our unique potteries thru our ideas.
Shop policies
Last updated on
Oct 7, 2018
Shipping
See item details for estimated arrival times.
Customs and import taxes
Buyers are responsible for any customs and import taxes that may apply. I'm not responsible for delays due to customs.
Payment options
Secure options
Accepts Etsy Gift Cards and Etsy Credits
Etsy keeps your payment information secure. Etsy shops never receive your credit card information.
Returns & exchanges
See item details for return and exchange eligibility.
Privacy policy
If you ship to the EU or offer your listings to buyers there, you're required to have a GDPR-compliant privacy policy by 25 May, 2018.
Shoppers won't see this field until you add a privacy policy.
Etsy prohibits the use of buyer information for unsolicited messages. See our
Privacy Policy
for more info.
More information
Last updated on
May 18, 2022
Frequently asked questions
Do you combine shipping/ refund overages?
Yes, we will refund any shipping overages we find after packing and weighing. Due to the varying sizes and weights of our products, multiple items in a cart will be calculated by a box per item, increasing shipping greatly.

You may contact us for a better estimate before purchasing! We are happy to use FedEx or UPS when requested.

If you believe your order is eligible for an overage refund and have not received one, please allow us until the end of the month before kindly reminding us. We do a mass refunding in one session for all our marked orders.
Thank you!
Care instructions & Packing
There should be care info the size of a business card inside the package! If you open your package from the labelled side, it should rest right on top of your order along with your receipt or gift note. Contact us if you have any questions on care!

If you're ordering in bulk, you can request our PDF file of our small care cards to cut up

We also have files on our website for most of our plants:
https://elementalnursery.com/category/plant-care/

Our trees are carefully packaged to ensure the safest transit!

If you are unsure of what to do with our peanuts, we urge customers to try this website:

https://search.earth911.com/?what=%236+Plastic+-+Expanded&where=zip+code&list_filter=all&max_distance=25&family_id=&latitude=&longitude=
What is the best way to water bonsai or general plants?
It is always best to VERY thoroughly drench the soil.

Please be aware of whether your pot has drain holes! Without drain holes the plant will need to be watered carefully, but still thoroughly. It's best to water in small increments at the time of watering to keep from flooding the plant.

For bonsai, our traditional trees will always have drain holes. You can water under a hose or faucet for a few minutes. Get the tree thoroughly drenched as if you submerged the pot completely!

It is always best to feel the soil for moisture before any watering is done! You can use your finger, a chopstick, or a moisture meter. Check daily!
I'm looking for an indoor bonsai, great for beginners!
The Mini Jade can go indoors at a sunny window. The jade is a succulent and likes to dry between waterings!

A Schefflera can do well just in a bright room and doesn't like direct sun.

Ficuses are really good, needing to be near a window, but not directly at one. We have several species available; Nerifolia, Tiger Bark, Oriental, and Ginseng.

Ficuses and Scheffleras are drought tolerant, but still prefer staying on the moist side.

Chinese Elms are good indoors, but they are semi-deciduous. Make sure to keep moist and keep at a window.

**South facing windows give the best sunlight!
**For grow lights, please keep in mind what Lux or Lumen a species would need and how far away the light sits from the tree
Are any of your Bonsai poisonous?
Technically all plants are toxic to animals, including us to an extent. The toxicity level is dependent on how much is ingested and depending on the plant, will only really result in upset stomach.

Please research thoroughly before purchasing! Toxicity can highly depend on the size of the animal and the amount consumed.

Plants such as yew, desert roses and peace lilies are quite poisonous and should be avoided if you have small children or animals who enjoy green snacks.
What can I do if my Bonsai isn't doing well?
If your tree is dropping green leaves, give it more sunlight.

If your tree has brown leaves, try watering more often or increase amount given each time

If your tree has yellow leaves, try watering less often.

It is always best to catch any issue before it is too late. There will always be signs of a problem before they cannot be brought back. If more than 50% of the tree has turned, scratch the trunk and branches to see if it is still green under the bark.

If you see unhealthy leaves, make sure to brush off every single one to promote new growth.
Depending on lighting needs, it may be best to bring the tree outdoors.

Fertilize with a slow release pellet that is high in Nitrogen (the first number). We recommend the brand Osmocote.
I ordered with a heat pack, but didn't see one in the package?
We likely determined that it wasn't necessary and will refund the $3. If you see it has been more than a week since delivery and you have not received a refund; please don't hesitate to kindly message us. We will happily refund the amount!

It is a white pouch wrapped in thin cardboard that may be slightly hardened.
What kind of soil/substrate should I use?
Make sure to use a mixture that is catered to the type of plant you bought!

For bonsai our well-draining soil contains:
Calcined clay, Southern shale, Grey slate, Tiger shale, Ultra D.E., Black Lava, Pumice, Red Lava

Our tropical mix contains all of the above, but also Pine Bark for water retention

Check out our listing for bonsai soil:
https://etsy.me/37ddrVt

For Money Tree any soil that doesn't retain water for too long will be perfect. We mix small lava rocks into regular potting soil for drainage.

DO NOT USE ENRICHED SOIL. Use a slow-release pellet for fertilizer! We recommend the brand, Osmocote.

Carnivorous plants do best in low nutrient and high acidic substrates. Sphagnum moss is best!
Does your pottery have drain holes?
Our finished bonsai will all be wired into their pots and will have drain holes.

Our smaller plants usually come in a pot without drain holes. Please water carefully and keep this in mind.

If water pools on top, you will need to pour it out and make sure the soil is not too saturated. If you feel it is very heavy after watering and the soil looks extremely damp, you have watered too much and may need to take measures to prevent root rot.
When should I repot?
After receiving your prebonsai, please wait about a week before repotting. This will give the tree time to recover from shipping stress and acclimate to it's new environment!
Please be advised, our trees can be growing in their plastic pots for a while and can dry very quickly if they are root bound.

For finished bonsai, repotting only needs to be done when they are root bound. If you can't stick your finger down into the substrate anymore it is time to repot!

**Please see our FAQ on soil/substrate above for repotting

If you are local, we provide repotting and potting services at our nursery if you bring your tree in!
Tracking still says my package is in pre-transit and it's been a few days now
On occasion, USPS will not update tracking until the day of delivery. Unfortunately this means that we are left in dark for the whole transit.

In these cases, the package may also be delayed by a few days.

You may reach out to us and let us know in case there's any issues. You may also refer to the FAQ below for concerns about the plant's health.
My package has been delayed by USPS and I'm worried about my plant
Some plants are hardier than others, but most shouldn't completely perish during a longer transit.

If they arrive looking hurt, please send over a photo to us through Etsy messaging as soon as it's delivered. We can help out further from there!
Seller details
ElementalBonsaiGardn is considered a professional seller (known as a trader) in the EU. What's this?